Delta's most luxurious cabin, the Delta One Suite, has been creating headlines for all the right reasons since it debuted in 2017 and it keeps getting better, discovers WAYFARER Host and Editor-In-Chief, James Wilkinson.
When Delta unveiled its new Delta One Suite in 2017, expectations were high that the product wouldn't just be one of the best business class cabins in the United States, but anywhere in the world.
Fast forward five years and not only is the product holding its own, it keeps getting better thanks to more enhancements in the business class cabin by Delta.
Since the seat launched, still only a handful of global carriers have business class suites with sliding doors, so not only has Delta retained a key advantage over many airlines, but by adding elevated features like new amenity kits and fantastic inflight cuisine, it is consistently proving to be one of the best carriers in the sky.
Alongside the hybrid first/business class cabin, the carrier also launched an all-new premium economy cabin called Delta Premium Select, a product that has now proven so popular it is also being rolled out on domestic United States sectors.
To find out what you can expect onboard, WAYFARER tested out the Delta One Suite on an Airbus A350-900 flight from Los Angeles to Sydney recently.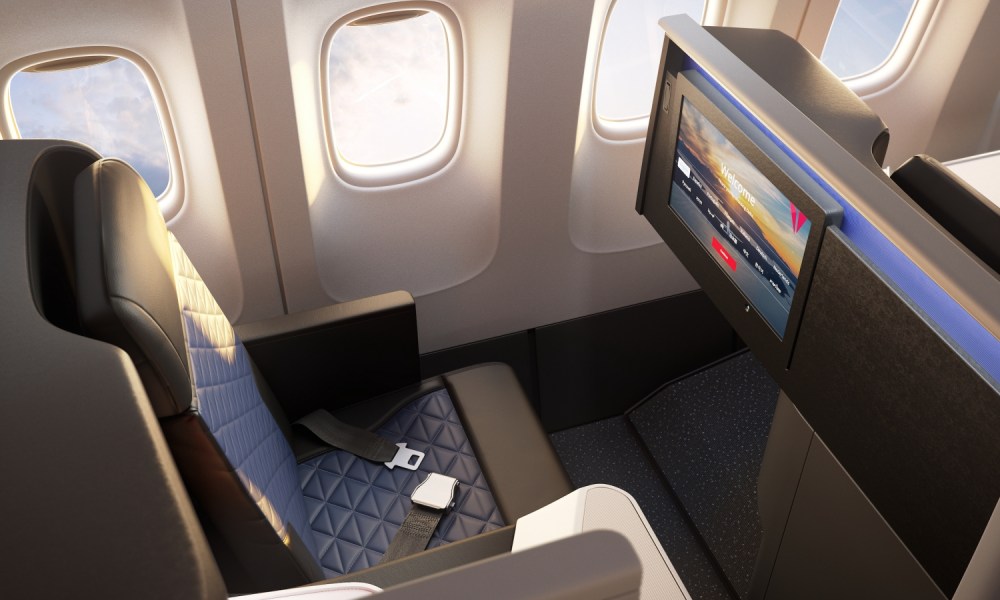 The Delta One Suites are in a 1-2-1 layout and our pick are the window seats
THE DELTA ONE SUITE
The first thing you will notice is a wide, spacious area for the seat and side table. Then you'll find the sliding door, which when closed offers plenty of privacy and you don't remotely feel claustrophobic.
Delta was the first airline to unveil a sliding door in business class and they have created a residential-style area that's more than just a seat with a door hinged onto the sides.
The suite seats are wide at 24-inches and recline to 81-inches on the Airbus A350-900. They recline to fully-flat beds and have memory foam cushions that are also some of the most comfortable in the air.
The suites are in a 1-2-1 layout (all with full aisle access) and the pick of the seats are most definitely the window booths.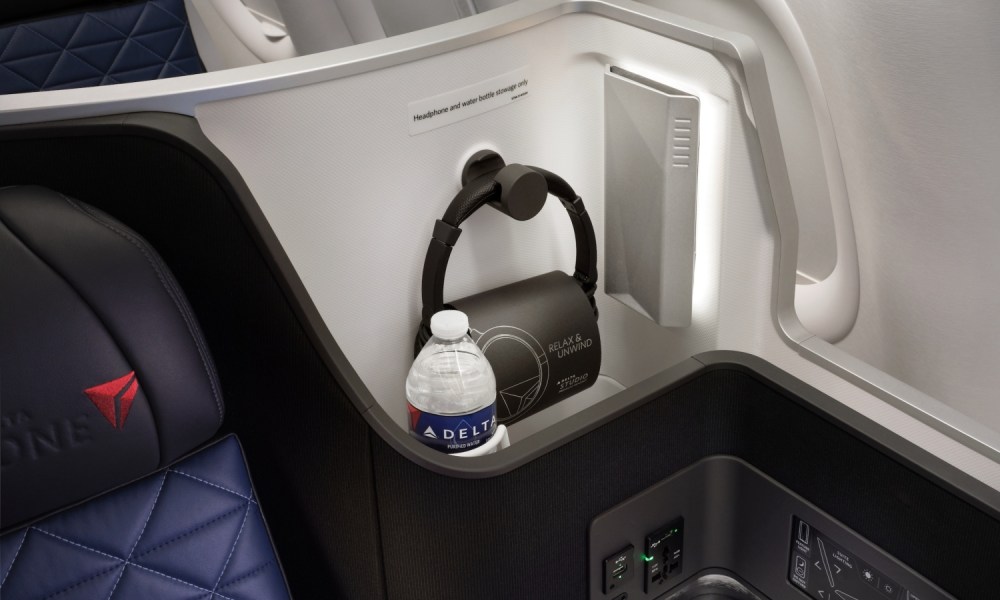 The Delta One Suites have plenty of storage spaces
Should you be travelling with a friend or a loved one, the centre seats are spacious and when the doors are closed, offer a lot of privacy and makes the experience most definitely a fun one. If you end up in one of the centre seats and don't know the person next to you, you'll find a privacy screen.
What I really like about the Delta One Suites is the amount of space the area offers. There's a large area to the seat, which means you can put your laptop, tablet or book next to you while you eat and there's still plenty of room.
The slide-out tables are sturdy and well-sized, meaning your suite can turn into a mini office or a personal flying restaurant.
When it comes to storage, there are dedicated compartments for headphones, laptops and shoes and large overhead bins above each suite.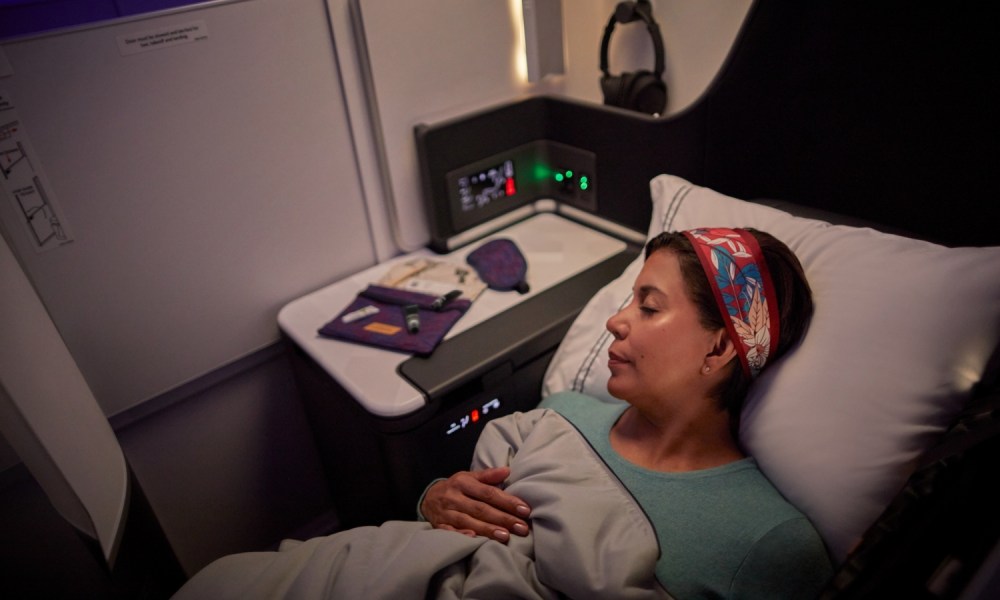 The Delta One Suites offer a fantastic sleep in the sky
IN-SUITE TECHNOLOGY & ENTERTAINMENT
Delta really impresses when it comes to in-Suite technology. You'll find high-powered USB ports and universal power outlets, alongside high-speed inflight WiFi, which offers some of the best bandwidth we've ever seen in the sky.
Entertainment is available in the form of an 18-inch, high-resolution in-flight entertainment TV screen, which offers brilliant clarity and sound, especially when you bring your own Bose noise-cancelling headphones.
Delta's current onboard offering has hundreds of options and includes new-release movies, alongside action, comedy, drama and family films and much more. There are also TV programs to watch, games to play and albums to listen to.
For those who want to relax and chill out, Delta recently introduced new partnerships with Peloton and Spotify that's about offering more mindful, personalised and health-conscious moments at every step of the travel journey.
The Suites also come with customisable ambient lighting and a Do Not Disturb light on the outside for extra privacy.
The Delta One Suites offer space aplenty, especially when dining
IN-SUITE DINING
Delta One features menus created by some of America's leading culinary stars and dishes are well-sized and presented on stylish crockery and cutlery from renowned design company Alessi.
The food onboard the flight from Los Angeles was fresh (especially the meat, potatoes and beans, alongside a sensational cheesecake for dessert) and well presented while the wine list had some enjoyable drops from across the globe.
Since my flight, Delta has impressively been adding plant-based dishes from leading producers Impossible Foods and Black Sheep Foods like lamb-style meatballs with spinach rice and feta, and the now legendary Impossible Burger.
It has been wonderful to see Delta go down this path given they are as delicious as meat and are better for the environment, using far less land and water.
One of the best part about being in a suite is it offers so much space and the personal dining experience was elevated as a result. Having the room to be able to have your drinks on the side table – or continue working on your laptop – while eating is a significant bonus, alongside the added privacy of the closing door.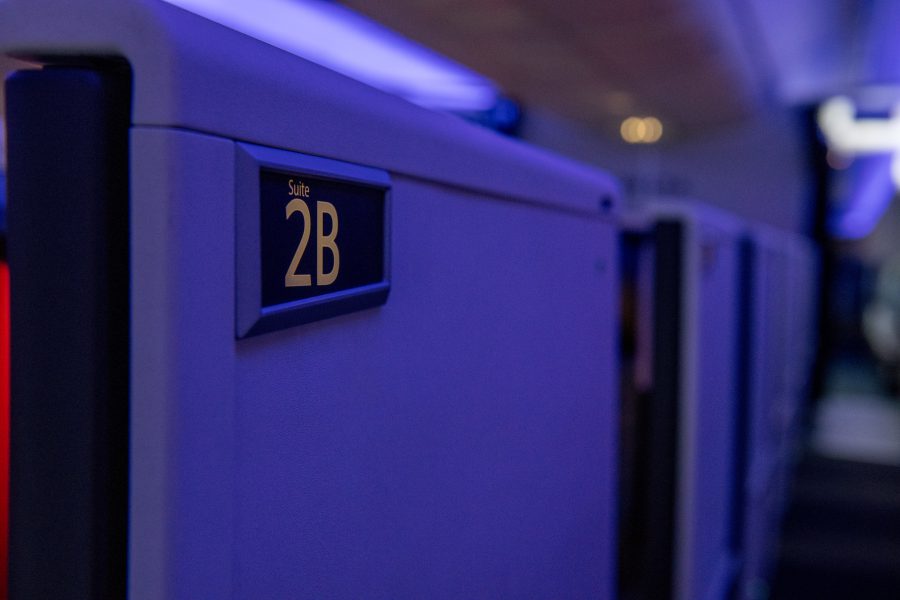 The Delta One Suites feature significant privacy thanks to the sliding doors
SLEEPING, PAMPERING & SERVICE
When you arrive at your Delta One Suite, you'll find a stylish amenity kit that's quite different than others you've had in the past. That's because Delta has partnered with Mexican apparel brand Someone Somewhere to offer artisan-made amenity kits from the Mexican states of Oaxaca and Michoacán.
There are five different designs that Someone Somewhere artisans created especially for Delta and they also include sustainable products such as a Someone Somewhere eye mask, Humble Co. bamboo toothbrush and toothpaste, and Grown Alchemist lip balm and lotion.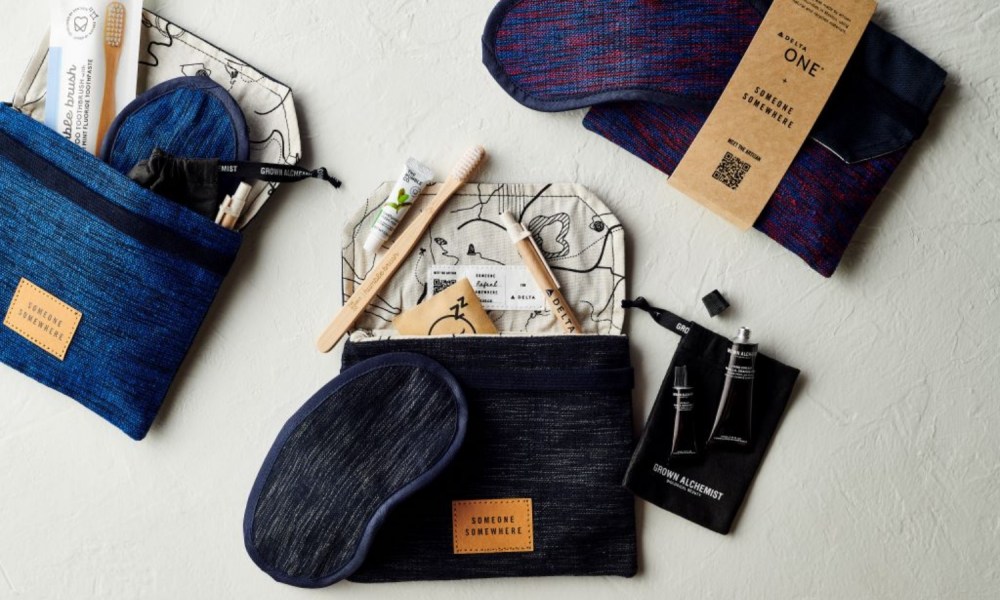 Delta's new amenity kits feature sustainable products
According to Delta, beyond delivering cultural, economic and social benefits, the kits also have a significant environmental impact: they will help reduce the carrier's annual plastic use by up to 90,000 pounds by eliminating five single-use plastic items such as zippers and packaging.
After freshening up, the cabin crew will get you ready for sleep with the Westin Heavenly in-flight bedding that feels soft on the skin and will ensure you're comfortable for the 14-hour flight to Sydney.
On the service front, the hospitality from cabin crew on the flight was impeccable and having the Do Not Disturb sign and a closing door meant an opportunity for plenty of rest on the flight.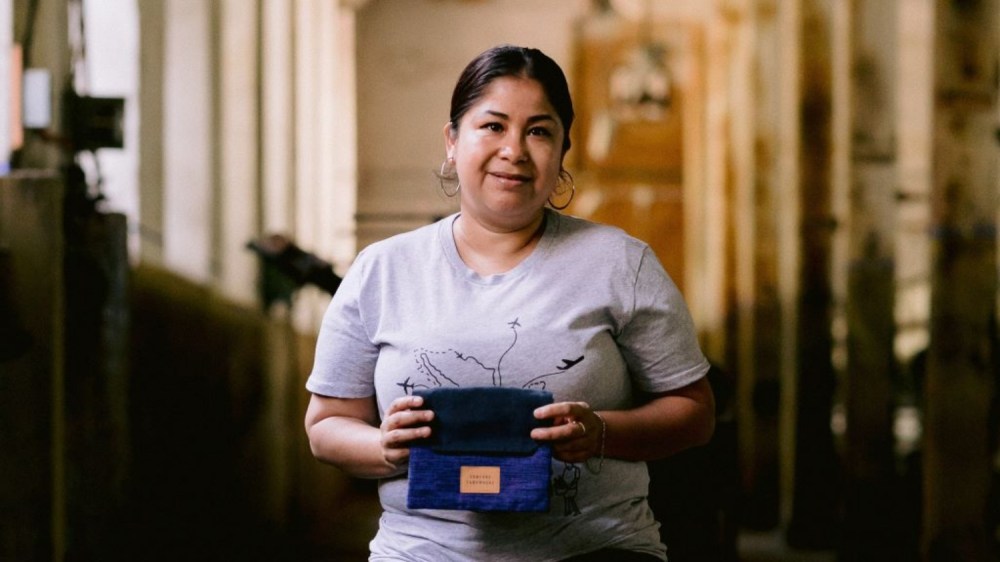 Delta has partnered with Someone Somewhere for some fantastic amenity kits
LOS ANGELES AIRPORT EXPERIENCE
Delta operates from T2 and T3 at Los Angeles International Airport and right now the terminals are in the midst of a joint US$2.3 billion investment with Los Angeles World Airports to modernise and upgrade one of the airline's key global hubs.
Phase one of this multi-year terminal transformation project reinforces Delta's decade-long, US$12 billion investment in airport hubs from coast to coast, cementing the airline's commitment to transform the travel experience in the air and on the ground.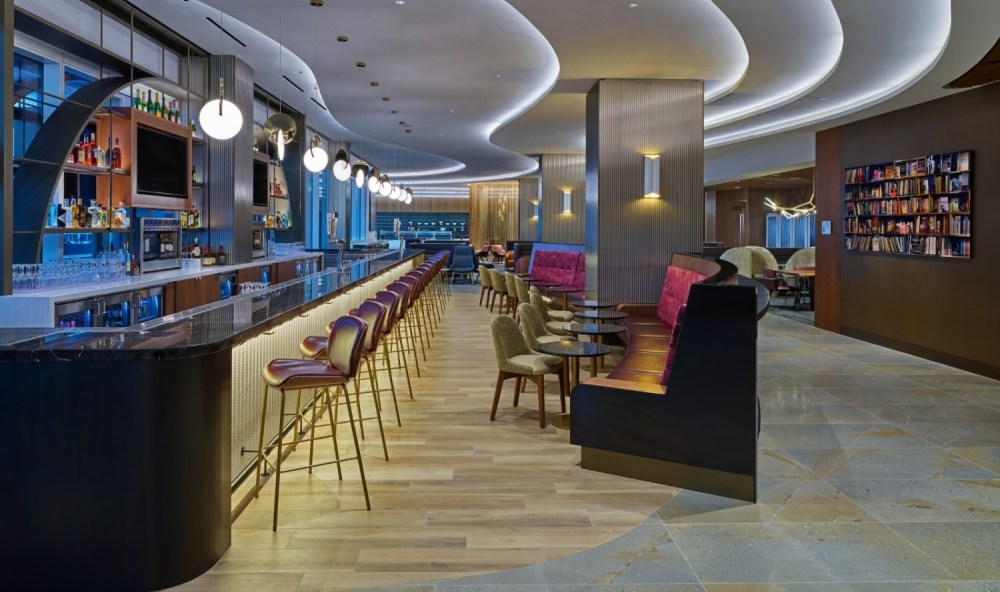 Stylish: The all-new Delta Sky Club at LAX
So far, Delta has welcomed customers to a new, centralised check-in lobby and expanded security checkpoint, creating a more efficient and seamless experience from the moment they arrive, alongside an amazing new Delta Sky Club at LAX, located on the departures level between T2 and T3.
At over 30,000 square feet, the stylish Delta Sky Club at LAX Sky Way is one of the largest in the Delta network, with ample space for guests to retreat, relax, recharge thanks to comfortable seats, fantastic meals and epic views.
The crown jewel of the Club is the Sky Deck, a year-round, all-weather terrace where guests can enjoy drinks from the premium bar and panoramic views of downtown Los Angeles and the Hollywood Hills.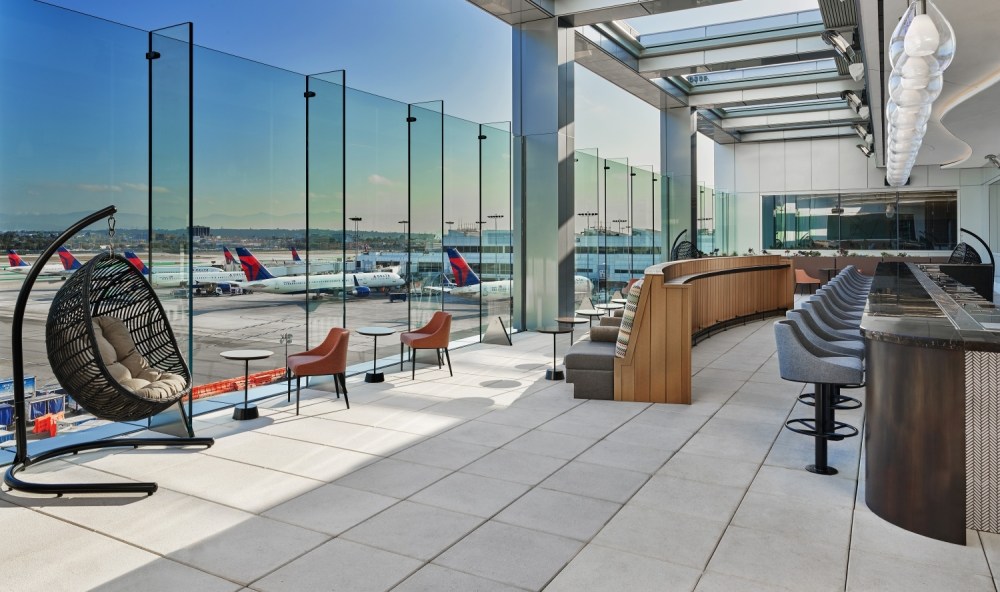 The new Delta Sky Club at LAX features a fantastic sky deck with views of the runway and the Hollywood Hills
LAST WORD
Five years after the Delta One Suite debuted, you can still expect one of the sleeps nights in the sky and coupled with some amazing on-ground experiences before you fly, such as the new sky deck bar at LAX, the carrier most certainly offers one of the world's best business class experiences.
Especially on such a busy route as Los Angeles-Sydney where there is direct competition from Qantas and United Airlines, alongside Air Canada, Air New Zealand, Fiji Airways and Hawaiian Airlines with one-stop offerings, it's fantastic to see Delta has continued its soft product enhancements alongside the brilliant suite.
Having complete privacy in a suite that feels like an international first class product also continues to be a game-changer from Delta and the extra privacy most certainly makes for extra sleep on long overnight flights.
Expect to get a great night's sleep in the Delta One Suite
On the overnight flights to Sydney, you'll eat and sleep well, while on the day and night flight back to Los Angeles, it's a great opportunity to work or relax in a very comfortable environment.
Delta One continues to be a five-star offering and one that truly is nothing short of exceptional. With more food and beverage initiatives just around the corner, thanks to partnerships with the likes of Impossible Foods and Black Sheep Foods, alongside innovative entertainment from Peloton and Spotify, we can't wait to see what Delta has in store for us next.