Air Canada's Signature Class business cabin has been one of our favourite ways to get to North America and the offering keeps on getting better, as James Wilkinson discovers.
With fantastic Canadian hospitality, great food and wine, sleeper seats, entertainment aplenty and stylish amenity kits, Air Canada's Signature Class has been one of the world's best business class cabins for years.
As the world continues to open-up and as Air Canada continues to return to many regular routes (such as Auckland, Brisbane and Sydney), the business class product has never been so popular and to find out what to expect, Wayfarer took a journey from Sydney to Vancouver and back recently.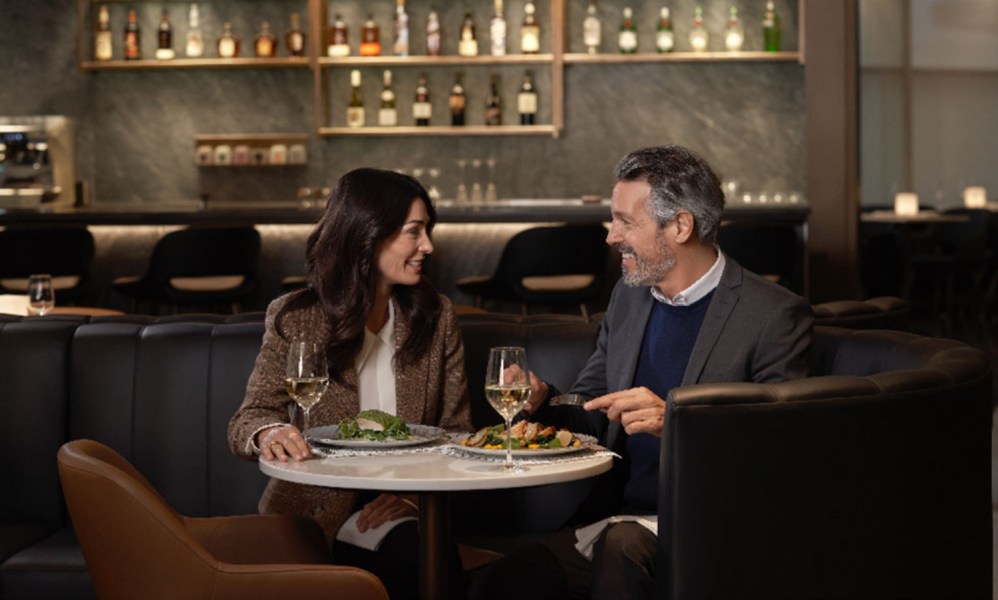 PRE-FLIGHT: FROM VANCOUVER
Air Canada recently debuted its Signature Suite lounges in Vancouver and what's on offer is exceptional.
The new Air Canada Signature Suite lounge, originally scheduled to debut in 2020, offers the best Canada has to offer in terms of food, design and comfort, alongside fantastic views of the airfield.
Ideal before a long-haul flight, particularly Australia, guests can sit down for an à la carte meal courtesy of a brilliant menu from renowned chef David Hawksworth, which is loaded up with local produce aplenty.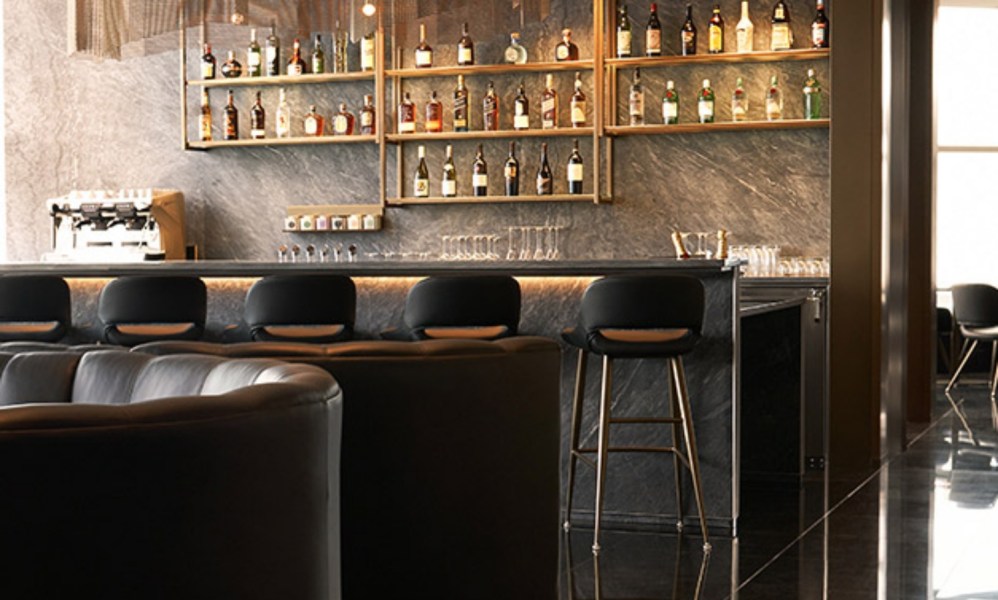 Some of the dishes to expect include White British Columbia Spring Salmon with smoked lemon emulsion, spring vegetables, herb crust; seared foie gras, grape gastrique, pickled grapes, pain perdu, toasted nuts and seeds, frisée; and a sensational Hamachi Crudo with Hamachi sashimi, lemongrass sorbet, radish, cucumber, citrus pearls, puffed black and wild rice.
Make sure you save room for dessert, which includes a Salted Caramel Pot de Crème, Chocolate Tart and a daily selection of house-made ice cream. There's also the 'dessert in a glass', which is made with Bailey's, maple syrup and espresso.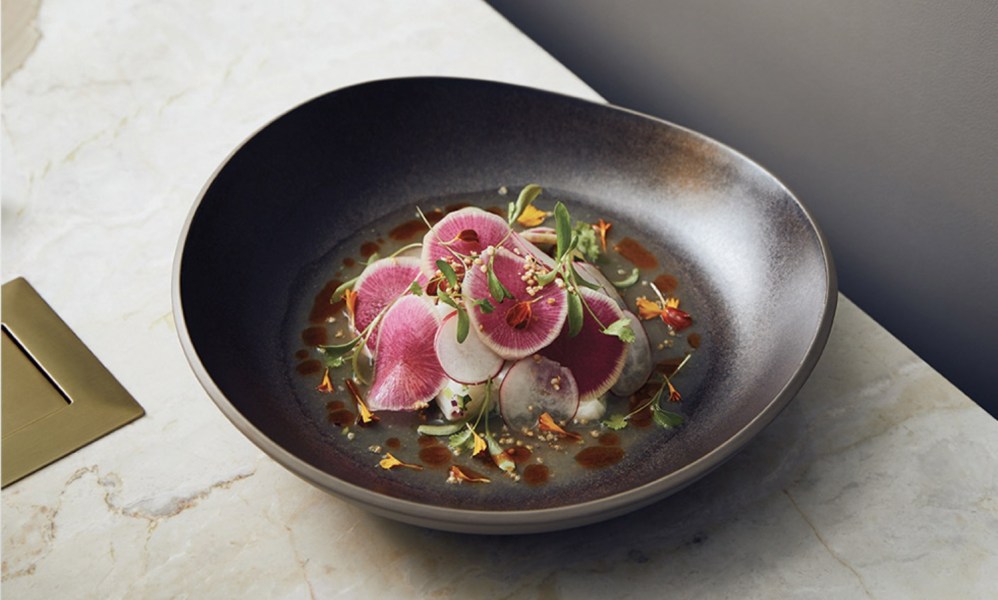 On the wine front, the Air Canada Signature Suite lounge absolutely excels, with a line-up worthy of a leading Vancouver restaurant. Expect several wines from Canada's emerging Okanagan Valley region of British Columbia, including the sensational 2017 Mission Hill Vista's Edge Cabernet Franc and the 2014 Martin's Lane Pinot Noir.
British Colombia's Similkameen Valley is also represented with the 2020 Clos du Soleil Chardonnay, while the house Champagne is the Moët & Chandon Brut Imperial and the Brut Rosé.
Alongside the food and wine, the Signature Suite also offers areas to relax in pre-flight and the interiors are courtesy of acclaimed Montreal-based Heekyung Duquette, who brought in loads of natural light to the lounge alongside Canadian style aplenty.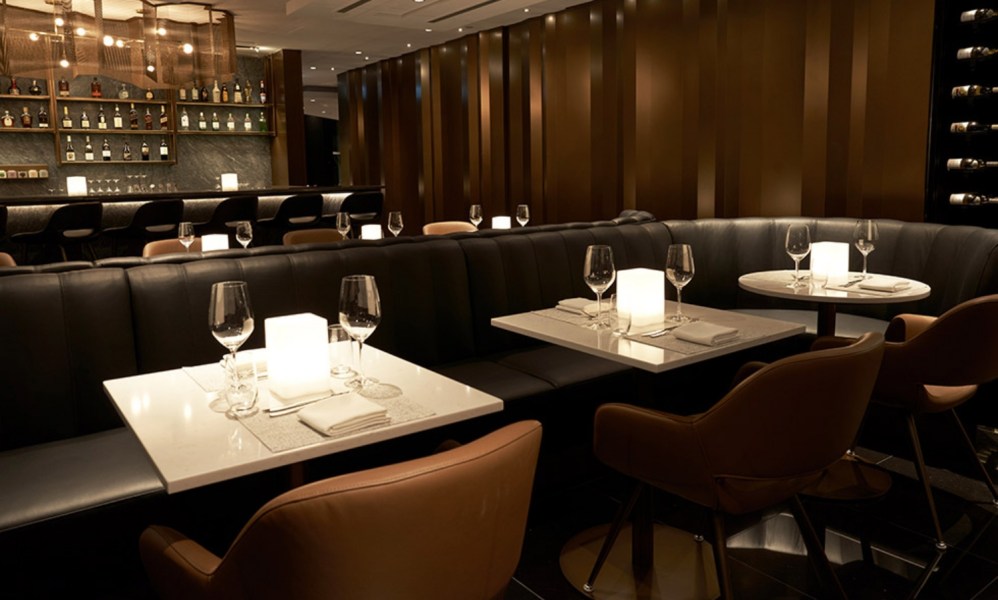 The lounge features floor-to-ceiling bronze panelling, bar tops made from local stone and a custom chandelier, while design is complemented by art from some of Canada's greatest talents, with contemporary furnishings "representing the pinnacle of craftsmanship and quality", according to the airline.
When it comes time to freshen up, expect an array of premium products, including luxury skincare amenities from Molton Brown.
It all adds-up to an excellent pre-flight experience highlighted by some of the best airline lounge food you'll ever try.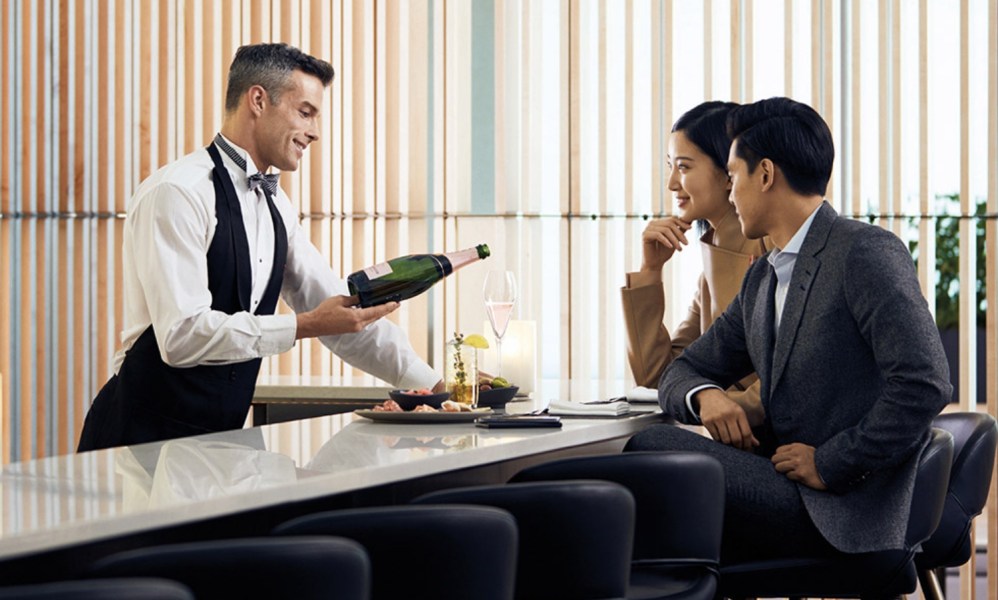 PRE FLIGHT: FROM SYDNEY
While Air Canada doesn't operate a lounge at Sydney's Kingsford Smith International Airport, the carrier's Star Alliance partners Air New Zealand and Singapore Airlines both have fantastic facilities at the airport.
If you are after one of the best coffees at Sydney Airport, alongside a fantastic buffet and comfortable seating aplenty, head into to the Air New Zealand lounge, while if you're craving some tasty South-East Asian cuisine, head into the Singapore Airlines lounge.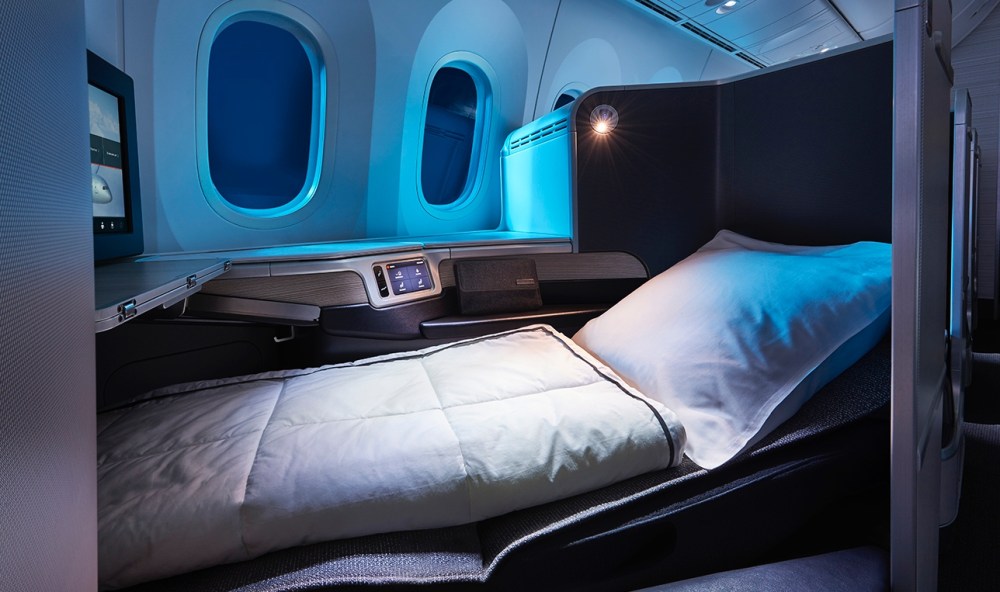 THE SIGNATURE SUITE SEAT
Air Canada operates Boeing 777 and Boeing 787 Dreamliner aircraft on flights to Australia and New Zealand. Both aircraft feature the 'Executive Pod' in Signature Class, which feature lumbar support and a massage function and convert to a fully flat bed up to 203.2 cm (6′ 7″) long.
When it comes to sleeping, expect a pillow, duvet and mattress topper, while when it comes to eating and working, expect a large tray table and ample storage. On the entertainment front, Air Canada's inflight system has thousands' of hours of movies, TV shows, podcasts, music, audio books and games on demand and featuring some of the latest Hollywood blockbusters and Emmy Award-winning TV shows.
Tune in with noise-cancelling headphones or bring your own cans, plug in easily and you're away.
Air Canada also provides amenity kits for Business Class passengers courtesy of Montreal's WANT Les Essentiels brand that features vitruvi beauty products as well as socks, a toothbrush, toothpaste, eye cover, glass cloth, and earplugs.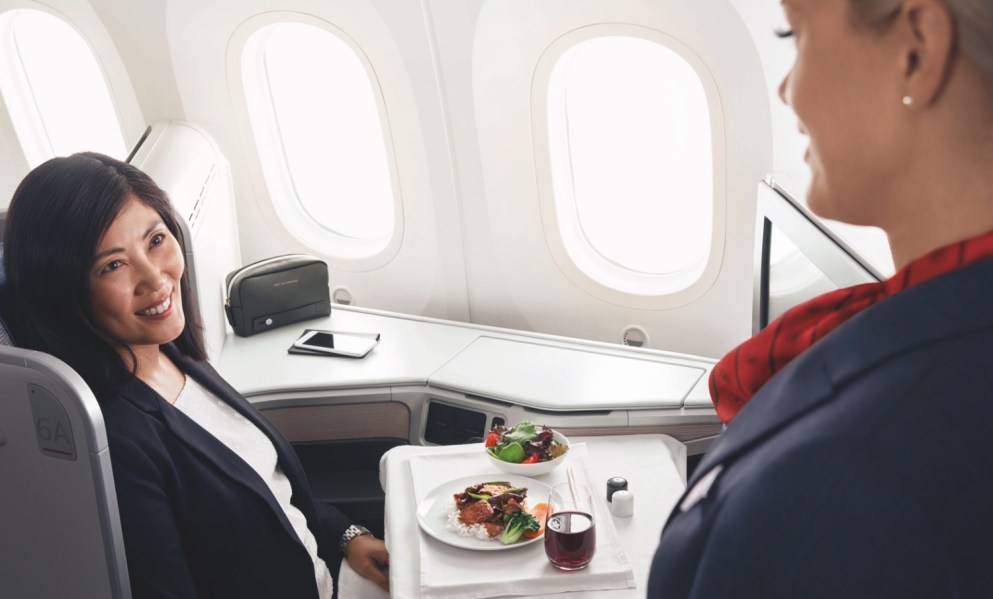 ONBOARD FOOD AND WINE
Canada is known for its amazing array of produce and when you step aboard Air Canada, that's exactly what you can expect.
Impressively, Air Canada offers flexible meal options for those who prefer to eat earlier or later than our scheduled service times. There's also an 'Express Light Meal Option', served shortly after take-off and features an appetizer, warm bread and butter, mixed greens, cheese and crackers and fruit.
When it comes to the dining experience, you won't be disappointed thanks to the meals curated by Air Canada's culinary team of Chef David Hawksworth, the Vancouver­based chef and the owner of restaurants Hawksworth and Nightingale; Chef Antonio Park from Montreal, who blends his South American and Asian roots with locally sourced, sustainable ingredients; and Chef Vikram Vij, the co­owner of Vij's Restaurant, Vij's Rangoli and My Shanti by Vikram Vij in Vancouver, where traditional Indian techniques meet West Coast ingredients.
Some of the top dishes served inflight at present include braised pork cheeks with grainy mustard sauce, sauerkraut, parsley potatoes, asparagus and baby carrot; roasted cod, olive salsa verde, saffron rice, cherry tomato and oyster mushroom; and a chocolate hazelnut cake for dessert.
On the wine front, the onboard list is curated by award-winning Sommelier Véronique Rivest, one of most respected sommeliers in Canada and abroad. Her lists feature both Canadian and international wines, including labels from the brilliant Okanagan Valley region of British Columbia.
The onboard hospitality is exceptional and it truly rounds out a fantastic inflight food and wine experience.
AIR CANADA'S CHAUFFEUR SERVICE
Air Canada is in the process of rolling-out electric and hybrid Porsche cars for select Signature Class customers connecting to Asia, Europe and South America from domestic flights in Vancouver.
Eligible connecting International Signature Class customers arriving from within Canada will be met by a Concierge before being whisked away on the tarmac in a Porsche vehicle to the distinctive Air Canada Signature Suite.
The fleet of vehicles will be electric or plug-in hybrid electric vehicles, including the Porsche Taycan, Panamera and Cayenne, supporting Air Canada's commitment to reach a goal of net-zero greenhouse gas emissions throughout its global operations by 2050.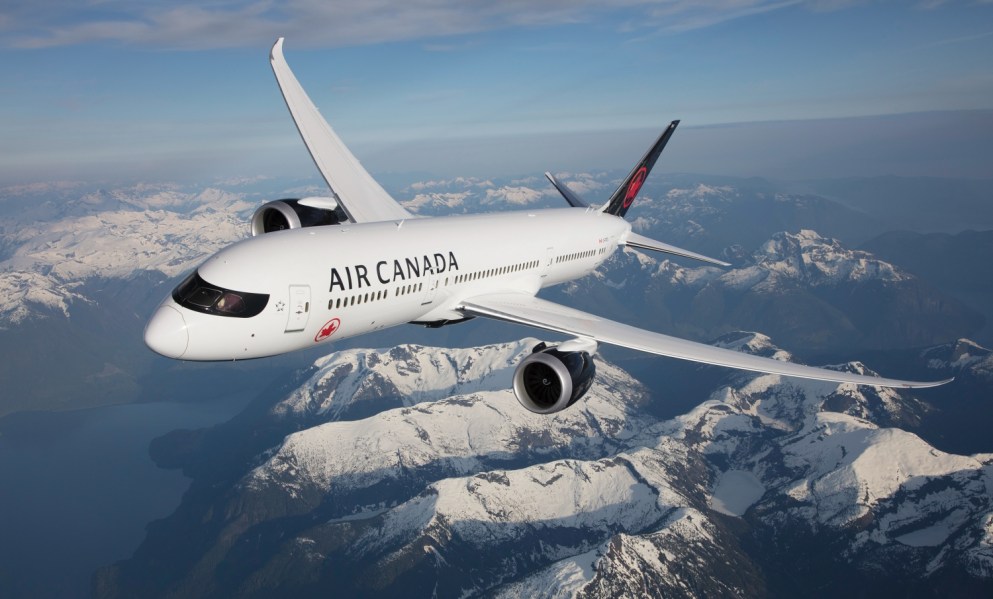 EXPRESS TRANSIT TO THE USA IN VANCOUVER
One of the best things about flying Air Canada to North America is the express transit for onwards connections to the USA at Vancouver Airport.
After landing, you take a special path that leads to security and then US immigration, where you are processed before heading to the gate for your next flight without having to leave the terminal.
Then once you land in the United States, you simply collect your luggage and leave the terminal.
Air Canada offers fantastic connections to many top US destinations – including New York (Newark), Los Angles, San Francisco and more – and the express transit makes for a very simple journey.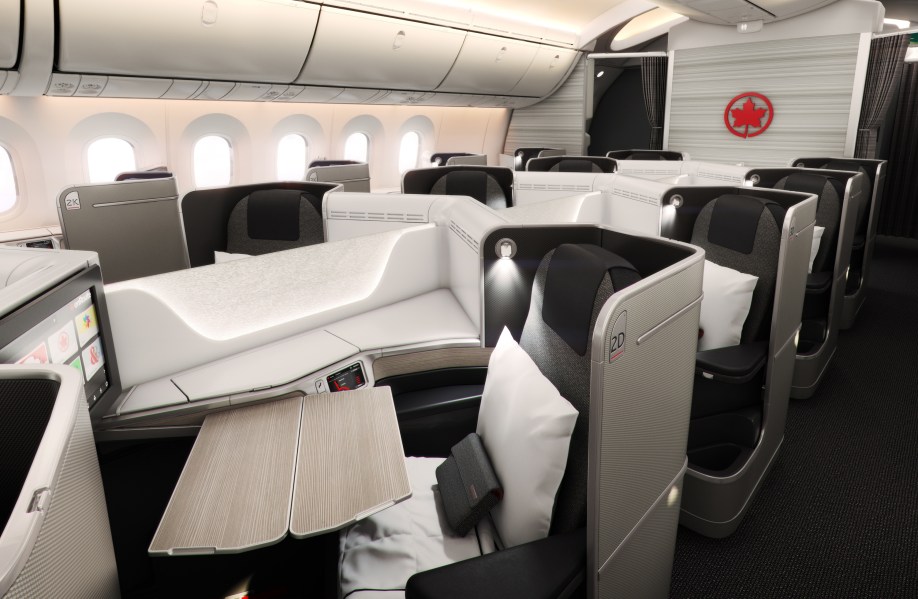 OVERALL EXPERIENCE
With fantastic hospitality, top food and wine, comfortable seats and brilliant lounges, Air Canada offers one of the best experiences in the sky.
If you are looking at heading to their home nation of Canada or beyond to the United States, Europe, South America and more, you can expect a hospitable journey that truly showcases the best the nation has to offer.
For bookings, visit aircanada.com