Qatar Airways launched its new QSuite Business Class product in early 2017 and the airline's CEO, His Excellency Akbar Al Baker, promised it would revolutionise travel across the globe. It certainly has and what an amazing product it has turned out to be and it continues to set benchmarks for the aviation industry five years on, as James Wilkinson discovers.
There was a lot of hype, as you'd expect, when Qatar Airways first launched the all-new QSuite Business Class five years ago and has certainly been a case of 'believe the hype' because the product hasn't only set benchmarks for the carrier you find the seats on, but what many other airlines have since done.
In fact, since the launch, Qatar Airways was won almost every gong available for the QSuite seat and the new cabin offering, including World's Best Business Class, World's Best Business Class Airline Seat and World's Best Business Class Onboard Catering, alongside winning Airline of the Year (for six times), Best Airline in the Middle East and World's Best Business Class Airline Lounge.
The global recognition has come for good reason, because the seat, food, wine and onboard service is nothing short of exceptional.
With so much privacy and space, the QSuite has firmly become a First Class product in Business Class, particularly for the middle seats on the aircraft, which can turn into a private family cabin for up to four travellers or a double bed for couples. All complete with sliding doors (which has quickly become the norm for many carriers since the debut of the QSuite).
While solo travellers will love the privacy of the window seats, the winners are the private cabins for up to four people, which feature privacy panels that stow away, allowing passengers in adjoining seats to create their own private room, something that is still a first of its kind in the industry.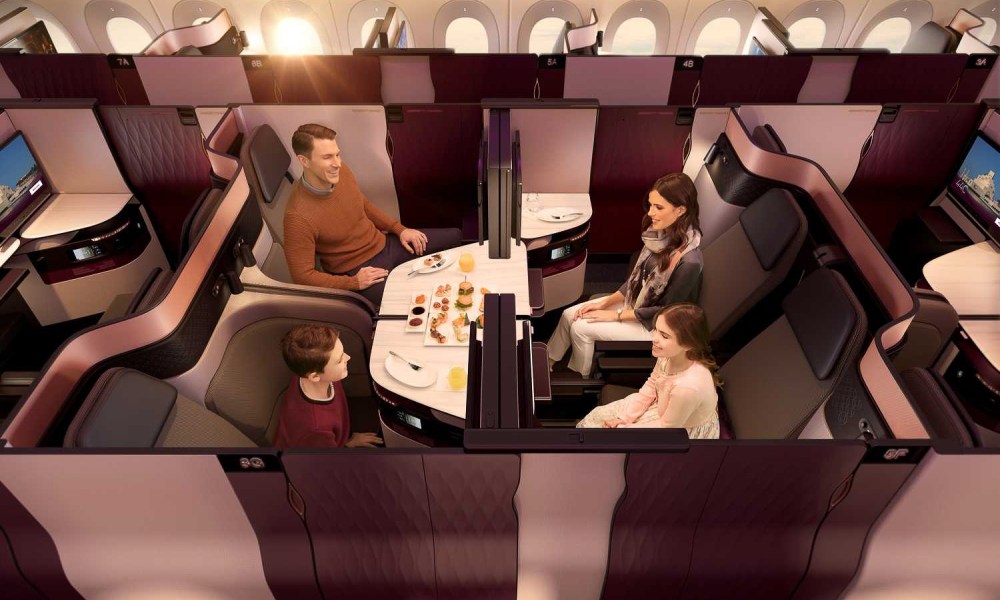 Adjustable panels and moveable TV monitors on the centre four seats allow colleagues, friends or families travelling together to transform their space into a private suite, allowing them to work, dine and socialise together.
The suites offer ambient mood lighting, fully lie-flat beds and generous storage space, creating a private areas that's excellent for sleeping, eating, relaxing or working.
One of the best features is the media panel, which includes an all-access power port, alongside USB, HDMI and NFC capabilities.
The media can be played back on high-definition large screen televisions, which feature over 4,000 entertainment options.
When you couple that with the airline's super high-speed WiFi, you'll be online, powered up and entertained for the whole flight.
When it comes to eating, Qatar Airways offers a dining on demand service that consists of both Arabic and Western Dishes.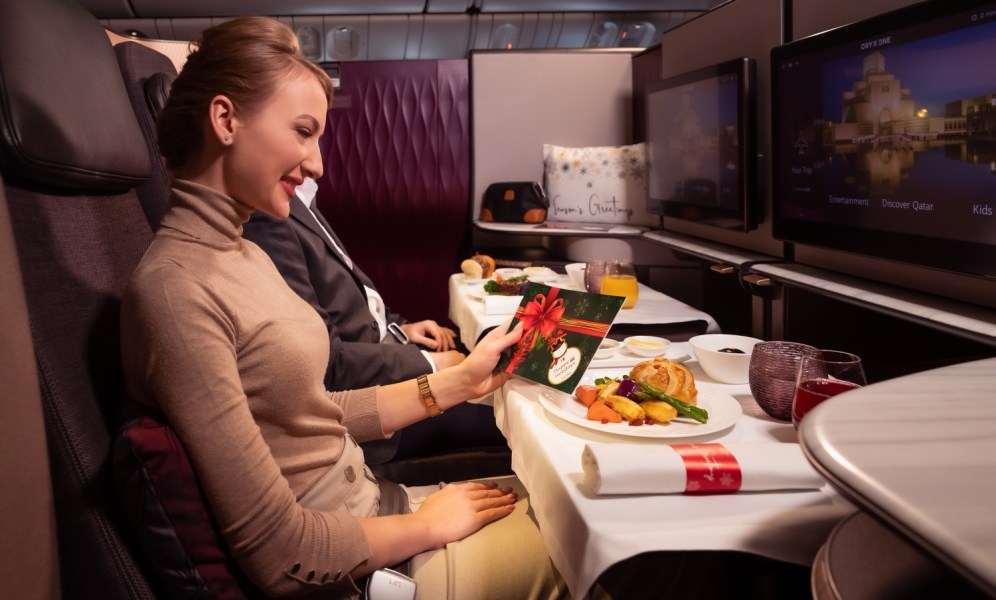 A number of fine wines from across the globe are available onboard depending on the route, including premium French champagnes and impressively, a number of Australia's best wines.
The best part of the meal experience onboard Qatar Airways is the dine on demand, a-la-carte restaurant service, which means you can eat whenever you'd like (ideal on 14-hour long-haul flights when sleep is essential) and the presentation, which is laid out like a fine dining eatery.
On long haul flights, you'll find a bespoke turn down service complete with pillows, a quilted mattress and a soft, plush duvet.
While the cabin crew make your bed, you'll be hopping into some sleepwear from the White Company before freshening up in style thanks to exclusive amenity kits from iconic French Perfumer Diptyque.
The bespoke products are available for First and Business Class passengers on routes across the globe and they consist of Diptyque branded bags as well as gift boxes featuring Diptyque's signature oval branding and impressively, they are customised for male and female passengers.
In line with Qatar Airways' focus on sustainability, the Diptyque bags are made from vegan leather while the eye shade and socks are made from RPET.
The seat, amenity kits and meals aside, it is the hospitality onboard that truly rounds out this exceptional experience. You'll find stylish, hospitable and knowledgeable cabin crew onboard and they excel when it comes to the dine on demand service in particular.
The Qatar Airways QSuite is currently available on the airline's Airbus A350-1000s and selected Airbus A350-900s and Boeing 777-300ERs.
Before you fly, stop by one of Qatar Airways' lounges across the world for exceptional food and wine, which is best found at the flagship Business Class Lounge at Hamad International Airport in Doha.
For the best prices to fly the QSuite on Qatar Airways flights across the world, book direct at qatarairways.com