The trans-Pacific battle for the business class customer has intensified in recent years and upping the ante has been new in-flight service, product and technology.
Two of the airlines competing the hardest are Australian carriers Qantas and Virgin Australia, which offer brilliant service, seats and much more. One offers new jets and the other has inflight WiFi, while on both you can expect world-class food, wine, service and entertainment.
Which airline should you choose? In this special report, WAYFARER Host and Editor-In-Chief, James Gregory Wilkinson, looks at what you can expect in Business Class on Qantas and Virgin Australia in two TV segments and what makes both airlines a couple of the best in the world.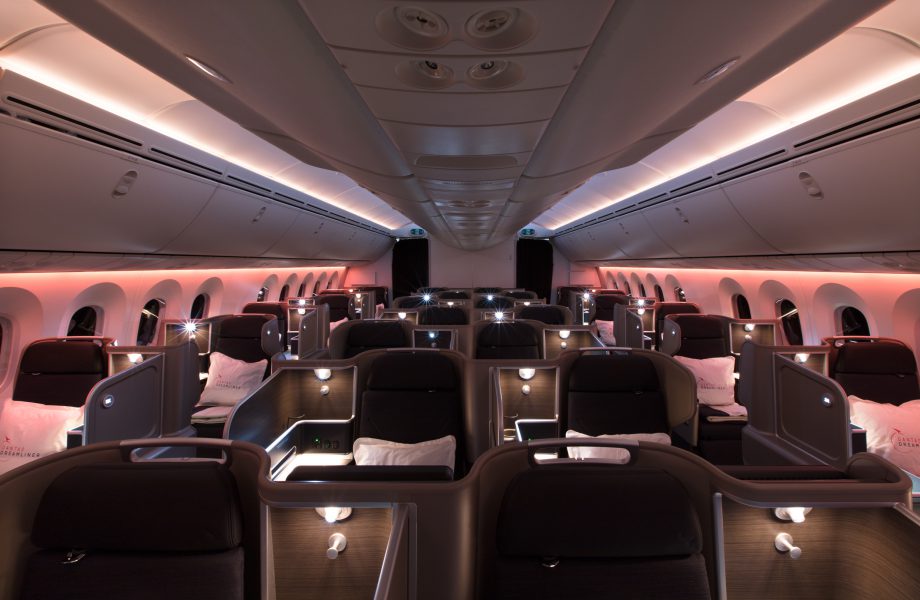 Qantas' Boeing 787-9 Dreamliner Business Class and (above) The Business onboard Virgin Australia
QANTAS: BUSINESS CLASS
Qantas' Boeing 787-9 Dreamliners have been popular with business and leisure travellers since they first arrived in October 2017, thanks to the spacious cabins, modern interiors and latest onboard product.
Leading the way on board the Qantas Dreamliners – which operate flights from Brisbane and Melbourne to Los Angeles (Sydney and select Melbourne flights are on the Airbus A380, currently being kitted out with the new 787 onboard product) – is Business Class, which features the latest-generation 'suite' from the Flying Kangaroo that can be reclined for take-off and landing, top Australian food and wine and world-class entertainment.
Qantas Business Class customers can expect an amenity kit and the Flying Kangaroo's popular pyjamas, as well as sparkling before take-off and when in the air, a brilliant food menu curated by top restaurateur Neil Perry.
Priority check-in and lounge access before take-off is available in Brisbane, Melbourne, Sydney and Los Angeles, including three fantastic First Lounges for Qantas Platinum and oneworld Emerald Frequent Flyers.
Here's what you can expect on Qantas in Business Class on the Boeing 787 Dreamliner.
VIRGIN AUSTRALIA: THE BUSINESS
Virgin Australia's service and offering on the wide-body Boeing 777-300ERs that make the hop to Los Angeles from Brisbane, Melbourne and Sydney is exceptional and onboard, expect top Australian produce, wine and beer from nose to tail alongside seat-back entertainment.
In luxury cabin 'The Business', find spacious mini-suites with flatbed seats, as well as an onboard bar that is ideal for working on your laptop away from your seat at or relaxing at with a glass of premium Australian wine.
Fast WiFi is also available for the journey and when it's time for a nap, expect a turn down service that features a large pillow and a doona as well as pyjamas and an amenity kit.
Onboard, also find a restaurant-style dining experience that will be served on demand when you're ready. The menus are courtesy of resident chef, popular Sydney-based restaurateur Luke Mangan.
Before you take off, there is priority check-in, lounge access in Australia and Los Angeles and priority boarding followed by a glass of sparkling wine when you reach your seat.
Here's what you can expect on Virgin Australia in The Business on the Boeing 777-300ER.