Finnair's all new Business Class cabin featuring the stylish 'AirLounge' seat made its debut this past European summer and its no surprise it has been getting fantastic reviews all year long, because this is one of the best seats in the sky.
In recent years, Finnair has constantly been upgrading the Nordic carrier's offering, whether it be the efficient Airbus A350s, new airport lounges or onboard food, and it has all been to the benefit of high flyers.
Earlier this year, Finnair took that one step further with the launch of all new Business Class and Premium Economy cabins on the entire long-haul fleet of A330s and A350s.
For Finnair, it represented the debut of Premium Economy – which they have done exceptionally well – and an advanced Business cabin with an all-new seat dubbed the 'AirLounge'.
The Finns are known for their brilliant furniture and interior design, so it's no surprise epic style is exactly what you get with this seat.
David Kondo from Finnair's Customer Experience team, who led the design work for the new Finnair long-haul experience, said the AirLounge is not a traditional aircraft seat but takes inspiration from lounge furniture.
He said the seat is designed to maximise your comfort, space, and freedom to move during a long-haul flight.
Kondo said the clean lines and the dark, comforting colour scheme follow Finnair's Nordic design style that is visible also in Finnair's lounges in the non-Schengen area at Helsinki Airport.
"We wanted to rethink business class and create more of a residential environment, emulating the comfort you would expect at home," he said.
"By doing away with complicated seat mechanisms and using 3D curved shells, we're able to provide a larger flexible living space. This allows you to move more freely and take up different positions that traditional aircraft seats do not allow."
The seat concept was originally conceived by PriestmanGoode of London then further developed by Collins Aerospace, with customisation and final design execution by Finnair and its appointed design partner, Tangerine.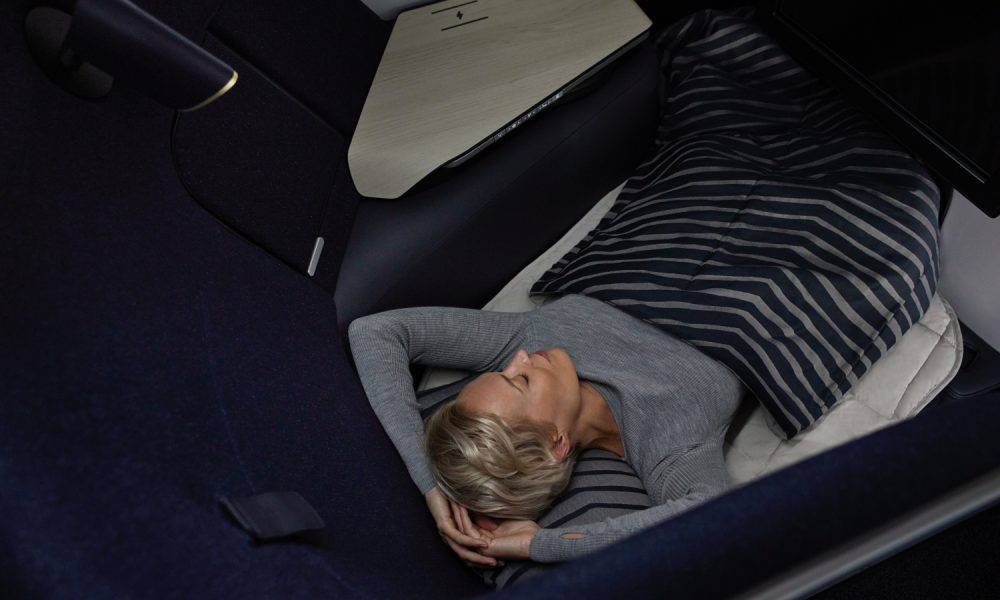 The seat's innovative fixed contoured shell with no recline enables a wide variety of sitting and sleeping positions: you can sit at different angles, rest your feet on the ottoman or use infill panels to create a large flat surface.
A mattress and duvet turn the space into a comfortable bed, and you can use the cushy pillows to relax in a variety of sitting positions. The high cocoon like shell of the seat provides privacy, while the divider between central seats can be lowered when travelling with a companion.
The lighting options in the seat allow tailoring the ambiance of every customer's own "nest". Along with a customised lamp that doubles as a reading light, a do not disturb light is included if total privacy is desired.
The in-seat lighting complements new cabin mood lighting designed in partnership with Jetlite to combat the effects of jetlag. The design scheme is inspired by Nordic nature, complete with the northern lights as the cabin is dimmed for sleep.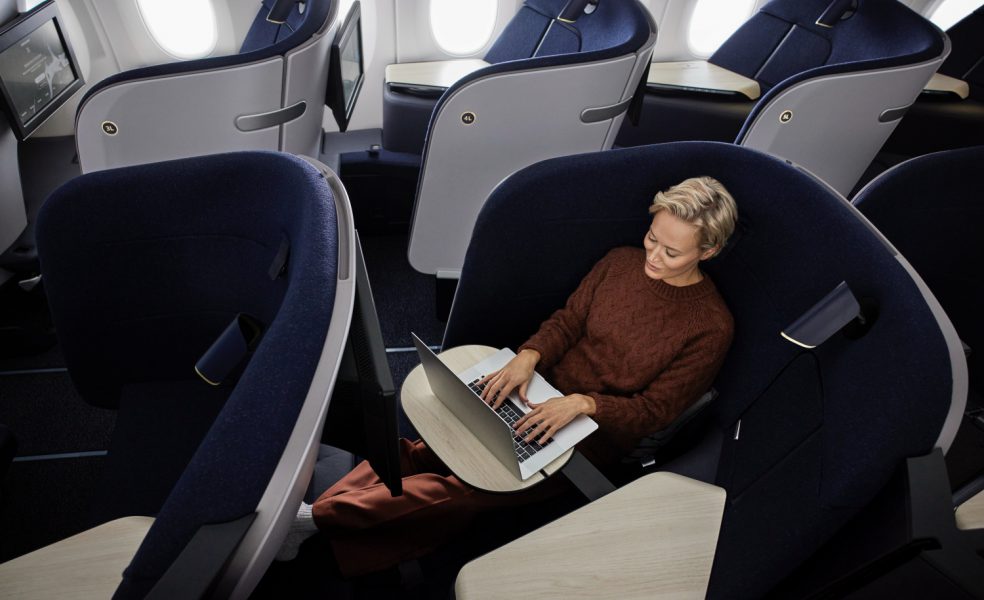 The various storage options within the seat include spaces for personal items, laptop, and all pillows and blankets; all certified for taxi, take-off, and landing, so customers can settle in right away and have their essential items conveniently at hand right from the start of the journey.
The flexible table can be used to read, dine or work. Each seat comes with impressive connectivity, including USB A, USB C, PC power, and wireless mobile charging. All of Finnair's long-haul aircraft are equipped with internet connectivity.
The Inflight Entertainment System comes with a new more user-friendly, customised interface and a wider 18-inch screen, making time onboard fly.
In line with its long design heritage, Finnair has worked with top Finnish design houses to complement the cabin ambiance and premium travel experience through beautiful new textiles and tableware.
All meals are served on new chinaware from Finnish design house Iittala. The Kuulas dining collection is designed by Harri Koskinen and inspired by the contemporary home environment.
Each item in the collection is carefully designed with aviation in mind, making the collection efficient and lighter to support aircraft weight and CO2 reduction targets.
Business Class customers will enjoy renewed meal and beverage offerings, including an up to six-course meal in modern bistro-style and another lighter meal. In between meals customers can enjoy the stunning new refreshment area located at the main entrance of the aircraft.
The Finnish fashion house, Marimekko has created unique pillows and a duvet for the Business Class, with Maija Isola's iconic designs in soothing dark colours.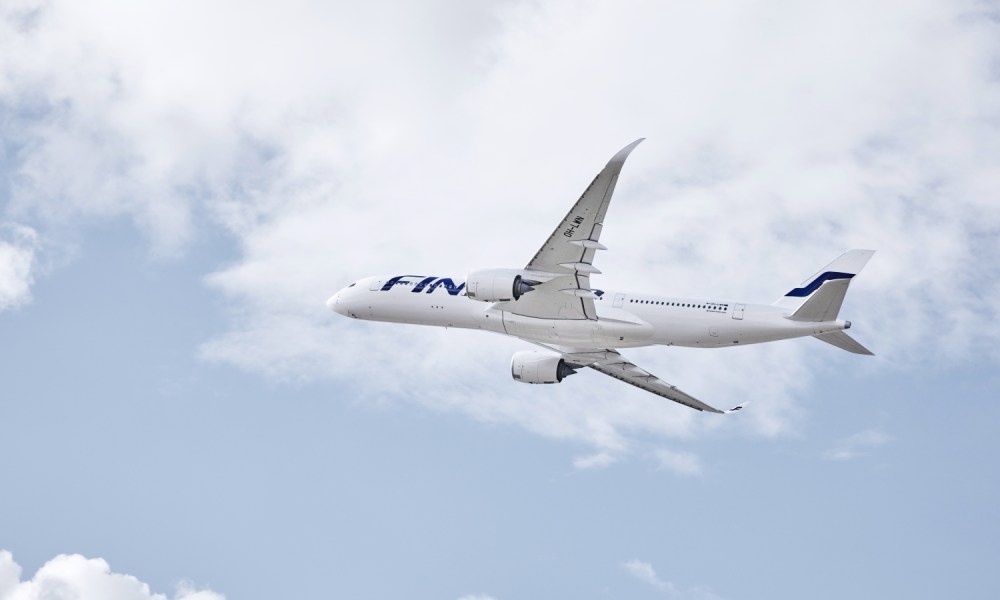 While the new hard product is exceptional, what about the inflight food and service? Well, that's where Finnair is better than it has ever been.
In Business Class, you'll find menus loaded-up with some exceptional signature dishes. First-up there's a cold starter, which at present is a choice of corn puree with edamame and fava beans and dill oil or a herb tartlet with shredded chicken and mustard seeds.
Then there's a choice of three main courses and on current flights (to Singapore for example), including braised beef cheek with onion puree, asparagus risotto and dark truffle sauce, or lightly smoked rainbow trout with pea puree, summer vegetables and creamy mussel sauce, or fried wok vegetables, cashew nuts, noodles and coconut sauce.
For dessert, it is blueberry mousse with white chocolate or cheesecake with raspberry sauce.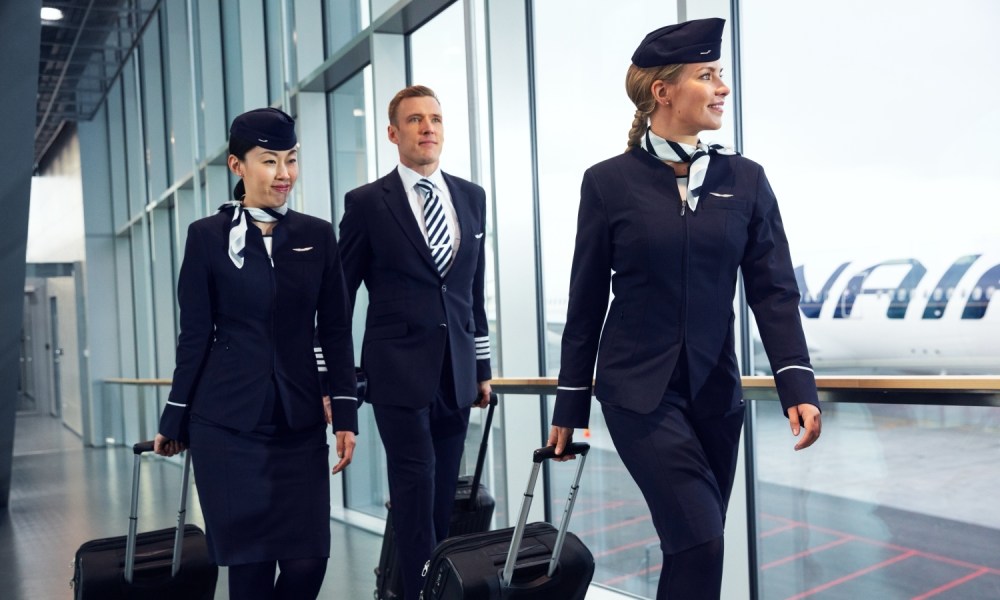 There's also a light meal served before landing and on flights to Singapore now, that is a game meat pie and Skagen salad with greens and fresh fruits.
On the beverage front, Finnair serves up and excellent selection of wines from across the world and current highlights include Joseph Perrier Cuvée Royale Champagne, the Labouré-Roi Chablis le Beaunois 2018 from Bourgogne and the Château Puybarbe Côtes du Bourg 2016 from Bordeaux.
Onboard, there is also a Finnair signature cocktail, the Northern Blush, as well as a fantastic Negroni.
The only thing to keep in mind before the inflight meals is to save room because Finnair has an exceptional lounge offering at Helsinki Airport, with new flagship offerings debuting at the start of 2020.
Over the past few years, Helsinki Airport has undergone a major expansion that's seen a brand new, modern wing open to service non-Schengen flights and provide additional capacity for national airline Finnair's rapid expansion through Asia.
The result has been one of the most impressive airport terminals constructed in Europe over the past decade and one that is now home to two of the best lounges in the global oneworld alliance network.
To find out what to expect, Wayfarer's award-winning host James Gregory Wilkinson spoke to to Finnair's Experience Manager – Lounge and Airport, Minna Väätäinen, to find out what's on offer at the airline's new Platinum Wing and Business Lounges – as well as the stylish Schengen Lounge – which showcase the best in Nordic design and hospitality (click on the YouTube image above).
What Finnair has created with the new Lounges in Helsinki is exceptional and ensure you save time for a sauna before you take off.
Finnair's new Business Class cabin is now available on Airbus A350-900 flights to Helsinki from Singapore, Bangkok, Tokyo (Haneda), New York (JFK) and Dallas-Fort Worth.
To book the new cabin, find the best fares direct on Finnair's website at finnair.com