Jetstar Airways has received its first Airbus A321LR NEO aircraft after a four year wait, with the fuel-efficient jets set to operate some of the low-cost carrier's longest routes cover the coming months.
Jetstar CEO, Gareth Evans, said the long-range, fuel-efficient aircraft will significantly enhance the inflight experience for customers, with a range of benefits including wider seats, larger overhead storage lockers and in-seat USB power.
He said in the coming months, the NEOs will also be equipped with digital streaming technology which means customers can access Jetstar's inflight entertainment on their own devices when they fly.
"The arrival of the A321LR is one of the most significant milestones in Jetstar's 18-year history," Evans said.
"Our fleet of new NEOs will lift the bar on passenger comfort, and we've fine-tuned the cabin configuration to set a new standard of inflight experience for low fares travel in Australia.
"This means wider seats for customers, larger overhead lockers, in-seat USB charging and in-flight digital streaming technology, which is an Australian first for a low fares airline.
"The A321LR burns significantly less fuel than previous generation aircraft, and advanced weather detection technology will enable our pilots to plot smoother and more fuel-efficient flight paths.
"That translates to a saving of one point two million kilograms of fuel annually – a reduction of almost 4,000 tonnes of emissions or the equivalent of removing 1,500 cars from the road each year.
"The aircraft also has a greater flying range than Jetstar's current A320 fleet, which opens up opportunities to expand our international network across the Asia Pacific region – meaning more low fares to even more destinations."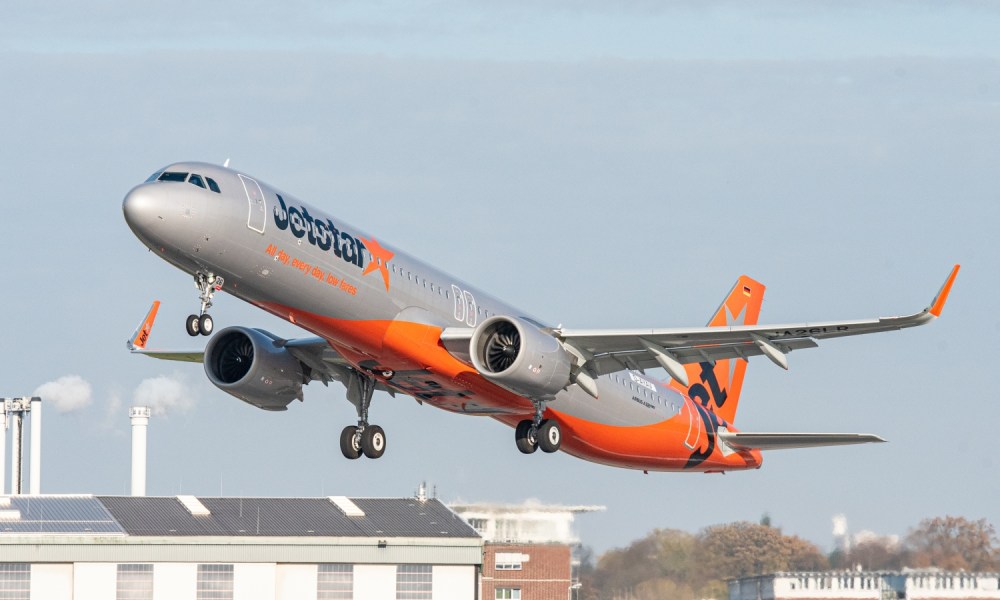 He said the A321LR is 15% more fuel efficient than Jetstar's current fleet of A320 aircraft, 50% quieter, and can fly up to 1200kms further, making it the lowest emissions aircraft in the Jetstar fleet.
This is first in Jetstar's pipeline of 38 new NEO aircraft, with the aircraft set to start flying on some of Jetstar's most popular domestic routes in early September, including from Melbourne to Cairns.
Delivery of a further eight A321LRs will take place between August 2022 and May 2023, with all 18 aircraft expected to be delivered by mid-2024. A further 20 A321XLR aircraft will arrive between 2024 and 2029, providing an even longer range of narrowbody flying in Australia.