Hawaii-based Outrigger Hospitality Group is one of the most exciting, fastest-growing hotel companies in Asia Pacific and right now the focus is firmly on expansion and incredible upgrades, like what the chain has done with its flagship property, the Outrigger Reef Waikiki Beach Resort.
The property is fresh from a US$80 million makeover that has included a stunning transformation of the hotel's rooms and suites, lobby and signature restaurants.
The upgrade has been one of the best the Hawaiian Islands have ever seen and has been led passionately by Outrigger Hospitality Group's President and CEO, Jeff Wagoner.
"The US$80 million investment at our flagship Outrigger Reef Waikiki Beach Resort infuses fresh energy and elegance into this iconic destination that was historically a place of healing and rejuvenation for Hawaiian royalty," he said.
To find out the latest, Wayfarer Host and Editor-In-Chief, James Wilkinson, spoke exclusively on camera to Wagoner at the Outrigger Reef Waikiki Beach Resort in Honolulu, Hawaii, recently where he also spoke about upgrades to other Hawaii properties, new acquisitions, staff culture and much more. To view the interview, click on the YouTube image above.
ESSENTIALS: GETTING TO HONOLULU
The best way of getting to Honolulu in comfort and style.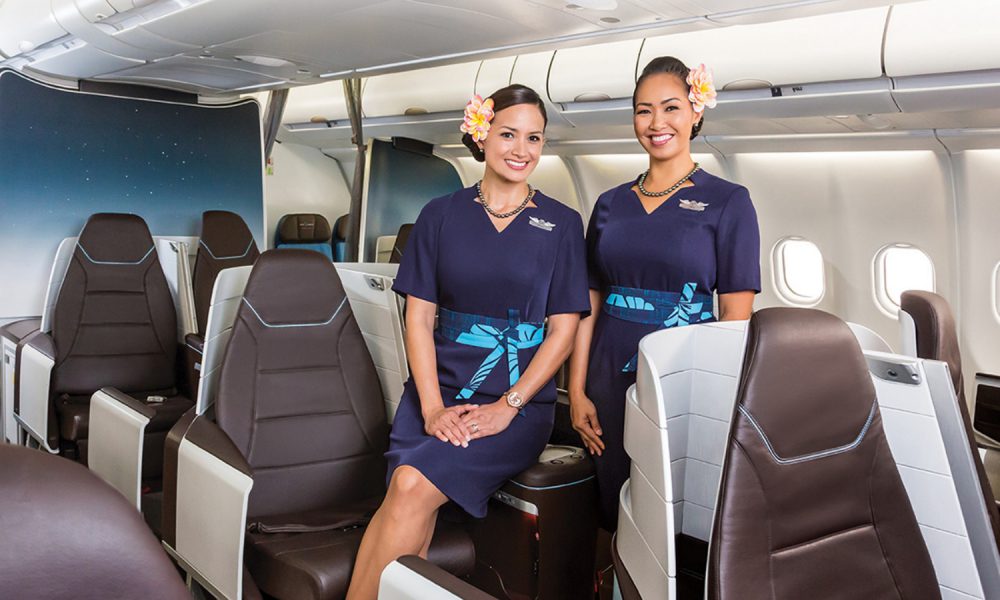 Book a seat in Hawaiian's brilliant Business Class cabin
FLY HAWAIIAN AIRLINES
Hawaiian Airlines flies to Honolulu from Sydney, Auckland and across the mainland United States. Hawaiian's brilliant onboard experience includes a stylish Business Class cabin and more Extra Comfort seats on the widebody Airbus A330 aircraft.
In Business Class, you' find flatbed seats, in a 2-2-2 configuration, that fold down into 180-degree beds that are 20.5 inches wide by 76 inches long.
Also expect a Mai Tai on arrival (and during the flight), a Hawaiian-styled meal service and after dinner, a sleeper service on the overnight flight to Honolulu that features pink duvets and pillows, and new amenity kits. Entertainment comes in the form of large-format iPad tablets that sit on a telescoping arm – something also ideal if you want to watch content on your own device.
It's also an exciting time for Hawaiian Airlines as the United States carrier re-boots its global network, prepares for the delivery of Boeing's 787 Dreamliner and focuses its efforts on being more sustainable than ever before.
Hawaiian has also upgraded its Hawaiian Miles program, taken delivery of Airbus A321s and launched free inflight WiFi and to find out the latest, Wayfarer host and Editor-In-Chief, James Wilkinson, spoke exclusively on camera in Honolulu recently with the airline's Senior Vice President, Avi Mannis.
To find out what's hot and new at Hawaiian, click on the YouTube video above.