Fiji Airways is set to further open-up the South Pacific to one of the region's most important emerging markets, Canada, thanks to the launch of new, direct flights to Nadi in November.
Ahead of the new services, Fiji Airways operated a special promotional flight to Vancouver from Nadi this week (Aug 9), which generated significant interest from leisure and business travellers and the travel trade alike.
The special flight from Nadi to Vancouver carried some key dignitaries and VIPs, including Fiji Airways CEO Andre Viljoen, Fiji's Attorney-General The Hon Aiyaz Sayed-Khaiyum and Tourism Fiji CEO Brent Hill.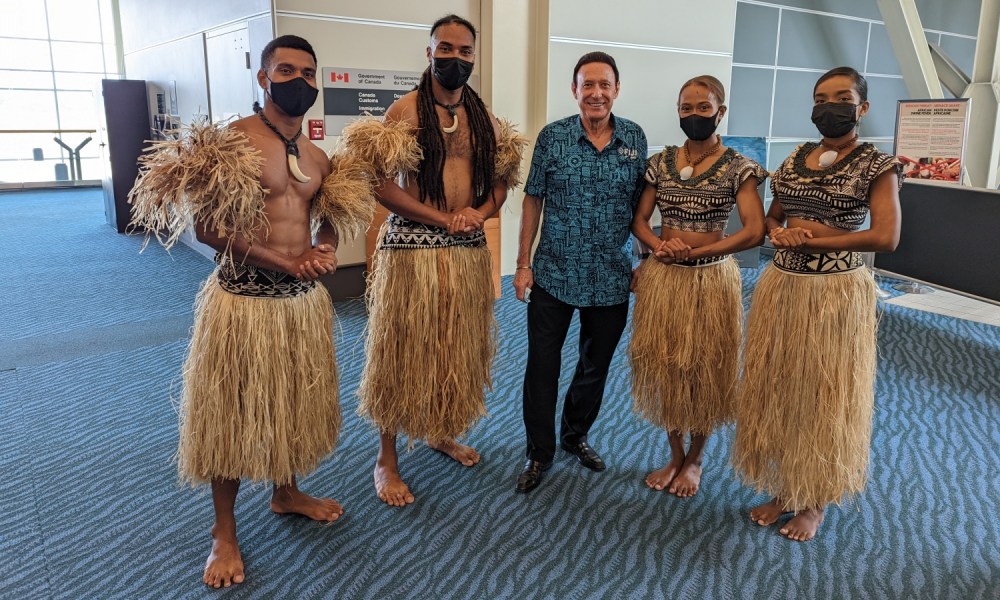 Fiji Airways CEO Andre Viljoen (centre) at Vancouver Airport with Fijian dancers. Photo: James Wilkinson/Wayfarer
Fiji Airways used the flight, operated by the carrier's flagship Airbus A350-900, to show the airline's commitment to Canada and to carry a trade delegation to promote the new services.
Speaking exclusively to Wayfarer, Viljoen said the new services would provide a massive boost to travellers in both directions, notably Australians heading to Canada and Canadians looking to explore the majestic Fiji Islands.
"This is an exciting day for us," he said. "North America is a key market for us [and] having Nadi as a hub and building it, as we have been, is a very positive move for us.
"Canada represents a new market with immense potential for tourism, trade and of course re-connecting Fijian families.
"The Fijian diaspora in Canada is approximately 80,000 – people who have not been able to see their loved ones for two years and are eager to fly home.
"Fiji Airways now provides them with a more convenient means to do just that," Viljoen said.
Fijian dancers put on a show at Vancouver Airport. Photo: James Wilkinson/Wayfarer
Tourism Fiji's Hill told Wayfarer the new direct flights would open-up a key emerging market for Fiji that was now more accessible for Canadians than ever before.
"As we are well on the way to recovery, it is fantastic to add a new market," he said. "I think Canadians are going to love Fiji and we are looking forward to seeing more Canadians in Fiji.
Hill said having a non-stop air link would immediately mean success for travellers keen to explore a new destination.
"In the modern day of travel, people are looking for point-to-point travel, so having non-stop is incredibly important and that will change the game for sure," he told Wayfarer.
As part of the promotional trip, Fiji Airways held an event at Vancouver Airport and later that day a special VIP party at Science World, where Sayed-Khaiyum told a crowd of over 200 people that the new services would be a massive boost to the South Pacific.
"40 per cent of GDP is dependent on the tourism sector and the rebounding of the tourism sector means a lot to our country," he said. "We look forward to welcoming Canadians to Fiji."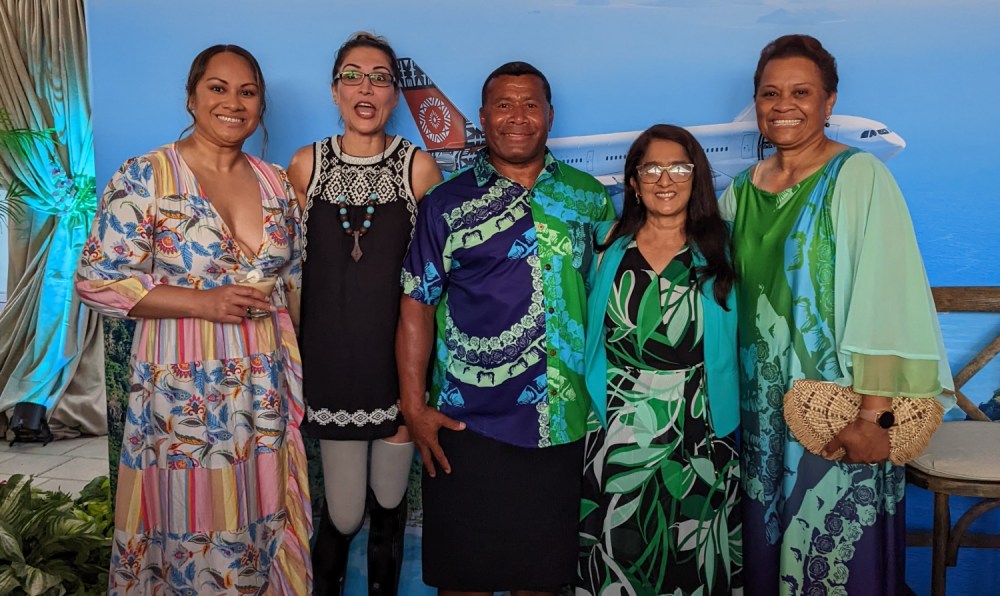 Fiji Airways put on a spectacular event in Vancouver, attended by VIPs including rugby legend Waisale Serevi (centre) and Fiji Airways executive Shaenaz Voss (right). Photo: James Wilkinson/Wayfarer
Fiji Airways will fly direct to and from Vancouver twice a week on Mondays and Fridays from November 25 and Viljoen told Wayfarer services could be increased on the back of demand.
Vancouver is the 20th direct international service to be operated by Fiji Airways' world class fleet, which includes the flagship Airbus A350-900, headlined by the carrier's all-new Business Class that features flatbed seats with all-aisle access.
Onboard the carrier's inflight entertainment system, passengers can catch 14 episodes of Wayfarer's travel TV show featuring several of the airline's top global destinations.