It's no secret Los Angeles is home to some of the most luxurious hotels in the United States and down at the beach in Santa Monica, you'll find one of the city's real hidden gems, Oceana, which offers a residential feel amongst the hustle and bustle of west LA.
Oceana is part of Hilton's superb LXR Hotels and Resorts brand and what you'll find at this property that's nestled in one of Santa Monica's quietest corners are very well-appointed rooms and suites loaded up with luxurious amenities, alongside a sunset bar, a stylish restaurant and fantastic service.
One of the charms of this property is the residential feel of the 70-room hotel, complete with its ivy-clad facade, alongside a pool that offers a fantastic retreat away from the touristy and busy areas of Santa Monica, which are only moments away should you wish to indulge in shopping, foodie hopping or sightseeing.
There are also the stylish rooms and suites, which feature rich, deep velvet sofas and sleek suede lounges, alongside four-poster beds outfitted with sumptuous Loro Piana bedding and Frette linens.
The experience is complete with spa-inspired bathrooms with Bottega Veneta bath amenities and state-of-the-art innovation including personal iPads that control everything from temperature to light settings and allow guests to order room service.
To find out what makes the property so unique, Wayfarer Host and Editor-In-Chief, James Wilkinson, spoke exclusively on camera to Oceana's General Manager, Emily Boyce (to view the video, click on the YouTube image above).
Oceana Santa Monica is located at 849 Ocean Ave, Santa Monica, California 90403, United States of America.
ESSENTIALS: GETTING TO LOS ANGELES
The best way of getting to Los Angeles in comfort and style.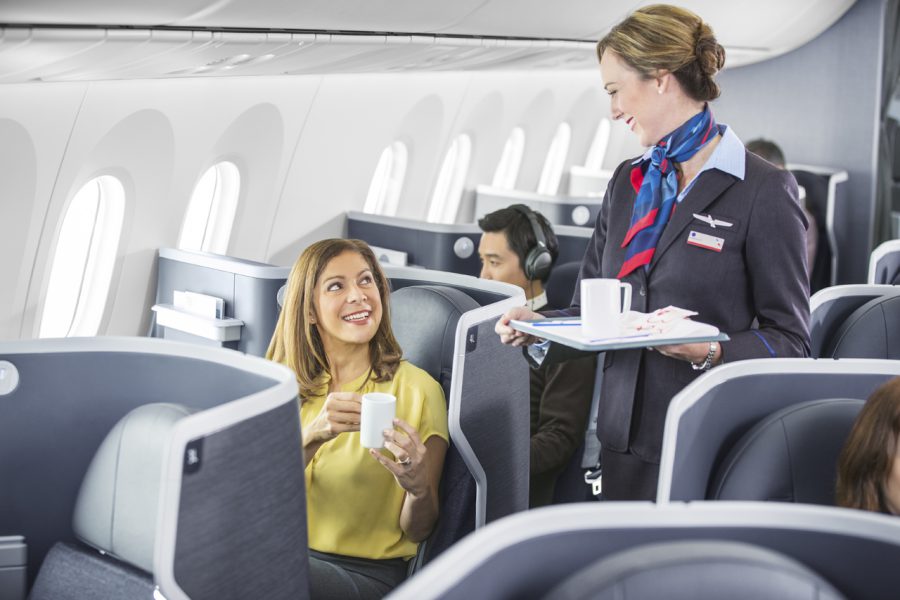 American Airlines' impressive International Flagship Business Class
AMERICAN AIRLINES FLAGSHIP BUSINESS CLASS
American Airlines' International Flagship Business Class is one of our favourite cabins in the sky on flights around the world, thanks to the comfortable seats, meals, drinks, entertainment, amenities and top-quality service on offer.
Available on the Boeing 787-8, 787-9, 777-200 and 777-300ER, American Airlines' International Flagship Business Class is ideal cabin for both business and leisure travellers and is a standout particularly on long-haul routes like Los Angeles-Sydney, New York JFK-São Paulo and Dallas Fort Worth-London Heathrow.
From the seats to the service, Wayfarer Host and Editor-In-Chief, James Wilkinson, looks at what's on offer in the video below.