Air New Zealand celebrated the launch of direct flights from Auckland to New York in spectacular fashion last Sunday (Sep 18), with a star-studded event at the Edge, New York's newest attraction and the world's highest outdoor viewing platform.
The event included New Zealand wines and performances by top Kiwi band Six60 and Air New Zealand's own Te Ara Nui cultural dancers, who performed an incredible Haka – quite possibly the world's highest ever Haka outside on a skyscraper – with lower Manhattan as a backdrop.
Check out the Haka in the YouTube clip below.
A SPECTACULAR PERFORMANCE FROM SIX60
Headlining the entertainment at Air New Zealand's launch event was Kiwi band Six60, who performed a spectacular set high above New York City.
Six60 hail from Dunedin, Otago, and the band consists of Matiu Walters (lead vocals, guitar), Ji Fraser (lead guitar), Chris Mac (bass guitar), Marlon Gerbes (synthesiser), Hoani Matenga (bass guitar) and Eli Paewai (drums).
The exclusive set also included a performance of 'Don't Forget Your Roots' complete with Air New Zealand's own Te Ara Nui cultural dancers performing a Haka in it and it made for one of the greatest airline route launches ever seen.
Check out their performance in the YouTube clip below.
ESSENTIALS: GETTING TO NEW YORK CITY
The best way of getting to New York City in comfort and style.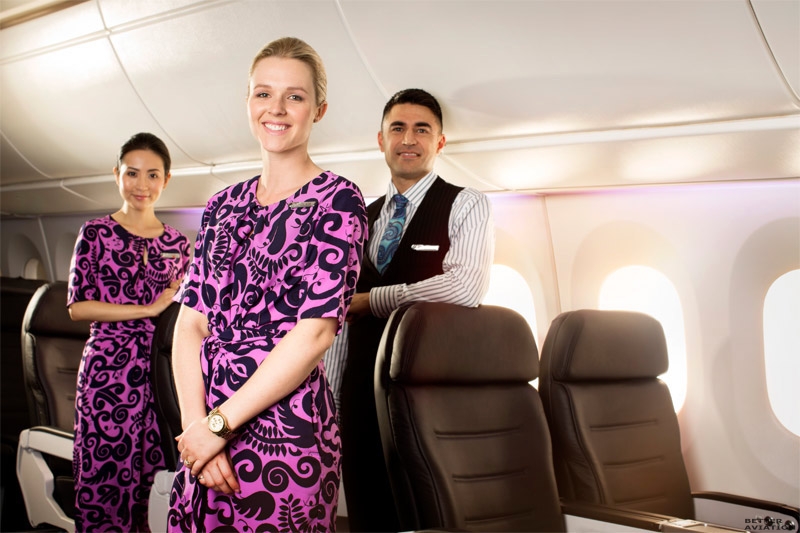 Air New Zealand offers fantastic Kiwi hospitality
AIR NEW ZEALAND BUSINESS PREMIER
Air New Zealand has launched flights to New York City direct from Auckland, the new flagship route for the airline.
The new flights are operated by Air New Zealand's flagship Boeing 787-9 Dreamliner, which features three cabins, Economy, Premium Economy and up the front, Business Premier, headlined by flatbed seats (featuring mattress toppers and large pillows for overnight flights), fantastic food and wine, thousands of hours' entertainment and brilliant Kiwi hospitality.
The flights to New York feature a new international menu showcasing the best New Zealand to one of the world's leading gourmand nations, the United States of America.
Onboard, premium customers can enjoy the likes of seared salmon from Marlborough, free-range chicken from Waikato and crisp salads picked straight from orchards and fields in Gisborne, Waikato and the Manawatū.
On the wine front in Business Premier, expect some of New Zealand's best drops, including Felton Road's 2016 Block 3 Pinot Noir from Central Otago, the Stonecraft 2018 Crofters Syrah from Hawke's Bay and the Kumeu River Mate's Vineyeard Chardonnay.