Wayfarer's highly-successful destination-based TV show is back for a second season after a huge global response to series one that saw the show broadcast in 28 countries to over 2 million viewers.
In Episode 06 of Series 02 of Wayfarer, award-winning host James Gregory Wilkinson is in New York City and heads to the world's best bar, Dante on MacDougal Street in SoHo, checks into the luxurious Four Seasons New York Downtown and eats at popular restaurant Cut by Wolfgang Puck off the hotel's lobby.
To view the episode, click on the YouTube video below
In Series 2 of Wayfarer, being broadcast online across the world throughout 2020, Wilkinson takes viewers across the globe to some of the best hotels, bars, restaurants, galleries and attractions that several of the world's leading destinations have to offer.
The line-up for Series 2 includes: Austin, Texas, USA; Chicago, Illinois, USA; Fort Worth, Texas, USA; Hamilton Island, Queensland, Australia; Los Angeles, California, USA; New York City, USA; Paris, France; Shanghai and Beijing, China; and Singapore.
Each episode will be an essential guide to the city for business and leisure travellers and will be broadcast on wayfarer.travel and YouTube on a weekly basis.
ESSENTIALS: GETTING TO NEW YORK CITY
The best way of getting to New York City in comfort and style.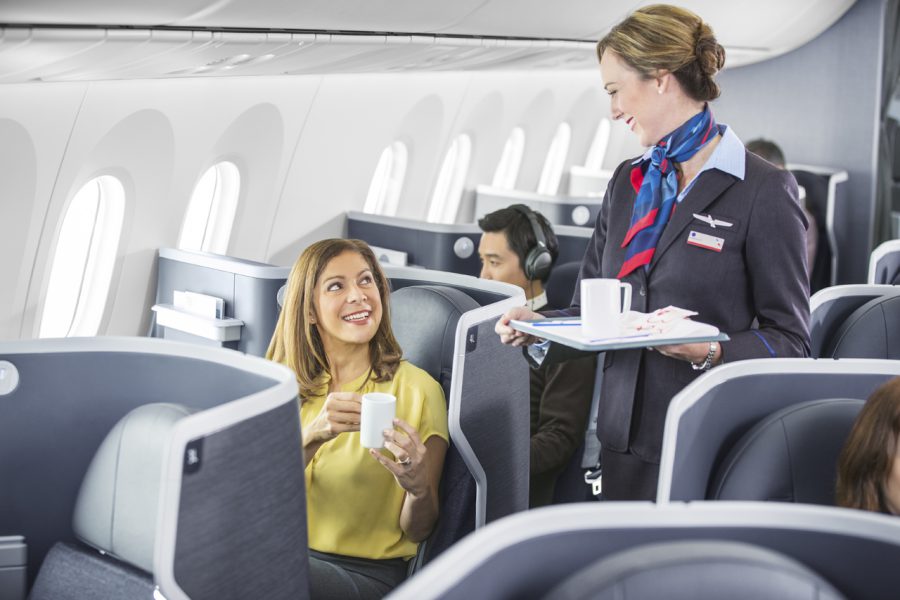 American Airlines' impressive International Flagship Business Class
AMERICAN AIRLINES FLAGSHIP BUSINESS CLASS
American Airlines' International Flagship Business Class is one of our favourite cabins in the sky on flights around the world, thanks to the comfortable seats, meals, drinks, entertainment, amenities and top-quality service on offer.
Available on the Boeing 787-8, 787-9, 777-200 and 777-300ER, American Airlines' International Flagship Business Class is ideal cabin for both business and leisure travellers and is a standout particularly on long-haul routes like Los Angeles-Sydney, New York JFK-São Paulo and Dallas Fort Worth-London Heathrow.
From the seats to the service, WAYFARER Host and Editor-In-Chief James Wilkinson looks at what's on offer in the video below.