Chicago is one of America's most popular cities and thanks to direct flights from across the world, including Auckland on Air New Zealand, the destination has never been more accessible.
To find out what to do in this exciting city, Wayfarer's travel TV show has an essential guide for business and leisure travellers.
In Episode 02 of Series 02, award-winning Wayfarer host James Gregory Wilkinson is in Chicago and heads to some of the city's top hotels, restaurants and bars, including the Radisson Blu Aqua Hotel Chicago and its Filini restaurant, brilliant Chicago eatery Farmhouse – led by star chef Eric Mansavage – as well as leading craft beer producer Revolution Brewing's top brewpub.
To view the episode, click on the image below.
In Series 2 of Wayfarer, broadcast online across the world, Wilkinson takes viewers across the globe to showcase some of the best hotels, bars, restaurants, galleries and attractions that some of the world's leading destinations have to offer.
The line-up for Series 2 includes: Austin, Texas, USA; Chicago, Illinois, USA; Fort Worth, Texas, USA; Hamilton Island, Queensland, Australia; Los Angeles, California, USA; New York City, USA; Paris, France; Shanghai and Beijing, China; and Singapore.
Each episode will be an essential guide to the city for business and leisure travellers.
ESSENTIALS: GETTING TO CHICAGO
The best way of getting to Chicago in comfort and style.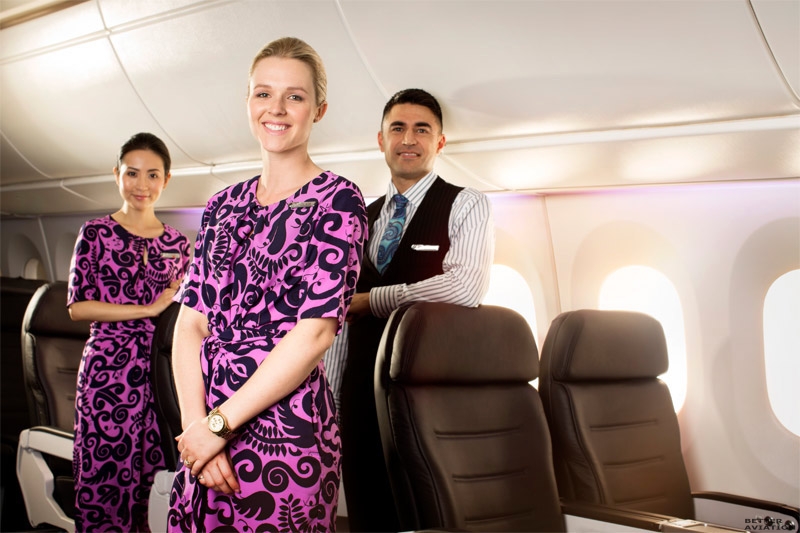 Air New Zealand offers fantastic Kiwi hospitality
AIR NEW ZEALAND BUSINESS PREMIER
Air New Zealand flies to Chicago direct from Auckland, one of the flagship routes for the airline.
The new flights are operated by Air New Zealand's flagship Boeing 787-9 Dreamliner, which features three cabins, Economy, Premium Economy and up the front, Business Premier, headlined by flatbed seats (featuring mattress toppers and large pillows for overnight flights), fantastic food and wine, thousands of hours' entertainment and brilliant Kiwi hospitality.
The flights to Chicago feature a new international menu showcasing the best New Zealand to one of the world's leading gourmand nations, the United States of America.
Onboard, premium customers can enjoy the likes of seared salmon from Marlborough, free-range chicken from Waikato and crisp salads picked straight from orchards and fields in Gisborne, Waikato and the Manawatū.
On the wine front in Business Premier, expect some of New Zealand's best drops, including Felton Road's 2016 Block 3 Pinot Noir from Central Otago, the Stonecraft 2018 Crofters Syrah from Hawke's Bay and the Kumeu River Mate's Vineyeard Chardonnay.