The Airbus A350-1000 is one of the most popular and advanced aircraft to ever take to the skies and for the model's latest operator, Etihad Airways, it means launching new routes and upgrading others with one of the most fuel-efficient jets in the air as James Wilkinson discovers on a journey from Abu Dhabi to New York.
When Etihad's first Airbus A350-1000 took off for the first time in the carrier's modern colour scheme to Paris in late March 2021, it signalled a new era for the Abu Dhabi-based carrier.
It would be a debut of the carrier's latest onboard products – including the highly-touted new Business Studio seats, which were already popular on the A380 and B787 – and also a sign of Etihad's firm commitment to continue ordering and flying highly-sustainable aircraft.
The Rolls-Royce Trent XWB-powered Airbus A350-1000 operates with 25% less fuel burn and CO2 emissions than previous-generation twin aisle aircraft and is part of the carrier's commitment to net-zero carbon emissions by 2050.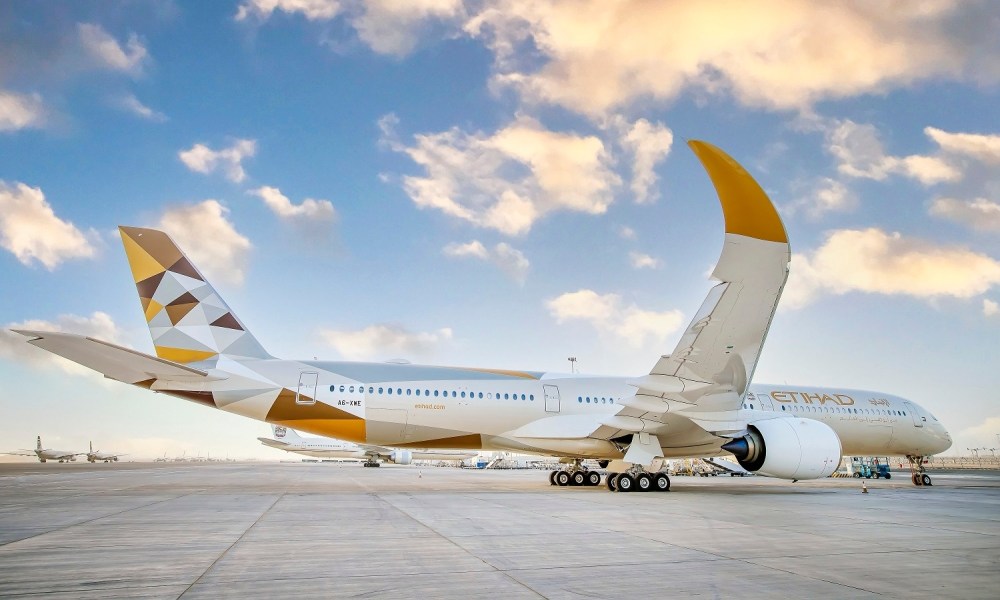 "The Airbus A350 is an absolutely incredible aircraft, and we are proud to introduce it into the Etihad Airways network," said Etihad's then Group Chief Executive Officer, Tony Douglas (he's since departed the carrier), at the arrival in Paris.
"Our teams have worked closely together to craft a product and travel proposition that will ensure every journey with Etihad is a choice well made – both for our guests and for the planet.
"With highly efficient fuel consumption and CO2 savings, the A350 will support our goals to reduce carbon emissions and deliver an unmatched flight experience for our guests," he said.
The Airbus A350-1000 is also a beacon of how far the carrier has come since Douglas took the reins in 2018 from then CEO James Hogan and helped steer Etihad through the pandemic and an internal transformation program.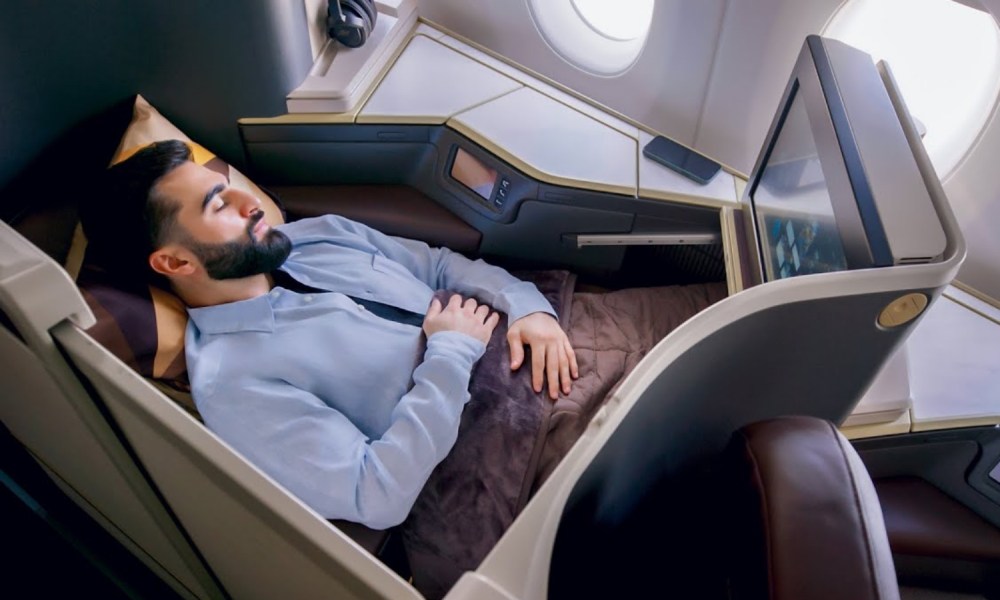 When the carrier was having its struggles there were times when many industry experts said they wouldn't see the Airbus A350-1000 in Etihad colours and it's not just a delight to see how Douglas made that happen, but also what a fantastic experience the carrier has created onboard.
Before stepping aboard the A350-1000 in Abu Dhabi to experience the all-new product offering to New York's JFK Airport, I noted I was flying on one of the most important aircraft in the fleet, which carries the registration of A6-XWB.
This A350-1000 is named Sustainability50 and carries a unique livery in recognition of the 50th anniversary of the federation of the UAE and Etihad's commitment to net-zero carbon emissions by 2050.
The Sustainability50 program was formed as a partnership between Etihad, Airbus and Rolls Royce in 2021 and impressively, it uses Etihad's A350s as flying testbeds for new initiatives, procedures and technologies to reduce carbon emissions.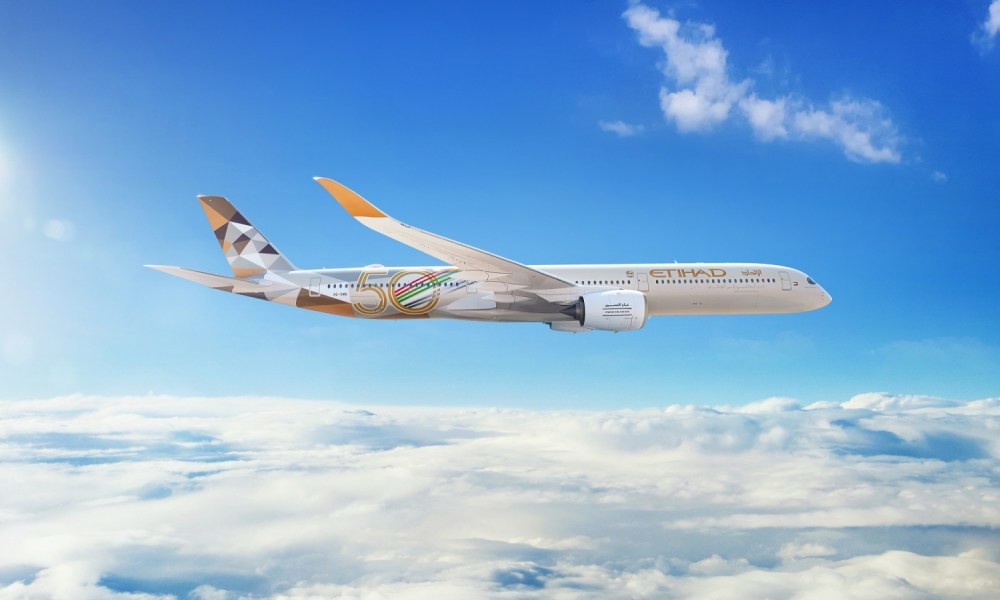 Douglas said this will build on the learnings derived from Etihad's similar 'Greenliner' programme for the Boeing 787 aircraft in the fleet.
"We designed our sustainability programme as a vehicle for collaboration, and our strategic partnership with Airbus allows us to harness the sustainability credentials of the A350 through the Sustainability50 programme, as we work towards our joint objectives to reduce aviation's impact on the environment," he said.
It's always good to have a feel-good story before you hop onboard an aircraft and it is wonderful to see what Etihad is doing not just physically, but also to raise awareness across the greater aviation industry.
When you step board the A350-1000, the first thing that jumps out is the long Business Class cabin that's decked out with 44 all-new Business Studio seats, that come complete with sliding doors.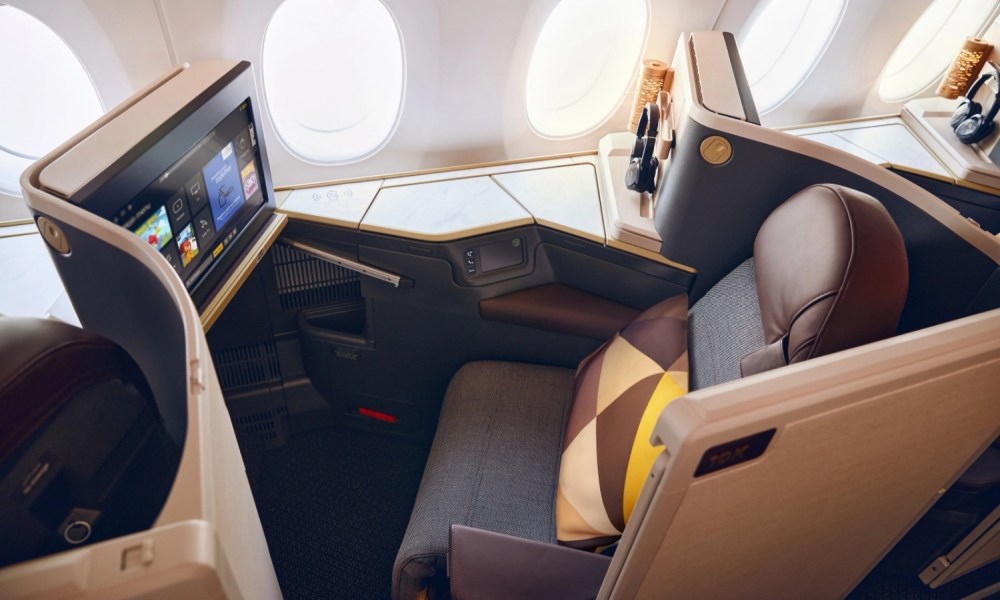 Thanks to no overhead bins in the middle of the A350-1000 cabin, it's also one of the most spacious in the air and it helps accentuate how roomy the new Business Studios feel with and without the door closed.
The new seats all face forwards – unlike the Business Studios on the B787 and A380s which alternate forwards and backwards – and each offers all-aisle access, which is yet another winner.
Etihad's new Business Studio seats are also spacious and comfortable. They have a width of over 20-inches and convert into a fully-flat bed of 79-inches in length, which equates to plenty of room to work and recline for a fantastic rest.
The Studios are also loaded-up with technology, which is ideal for business and leisure travellers.
The 18.5-inch TV screens offer a cinematic experience to enjoy Etihad's extensive library of films and television shows (including live games of the FIFA World Cup recently), alongside music and games on the impressive E-BOX inflight entertainment system.
Should you not bring along your own, Etihad also offers premium noise-cancelling headphones for each passenger and on my flight to JFK, a good two thirds of the cabin were enjoying them being offered.
For those who bring their own headphones – right now we're enjoying Focal's new Bathys –you'll find a very impressive Bluetooth headphone pairing offering that (finally) allows high-quality audio without the cables.
There's also a built-in wireless charging dock, which worked well with Apple and Google phones, alongside mobile and high-speed WiFi connectivity, also available in the economy class cabin.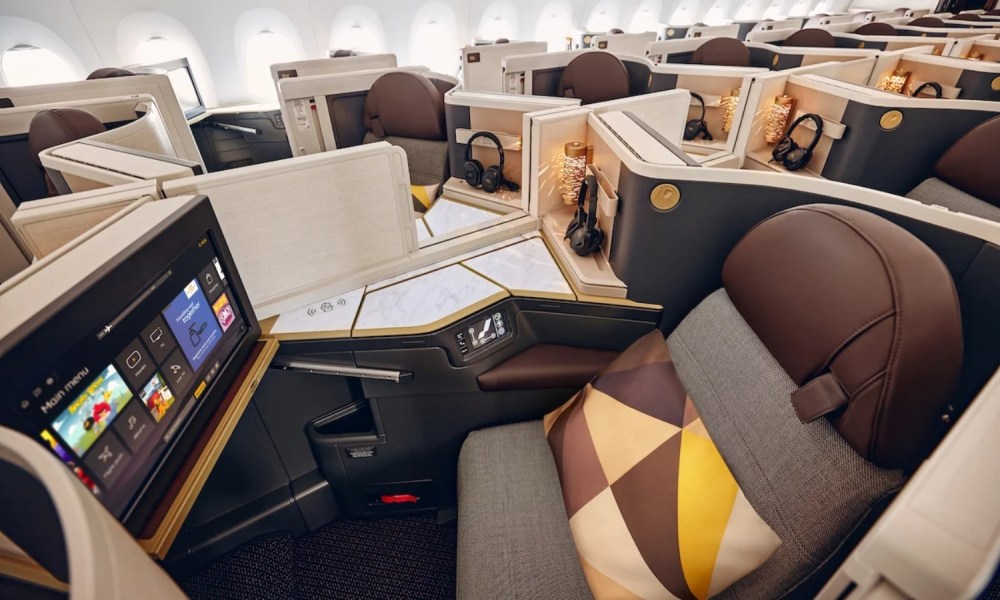 The A350-1000s also feature Etihad's newest cabin interior, which is inspired by Abu Dhabi and is both more efficient and sustainable in design, according to the carrer.
Etihad's signature lighting design is "inspired by the shadows cast by Abu Dhabi's palm trees and the cabin lighting emulates natural ambient light and is designed to enhance the guest experience, provide an optimum environment for sleeping and reduce the effects of jetlag", according to the carrier.
The effort to reduce jetlag is also on the E-BOX inflight entertainment system in the form of a new 'dark mode', like Apple iPhones and Google Pixels have, and it is a fantastic new addition.
Another way Etihad is helping reduce jetlag is in the cuisine offered onboard, thanks to not just the healthy dishes, but by offering an à la carte menu that can be enjoyed when you feel like it, thanks to the carrier's signature 'dine anytime' service.
Menus vary between routes and seasons of the year, but you can choose from traditional Emirati dishes and destination-inspired meals, healthy options and light bites, including the famous steak sandwich.
Recent onboard delights have included braised beef, pan roasted barramundi, chicken biryani and mushroom tortellini, while on the dessert side, expect dishes like apple and rhubarb crumble, chocolate cake and seasonal fresh fruit.
While there's no onboard bar – that's saved for Etihad's A380s which are coming back in April 2023 – there is a Bellini on the regular beverage menu, alongside premium Champagne (like Duval Leroy) and leading white, red, rosé and dessert wines from across the world, from McLaren Vale in South Australia to the Côtes de Provence, Bordeaux, Mendoza and more.
Before extending out the flatbed, there's an Acqua Di Parma amenity kit to freshen up with that contain an eye mask, ear plugs, plush socks and a signature fresh fragrance, alongside a shaving kit on demand.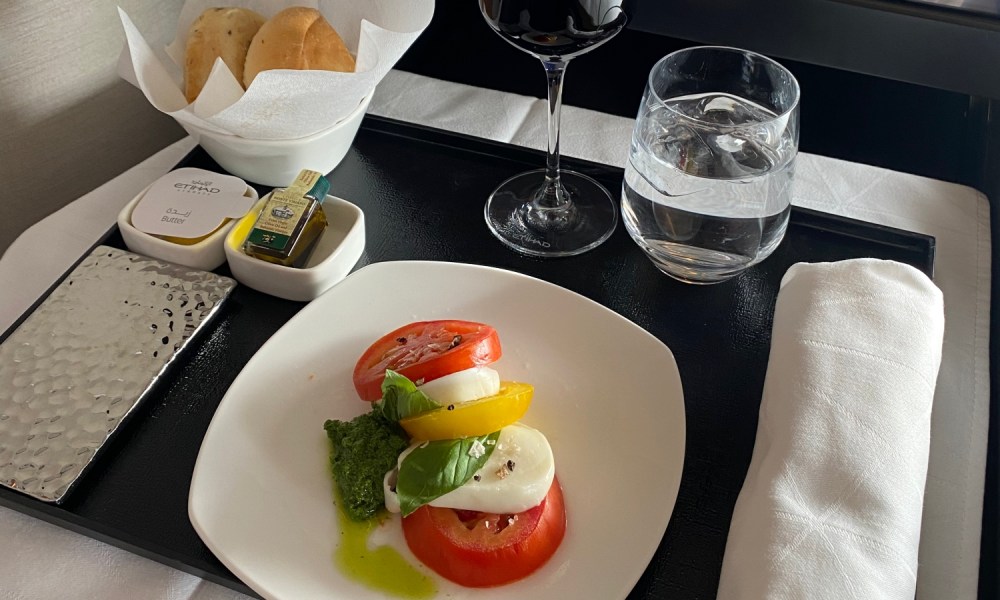 When you're ready for sleep, expect top quality pillows, blankets and duvets and when the door is closed, you'll feel private and comfortable in your own little cabin.
For flights like the hop to New York's JFK Airport – which Etihad is going double daily on soon – the 14-hour journey is a delight on the A350-1000 and you will feel refreshed when you reach the destination.
The experience is capped off by the impressive lounge on offer at Abu Dhabi International Airport for pre-flight dining, freshening up and working, alongside the fantastic hospitality both at the airport and in the air from the award-winning cabin crew.
Etihad has upped the ante with its A350-1000 product and it's an absolute joy to fly on across the world and we can't wait to hop on again soon.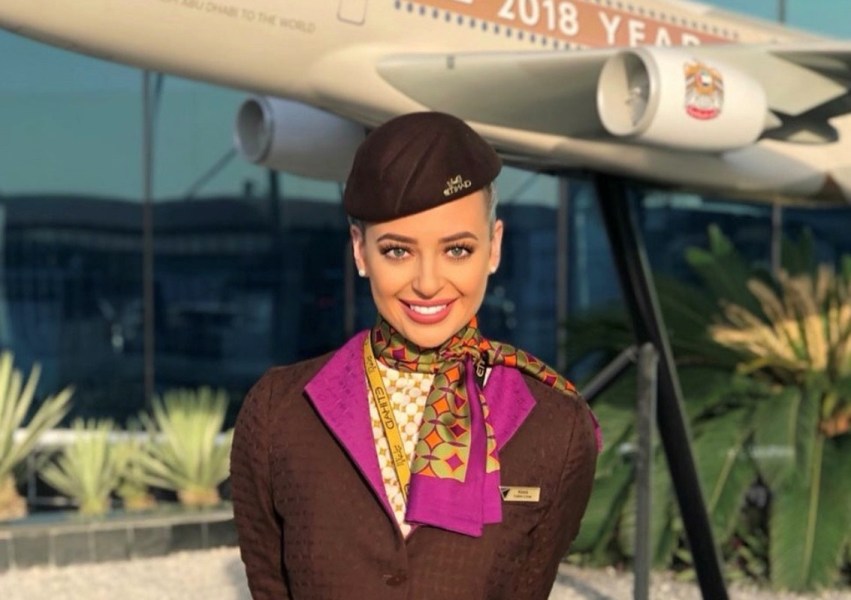 HEADING TO THE UNITED STATES?
Etihad passengers travelling to the US have access to Etihad's US pre-clearance, the only United States Customs and Border Protection facility in the Middle East.
This allows passengers bound for the United States to process all immigration, customs and agriculture inspections in Abu Dhabi before they board their flight, avoiding immigration and queues on arrival in the US.
TRAVELLING WITH YOUNG ONES?
Etihad has also created a 'Little VIP' experience for its youngest guests. The programme offers newly launched Warner Bros World Abu Dhabi-themed, family-friendly amenities for children.
The A350 also has a special new feature, offering interactive flight maps kids can explore with the help of some Jurassic-age friends.