Over the past decade, British Airways' Club World has been popular for business and leisure travellers, particularly when it comes to the experience aboard the Boeing 787-9 Dreamliner, thanks to fantastic English hospitality, comfortable seats and brilliant food and wine as James Wilkinson discovers.
It was back in late-2017 when British Airways kick-started a £600m investment in its popular Club World business class cabins, adding restaurant-style dining, a luxurious sleeper service and new amenity kits.
At the time it was heralded as one of the most exciting projects the airline had ever done since first launching sleeper seats in the carrier's business class cabins and was aimed at propelling British Airways as once more a leader in the field.
Fast forward five years and the enhancements – which also included WiFi across the carrier's fleet – have been an absolute winner for British Airways and while the airline has introduced a new Club Suite, gradually being fitted and now available on various routes including Sydney, the existing Club World product continues to offer a fantastic Business Class experience.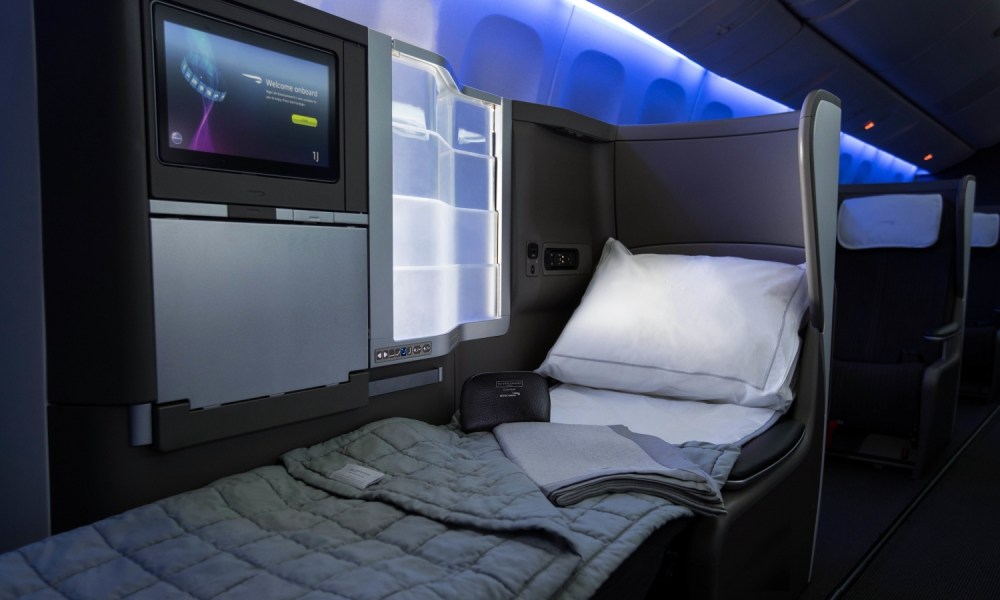 British Airways' Club World on the Boeing 787-9 is laid out in a 2x4x2, forwards-backwards configuration and the choice of seats for solo travellers are most definitely the windows or the aisles, while couples will enjoy the privacy in the middle two seats.
Thanks to the stylish bedding styled by The White Company – which includes a bespoke, luxuriously soft large pillow and pillowcase, super-soft woven blanket with satin trim and a specially developed luxury duvet – the experience is undoubtedly at its best when it comes to sleeping onboard.
The seats into a 183cm (6ft) fully flat bed with a fully adjustable headrest that offers lumbar support and it is both spacious and comfortable for sleeping and relaxing while watching a British film or TV show.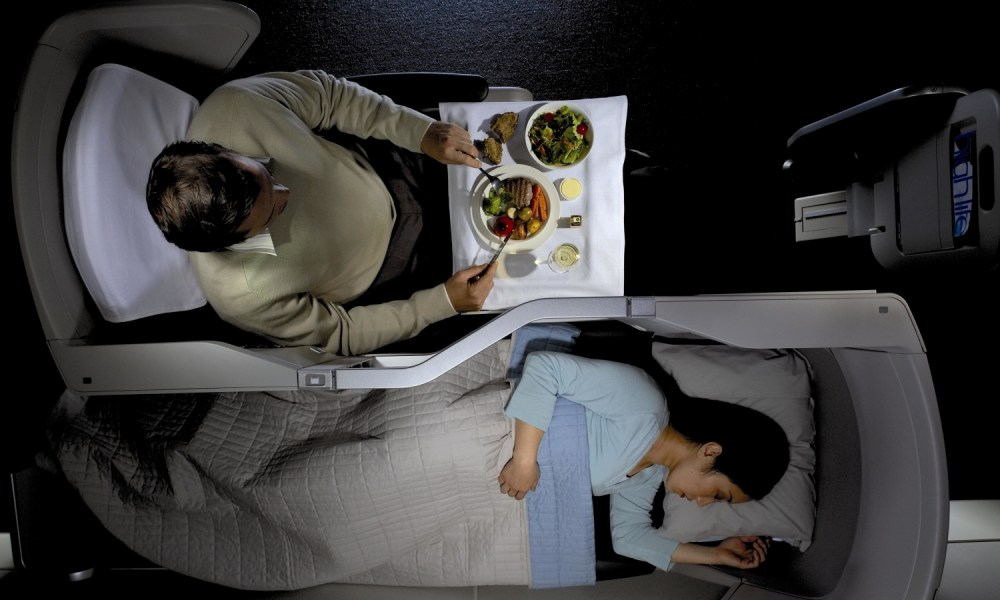 You'll find the window seats on the Boeing 787-9 are the best if you can score one, given the extra privacy away from the aisle, especially in the small Business Class cabin behind First, which is in rows 6 and 7.
For freshening up, The White Company amenity kits also impress and they contain products from the retailer's 'Restore and Relax Spa Collection', as well as a super-soft jersey eye-mask, offering a further touch of luxury in the sky.
While sleep is undoubtedly the greatest reason many travellers fly in Business Class, British Airways also comes to the fore when it comes to inflight dining, something that was also elevated in 2017 and continues to impress.
Meals, on flights from Sydney to Singapore for example, feature a starter, main course, cheese and dessert and some top dishes include roasted barbecue pork, seared salmon fillet, pappardelle pasta and on the sweet side, white chocolate and passionfruit cake and a selection or brie, cheddar and more.
When it comes to beverages, British Airways is renowned for its wine lists and on long-haul Club World flights expect Canard-Duchene Champagne, and white and red wines from across the globe, spanning Chile, South Africa, the USA and Portugal on current flights.
Some wines to be enjoyed include, the DeMorgenzon Chardonnay from Stellenbosch in South Africa, the Chateau Ste Michele Cabernet Sauvignon from Washington State in the USA and Graham's Six Grapes Reserve from the Douro Valley in Portugal.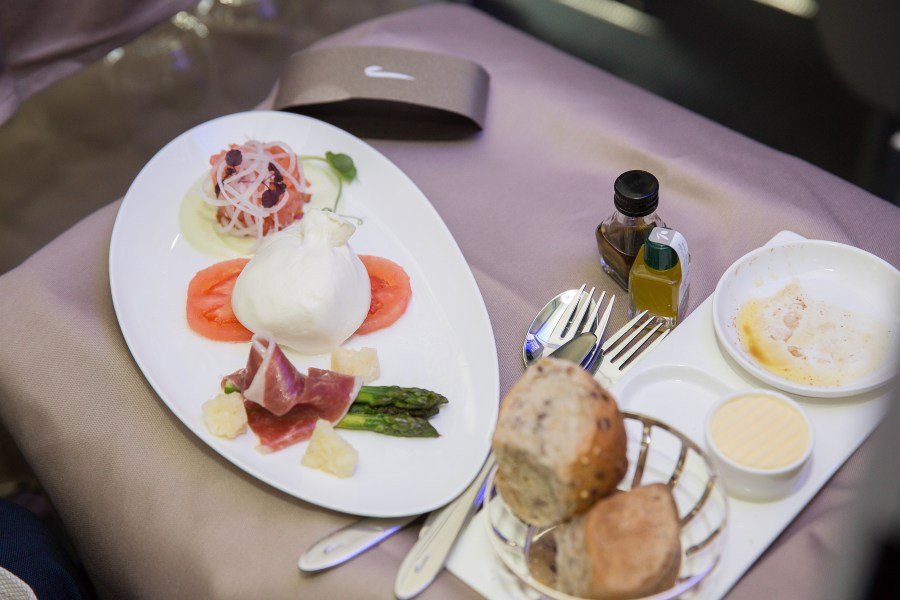 With your meal, you'll want to enjoy a good TV show or film and onboard the 'High Life' entertainment offering expect fantastic shows and movies like a box set of Yellowstone's 1883, alongside new release flicks and British Classics such as Downton Abbey.
Before and after flights to and from London, those flying in Club World will have access to the Galleries Lounges and the Arrivals Lounge at Heathrow Terminal 5, which means fantastic pre-flight dining or freshening up in one of the only arrivals lounges offered by any airline in the world.
Headlining the global network, British Airways has also just opened-up several new lounges inside Terminal 8 at New York's John F Kennedy Airport in partnership with American Airlines and also offers a comfortable lounge at Singapore's Changi Airport.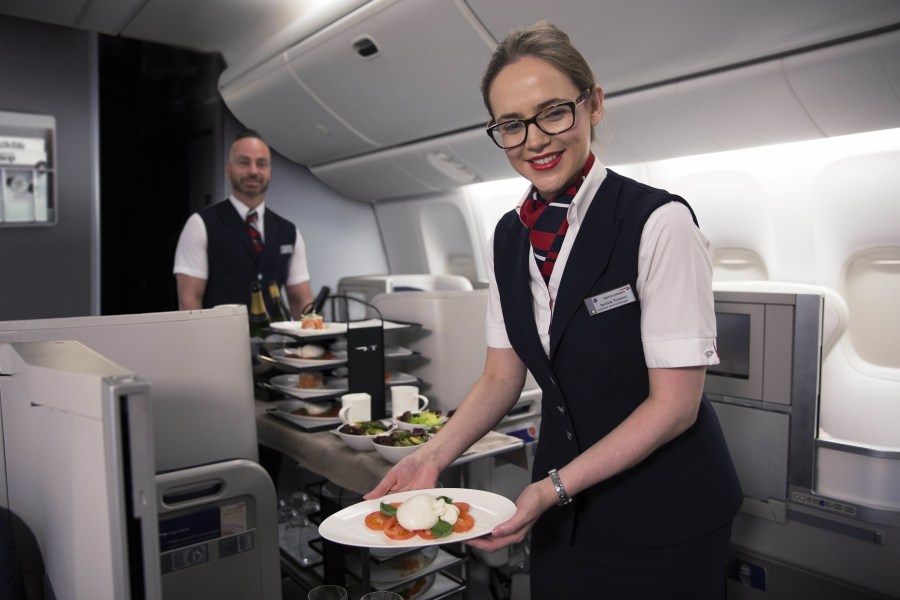 Remember not to fill-up before departure though, because the inflight dining is exceptional.
Having flown the Club World offering over a dozen times since the late-2017 enhancements, it's impressive that British Airways continues to improve the cabin, even as the Club Suite continues to roll-out.
The Club World offers fantastic value and thanks to the Great British service on offer, it is always a great way to fly.
We are very impressed with what British Airways has to offer in Club World and can't wait to experience the elevated Club Suite product in the future.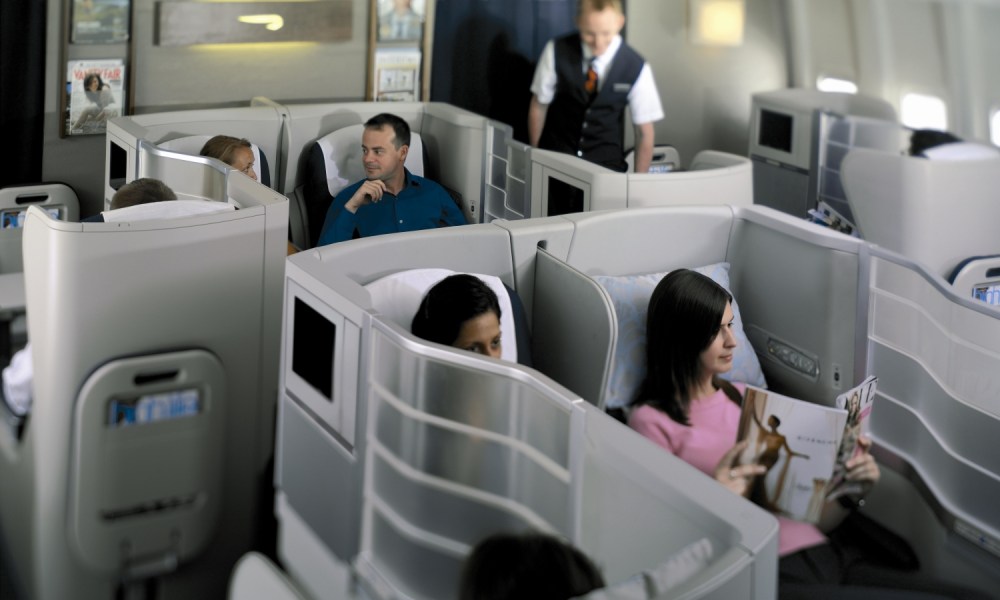 JOIN THE EXECUTIVE CLUB
Those flying on British Airways in Club World should consider joining the carrier's Executive Club program, which was recently re-introduced in Australia.
According to British Airways, some of the program's key benefits include:
• Collect Avios when you fly with British Airways and oneworld airline partners, book a selected hotel and car hire; or take a holiday, hotel stay or car rental with British Airways Holidays;
• With a return flight from Sydney to London in the Club World business cabin, you will earn enough Executive Club Tier Points for a Bronze membership and enough Avios for a reward flight from Sydney to Auckland with the carrier's oneworld airline partners (taxes, fees & carrier charges apply);
• Claim Avios and Tier Points on any British Airways flights flown in the three months before joining the programme;
• Spend Avios on a range of benefits, such as reward flights, cabin upgrades, hotels and car rental; and
• Pool your Avios with up to six people who live with you, including children, with our Household Account to earn rewards quicker.
You can also reduce the price of your next flight using Avios – you can save with as little as 1,000 Avios – on British Airways flights, American Airlines flights between the UK and North America and on British Airways codeshare flights with selected partner airlines.