British Airways customers travelling in Club World business class between London Heathrow, Singapore and Australia will soon be able to take advantage of the airline's partnership with luxury lifestyle brand, The White Company.
Coming into effect on the London-Singapore-Sydney route this autumn, the partnership will give customers a great night's sleep in the sky with a range of bespoke bedding.
Through the partnership, the British retailer is supplying bedding and amenity kits in British Airways' Club World as part of the airline's investment plan of more than AUD$1 billion (£600m) in Club World.
Later this year, a new restaurant-style premium dining service will begin in Club World, with display trolleys allowing customers to select dishes from a choice of freshly prepared starters and desserts served on beautiful new table settings.
The new food and sleeper service offerings debuted on flights from London to New York in late-2017 and have been a hit on the route since.
Through the partnership with The White Company, customers travelling in Club World between London Heathrow Terminal 5 and Australia will be given an elegant day cushion which doubles up as a lumbar support when working or relaxing on board.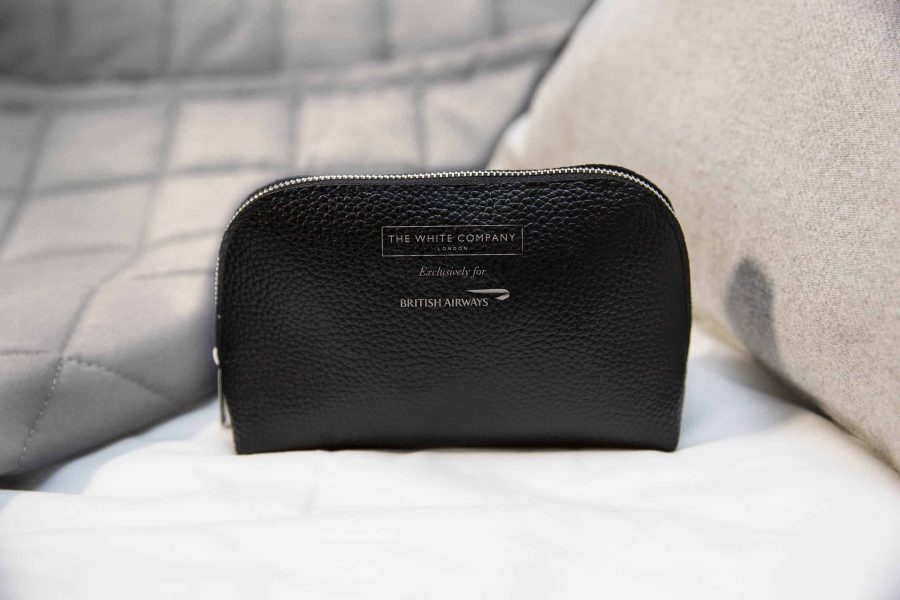 British Airways' new The White Company amenity kits and sleeper service (above)
Exclusively for British Airways, The White Company has also designed a bespoke, luxuriously soft large pillow and pillowcase. To enhance customers' comfort, the double-sided pillow, which has been expertly designed for day and night use, features cosy grey fabric on one side and crisp white cotton on the reverse. Customers will also be given a super-soft woven blanket with satin trim and a specially developed luxury duvet to improve their quality of sleep, as well as a padded mattress cover giving an extra layer of comfort.
The new Club World amenity kits come in an elegantly designed bag from The White Company and contain products from the retailer's 'Restore and Relax Spa Collection', as well as a super-soft jersey eye-mask, offering a further touch of luxury in the sky.
British Airways' regional general manager, South West Pacific, Nicole Backo, said: "We're excited that customers traveling between the UK and Australia [via Singapore] will soon be able to enjoy this bespoke bedding and have an even better sleep in the skies. Partnering with The White Company, another quintessentially British brand renowned for quality and style, is part of our investment in Club World and has been well received by our customers."
All flights from Australia land at British Airways' state-of-the-art home at London Heathrow Terminal 5. All premium customers can enjoy the facilities at the Arrivals lounge, which includes showers, breakfast and complimentary Elemis spa treatments. Customers can also enjoy bubbling champagne at the exclusive Galleries Club lounges on their departure.
British Airways is investing £4.5 billion for customers over the next five years, covering the installation of the best quality WiFi and power in every seat, fitting 128 long-haul aircraft with new interiors and taking delivery of 72 new aircraft.
In January the airline rolled out a multi-million pound investment in its World Traveller (long-haul economy cabin) catering, introducing an exciting and expanded new menu, which provides more quantity and quality to both meals and great snacking options throughout the flight.