The Andaz 5th Avenue in New York City has been one of the Big Apple's most popular hotels in recent years, thanks to its fantastic location, spacious rooms and fantastic service.
Over the past few months, the hotel has upped the ante even further with some epic partnerships and to find out the latest, Wayfarer Editor-In-Chief, James Wilkinson, spoke exclusively to Andaz 5th Avenue General Manager, Scott Mason, in New York City recently.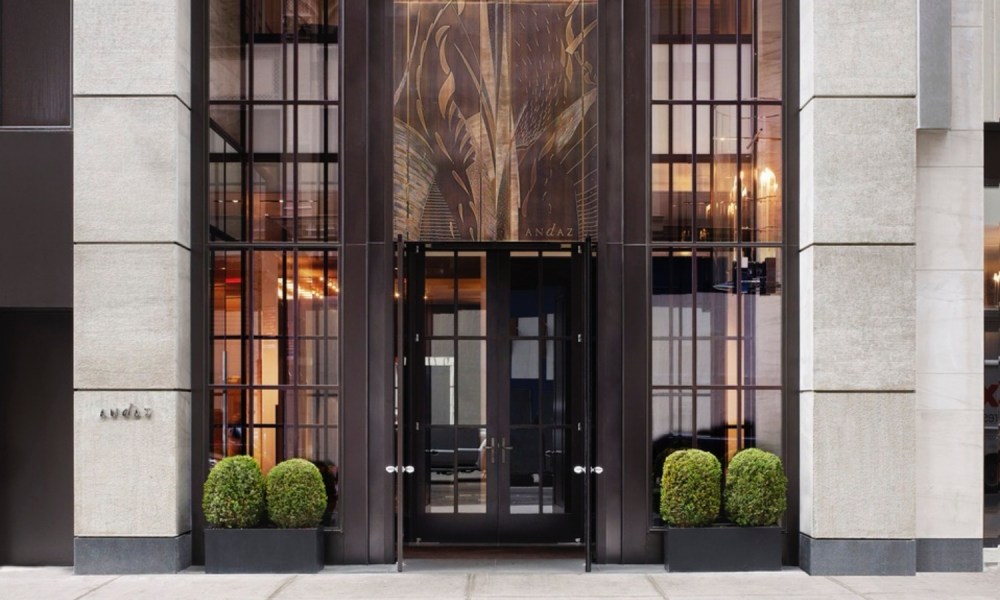 Scott, the Andaz 5th Avenue in New York has always been one of my favourite hotels in Manhattan. Now, it's even better with some new additions like Wellness Suites, gym equipment and in-room amenities. Tell us more.
We're always updating our rooms and amenities to meet our guests' needs. Our new Wellness Suites, for instance, allow guests to maintain their fitness and wellness goals while traveling.
These feature new touches like The Mirror Gym, free weights, a sound bath, aromatherapeutic sleep enhancements, bath salts, and a range of healthy snacks in the mini bar, all to create a holistic experience. Even the beds are unique to these suites – they're created by a Japanese brand called Airweave, ingeniously made of fishing line, and optimize firmness at various points of your body.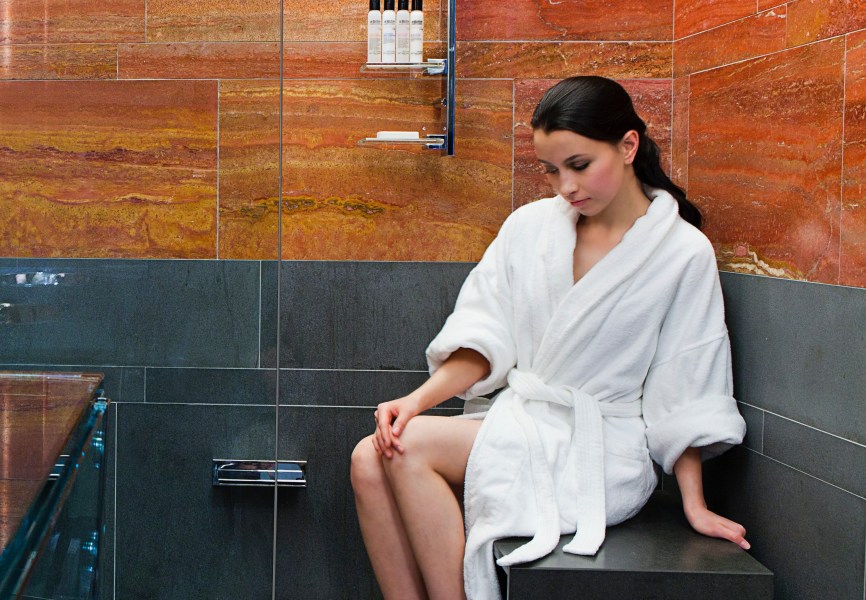 And speaking of wellness, our Fitness Center has also been updated with new equipment like Peloton bikes, a Tonal station, and upgraded cardio machines.
And in December of last year, we introduced our new line of in-room bath amenities – we partnered with an upscale NYC-based brand called Fellow Barber, who had just launched their new unisex line of hair and body care products. Partnering with a local brand is important to us, and adds another personal touch to our guests' experience.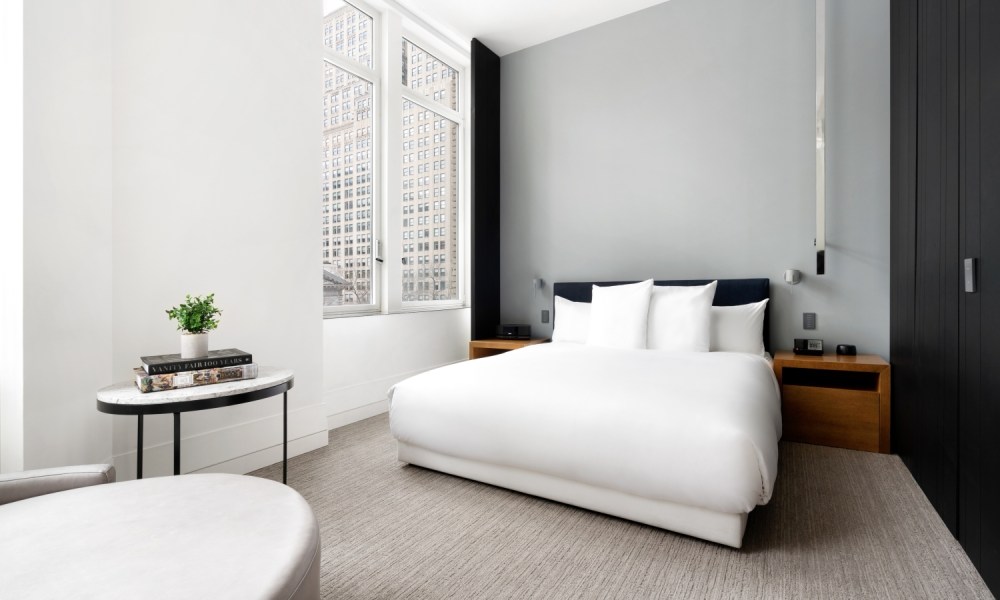 Tell us about the rooms and suites on offer – some of which have some fantastic balconies and terraces too.
Thanks to the high ceilings and oversized windows, our suites are spacious and bright, like an NYC loft apartment space. We offer nine suite categories, ranging from 486 to 1779 square feet, and yes, many have balconies and terraces looking onto 5th Avenue. The Empire Terrace Suite is particularly striking with its wraparound terrace.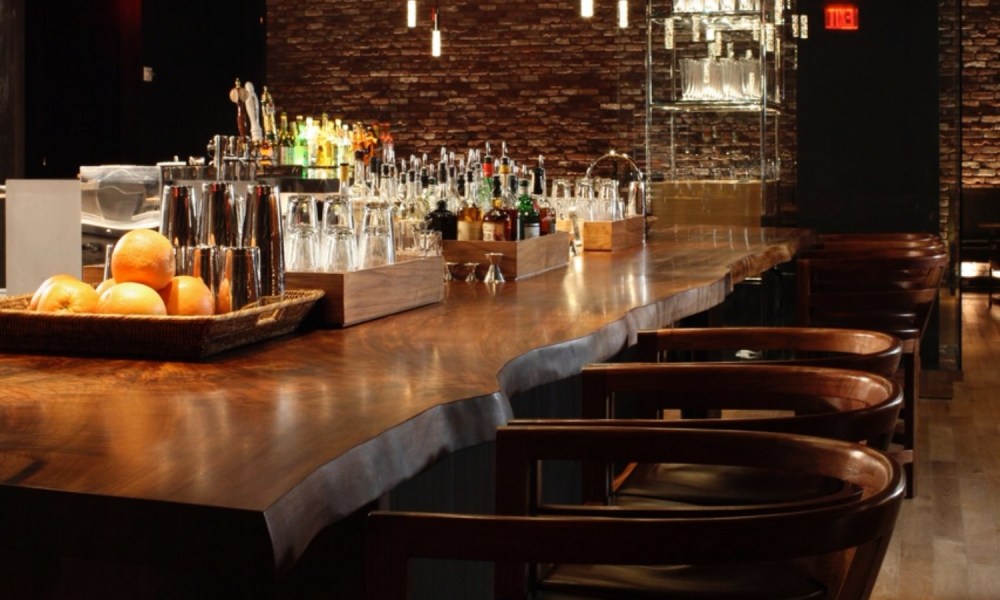 What are your other highlights of the property, like your fantastic restaurant, event spaces and pop-up library.
The Bar Downstairs is our speakeasy-style restaurant, and our bar team has developed a great list of seasonal drinks and an expanding non-alcoholic offering too.
Our event spaces are very popular with our open kitchen concept, also designed to mimic a NYC-style loft. Our team prepares dishes right in front of you and serves them at kitchen-island type stations. The idea here is to create a less corporate or ballroom setting, and instead invite guests into our "home."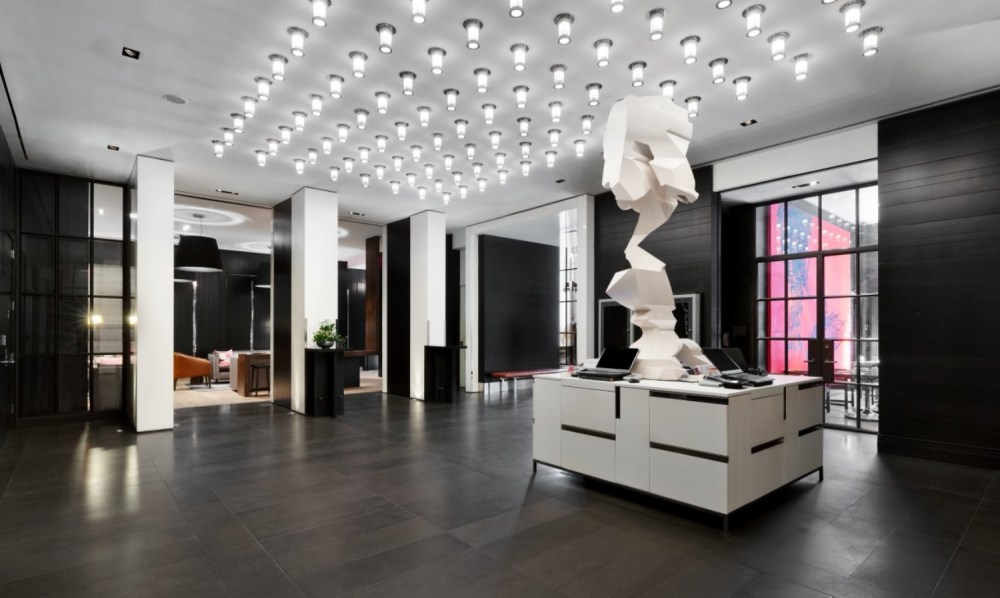 The Courtyard space has been fitted with a retractable roof and new furniture, and next door to that is our newly updated boardroom, which has a new conference table fitted with A/V connectivity points.
Our Lobby Lounge has always been an inviting space – we offer coffee in the mornings and a glass of wine in the evenings. The books in the library nook are supplied by our partner and neighbor, New York Public Library, right across the street.
And our Fifth Avenue Gallery space has been revived with a new installation by Edward Granger, whose immersive piece is a celebration of New York's urban jungle. Guests can actually take a piece of this art experience home with them – our key packets feature a little rendition of the work on the cover.
Why does the Andaz 5th Avenue make for a fantastic New York City stay?
Our location is ideal – we're right by Bryant Park, Grand Central Station, Rockefeller Center, the Empire State Building, One Vanderbilt, and all the best shopping on 5th Avenue. Being in midtown, we are also in the middle of the business district, which makes for an easy commute for our guests traveling for work.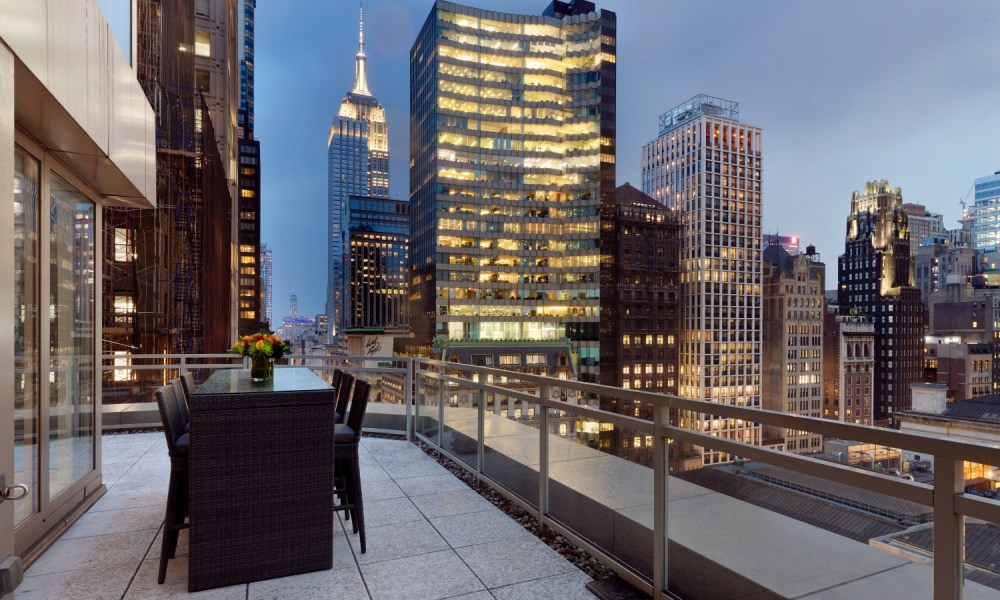 What are some of your favourite things to do in the local area?
Bryant Park, right across the street behind the New York Public Library, is an obvious choice. They have year-round programming and events, from concerts and movie screenings to group yoga sessions. It's a nice spot to just have a seat and watch the city go by. In the winter, they set up a market with food stands and an ice-skating rink that takes over the main lawn. Quick access to 5th Avenue shopping destinations always makes for a fun pastime.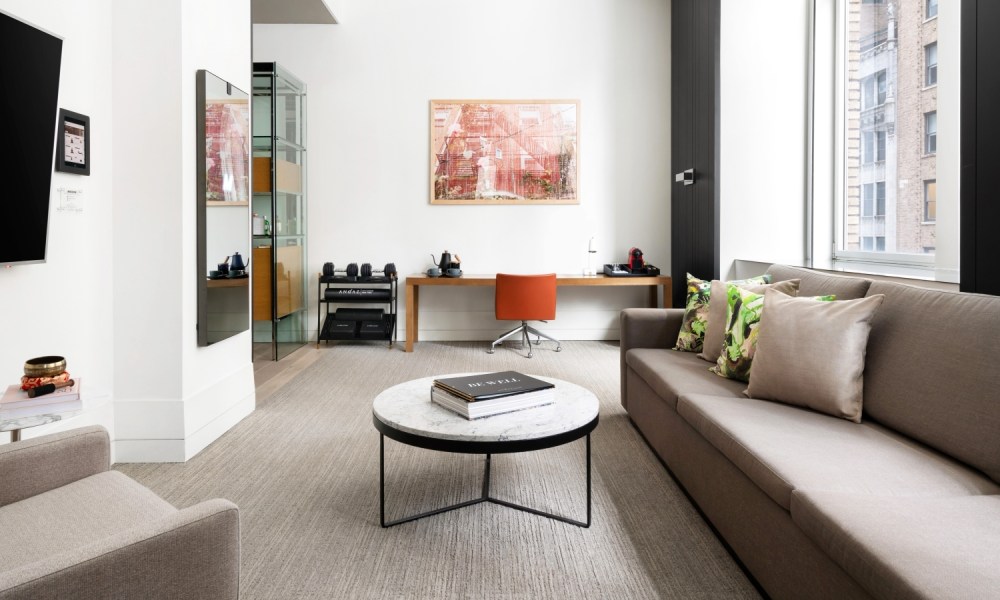 We have looked at some fantastic elements of the property already, but what's the X-factor at Andaz 5th Avenue in your opinion?
Other than our location, and complimentary mini-bar offering? Thanks to its design elements and brand identity, Andaz 5th Avenue is often home to guests in the creative sphere (literature, fashion, film, and music) which keeps the hotel top of mind and makes possible collaborative projects like the current art installation in our Gallery, helping enliven the brand, the hotel, and the neighborhood.
ESSENTIALS: GETTING TO NEW YORK
The best way of getting to New York in comfort and style.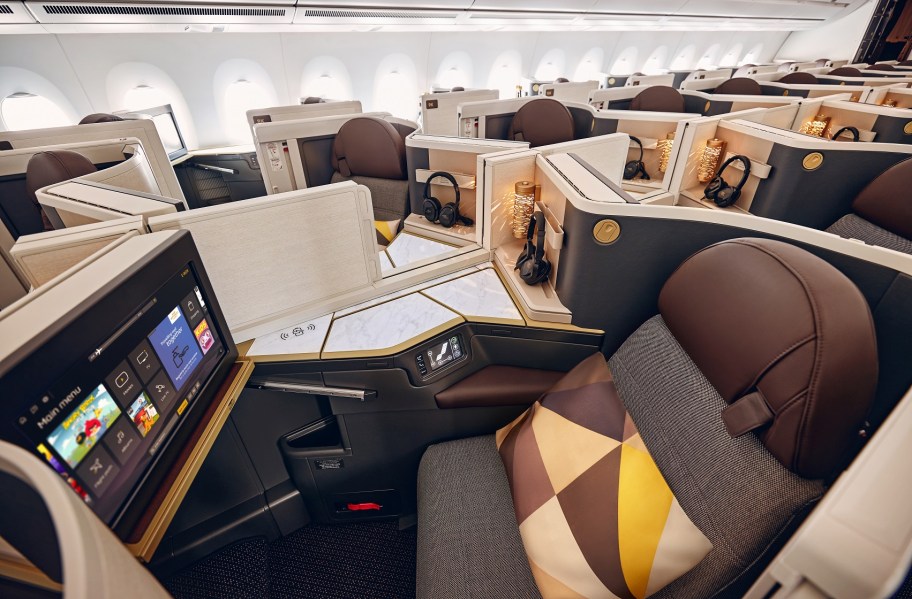 ETIHAD AIRWAYS' ALL-NEW A350-1000
Etihad Airways operates daily flights from the carrier's home in Abu Dhabi – connecting from 63 destinations in 47 countries – to New York's John F Kennedy International Airport with brand new Airbus A350-1000 aircraft, one of the most efficient aircraft types in the world with 25% less fuel burn and CO2 emissions than previous-generation twin aisle aircraft.
The author recommends flying in Business Class, which is in the form of 44 all-new, Business Studio suites, which feature sliding doors that provide a high level of privacy to each suite.
Every seat faces forward with direct aisle access and the Business Studio suite, which has a width of over 20-inches, converts into a fully-flat bed of 79-inches in length and features ample storage for convenience.
The carrier's stylish noise-cancelling headphones and an 18.5-inch TV screen provide a cinematic experience to enjoy Etihad's extensive inflight entertainment offering, which includes the latest blockbuster movies, many leading TV shows, plus games, music and much more.
The Business Studio suites also feature a built-in wireless charging dock and Bluetooth headphone pairing.