The first ever hot air balloon to fly across the Snowy Mountains from Thredbo took flight in spectacular fashion, making the most of some stunning weather.
According to reports from Thredbo, those looking up today were gobsmacked to see not one, but two hot air balloons in the alpine sky, a visual first in the valley and a visual feast as people ran to grab cameras and phones to record the high-flying sight.
The two multi-coloured bobbing hot air balloons were the brainchild of Balloon Aloft, a leading hot air balloon operator from Canberra.
With approval from National Parks and Wildlife Service (NPWS) and Kosciuszko Thredbo (Thredbo), the hot air balloons departed Thredbo at sunrise and floated across the Kosciuszko National Park down the Crackenback Valley towards Jindabyne.
Balloon Aloft pilot, Craig Farrell, said the idea was a result of a long-held desire to fly a balloon over snow, a "very unusual experience in Australia".
After a few discussions with a fellow Canberra balloonist about the most scenic place to launch they chose Thredbo, then researched the best conditions for the flight.
"As we can't steer our balloons, we need to be able to find the right wind speed and direction to allow us to fly where we want to go; in this case – Jindabyne", said Farrell.
To do that, the balloons needed to reach an altitude of 10,000 feet (over 3 kilometres) before quickly descending towards Jindabyne through much calmer air patterns.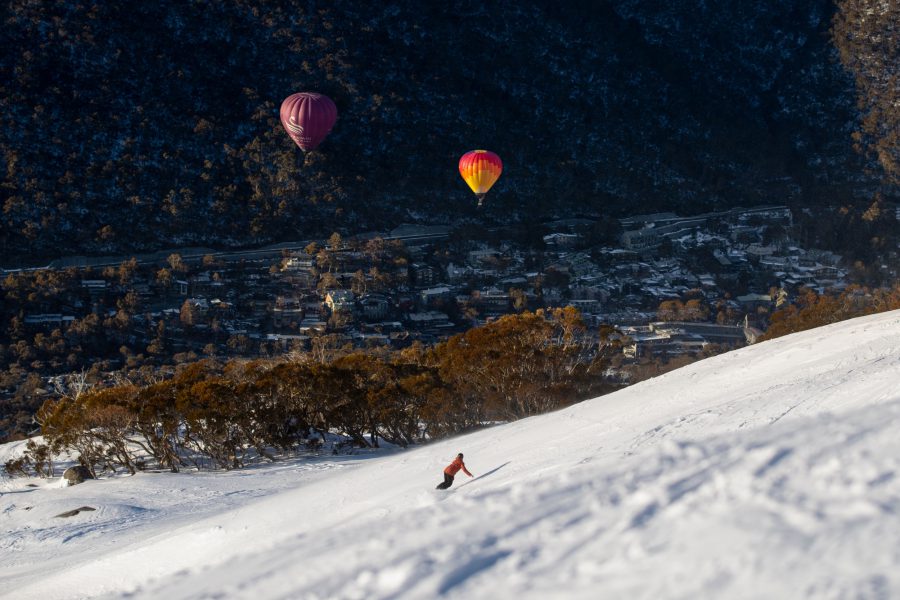 The hour-long flight was everything the pilots had hoped, the skipper said.
"It was absolutely spectacular over stunning Thredbo and the beautiful Snowy Mountains, yet also technically challenging due to the Alpine environment," said Farrell.
This included, he said, minus 10 degrees at height and the swirling 'mountain waves' which produced rapidly changing speeds and direction in flight.
This one-off spectacle was an unexpected treat for early-bird visitors in the resort.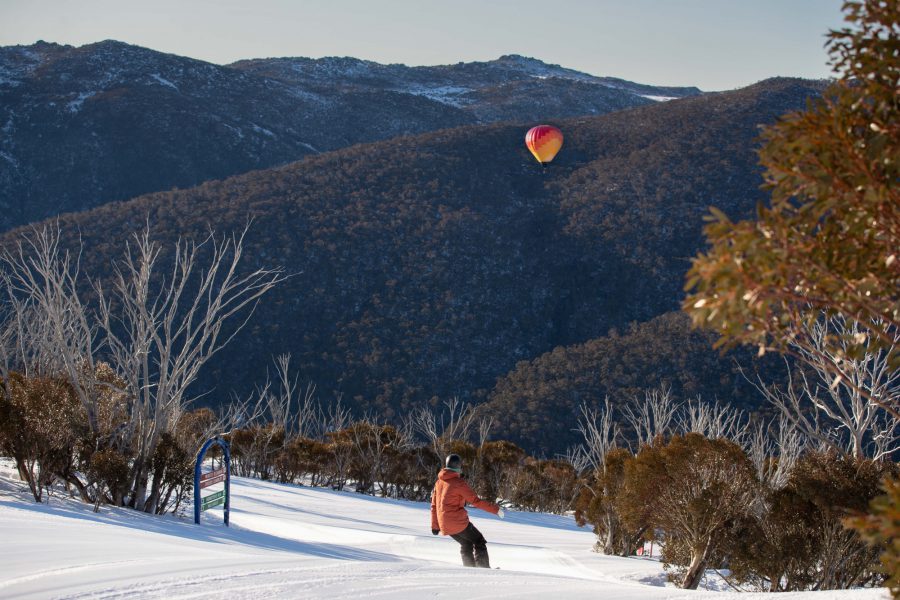 "Our days start before sunrise, so we were lucky enough to witness the excitement of the balloon being filled and taking off," said Thredbo Snow Reporter, Brianna McShane.
"We could also see the incredulous expression of other early risers fetching coffee – it was an amazing morning!"