When it was launched into the market in late 2020, Samsonite had a game-changer with the Konnect-i, the most high-tech backpack the world has ever seen.
Since then, it has quickly become a must-have for business travellers and urban adventurers alike.
The Samsonite Konnect-i Backpack with Jacquard by Google is an everyday bag that connects with a wearer's smartphone, meaning you can perform actions and receive alerts while on the go.
These abilities and alerts include tasks related to audio, such as play, pause, next track and what's playing, and communication, including receiving phone calls and texts.
The smart features also make navigation easy, through functions such as estimating arrival times and next directions.
Even dropped pins and saved locations are also available and the Bluetooth-enabled backpack can also receive alerts for rideshares.
Not stopping there, the app can activate a phone's camera and trigger a photo countdown, offer a summary of the day, and ask Google Assistant questions.
Jacquard technology allows you to cut through the digital clutter with a simple gesture allowing you to stay connected, not distracted.
Brush up, down or double tap on the left strap of your Konnect-i backpack to activate Jacquard by Google as you move around.
To customise your gestures, visit the Jacquard by Google app on your smart phone and choose from actions like call and text notifications, selfie, navigation and music controls.
For an added level of interaction, the LED light on your left strap will light up according to the alerts you've set.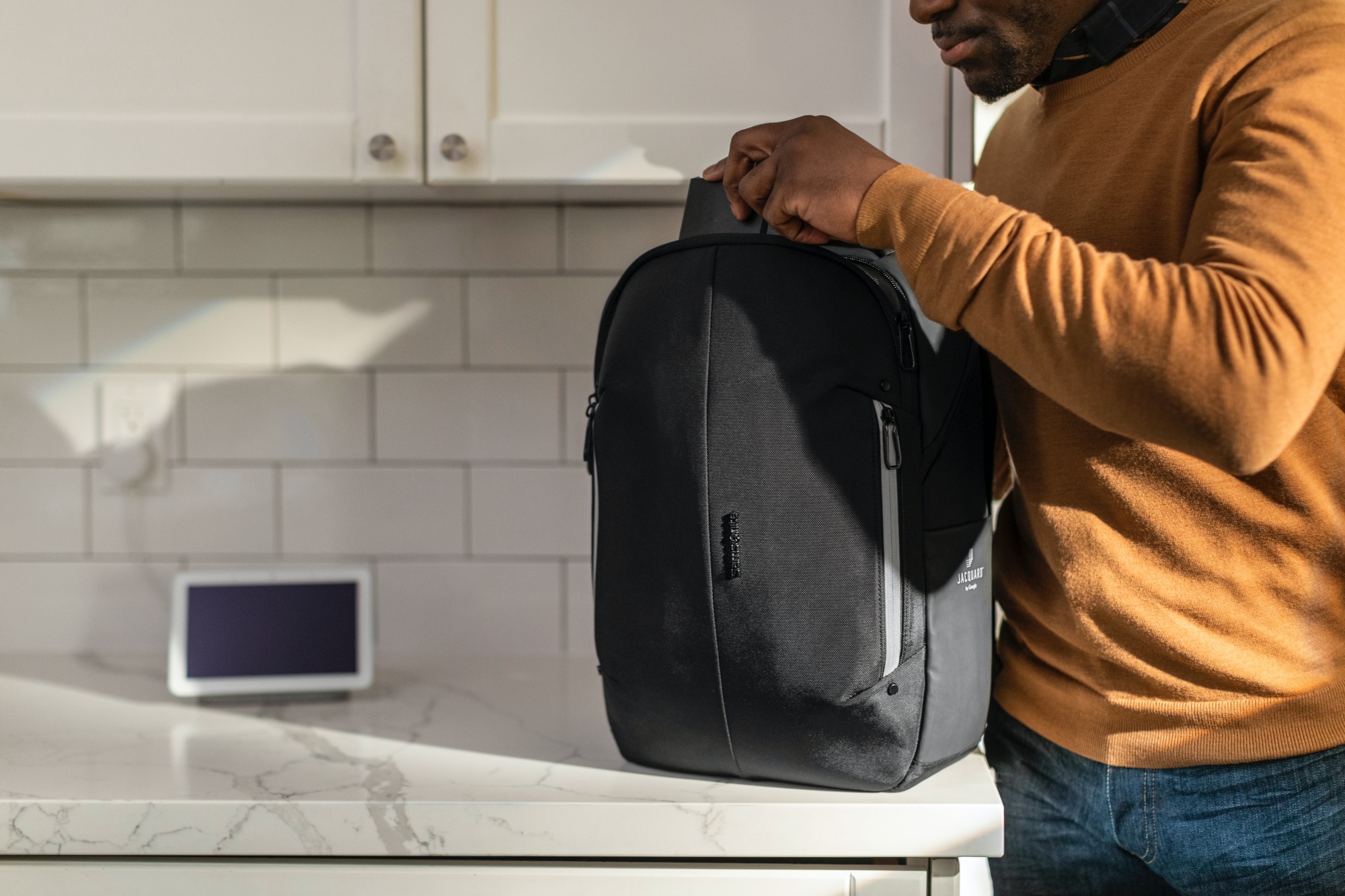 There are two versions of the Konnect-i backpack available − a Slim Backpack, which is complete with a vertical zipper, and a Standard Backpack, which is finished with a horizontal zipper.
The exterior design of both versions is inspired by modern simplicity − making it ideal for everyday use and suitable for matching with smart-casual work outfits.
The black-coloured backpacks are made from a polyester water-repellent and easy-care fabric.
Each backpack is finished with a subtle reflective trimming in a matte silver tone. In both the Slim Backpack and Standard Backpack, comfort and function play an important role.
Several foam layers form supportive shoulder straps, while a padded back panel offers both reinforcement and relief during long trips.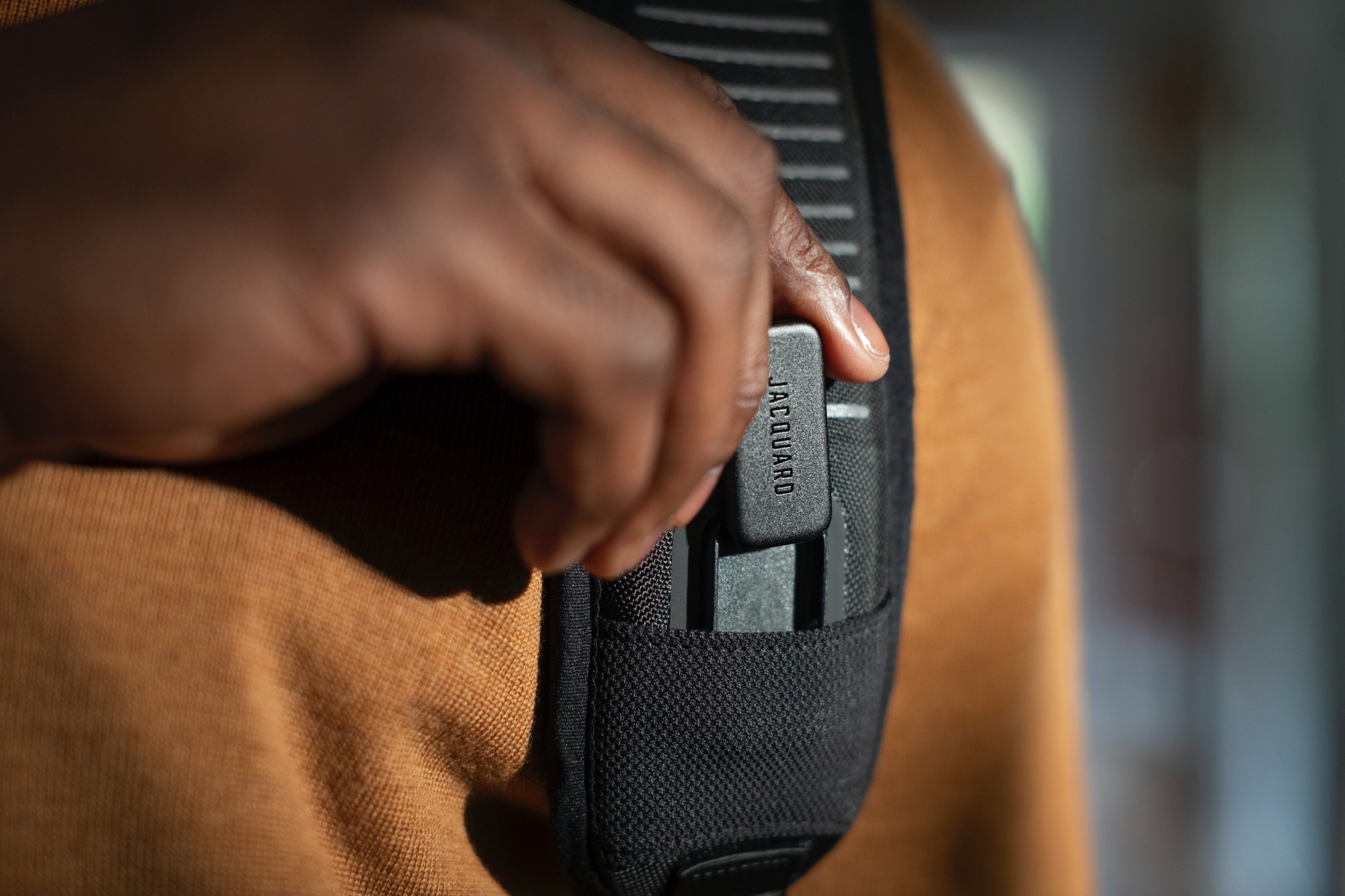 The Jacquard tech enabled travel companion also features a smart sleeve, with debossed PU logo, for easy handling when travelling in tandem with a suitcase.
An easy-access front pocket completes the exterior highlights. Boasting interiors that are just as functional, the inside of the Konnect-i backpack features organisational sections, including a padded laptop and tablet compartment (fitting up to a 15.6" laptop). A wide-open front pocket also allows for effortless packing.
Each Konnect-i backpack comes complete with a Jacquard Tag and a micro USB cable for charging the Jacquard Tag. Impressively, the length of the charge can last anywhere from 10 days to two weeks, depending on the level of usage.
The Samsonite Konnect-i Backpack with Jacquard by Google is priced at AU$299 for the Slim Backpack and AU$329 for the Standard Backpack.