With America celebrating Independence Day this week (4th July), it's a great reason to fire-up the barbie and get cooking. One of the classic recipes is the Beer Can Chicken and to find out the best way to cook it, Wayfarer gets the inside line from BBQ enthusiast, pit master, and Traeger Grills ambassador, Josh 'Traeger' Dixon.
A rather unconventional cooking method, the beer can in this method acts as a throne for your chicken. Now, stay with me… the upright position allows the fat to drain away, giving you a crispy skin whilst the beer steams away flavouring the chook from the inside out. What you walk away with is a juicy, moist, and succulent bird.
First, start off at a lower temp as opposed to going high and overcooking the chicken. Gradually increasing the temp gives you a better overall cooked chicken.
Now, if I'm short on time I'll simply pat dry the skin and cavity, apply the rub, and then pop it straight onto the grill. However, if you have some to properly prepare, I recommend an overnight marinate to really lock in the flavours, something like a buttermilk and hot sauce combo.
Alternatively you can air dry the chicken, uncovered in the fridge (always on the bottom shelf to avoid cross contamination). This method will reduce the moisture content of the chicken giving you an even crispier skin, which we know is an absolute crowd pleaser!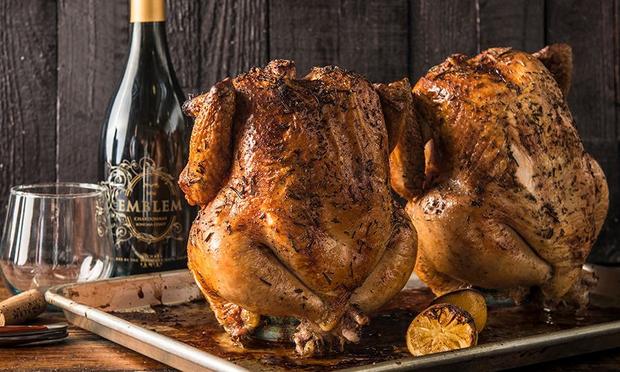 If it's a Traeger Grill you're using, expect your chicken to wind up with an added smokiness thanks to the pellet grill system – a wood fired flavour like no other.
A hot tip for when you go to place the chicken onto the beer can for cooking, the easiest way is to place the beer directly onto the grill to begin with, then slide on your chicken.
Just be careful when you go to place the chicken onto the beer can; the easiest way is to place the can directly onto the grill to begin with (open and with a few holes pierced to allow for more steam/flavour), and then slide the chicken on top. Just be careful to support the can – no one wants to see a good beer go to waste!
Once your bird looks crisp and ready, always, always set aside to rest before carving up and serving. You want to make sure those juices have properly settled in.
RECIPE: JOSH TRAEGER DIXON'S ULTIMATE BEER CAN WOOD FIRED CHICKEN
Serves: 4 people
Prep Time: 5 mins
Cook Time: Approx. 1 hour and 20 mins
INGREDIENTS:
• 1.5kg whole free-range chicken.
• 1 x 330ml can of beer – I prefer a Pale Ale for additional flavour than Lager.
• Olive oil.
• Traeger Chicken Rub (Pork & Poultry rub also works a treat).
• Traeger Mesquite BBQ Wood Pellets.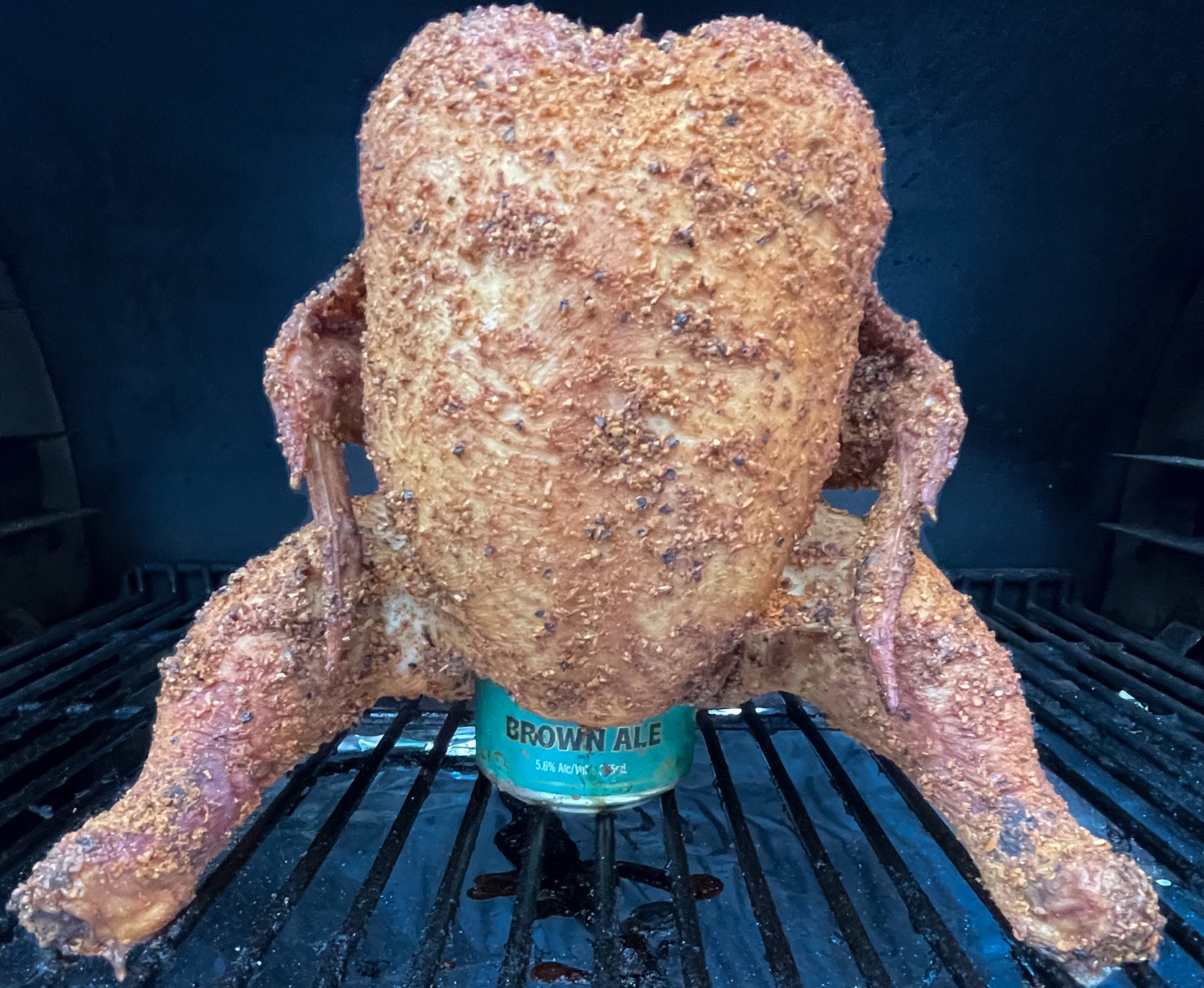 METHOD:
1. Set your Traeger Grill (or BBQ) to 175 Celsius (350F) and pre-heat for 15mins.
2. Use paper towel to pat dry the chicken.
3. Lather a small amount of olive oil on the chicken.
4. Apply a healthy coating of spice rub to the chicken not forgetting inside the cavity of the chicken as well.
5. Open the can of beer – remove (drink don't throw away!!) 1⁄4 of the beer and slide the chicken on top of the beer. (some people find it easier to place the beer in their grill first and then chicken on top).
6. You are aiming for an internal temperature of 73 Celsius (165F) (measured in the thickest part of the breast meat) – which should be anywhere from 1hr-to-1hr 20mins.
7. Remove chicken from grill and let it rest for at least 10mins before carving.
8. Be careful when removing the beer can from the chicken as it will very hot.
9. Slice and enjoy with your favourite sides – mines roast vegetables during the winter months and green salad and potato salad during the warmer months.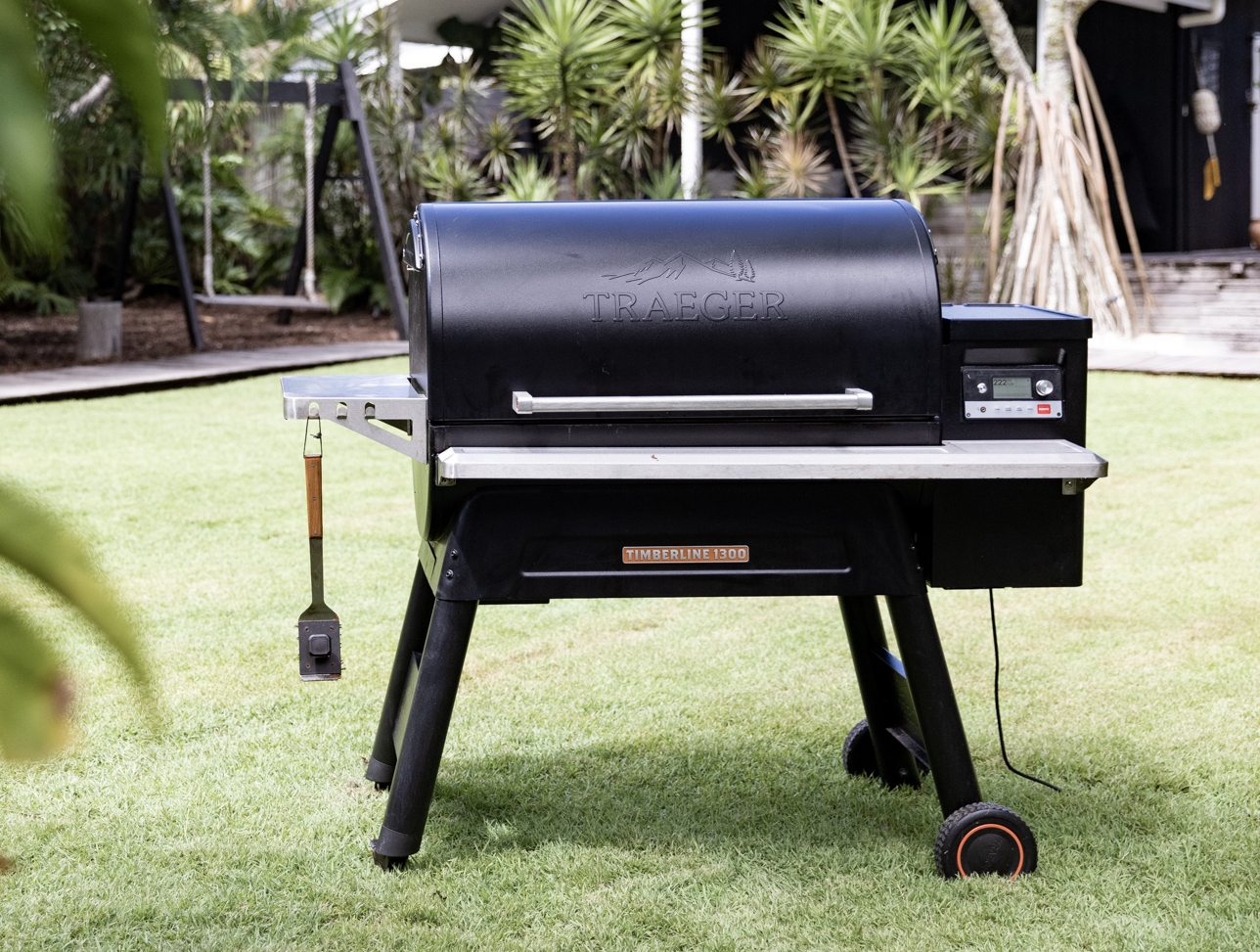 TRAEGER GRILLS RULE
Traeger Grills, headquartered in Salt Lake City, has been revolutionising BBQ grilling and outdoor cooking for over 30 years with one simple, all-encompassing cooking solution. Traeger pellet grills use 100% all-natural hardwood fuel to infuse food with flavourful smoke, making food taste delicious and most of all, memorable. As the inventor of the original and world's top selling wood-fired grill, Traeger utilises wood-fired convection power to provide 6-in-1 versatility; grill, smoke, bake, roast, braise and BBQ meals to perfection every time.