Accor's highly-anticipated Sofitel Adelaide has welcomed its first guests this week (Nov 4), becoming the first new-build, internationally-branded five-star hotel to open in Adelaide's central business district in 30 years.
A ceremony was held to mark the AU$150 million hotel's official opening by the Hon. Steven Marshall MP, Premier of South Australia and Minister for Tourism, and Daniel Palumbo, Managing Director of Palumbo, the hotel's owner and developer.
"As the first internationally recognised five-star hotel to be opened in Adelaide for 30 years, the Sofitel Adelaide is an asset to the State," Marshall said.
"I congratulate the Palumbo and Accor Pacific teams on this huge achievement – a hotel development of this calibre will play a critical role in the post-COVID recovery of our tourism sector, as we reopen South Australia's borders from November 23.
"This investment by the South Australian family-owned Palumbo group and international hotel brand Sofitel is a massive show of support for South Australia's future and the potential in our tourism sector and mean more jobs for South Australians," he said.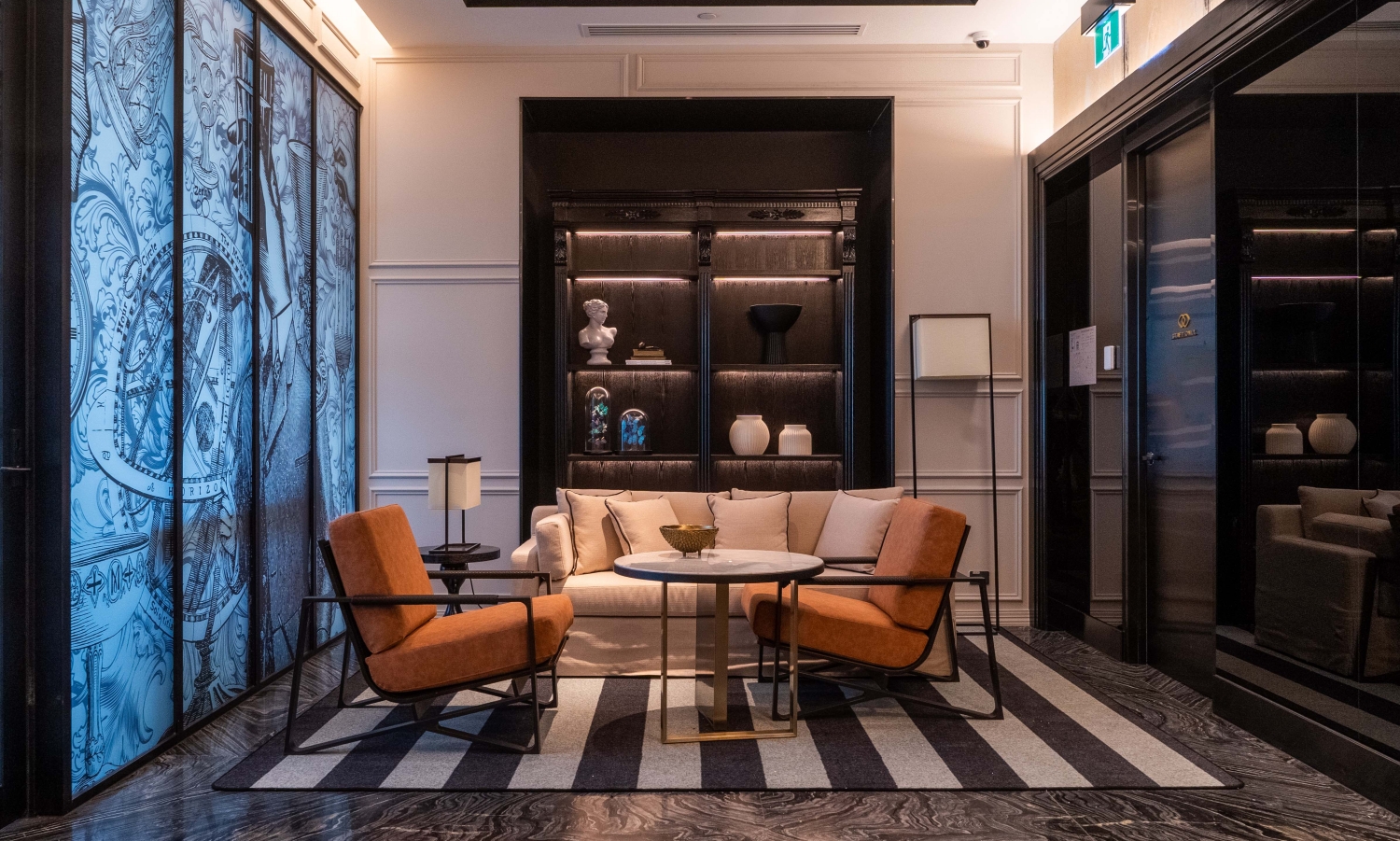 With Sofitel Adelaide located in the heart of Adelaide's most vibrant city quadrant on Currie Street, guests can couple a decadent hotel experience with the very best Adelaide has to offer at their doorstep, including the Adelaide Oval, Adelaide Convention Centre, Riverbank precinct and Rundle Mall.
The Adelaide Hills region is also a short 30-minute drive away, and the internationally-renown Barossa Valley wine region less than an hour from the hotel.
The hotel features 251 luxurious guest rooms and suites (Superior, Deluxe, Luxury, Luxury Club, Prestige and Opera Suites), with a choice of city and Adelaide Hills views.
Stunning fully open concept bathrooms with luxurious vanities and free standing bathtubs maximise a sense of space, with Balmain Paris room amenities provide an additional indulgent touch.
The pièce de resistance is Sofitel's palatial Presidential Suite. The embodiment of luxury living, Sofitel Adelaide's Presidential Suite includes an extensive dining room and open living room concept, walk-in wardrobe, private study and a grand bedroom with an additional ensuite bathroom.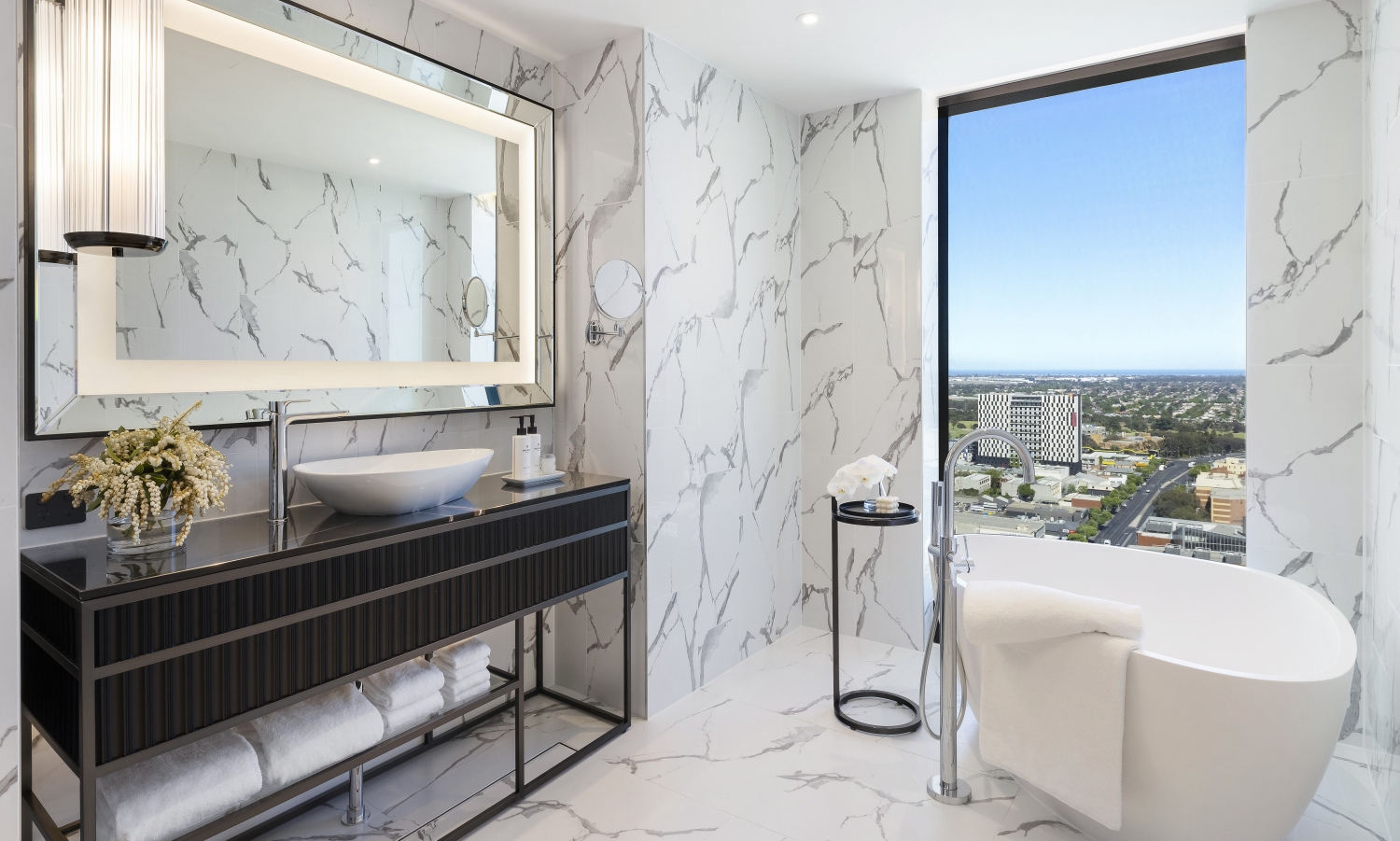 All Luxury Club rooms and suites at Sofitel Adelaide provide guests with access to additional complimentary facilities and services as part of Club Millésime.
Situated on level 10, Club Millésime features a private lounge serving complimentary à la carte breakfast, afternoon tea and evening drinks and canapés, as well as offering personalised check in and check out.
Sofitel's interiors have been custom designed – from the burgundy coloured chandeliers featured in each guest room to the bespoke vintage-inspired wallpaper commissioned by Sofitel for the hotel's club lounge.
In keeping with the hotel's themes of 'light and flow', Sofitel Adelaide's indoor heated pool is also in the spotlight, with spectacular natural light courtesy of floor to ceiling windows, and illumination from four bespoke chandeliers overhead.
Exquisite marble used throughout the Sofitel was sourced personally by owner, Daniel Palumbo, and his family direct from Carrera in Italy, in what was a very personal journey for the proud South Australian developer in bringing the hotel to life.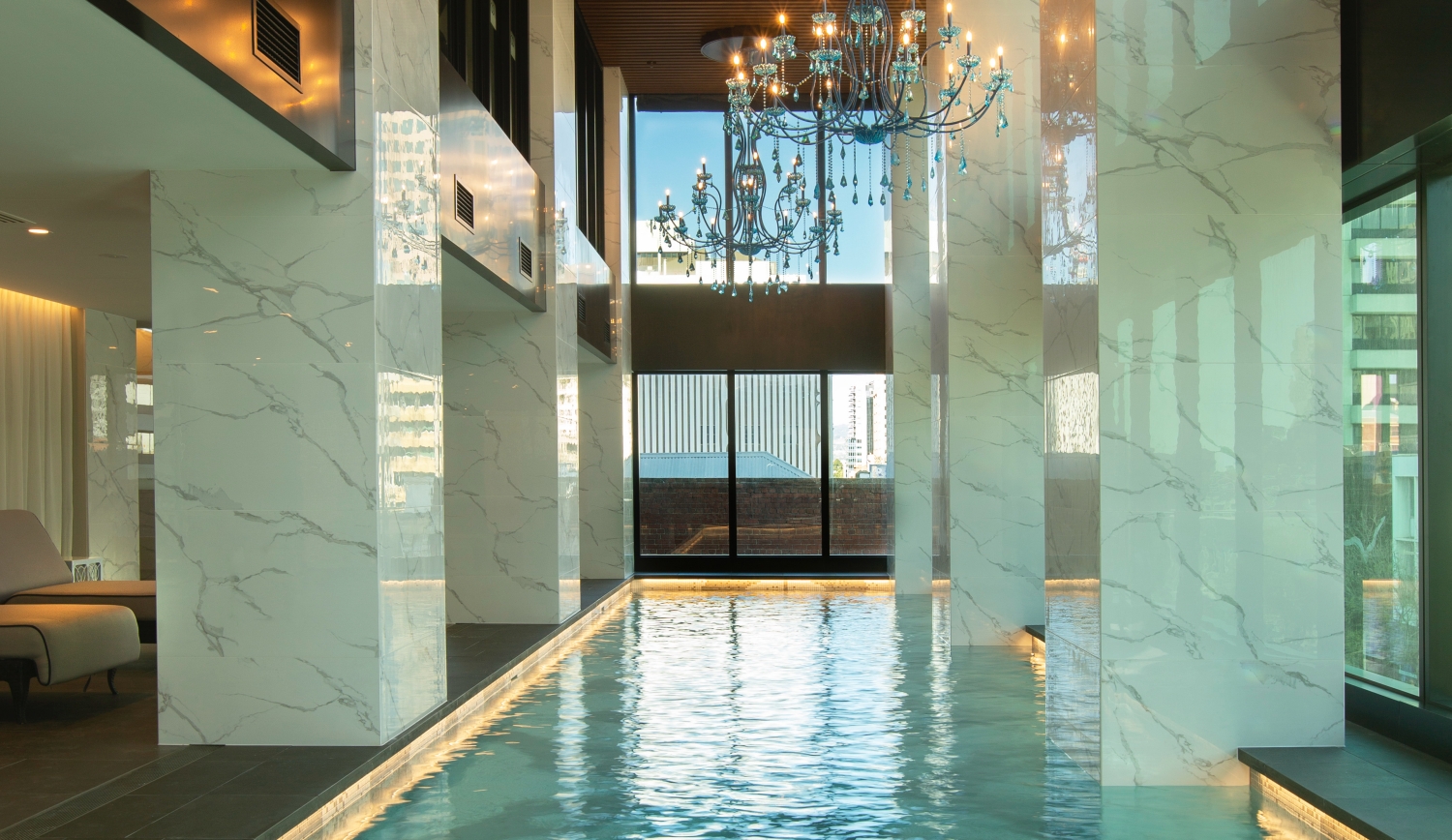 This kind of extravagance extends to the Sofitel Fitness Centre (the hotel's gymnasium), also designed with a luxurious eye for detail to feature state-of-the-art equipment boasting the same leather finishings as used in Ferrari supercars for a world-class workout.
"We are extremely proud and excited to introduce Sofitel Adelaide to our local community as South Australia's reputation for world-class experiences continues to flourish and grow," Palumbo said.
"As a local Adelaide business this has been a true passion project for us, and we're confident that this hotel heralds the renaissance of a new era of tourism and travel for South Australia.
"Our ambition is that Sofitel Adelaide will play an important role in supporting the state's tourism recovery efforts in the months and years ahead, underpinned by exceptional culture, cuisine and outstanding design."
Accor Pacific CEO, Simon McGrath, said, "Accor is honoured to work with Palumbo who have created an exquisite world-class hotel in Sofitel Adelaide. The hotel and restaurant are a true reflection of all that is great in South Australia and promises to deliver an exceptional experience for guests.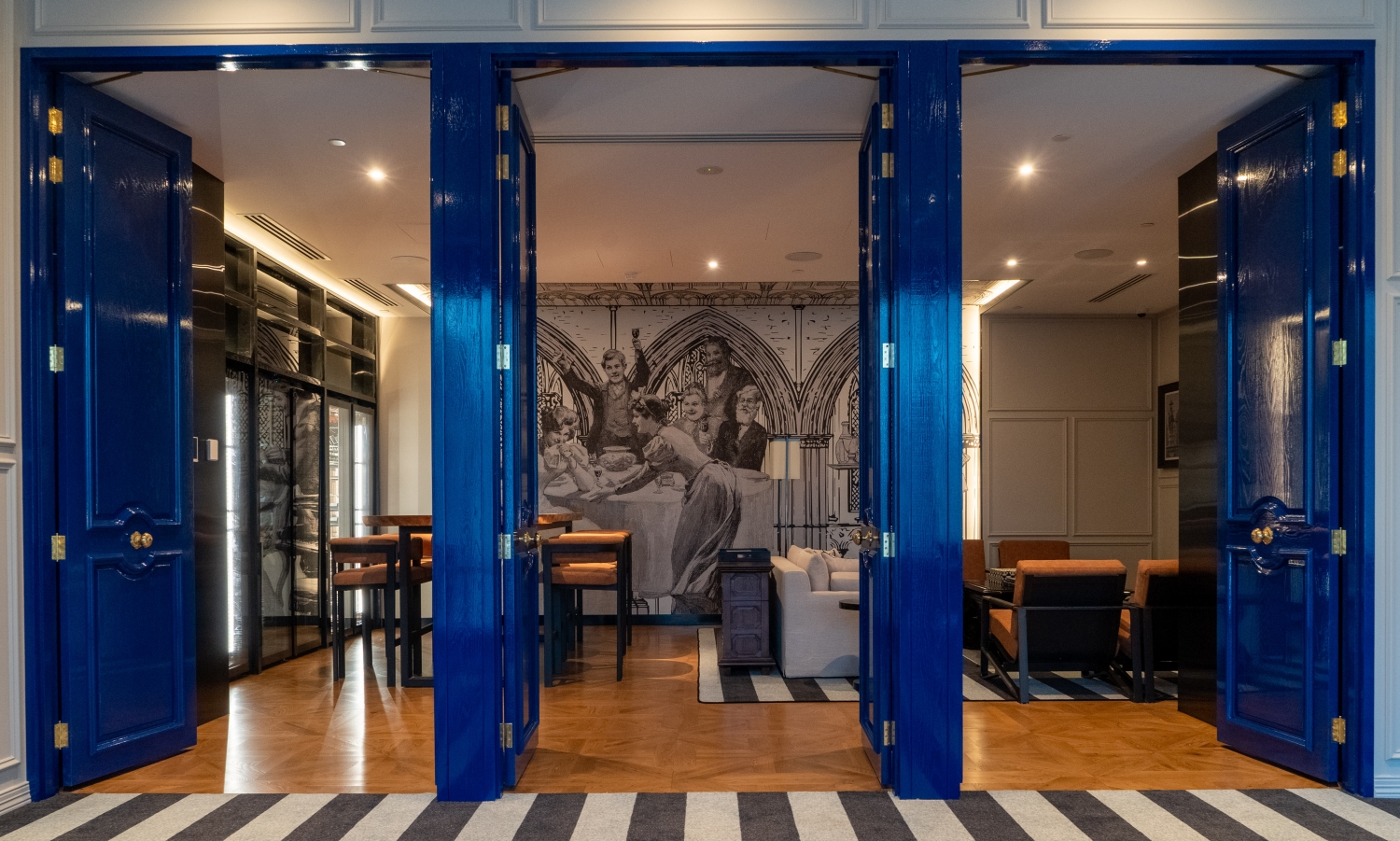 "With Palumbo we have worked with an incredible partner at our side, who have brought great skill, knowledge and detail to this landmark project."
South Australian Tourism Commission CEO, Rodney Harrex, welcomed the addition of Sofitel Adelaide to the city's accommodation industry.
"Prior to the pandemic, South Australian tourism was booming – hotel bookings in Adelaide hit their highest in the past decade and our visitor economy hit a record-high AU$8.1 billion," he said.
"It is with this solid foundation that we welcome Adelaide's new internationally recognised five-star hotel, the Sofitel Adelaide, which will be a major drawcard for interstate and international visitors in the months and years ahead."
Every Sofitel around the world is culturally linked with a city or region in France that shares similar attributes in terms of culture, landscape and design and Sofitel Adelaide is culturally linked with Bordeaux – a city that epitomes viniculture and gastronomic refinement, as well as history and fine art.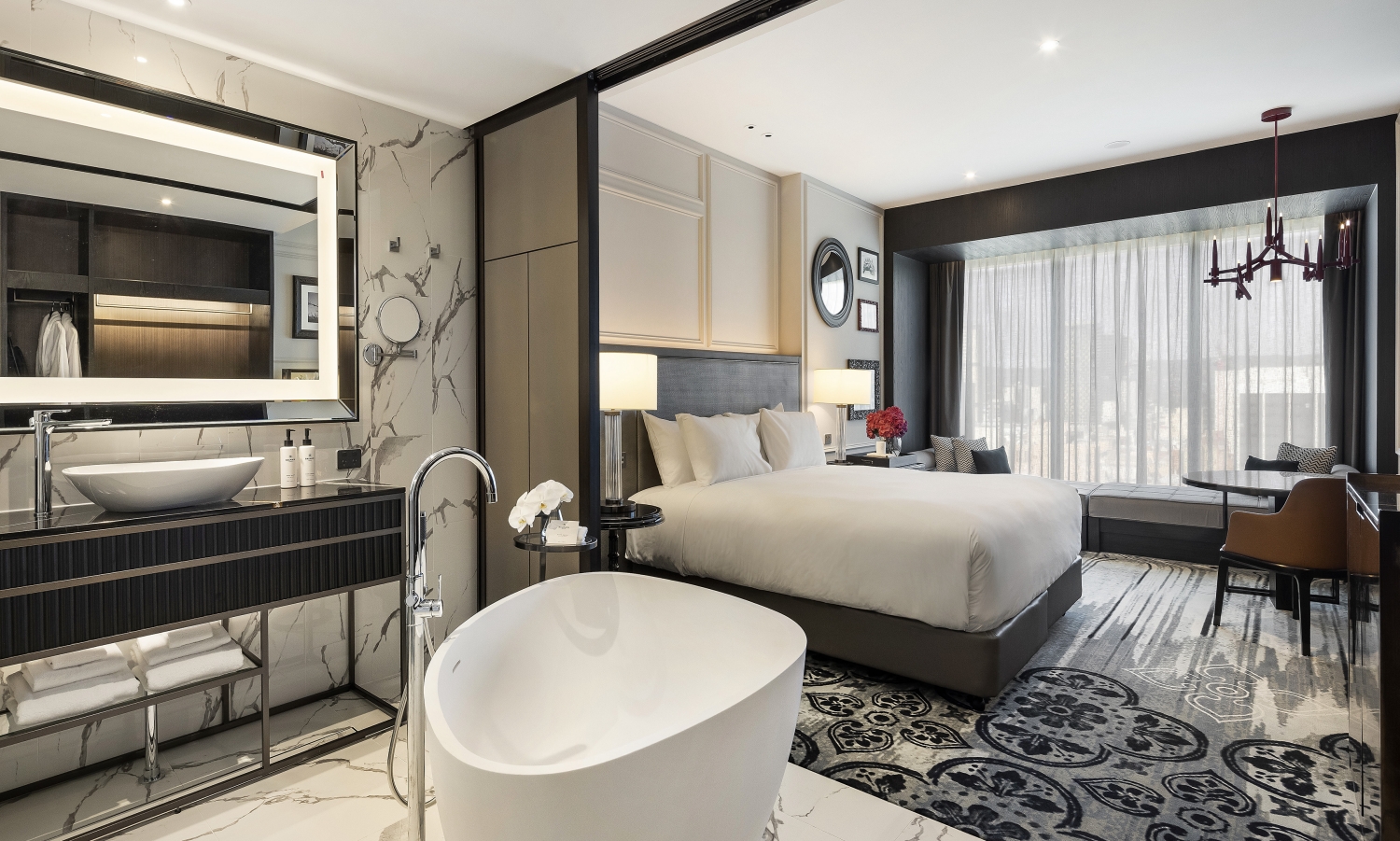 Indeed, art will play an important role at the Sofitel with the hotel preparing to display artwork from more than ten local and international artists, including photographers Emmaline Zanelli and Drew Lenman; painter and ceramicist Michael Carney and glassblower Nick Mount– who all hail from South Australia.
In the lobby two striking artworks provide an ultimate sense of arrival for Sofitel guests – an original historic French-inspired piece by Newcastle-based fine-art photographer, Alexia Sinclair, titled Field of Dreams, and a striking flowing red wine-inspired chandelier, representing the flow of wine and meandering of the nearby Torrens River.
This week also marks the soft opening of Garçon Bleu – a French re-imagined restaurant set to become Adelaide's newest gourmet destination. With elevated city views from its location on level nine of the new Sofitel Adelaide, Garçon Bleu's 90-seat dining room boasts an open kitchen, an extensive wine wall, and an up-lit oyster and raw seafood bar.
In addition, Sofitel Adelaide has opened a luxurious street-level Champagne bar, Déjà Vu, inspired by the romantic sidewalk cafes of Paris to offer a selection of elegant beverages, lighter meals and casual eats seven days a week.
The largest hotel operator in Australia, Accor now has 15 hotels across South Australia, with 12 of these in the city of Adelaide. Sofitel Adelaide joins a growing portfolio of six Sofitel hotels and resorts in Australia and more than 120 globally.