Cathay Pacific introduced its new suite-style Business Class seat several years ago and it continues to be one of the top cabins in the sky thanks to spacious flatbeds seats that feature plenty of storage and space, alongside a sleeper service with large pillows and duvets, restaurant-style dining and hundreds' of hours entertainment on demand. Once you put the Hong Kong lounge experience into the mix alongside world-class service, you have a Business Class experience that's quite simply exceptional. By James Wilkinson.
Route: Hong Kong to Sydney
Aircraft: Boeing 777-300ER
Class: Business
Seat Number: 17A (window)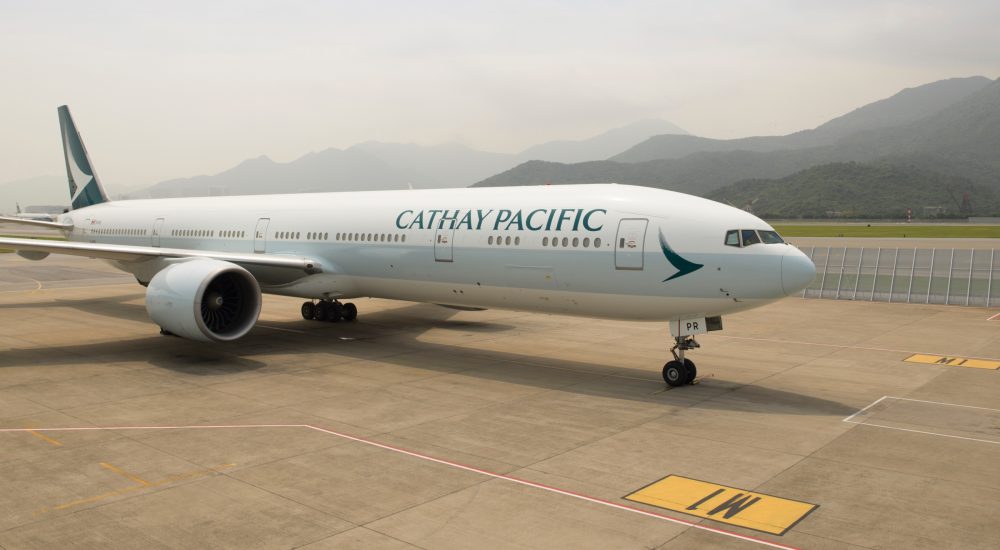 Cathay Pacific's Boeing 777-300ER
CHECK-IN EXPERIENCE
Cathay Pacific offers dedicated Business Class check-in counters at airports across the world, including a row at Hong Kong International Airport (HKIA). However, you should take advantage of the in-town check-in available to passengers travelling on the Hong Kong Airport Express train, which can be found at the Hong Kong and Kowloon stations and is available from one full day ahead to 90 minutes before your flight.
Impeccable service is a highlight of flying Cathay Pacific and that's just what you can expect from then moment you check-in, from seat requests to asking for lounge directions and departure information. Cathay Pacific has five lounges at HKIA, so staff will ensure you are directed to the lounge closest to your gate.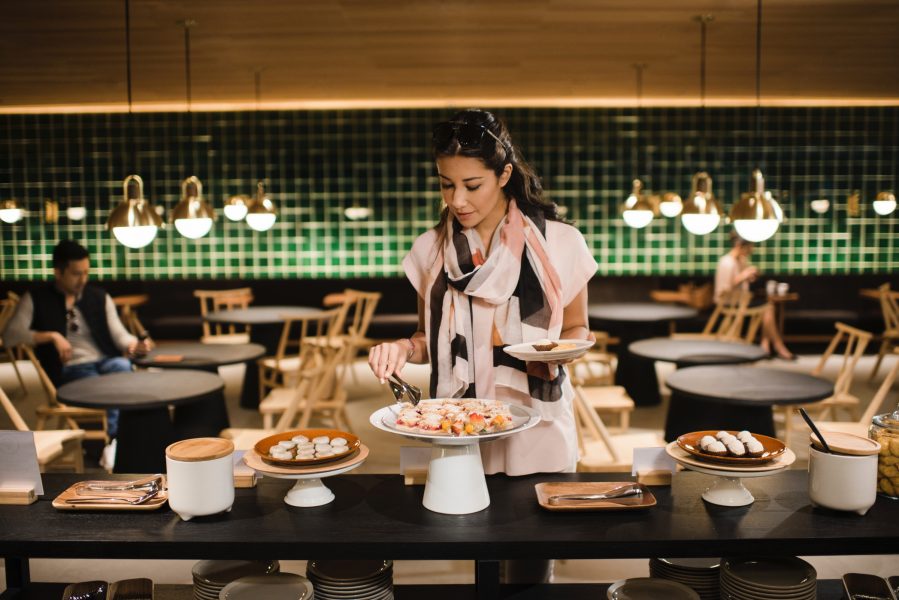 Cathay Pacific features some of the world's best airport lounges in Hong Kong
LOUNGES
Cathay Pacific has five world-class lounge areas at this airport as mentioned above, including The Pier Business and First Class lounges, The Wing Business and First Class lounges, The Bridge, The Deck (which debuts this week on Mar 22) and The Arrival.
All of the lounges have been impeccably designed with Cathay Pacific's brand ethos in mind, which means contemporary Asian and western elements and a "focus on warmth and simplicity", according to the airline; they all feature Cathay Pacific's popular Noodle Bars and self-service kiosks; and have plenty of comfortable chairs to relax in; workspaces to get business done in; and shower suites to freshen-up in. Given the size of Terminal 1, which Cathay Pacific flies out of, it is best to choose the lounge closest to your gate to maximise your pre-flight relaxation.
Expect a comfortable and spacious Business Class seat on Cathay Pacific's Boeing 777-300ER
THE SEAT
The airline's Boeing 777-300ERs, which service Sydney (and a number of other global destinations) from Hong Kong are configured in a three-class layout featuring 40 Business, 32 Premium and 268 Economy Class seats. Business Class is in a 1-2-1 layout, meaning all seats have direct aisle access and are some of the most spacious to be found in the sky.
The first thing you will notice is the amount of space available, from the side storage, which can fit a handbag, laptop or magazines, plus the side cabinet for headphones, valuables and even iPads, and also the shoe locker. There's an oversized tray that's ideal for working or dining on and once a meal turns up, you'll find room to place your computer or iPad to the side and still have access to the full tray table.
The generously-wide 21-inch seat then reclines a full 82-inches when retracted into bed mode and there is a generous 29.5-inch width when the armrest is retracted. The experience then gets better when duvets, blankets, pillows and cushions help create a comfortable and restful sleeper service, ideal for the night flights to Sydney.
If you're travelling with a companion, it would be best to book a pair of seats in the centre of the aircraft, which are gently angled towards each other and can slide forward, allowing you to chat or dine together with your friend, colleague or loved one. Don't fret if you score one of the centre of the B777 seats if travelling alone though as there is a screen for added privacy.
Both Asian and Western cuisine is featured on Cathay Pacific in Business Class
FOOD AND DRINK
On Cathay Pacific's overnight flights from Hong Kong to Sydney, find two meals served, being dinner and breakfast. For dinner there is a starter (examples at present are smoked salmon, duck breast or prawns and a mixed seasonal salad), followed by a bread (and yes, there is garlic bread), a main course (expect a beef/lamb, chicken, seafood and vegetarian option, plus there is also a noodle service available on some flights), then cheese, fruit and ice cream.
For the pre-arrival breakfast, find an energiser drink, choice of juices, fruit, yoghurt, cereals, breads and pastries, and a main course of a frittata or omelette, and an Asian option (expect congee or udon).
When it comes to beverages, Cathay Pacific serves up fine wines from across the world in Business Class and at present expect wines such as the 2016 D'Arenberg Olive Grove Chardonnay from McLaren Vale, a 2016 Gruner Veltliner from Austria, a 2014 Chateau Noaillac Medoc from France and the 2016 Tenacity Old Vine Shiraz from South Australia.
Leading spirits are also available onboard, as is freshly brewed Illy coffee, so feel free to order that latte or cappuccino.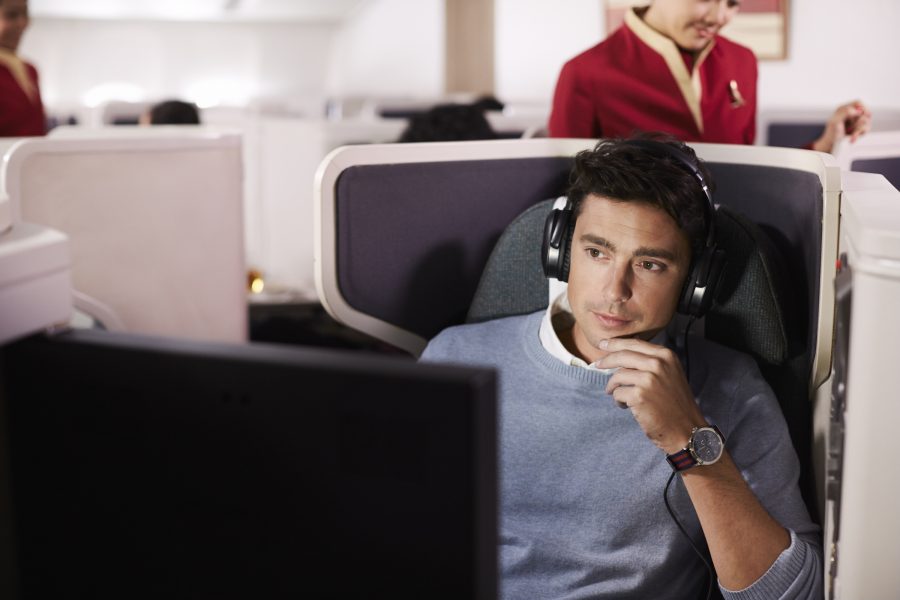 Kick back and catch new-release Hollywood films, classics and much more on the StudioCX system
ENTERTAINMENT
Cathay Pacific's Business Class seats feature flatscreen touchscreen TVs that are loaded-up with the always impressive StudioCX entertainment system, which offers a range of Hollywood blockbusters, cinema classics, TV shows (from Downton Abbey to Suits, food and travel documentaries), music albums (rock, pop, classic and concerts), and games (including Blackjack and Tetris). If you want to work on your laptop or device or play content from them, in the seat you'll also find a universal Power Supply outlet, a multiport connector and a USB port.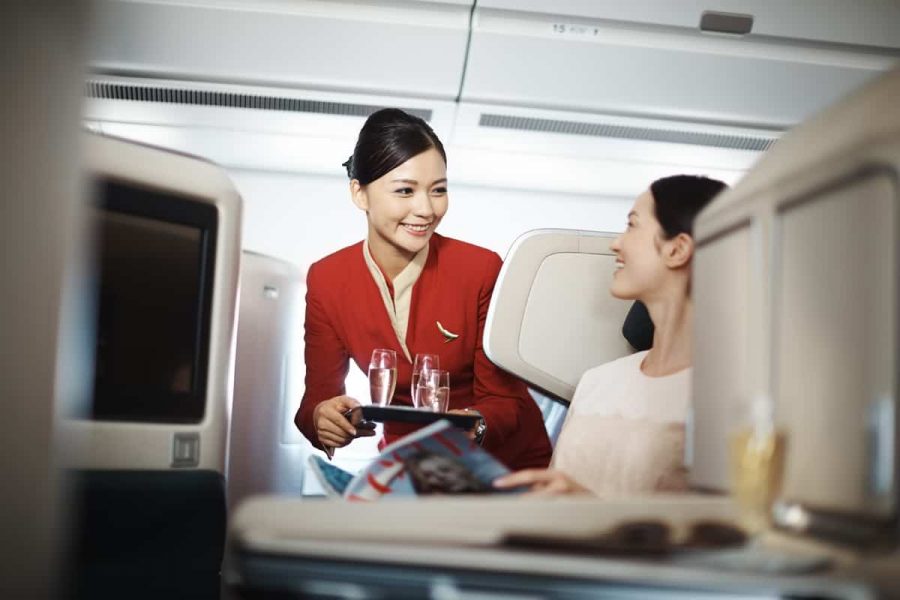 Cathay Pacific's service is consistently some of the best in the world
INFLIGHT SERVICE
Once you take your seat after boarding, expect a Cathay Pacific cabin crew member to greet you by name, welcome you onboard and provide personalised service through the entire flight. They will serve a beverage (expect a juice, water or Champagne) and then offer you one of the recently updated amenity kits, which now come complete with Jurlique skincare products alongside socks and a sleep mask.
If you'd rather sleep than be awake for the meal, the crew are happy to offer a time that suits you better, while they will also wait as long as possible to serve that meal before landing in order to maximise sleep.
The crew are efficient and will attend to your seat promptly from pressing the call bell.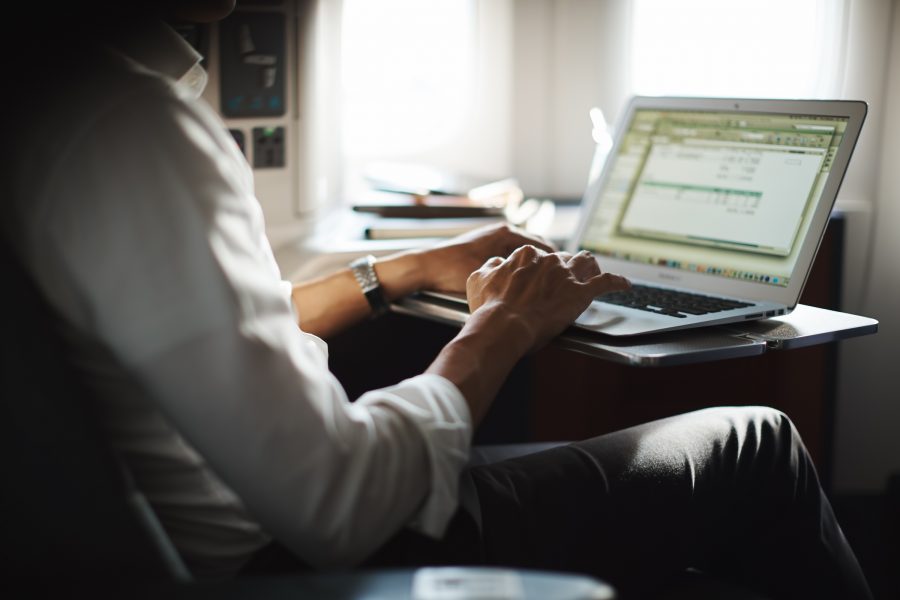 Cathay Pacific's Business Class seats offer plenty of space for working inflight
LAST WORD
Flying in Business Class on Cathay Pacific is much better than going in First Class on many airlines thanks to the suite-like experience in the spacious seats onboard. I've flown this cabin four times in the last six months and what continues to excel isn't just the reliability of the product, but also the in-flight service, which is always seemingly impeccable.
You'll find the same offering onboard the airline's Airbus A330-300 aircraft that service Australia and do try to choose an overnight flight when booking for the full sleeper service experience. And you'll definitely be taking home the Jurlique amenity kit when you finish your journey.