It's about flatbed seats, oversized seat toppers, great Kiwi food and wine, top entertainment and world-class service in Air New Zealand's Business Premier cabin on the Boeing 787-9 Dreamliner. By James Wilkinson.
Route: Auckland-Australia (selected routes)
Aircraft: Boeing 787 Dreamliner
Class: Business Premier
Seat: 1K (window)
CHECK-IN EXPERIENCE
Air New Zealand's industry-leading app allows you to check in and also shows on a map how long it will take you to get to the airport. Alternatively, check in online or at a kiosk at the airport. Don't forget to check a bag when you book (although that's included in Business Premier).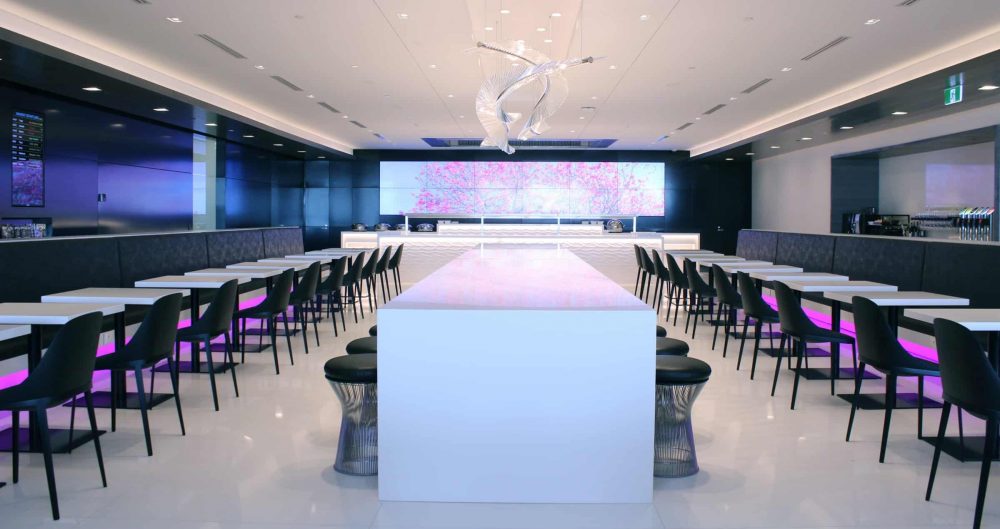 The Air New Zealand Auckland Lounge
LOUNGES
On a Business Premier ticket, lounge access is available in Australia and New Zealand. In the Auckland lounge, there's a buffet, showers, complimentary WiFi, beverages (non-alcoholic alongside New Zealand beer and wine and top-shelf spirits) and here you can also order a coffee from the airline's app. Air New Zealand is currently renovating its Sydney lounge and a very good temporary lounge is currently in operation.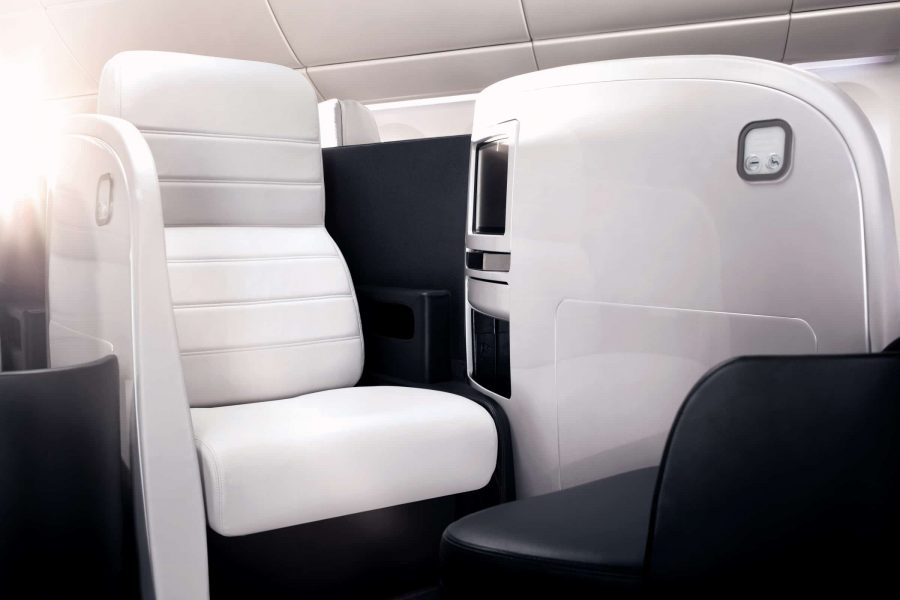 You can recline Air New Zealand's Business Premier seat for take off and landing
THE SEAT
The Dreamliner has the airline's modern Business Premier and Economy Class seats (including the SkyCouch), along with a new Premium Economy seat. In Business Premier, you'll get 79-inch long flatbed seats, which feature super-comfortable oversized seat-toppers, two large pillows and duvets. You can have the seat reclined for take-off and landing, and electronic dimmable windows darken or lighten at the touch of a button. In-seat power and a USB port is also available. Travelling with a partner? The table's big enough for two to dine on thanks to the seatbelt on the footrest.
Breakfast is served in Business Premier on Air New Zealand
FOOD AND DRINK
This is an area where Air New Zealand consistently excels. The Business Premier menu is crafted by top Kiwi chef Peter Gordon (Bellota, Auckland and Kopapa, London) and even for a short-haul Trans-Tasman flight you can expect top-quality dishes with local NZ produce. Highlights at present are the salmon and tabouleh to start, the lamb and barley hot pot for a main (the baked snapper's also a winner) and then a vanilla and chocolate bavarois to finish.
When it comes to drinks, Air New Zealand takes national pride in serving some of the nation's premier wines, from Central Otago to Northland. Generally expect two to three whites, reds and a sparkling, alongside a sticky. Right now, top wines on board include a Kemeu River Chardonnay, Ribbonwood Pinot Gris, Urlar Pinot Noir, Abbey Syrah and a Tohu Noble Riesling. Premium beers, top shelf spirits, ports and liqueurs are also available.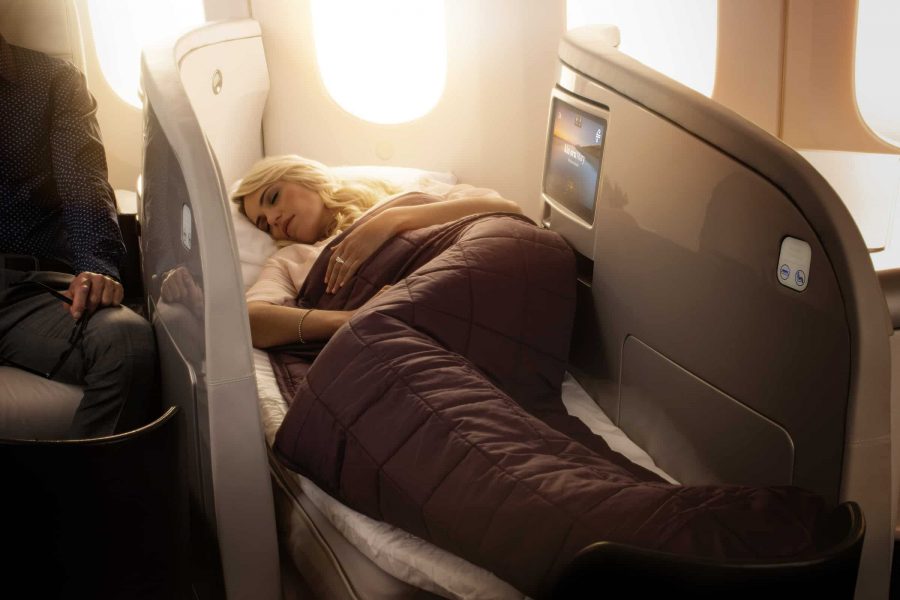 Sweet dreams: Air New Zealand's Business Premier seat is one of the longest in the air
ENTERTAINMENT
Air New Zealand has the world's most entertaining safety videos and the latest pays homage to The Hobbit and stars Sir Peter Jackson. There's a swag of new movies that changes monthly, alongside a classics section that features Oscar winners and New Zealand flicks, alongside TV shows – including entire box sets – music and games. One of the top features is being able to search films and shows in a range of ways, including by director and actor alongside genre and title. It's all viewed on new 11-inch HD touchscreens and you'll also get a pair of noise-cancelling headphones for the journey.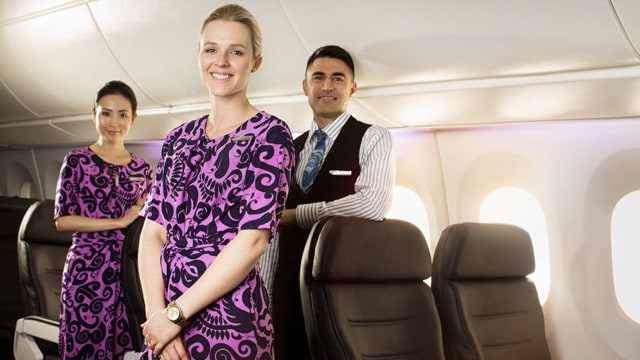 Expect impeccable service on Air New Zealand
INFLIGHT SERVICE
From check-in to wheels down, Air New Zealand delivers world-class Kiwi hospitality –service with a smile no matter the time of day or night and every request was dealt with promptly and efficiently. After discussing New Zealand wines with a flight attendant, a mini in-flight wine tasting was arranged for us alongside a selection of fine cheese. Should you need an extra drink or snacks in any of the cabins, an order to your seat service is available.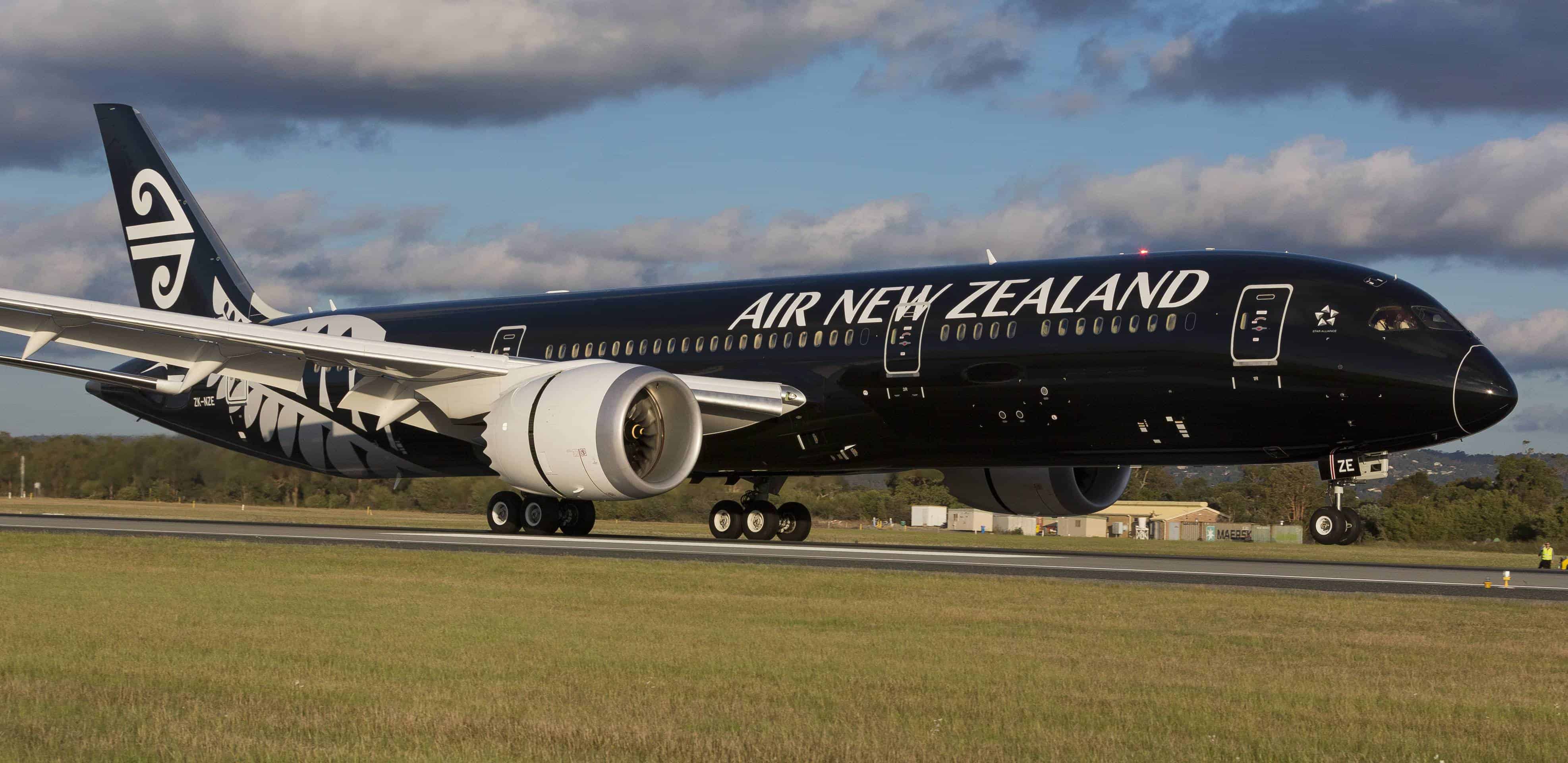 An Air New Zealand Boeing 787-9 Dreamliner touches down
VERDICT
With the larger windows, roomier cabins, quieter air conditioning systems and around 14 per cent humidity onboard (twice other jetliners), the new Boeing 787, like its tagline says, is a dream to fly. Once you couple that with the seats, entertainment, food, wine and service on Air New Zealand, you have a flying experience that is world class.