QT Melbourne has a secret: perched high above the city and nestled behind the iconic Rooftop at QT, lays a garden oasis with sky-line views.
Up until now, the garden has acted as a self-sufficient produce source for QT's food and beverage team, however, in partnership with Four Pillars and just in time for summer, the private garden has been impressively re-designed and unveiled as the Secret Garden Bar, opening to the public this Thursday.
Via a secluded back of house doorway, guests are transported to the lush, leafy haven set against a startling city view. Fitting just 40 people amongst bushes of Native River Mint, large leaves of Fruit Salad Sage and Blue Lily Pilly's, the Secret Garden Bar feels like your own private terrace, in the middle of Melbourne.
QT Melbourne and Victorian distillery Four Pillars, have collaborated to create a bespoke drinks menu almost as impressive as the view. Featuring a collection of Four Pillars gin's, including a small-batch gin distilled exclusively for the space by Four Pillars Distiller & Co-Founder Cameron Mackenzie and QT Melbourne bar staff, guests can order off the alluring cocktail list, or choose their own adventure, selecting herbs from the garden to mix with their gin of choice.
What the bar staff are mixing up is equally as alluring; 'Passion Killa' showcases Four Pillars' Bloody Shiraz Gin infused with sour passionfruit, and is the perfect balance of sweet, sour, bitter and bubbly. The 'Wild Strawberries' utilizes the garden's wild strawberries and coriander, mixed with Four Pillar's Rare Dry Gin and 'Wild Rosé'.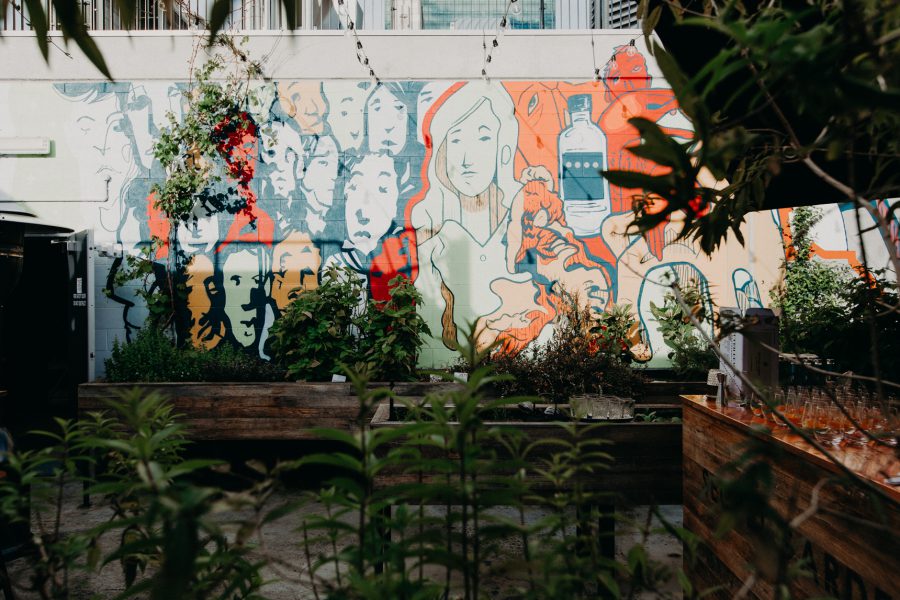 Guests are encouraged to come hungry and make a meal out of the dedicated Secret Garden Bar menu, prepared by Executive Chef Andy Harmer and Four Pillars Creative Director of Made from Gin, Matt Wilkinson. The menu will see Four Pillar's crowd favourite Gin Pig featured with a QT twist, where guests can choose from dishes like the 'Gin Pig Skewers' with marmalade glaze, or the barbequed 'Gin Pig Chipolatas'.
Lee Davey, QT Melbourne's General Manager said, "At QT Melbourne, we're constantly producing the highest levels of service and love to create incredible experiences through cutting-edge collaborations, art, music and food, and to partner with a local brand like Four Pillars means a great deal for the team, and our food and beverage obsessed guests."
Four Pillars co-founder Stuart Gregor said, "We are thrilled with the partnership between QT Melbourne and Four Pillars. QT Hotels are a fantastic example of great hospitality and great design – two things that are at the heart of everything we do at Four Pillars. So as a proudly Victorian gin we jumped at the chance to partner with QT Melbourne to bring the Secret Garden Bar to life."
In celebration of the opening and paying homage to the artwork that adorns Melbourne's laneways in the streets below, QT Melbourne commissioned local artist, Ry Wilkin, to create a mural in the space inspired by the 1800's gin craze. Using acrylic house paint and high end aerosol paints, the mural captures the different characters that inhabit our city and draws from the bold quirks and abstract characteristics of the Melbourne CBD. Wilkin's bespoke piece also weaves in the notion of changing seasons, collaborating with multidisciplinary artist Michael Fikaris, to bring to life the lush and natural elements of the garden to the previously concrete walls.
The Secret Garden Bar launches Thursday the 24th of October and will be open every Thursday and Friday, from 5pm.