Qatar Airways passengers from Western Australia can look forward to flying onboard the airline's luxurious double-decker A380 aircraft from 1 May, 2018.
The award-winning airline has announced the deployment of its flagship A380 aircraft on the Perth route in its sixth year of operation. The move will add an additional 300 seats daily, an increase of more than 44 percent.
In July 2012, Qatar Airways first started the Perth route with three non-stop flights per week, quickly increasing to daily service in December the same year, five months after service commencement.
With the latest aircraft up gauge, Perth passengers can now enjoy an unparalleled inflight product on board the new-generation 517-seater A380.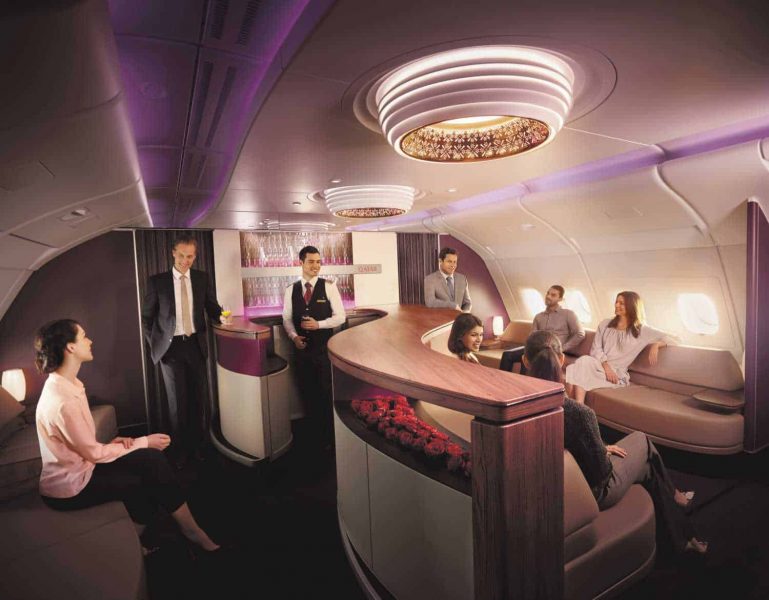 Qatar Airways' onboard bar is available for First and Business Class passengers
The 517-seat capacity is spread across twin decks in a tri-class configuration of eight seats in First Class, 48 seats in Business Class and 461 seats in Economy Class.
The double-decker aircraft features a luxurious and exclusive First Class Cabin with ultra-wide seats, which recline into a flat bed, two-passenger table extension dining, and designer sleeper suits, flight slippers and amenities.
Passengers travelling in Qatar Airways' Business Class can also enjoy direct aisle access with the 1-2-1 seat configuration and a suite of entertainment options including on-board Wi-Fi, keeping them fully connected while up in the air.
In addition, passengers in First and Business Class can relax and socialise at the on-board lounge located on the upper deck of the superjumbo.
Economy Class passengers also benefit with the added spaciousness of the A380, with higher ceilings on the main deck, a wider seat configuration and design to offer more legroom plus contoured headrests.