Healthy poke bowls and a herbal tea designed especially for Qantas are among the new dining choices on the airline's new 787 Dreamliner Perth to London menus to increase hydration and help reduce jetlag.
Qantas' Creative Director of Food, Beverage and Service, Neil Perry, said the new menus combined research from the University of Sydney's Charles Perkins Centre with inhouse experience of the Qantas and Rockpool teams to create dishes that encourage sleep at optimal times during the flight.
Tomato and mushroom puff pastry in Premium Economy on Qantas
"Working with clinical sleep specialists, nutritionists and metabolic scientists, we've designed new menu options using delicious ingredients that have added benefits of hydration, aiding sleep and reducing jetlag," he said.
"The menu we are trialling on the Perth to London route will continue to offer a selection of customer favourites but it has some special ingredient additions and exclusions," Perry said.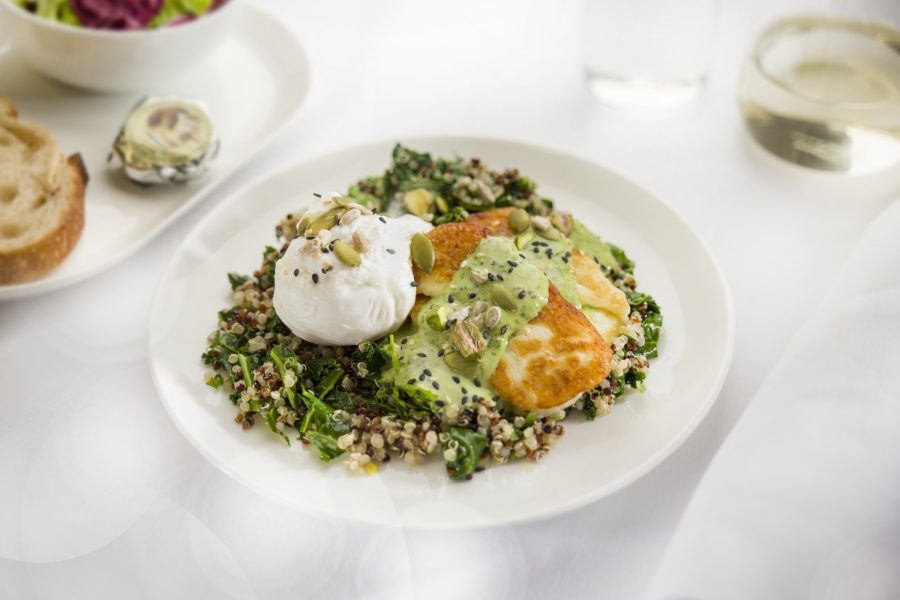 Poached Eggs with kale and quinoa in Qantas Business Class
University of Sydney's Charles Perkins Centre Academic Director, Professor Stephen Simpson, said the next step in the research will involve trials with a group of Frequent Flyers using wearable technology and apps to collect data on sleeping and activity patterns, mental state, eating patterns and hydration before, during and after their long haul flight.
"Qantas' new menu incorporates the latest scientific knowledge on nutrition and hydration and our scientists are excited by this opportunity to discover how the wide variety of influences work together during long haul flights," said Professor Simpson.
The new menus will debut on Qantas' 787 Dreamliner services from Perth to London on 24 March.