Qantas customers are set to benefit from smoother connections and improved facilities at Perth Airport with construction to begin on a new integrated domestic and international passenger hub.
A new international wing, will be located within the existing T3/T4 area. It will feature a large outdoor deck with alfresco seating, a streamlined immigration and customs area to enable a faster transfer experience, additional food and beverage outlets and a new Duty Free store.
Qantas Group CEO Alan Joyce said all of the airline's domestic flights, as well as services to Singapore, Auckland and London, would operate from the new facility.
"Perth will become the western hub for our international services to the United Kingdom and potentially other European destinations in the future," Joyce said.
"Combining all of our operations under one roof means customers can transfer from domestic to international services without changing terminals. The new design allows for an outdoor space and natural sunlight, which is something we know our customers will value ahead of a long haul flight.
"It's fair to say there's been a huge amount of excitement about the launch of our non-stop services from Perth to London, and we're delighted to be working with the State Government and Perth Airport to encourage overseas visitors to stopover in Perth."
Qantas will also construct a new International Transit Lounge that will provide a space for customers to relax and refresh between flights. The transit lounge will offer more than a dozen shower suites, space to refresh and a wellness facility. The outdoor patio provides fresh air and natural light, with a barbeque grill and Neil Perry designed Australian-style BBQ menu.
The International Transit Lounge has been designed for customers transiting in Perth when travelling on QF9 from Melbourne to London and QF10 from London to Melbourne. Perth customers will also have access to the lounge.
The International Transit Lounge has been designed as a collaboration between leading firm SUMU Design and award-winning Australian industrial designer David Caon who is also the lead designer for the interiors of the Qantas Boeing 787-9 Dreamliner. The redesign of the T3/T4 precinct was created by architecture firm Noxon Giffen.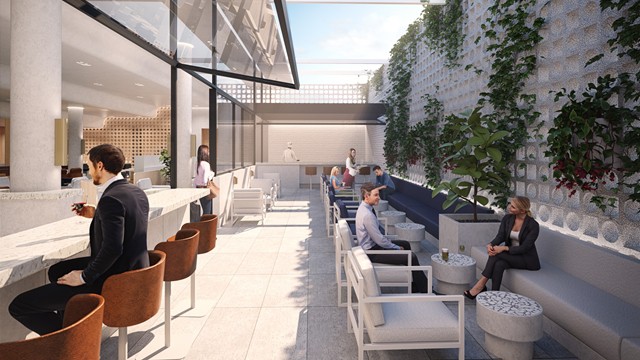 Preparatory works have begun with the project to be completed by March next year, in time for the inaugural non-stop services between Perth and London.
Qantas will move its operations to an expanded Terminal 1 at Perth Airport by 2025, pending a commercial agreement. Qantas will continue to operate the current Qantas Club in Terminal 1 to cater for customers travelling internationally on partner airlines.
The Perth to London sector will be the longest on the Qantas network at a distance of approximately 14,500 kilometres and a flying time of around 17 hours. Sydney to Dallas is currently the longest Qantas sector with a flying time of around 16 hours.
The Qantas Boeing 787-9 will seat 236 passengers in a three class cabin with 42 Business Suites, 28 Premium Economy and 166 seats in Economy.