Qantas has the perfect tonic for Australian travellers craving a widebody flight – a scenic, seven-hour journey in a Boeing 787-9 Dreamliner across the nation this October.
The special scenic service named 'Great Southern Land' will take flight on October 10 above the Northern Territory, Queensland and New South Wales in response to what Qantas CEO Alan Joyce says is strong demand from frequent flyers who miss the experience of flying and just want to take to the skies.
"Just six months ago, we would have never imagined not being able to jump on a plane and visit family interstate or take a holiday internationally," he says.
"While we may not be able to take you overseas right now, we can certainly provide inspiration for future trips to some of Australia's most beautiful destinations.
.
Wayfarer Editor-In-Chief James Wilkinson reviews the Qantas Boeing 787 Business Class offering in the video above
"We could be on the cusp of a domestic tourism boom given international borders are likely to be restricted for some time.
"So many of our frequent flyers are used to being on a plane every other week and have been telling us they miss the experience of flying as much as the destinations themselves.
"Australia is a great land and home to unique wonders like Uluru and the Whitsundays, so we know that it will be truly special to experience this beautiful country from the comfort and freedom of the sky.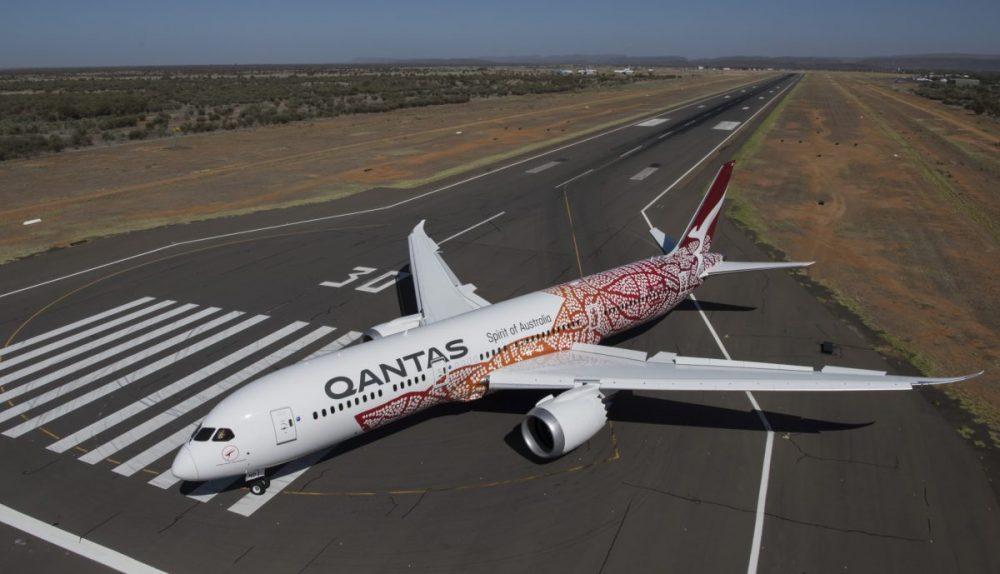 Qantas' Boeing 787 Dreamliner with an Australian indigenous livery designed by Emily Kame Kngwarreye will operate the scenic flight
"This flight, and possibly more like it, means work for our people, who are more enthusiastic than anyone to see aircraft back in the sky," Joyce says.
Qantas says the flight will also serve to promote "some of the key attractions Australians are likely to visit once state borders do open, given international travel is expected to be off the agenda for a while and signs of latent domestic travel demand remain high".
Using similar configuration as its scenic flights over Antarctica with the largest windows of any commercial aircraft, Qantas will take up to 150 people on a seven-hour flight that will feature low-level flybys of some of the Australia's most iconic landmarks including Uluru, Kata Tjuta, the Whitsundays, Gold Coast, Byron Bay and Sydney Harbour.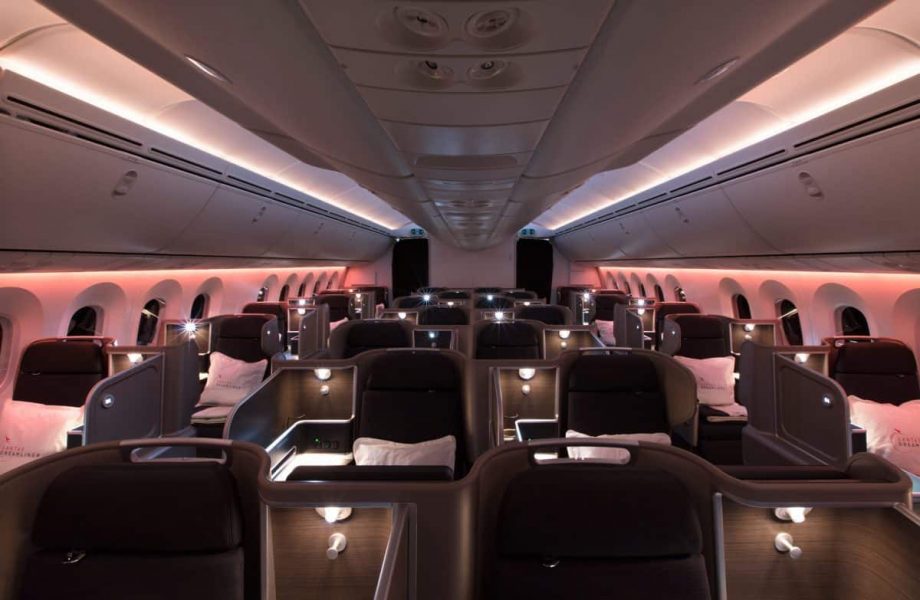 Qantas' Business Class cabin onboard the Boeing 787 Dreamliner
The border-free 'Great Southern Land' flight will depart from Sydney and head up the New South Wales coast, cross the Queensland border to fly over the Gold Coast, Brisbane and Sunshine Coast before continuing north to fly over the Whitsundays and Great Barrier Reef.
It will then track across the country to Uluru and Kata Tjuta to showcase the iconic red centre and the experience will finish with a low-level circuit of Sydney Harbour before landing back at Sydney.
Celebrating the Great Southern Land of Australia, the flight will feature a Neil Perry menu, a gift bag and a pre-flight auction of memorabilia from Qantas' recently retired fleet of 747s.