Brisbane's hottest new hotel, FV by Peppers, has officially opened its doors with Mantra Group's Chief Operating Officer Tomas Johnsson and Queensland's Minister for Innovation and Tourism Industry Development and Minister for the Commonwealth Games, the Hon. Kate Jones, cutting the ribbon to celebrate the landmark hotel opening this week.
Developed by luxury property developer Gurner and inspired by New York's flatiron building, with New York influences throughout, FV's three towers are called Flatiron, Valley House and No. 1.
With two out of the three 30-storey towers now complete, the AUD$600-million high end development in Fortitude Valley's Alfred Street will comprise of 986 spacious one and two bedroom apartments, a mixture of hotel rooms and long-term letting.
Luxe amenities at FV by Peppers include a heated u-shaped skyline pool with spectacular views and in-pool seating overlooking Brisbane's CBD, a moonlight cinema, yoga retreat, fully-equipped gym, and three beautiful VIP private spa lounges available to hire which include your own exclusive spa, bar and dining area overlooking Brisbane's CBD and Story Bridge.
For all-day in-room dining options, Six by FV is the property's onsite restaurant located on level six, which will also open for hotel guests and residents for breakfast and dinner and feature a range of delicious meal options, reflecting the New York influence.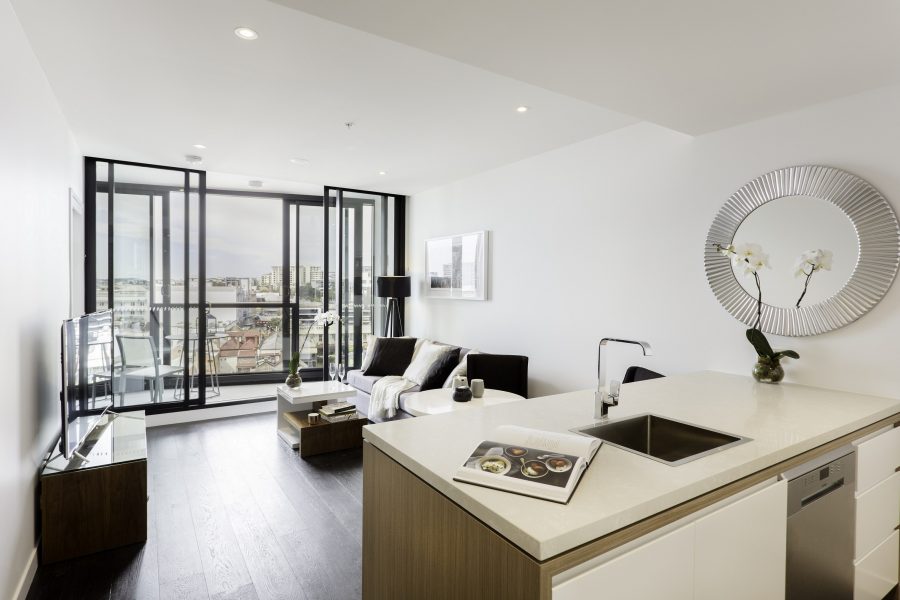 Mantra Group Chief Operating Officer, Tomas Johnsson, said the company was proud to have officially opened FV by Peppers.
"We are proud to bring the Peppers brand to Brisbane and officially open FV today," Johnsson said.
"FV by Peppers is a landmark hotel with high-end luxe amenities designed to appeal equally to the Valley's leisure visitors and the fast-growing business visitor and corporate market.
"Situated in Brisbane's premier entertainment precinct, all apartments have full kitchens with state-of-the-art appliances, a laundry, separate lounge and dining areas and a private balcony with fantastic views of beautiful Brisbane."
Minister Jones said the "opening is a vote of confidence in Queensland's tourism industry and sets an impressive new benchmark in Brisbane's quality hotel offering".