Za Za Ta, Brisbane's newest Tel Aviv-inspired bar and kitchen which blends Middle Eastern and Mediterranean food and drink, has opened within The Emporium precinct The Valley.
Where cultures collide amongst a sprawling, colonial backdrop, buzzing open kitchen and cocktail bar, Za Za Ta reveal's its unexpected delights designed to be shared and savoured amongst friends.
The 240 seat venue spans across a bar and kitchen (exclusive of adjacent event spaces) inspired by the vibrant Tel Aviv dining scene. Award-winning interior designers, Luchetti Krelle, have created a casual yet refined dining experience inspired by the conservatories of the Victorian era to nooks reminiscent of 1940's cocktail glamour.
Designer Rachel Luchetti says of the vision behind Za Za Ta, "Details from traditional Queenslander architecture are layered into the Victorian inspired interiors, giving a strong sense of local identity with an international counterpoint to ensure travellers and locals alike will feel welcomed and truly at home."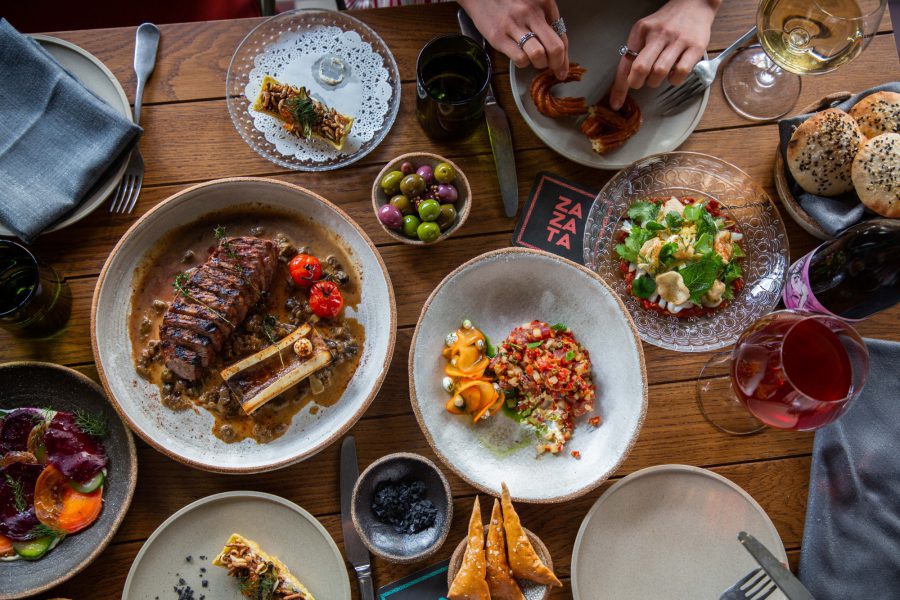 Expect brilliant Middle Eastern and Mediterranean cuisine at Za Za Ta, while the interior design is stunning (above)
FOOD
Executive Chef, Roy Ner and Head Chef, Dario Manca have created a menu which showcases the melting pot of the Middle East and the Mediterranean, weaving in global cooking techniques; from French to Japanese. Israeli-born Ner says, "we're having fun making soulful and dynamic Middle Eastern. Each recipe has a lot of heritage, we're taking centuries old recipes and bringing them back to life."
Starting out with snacks and raw options, the menu highlights include Wagyu bits, pickled sugar loaf cabbage and challah toastie; Fried goats cheese pretzels, with house lamb bacon and yolk aioli; and Beetroot pastrami with smoked rye and horseradish.
Dishes are all to be shared and highlight Middle Eastern flavours and Queensland's local produce. "Brisbane's dining scene is buzzing with the news of Za Za Ta and the calibre of the kitchen team," says Billy Bentley of produce supplier of Suncoast Fresh. "As a Queensland based supplier we pride ourselves on our relationships with local growers, in turn providing chefs with that link who serve the true journey from farm, to kitchen, to plate."
Small plates feature Hummus umami with Abalone mushroom shawarma, semolina pita, and the option to add shaved foie gras; Fremantle octopus, camel nduja, eggplant, walnut; as well as Charcoal rainbow trout, cucumber and chilli salsa, herring tahini. Sam McCrystal, from the Fish Factory has worked closely with the Za Za Ta kitchen in preparation for opening, he says, "the team has a deep passion for locally sourced and sustainable seafood from locally sourced Mooloolaba ocean king prawns, Moreton bay cuttlefish, Goulburn river rainbow trout and Queensland yellowfin tuna."
Vegetarian and seafood dishes have a strong presence on the Za Za Ta menu, but that's not to stay carnivores will be left hungry. Selecting larger plates; try the Maremma spiced duck breast with black garlic and foie jus; or Charcoal short rib, bullhorn and coriander jus is a must. All the perfect accompaniment to one of six house made breads daily; the Yemenite butter bread with ox heart tomato, and zhug chili is a must-have whether you're dining in restaurant or at the bar.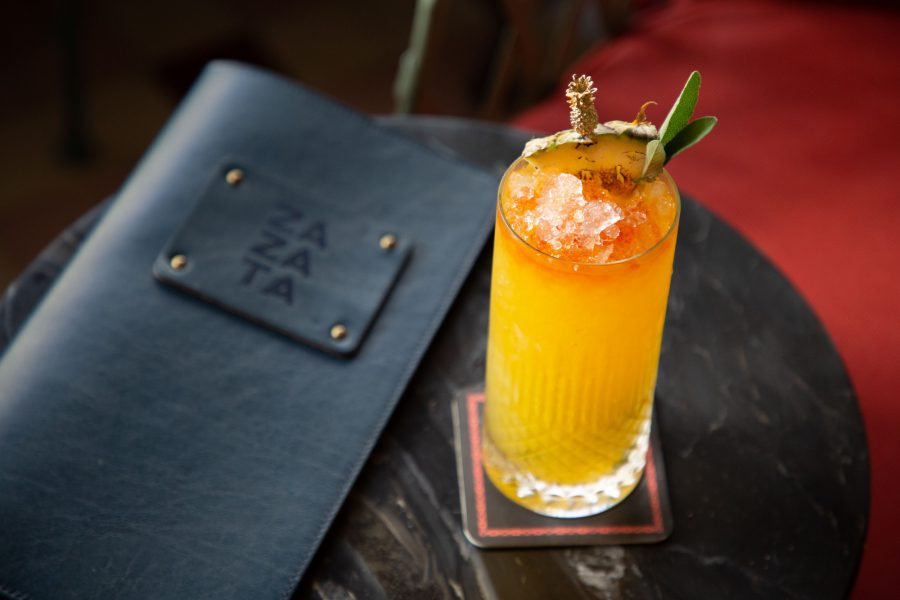 The cocktails at Za Za Ta are a highlight and you'll find the bar open until 2am
DRINK
Za Za Ta's bar is where your experience can start or finish (at 2am), or a couple of nibbles; it's high energy with curated music collection and DJ's on select nights. The drinks menu by cocktail specialist and Area Food and Beverage Director, Jared Thibault, evokes long nights in far-flung destinations with exotic twists on classic cocktails. Piquing interest is cold-pressed juice cocktails, set to be paired with the best Middle Eastern spices taken from the famed markets of Jaffa.
Jared Thibault says guests can expect," flavours and aromas of ancient Arabian spice routes, settle in and enjoy plantation rums plus Mediterranean-style gin and tonics. The exotic flavours extend to Za Za Ta's non-alcoholic options, which include house-made Limonana, refreshingly blended with mint and dehydrated lemon, and Hibiscus Rose Iced Tea."
Spirits are infused with fruits commonly used in Israeli cooking including persimmon, fig and kumquat to bring rich layers of flavour, balanced with zingy fresh juices including pomegranate, lime and mandarin. House-made Za'tar bitters brings savoury bite. Garnishes are locally-sourced citrus fruits and exotic botanicals; including pistachio demerara, cinnamon grilled pineapple and dehydrated kumquats are the perfect finishing touch.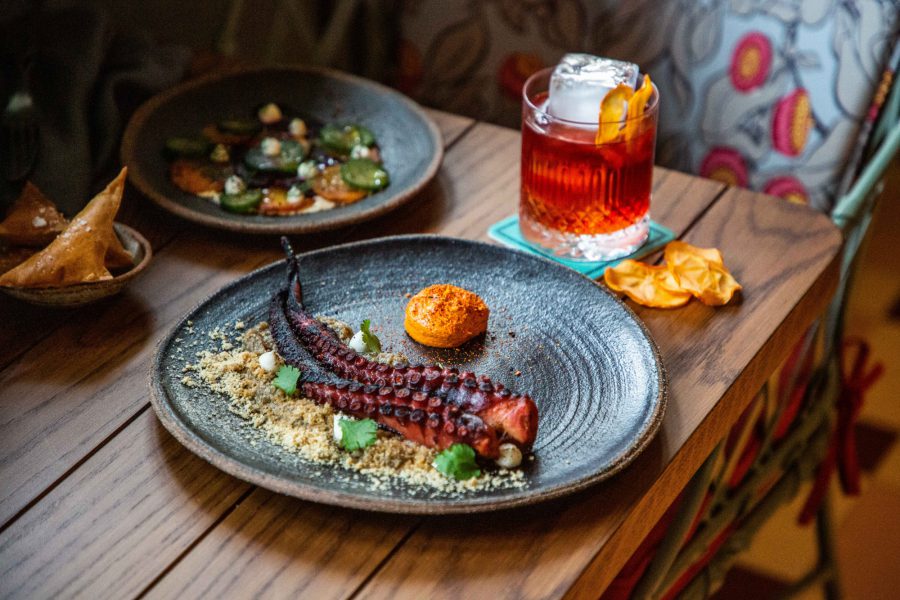 Octopus and Negronis are always a great mix and at Za Za Ta, expect top quality on both fronts
DESIGN
Guests can roam through various areas throughout the Queenslander venue, showcasing their individual purpose, charm and personality. From the moment one enters The Parlour – a stately, nostalgic bar referencing a 1940s cocktail armoire – right through to The Library – located at the rear of the venue behind reclaimed lead light doors is a lounge space featuring Lacroix carpet with an overscaled Persian pattern. Guests are taken on a journey of discovery through the quirky, lavish spaces filled with eclectic vintage furniture from all over Queensland.
The heart of Za Za Ta is The Conservatory, a casual yet refined dining experience inspired by the iconic conservatories of the Victorian era, stunningly realised with a steel and glass façade, tessellated tile floor and ceiling with painted trellis panelling. Wrought iron furniture is juxtaposed with velvet upholsteries, lending a luxe twist to the relaxed venue. A vintage kitchen box bench seat is stationed at the central communal table, and galvanised steel trims and washed plywood furniture pieces contribute to the warm and wholesome atmosphere.