Honolulu has become a top conferencing destination for Americans and Australians in recent years and next time you head to Oahu for a business trip, add on a journey to Maui before or after the event.
Here, as seen on an episode of WAYFARER TV on Sky News, you'll find whale watching, waterfalls, local produce and beaches aplenty, making it an epic executive escape. By James Wilkinson.
Watch the Hawaii episode of WAYFARER, as broadcast on Sky News Australia
SEE AND DO
Must-do activities and adventures across Maui, from whale watching to helicopter tours, great drives and historic towns.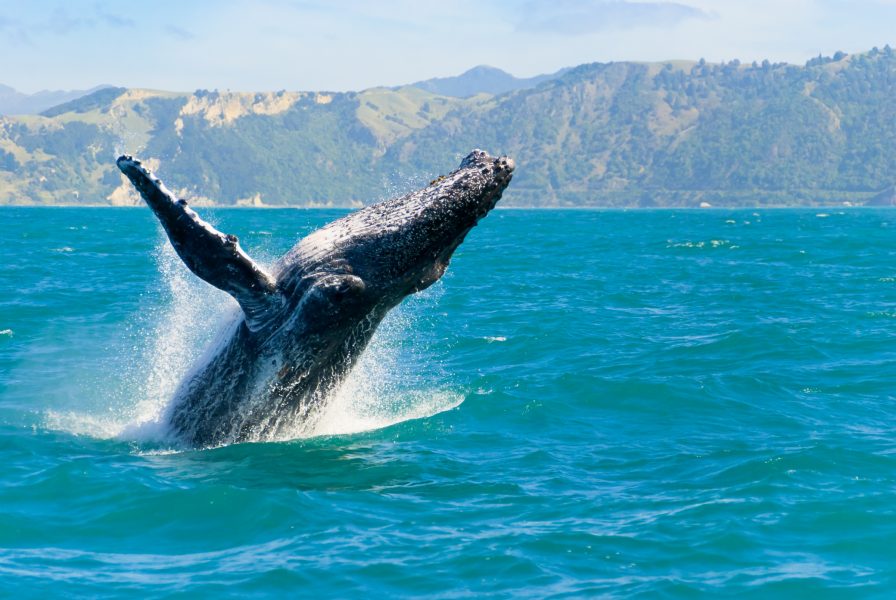 See North Pacific Humpback Whales at play off the Maui coastline
WHALE WATCHING
Every year from November to May, it is whale watching season and Maui is one of the best places on the planet to see these amazing mammals up close.
During this time, thousands of North Pacific Humpback Whales come and play in the warm waters of Hawaii for their annual northern winter migration and Maui is where they like to call home for six months of the year.
There are several ways to see the whales each year and that's either by sitting on the beach in Wailea, by taking a cruise, paddling around them in a kayak or a canoe, or viewing them in a helicopter.
The team at Hawaiian Paddle Sports can take you on a canoe tour to get up close and personal with no crowds, engines or noises; something also offered in a kayak with Maui Kayak Adventures, where you will paddle close to the whales and afterwards snorkel with green turtles.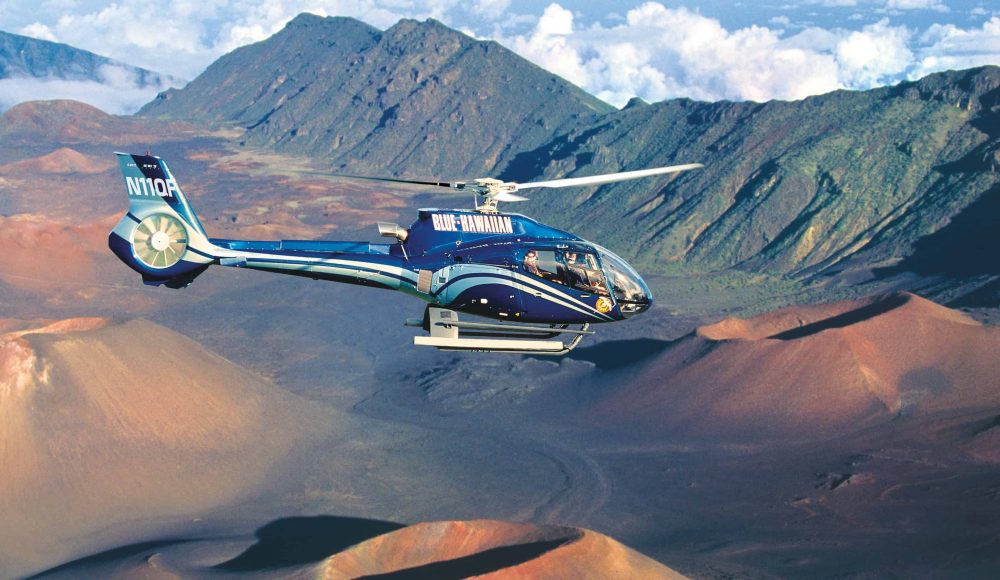 Take a tour over Maui with Blue Hawaiian
ISLAND TOUR WITH BLUE HAWAIIAN HELICOPTERS
You can also see the great beasts from above on a chopper tour with Blue Hawaiian Helicopters, and the journey to book is the West Maui and Molokai adventure.
On this flight, you'll fly over the ocean between the two islands and see the whales breaching below, before taking a ride over the waterfalls on Molokai and then the sea cliffs (the highest in the world), much of which has never been touched by humans.
A flight then through the valleys of the West Maui Mountains is spectacular, particularly when the clouds are rolling over the hills. Blue Hawaiian also offer tours over the island's dormant volcanoes and others that include a stop on a ranch.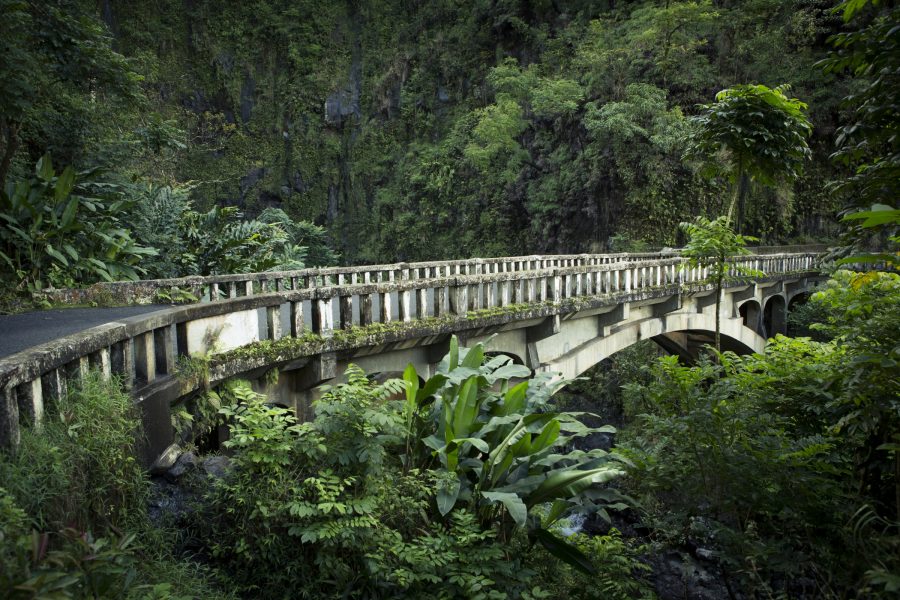 The road to Hana is one of the world's top drives
THE ROAD TO HANA
From the road, the drive to the town of Hana is as equally as spectacular and on this cruise across the island, you'll encounter nearly 600 turns and 54 one-lane bridges taking you through rainforests, past waterfalls and along the coastline.
Book a car from Kahului Airport through Expedia and our tip is to book a compact car as some of the stretches of road can be very narrow.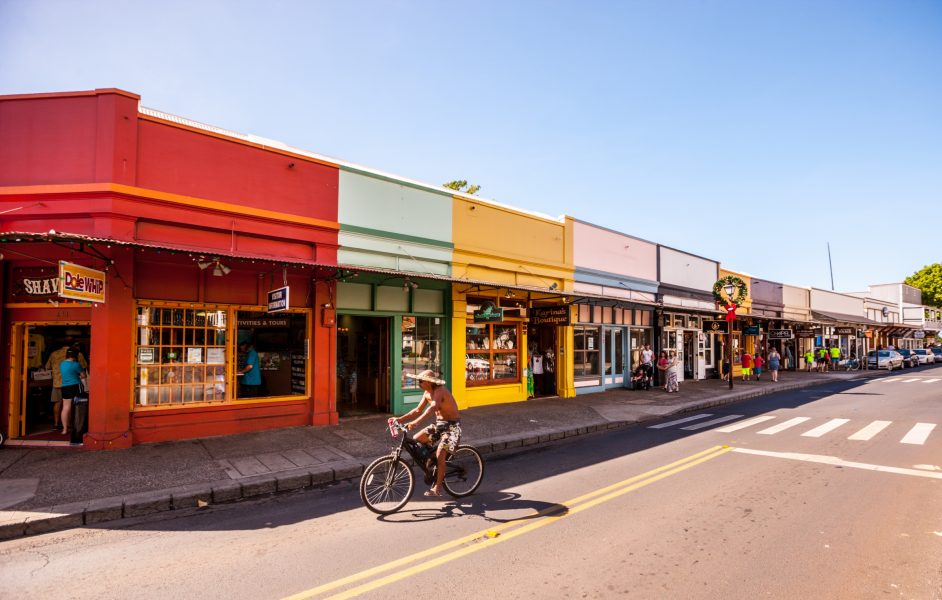 Cycling around the town of Lahaina
ANCIENT CAPITAL OF LAHAINA
While you have a car, also take a drive to the former 19th century whaling village of Lahaina, the Kingdom of Hawaii's ancient capital, where shopping, galleries and dining abounds in colourful shopfronts both on the waterfront and in the back streets.
EAT AND DRINK
Top restaurants and bars in Maui to score a table at.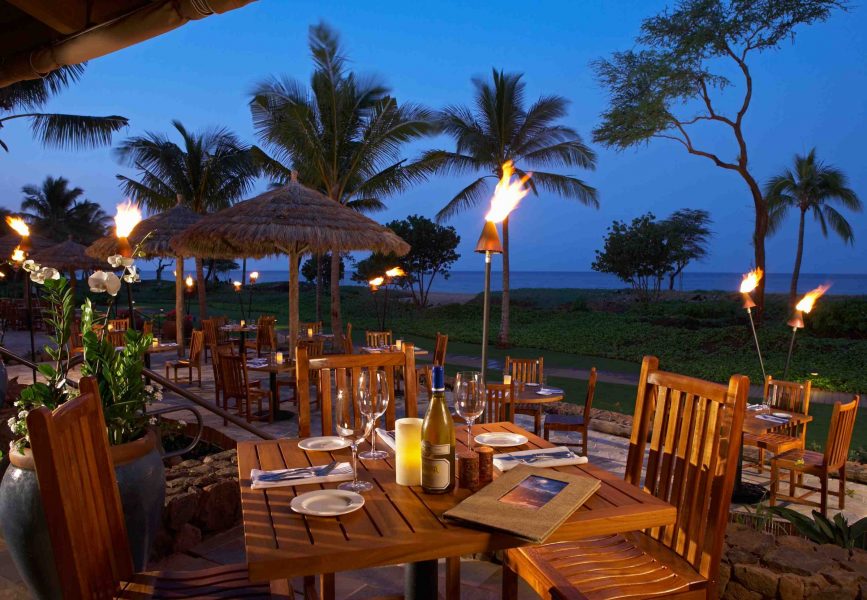 Popular Honolulu restaurant Duke's has an outpost on Maui
DUKE'S MAUI
While you're in Lahaina, stop by for a meal at Duke's Maui, an outpost of the Waikiki favourite that serves up island cuisine, Tiki cocktails and Hawaiian music. Must orders are the panko crusted calamari, ahi poke tacos, Maui onion soup, the heritage pork shank and the Hula pie.
On the drinks side, the signature Mai Tai is always a winner, as is the Presley mocktail, named in honour of the great Elvis' film Blue Hawaii. 130 Kai Malina Pkwy, Lahaina, Hawaii, USA. +1 808-662-2900.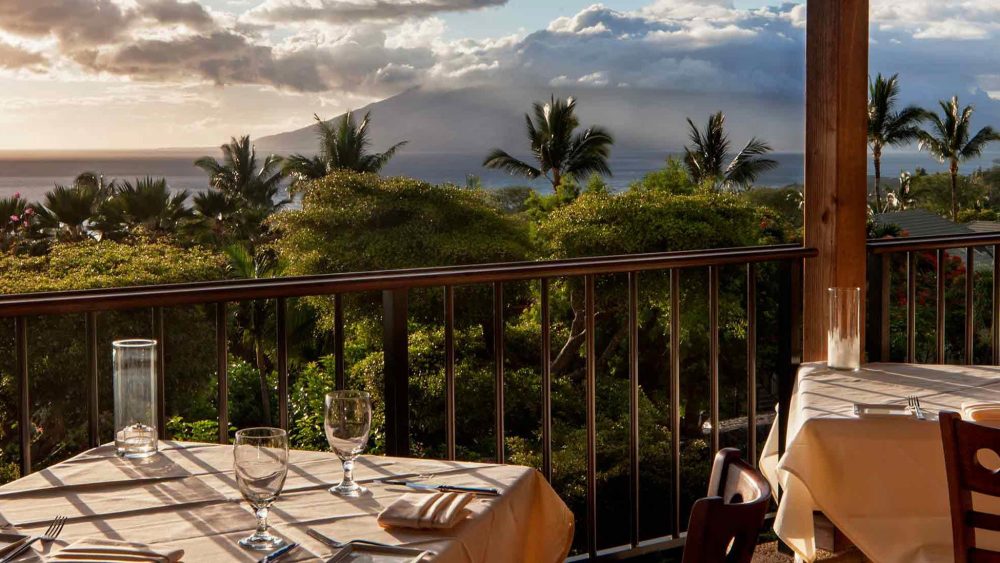 Find locally-farmed cuisine and views of West Maui at Hotel Wailea
THE RESTAURANT AT HOTEL WAILEA
The Restaurant at Hotel Wailea, the only Relais and Chateaux eatery in Hawaii, is headed by Chef de Cuisine Zach Sato, a Maui native who creates menus from what is readily available from Maui's own farms and fisherman, including substantial produce from the restaurant's own garden and farming operation.
"I aim to provide guests with not only a special dining experience but also a meal heightened with flavour fusions that are unexpected and executed perfectly and I take great care to ensure each dish is intentional and thoughtfully created around ingredients that are fresh and in season," Chef Sato says.
"I have an inimitable enthusiasm for showcasing Hawaii's history and culture by working with generations of homegrown flavours, both present and past."
Chef Sato has forged and fostered close relationships with Hawaii's farmers and artisans. He says one of his favourite producers is Hirabara Farms from the Big Island of Hawai'i, which he works closely with to craft season-driven dishes. 555 Kaukahi St Wailea, Kihei, Hawaii, USA. +1 866-850-5139.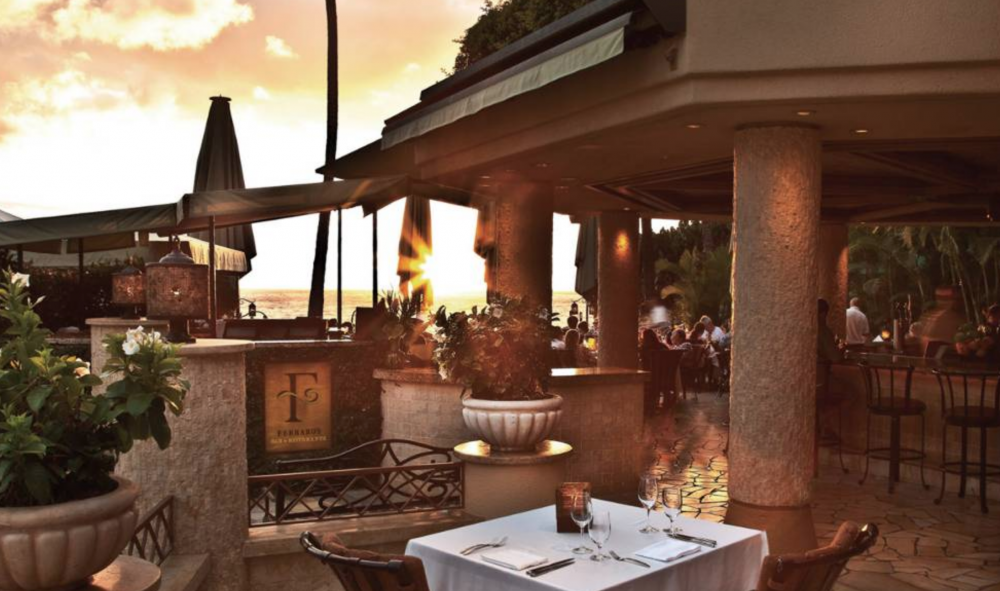 Ferraro's has one of the best wine lists on Maui
FERRARO'S BAR E RISTORANTE
At the Four Seasons Resort Maui at Wailea, the view over the beach from Ferraro's Bar e Ristorante at lunch and sunset is the best on the coastline. During whale watching season, expect to see whales jump out of the water in front of you as sip on a local Maui Brewing company Bikini Blonde lager or a glass of Sangiovese.
Order the local Keahole Lobster Conchiglie, the Snake River Farm Wagyu Flat Iron steak with a side of cauliflower and the Ahi flatbread which is one of the top dishes on the island. The restaurant has a keen eye on supporting local producers, with over 70 Maui farmers and fisherman currently supplying produce to Ferraro's. 3900 Wailea Alanui Dr, Wailea, Hawaii, USA. +1 808-874-8000.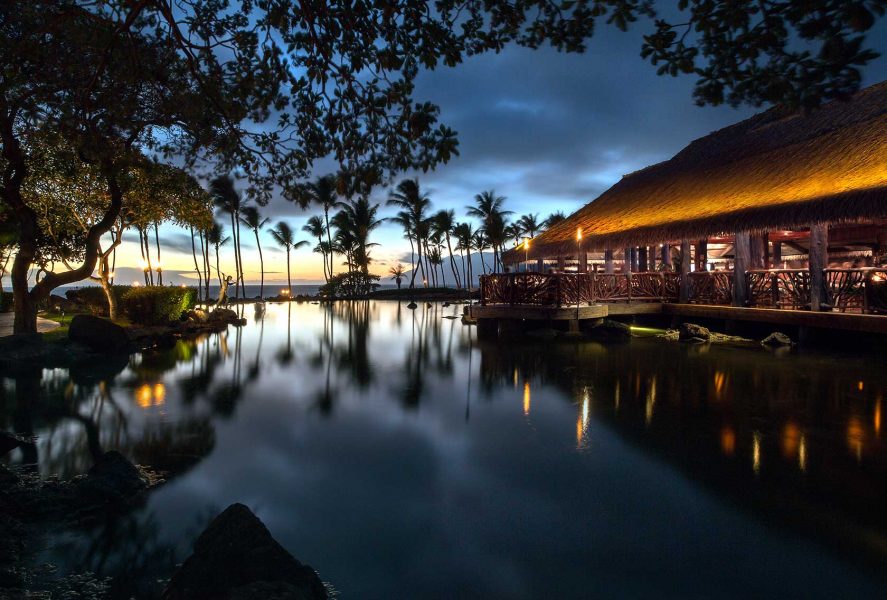 Book a table at Humuhumunukunukuapua'a before sunset
HUMUHUMUNUKUNUKUAPUA'A
The signature restaurant at the Grand Wailea, a Waldorf Astoria Resort, doesn't just have the best restaurant name on the island – Humuhumunukunukuapua'a or Humu for short – but also some of the top seafood and meat dishes with Polynesian influences to be found in Maui.
Under the watch of Chef Michael Lofaro, named Maui No Ka 'Oi chef of the year at the 2016 Aipono Awards, find dishes such as the Hamachi Carpaccio, classic Hawaiian Ahi Poke, roasted Puna chicken and crispy Mahi Mahi, all of which we'd happily have seconds of.
You'll be impressed with the wine list – order a glass of Chalk Hill Chardonnay from Sonoma Coast or the Conn Creek Cabernet Sauvignon from Napa Valley – and the cocktails are also a hit, including the Don Julio tequila-based Haleakala Sunrise and the Plumeria Blossom with Ketel One vodka.
The setting and style also impresses here. Humu is located in a Polynesian thatched-roof building in its own lagoon and commands spectacular west-facing sunsets over the beach.
Make sure you try and score table 70, the best in the house, while you won't need to leave the kids ('keiki' in Hawaiian) with the nanny because children under five eat free at Humuhumunukunukuapua'a with any adult entree purchased. 3850 Wailea Alanui Dr, Wailea, Hawaii, USA. Tel: +1-808-875-1234.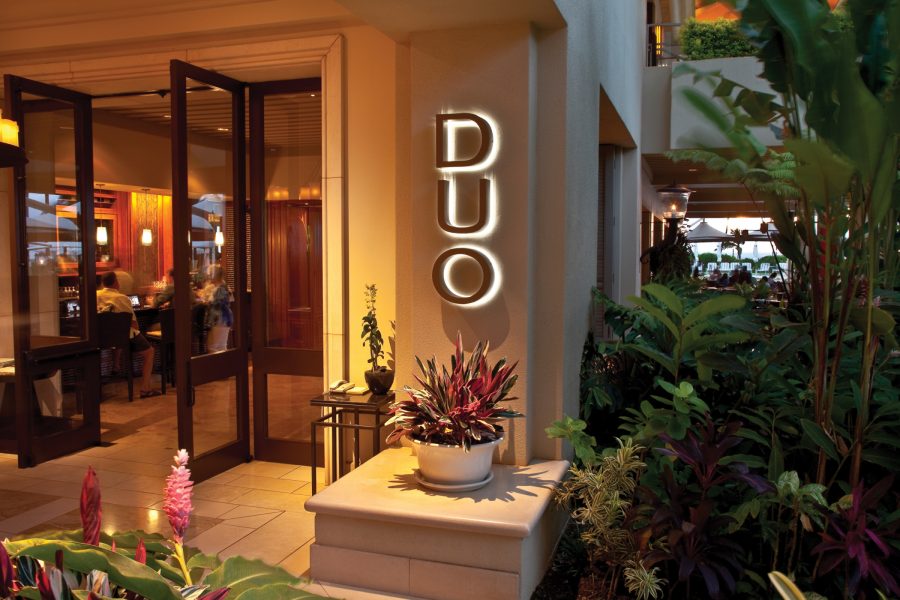 It's all about the 'surf and turf' at Duo Steak and Seafood
DUO STEAK AND SEAFOOD
Also at Four Seasons Resort Maui at Wailea is Duo Steak and Seafood. Start with the Crab Cakes with local Maui honey and follow it up with the Chateaubriand, the must-have meat order, and accompany it with some truffled Hamakua mushrooms, jalapeno and white cheddar grits and the cider glazed Brussel sprouts and bacon.
Also find a wellness menu featuring a kale and strawberry salad, quinoa mushroom cakes and local island fish. An excellent range of wines are on offer, particularly Californian reds. 3900 Wailea Alanui Dr, Wailea, Hawaii, USA. +1 808-874-8000.
ESSENTIALS: WHERE TO STAY
Several of the top resorts in Maui that Wayfarer recommends booking a room at.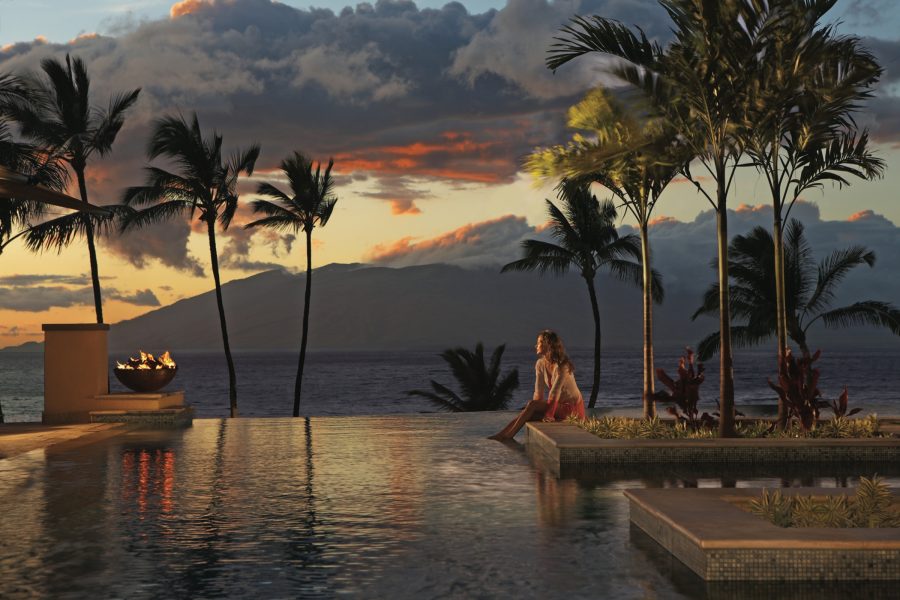 Four Seasons Resort Maui at Wailea's phenomenal infinity pool
FOUR SEASONS RESORT MAUI AT WAILEA
Sitting in an infinity pool with a Mai Tai in hand, watching North Pacific Humpback Whales breach just several hundred meters away is one of the most amazing experiences to be had at any hotel in the world, and when you're staying at the Four Seasons Resort Maui at Wailea, that's exactly what you get.
Even when the whales aren't visiting the Wailea coastline in their thousands each year, the view from the pool over the West Maui coastline is one of the best on this island.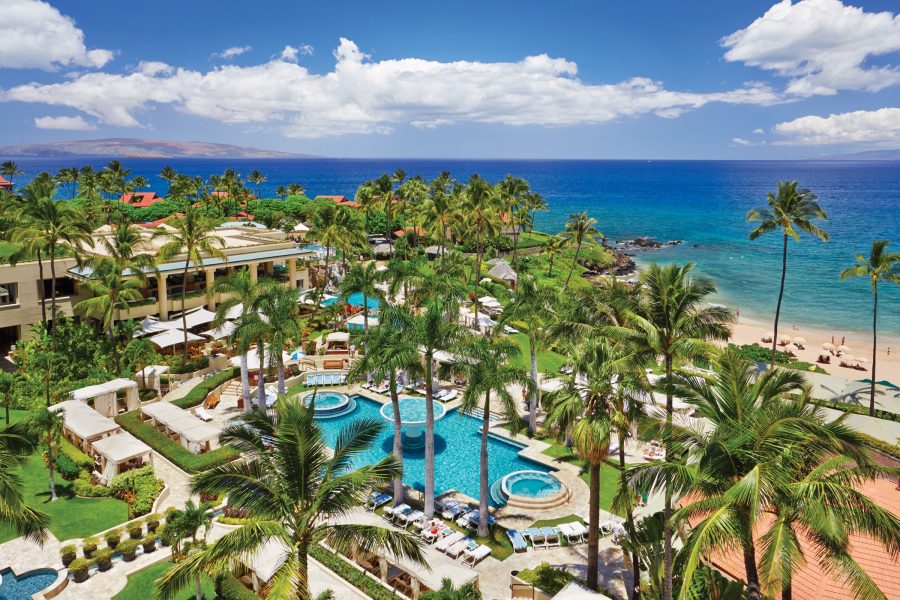 Find pools aplenty at Four Seasons Resort Maui at Wailea
Being in the water is a key theme at the property – the adult's only infinity pool is one of several pools at the resort (there's also the main fountain pool and a children's pool), alongside the beach at the front of the property.
At the Four Seasons Resort Maui at Wailea, there are 383 rooms, including 75 suites, with many facing the ocean and you want to book an ocean view prime room that looks west to enjoy the sunsets from the balcony. Inside, you'll find TVs with device mirroring so you can watch your own content, large bathrooms with two sinks plus a deep soaking bath and a shower, and a signature Four Seasons king bed or two queen beds.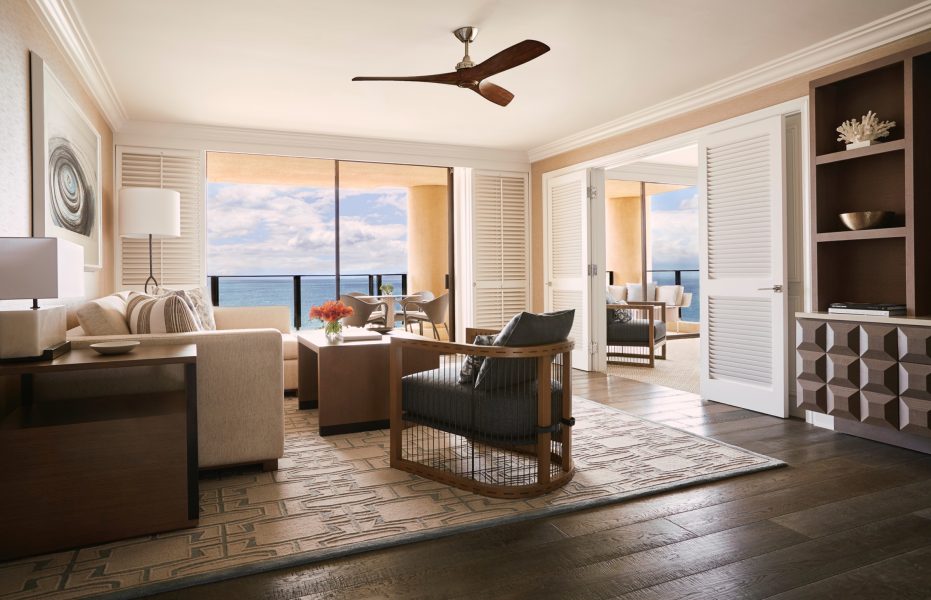 The Four Seasons Resort Maui at Wailea's rooms are stylish and spacious
There are several bars and restaurants at the resort alongside the newly-opened Beachwalk Café for a macchiato, house-made gelatos or a wrap. There's also live music in the lobby lounge daily.
The Four Seasons Resort Maui at Wailea has also launched one of the world's most unique dining experiences – a luau feast on your lanai (balcony) complete with Mai Tais, Polynesian wood carvings, and Hawaiian musicians and hula dancers on request.
Priced at USD$180 for two, the feast includes dishes such as ahi poke, lomi-lomi salmon kimchee tako poke and poi, coconut milk and lime ceviche, kalua pork and fish laulau, huli huli chicken breast and a coconut haupia and pineapple upside-down cake (and order some ice cream on the side).
The views are epic from the rooms at Four Seasons Resort Maui at Wailea
Usually, a luau is saved for an event for the masses, but having a feast set up in your room complete with Mai Tais and hula dancers is quite the experience in itself.
Spa treatments are available in oceanside huts (book a Hawaiian Lomi-Lomi massage) for up to two people at once, while poolside massages are also available throughout the day. Fitness classes are also held daily and recently stand-up paddleboarding yoga was added to the list. 3900 Wailea Alanui Dr, Wailea, Hawaii, USA. +1 808-874-8000.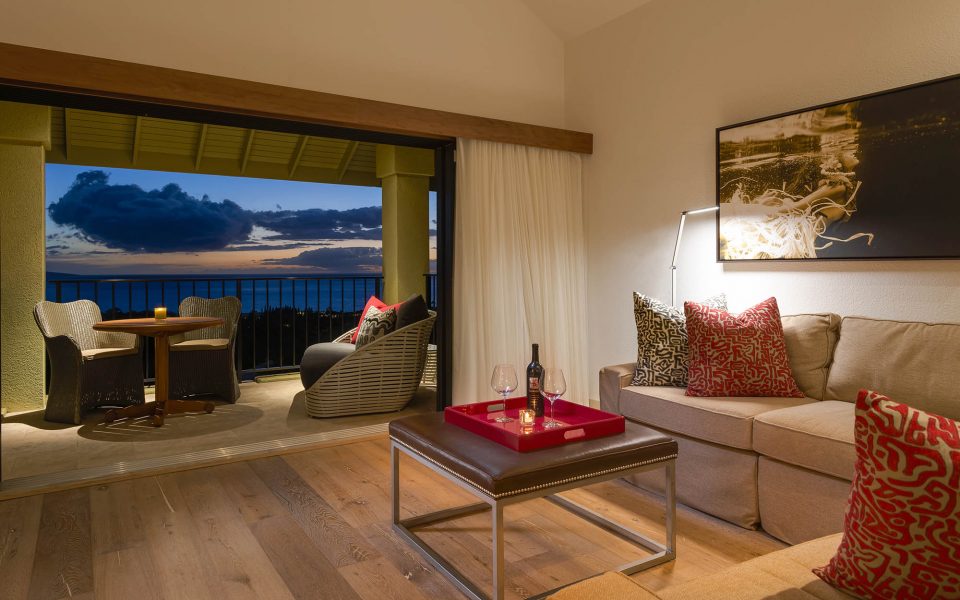 Hotel Wailea is Hawaii's only Relais and Chateaux property
HOTEL WAILEA
At the all-suite Hotel Wailea, perched 300 feet up the hill above the beach, find 72 rooms of which many boast unobstructed ocean views of three Hawaiian Islands and amazing mountain scenery.
Here at this intimate adults-only 5-star resort, which is a member of Relais and Chateaux, there is a pool complete with a cocktail bar, the island's leading farm-to-table restaurant and 15 acres of Zen-inspired landscaped grounds that include waterfalls, winding pathways and tropical gardens.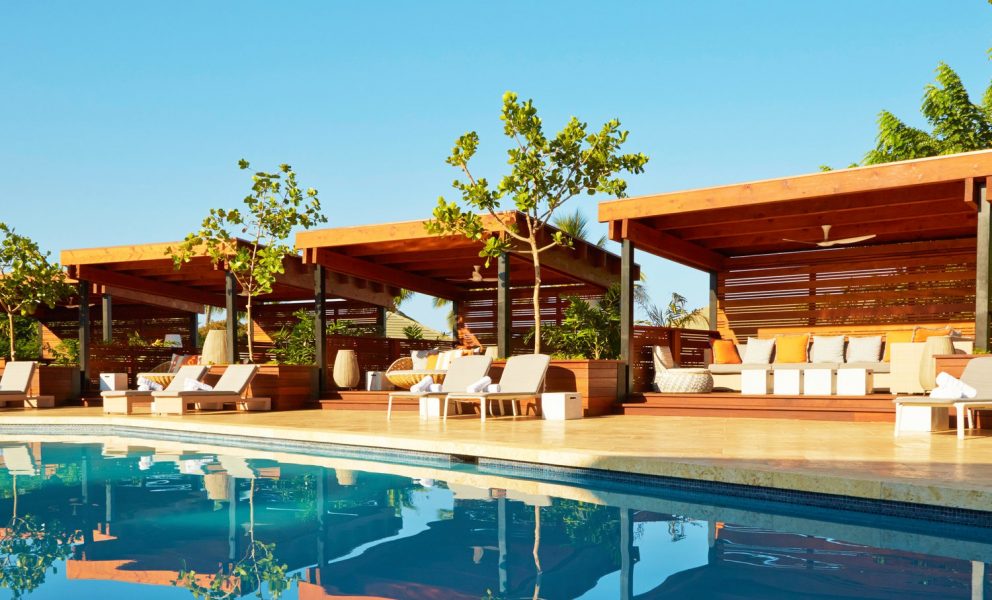 Score a poolside cabana at Hotel Wailea, where cocktails are available on-demand
The one bedroom suites at Hotel Wailea are spacious, comfortable and modern. Expect 720 square feet of space, separate bedroom and living areas, bathrooms complete with deep bath tubs top amenities and luxury bathrobes, kitchenettes and balconies with outdoor furniture.
While you will want to leave the outside world behind when you are here, business travellers will enjoy the high-speed free WiFi and flatscreen TVs will mean you won't miss any of the action from the NBA Playoffs. 555 Kaukahi St Wailea, Kihei, Hawaii, USA. +1 866-850-5139.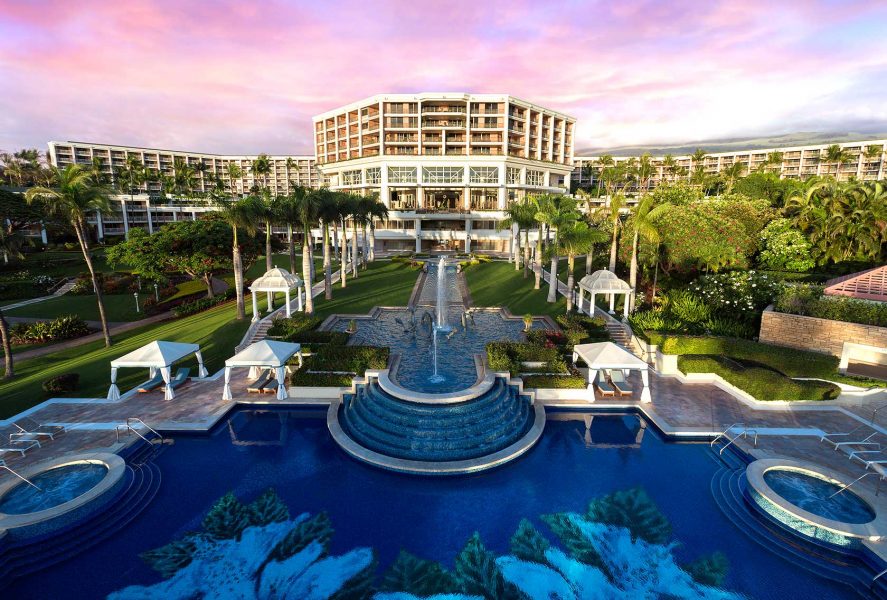 The Grand Wailea, a Waldorf Astoria Resort, is one of Maui's leading hotels
GRAND WAILEA, A WALDORF ASTORIA RESORT
The Grand Wailea, a Waldorf Astoria Resort, is one of the largest hotels on Maui and while you'll find around 800 rooms here, the spacious grounds make you feel like you're in a 200-room property.
Set on 40 acres of tropical gardens bordering Wailea Beach, the Grand Wailea features a spectrum of rooms and suites ranging in size from 750 square feet to 5,500 square feet. All rooms have flat-screen TVs, mini fridges and coffee coffee and tea making facilities, we well as private terraces or balconies.
Book an outdoor treatment at the Grand Wailea's Spa Grande
Rooms aside, the Grand Wailea is home to the largest wellbeing offering on Maui, Spa Grande. Here there are 40 treatment rooms, a Roman tub, several saunas, cascading waterfalls and Swiss jet showers, plus a Japanese furo and five specialty baths. On the treatment front, a large range of massages and facials are available and Wayfarer recommends booking a Hawaiian Lomi-Lomi massage and a Chakra energy facial.
For those that want to work-out, there is an expansive gym, a squash and basketball court, while on the resort grounds find nine pools alongside a 2,000-foot river with waterslides and deck chairs along a quiet stretch of Wailea Beach. On the dining front, find Humuhumunukunukuapua'a as well as Bistro Molokini which serves up western and Polynesian fare. 3850 Wailea Alanui Dr, Wailea, Hawaii, USA. Tel: +1-808-875-1234.
ESSENTIALS: GETTING THERE
The best way of getting to Maui in comfort and style.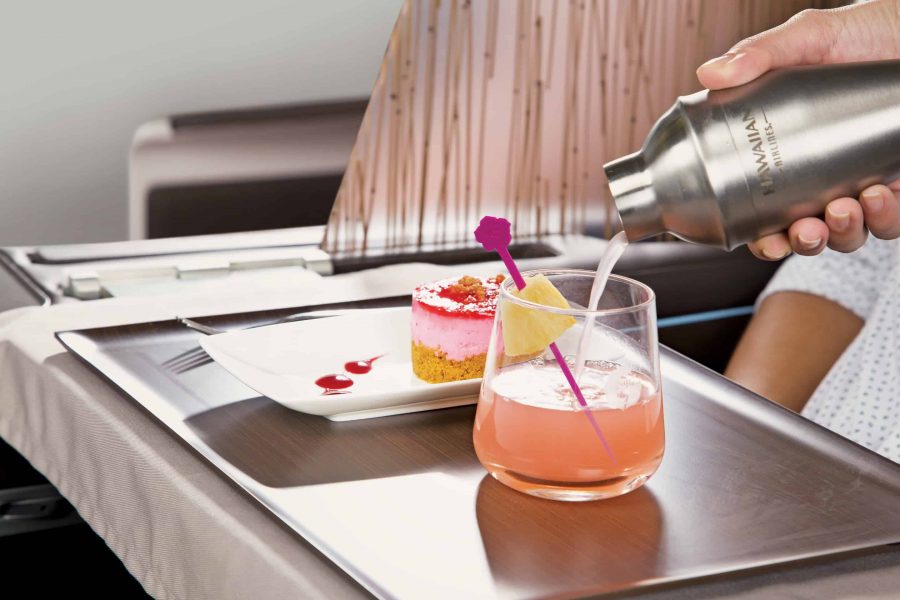 Hawaiian Airlines serves up pre-departure Mai Tai cocktails in Business Class
HAWAIIAN AIRLINES
Hawaiian Airlines flies daily to Kahului Airport in Maui via Honolulu. Hawaiian recently launched a new onboard experience with a completely revamped Business Class cabin and more Extra Comfort seats on the widebody Airbus A330 aircraft. In Business Class, you' find flatbed seats, in a 2-2-2 configuration, that fold down into 180-degree beds that are 20.5 inches wide by 76 inches long.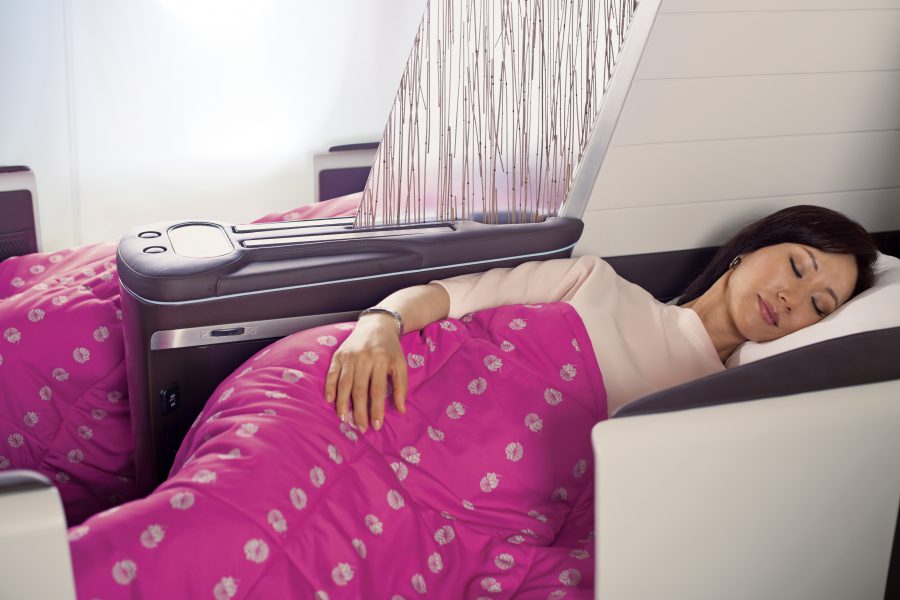 Hawaiian Airlines has flatbed seats in Business Class on Airbus A330s
Also expect a Mai Tai on arrival (and during the flight), a new Hawaiian-styled meal service and after dinner a new sleeper service on the overnight flight to Honolulu that features pink duvets and pillows, and new amenity kits. Entertainment comes in the form of large-format iPad tablets that sit on a telescoping arm – something also ideal if you want to watch content on your own device.
Jetstar flies Boeing 787-8 Dreamliners to Hawaii
JETSTAR
The Business Class on Jetstar's Dreamliners that serve Honolulu from Melbourne and Sydney is one of the best value cabins in the sky: you'll get top quality food and wine, seat back entertainment, pillows, blankets, amenity kits, in-seat power, leather seats with a 38-inch pitch and 19 inch width and if you choose a 'max bundle', which Wayfarer recommends, you'll also get lounge access and Qantas points. Hawaiian Airlines then offers daily flights from Honolulu to Maui.