Accor and sbe have debuted the first Mondrian hotel in Asia Pacific, Mondrian Seoul Itaewon, the fifth property for the brand globally.
With new hotels slated for Bordeaux and Cannes next year, the Mondrian brand expects to grow its lifestyle hotel portfolio to approximately 15 properties by 2022.
Together, Mondrian Seoul Itaewon, Mondrian Bordeaux, and Mondrian Cannes represent the continued strong expansion of the brand's international footprint and award-winning restaurants and lounges in collaboration with sbe partner Accor, including soon-to-be announced Mondrian properties in Australia, the Dominican Republic, Germany, Puerto Rico, Singapore, and Vietnam.
Located in the internationally diverse district of Itaewon, the Mondrian will present an immersive lifestyle destination with bold design, colorful art, and seductive restaurant and nightlife offerings.
"We are proud to introduce the first Mondrian in Asia Pacific together with our partner sbe," said Michael Issenberg, Chairman & CEO of Accor Asia Pacific. "The Mondrian brand captivates the energy of Seoul with its creativity, revolutionary design and exciting bars and restaurants.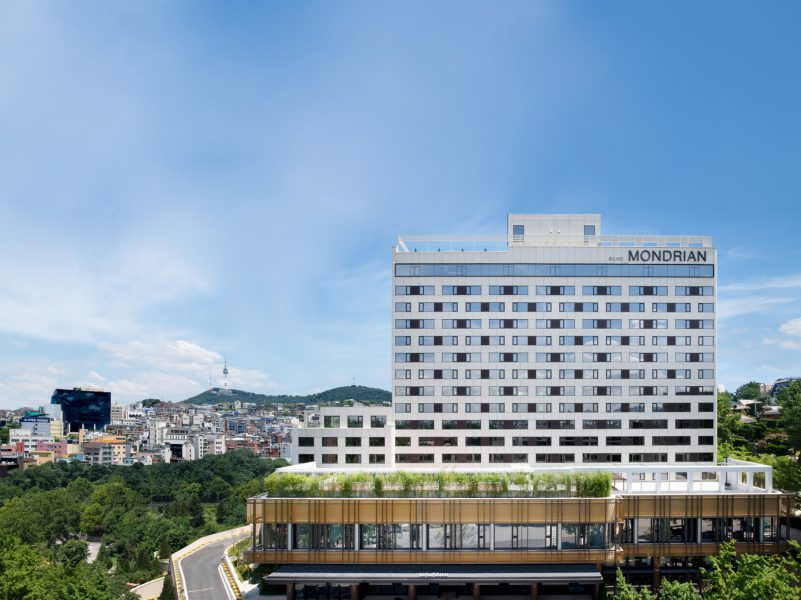 "Seoul is one of Asia's most dynamic cities and is renowned for its colorful K-pop scene and fashion-forward vision, while remaining deeply rooted in culture and tradition. The opening of Mondrian Seoul Itaewon will provide a complete lifestyle hotel experience in the heart of Seoul's most vibrant district."
Mondrian is a world-leading lifestyle brand, offering innovative design and creative concepts tailored to the local destination, with progressive dining and drinking experiences. Mondrian hotels provide a playful framework so guests and locals alike can immerse themselves in the culture of the city. Having welcomed guests to its 'must see' locations in Los Angeles, New York, South Beach and Doha, Mondrian Seoul Itaewon represents the brand's first expansion into Asia.
Boasting 296 guestrooms, the hotel features a range of dining and leisure spaces that are unlike anything Seoul has seen before. The outdoor pool features a spacious viewing deck overlooking the city, while Altitude pool bar offers a range of exotic cocktails, mocktails and fine wines with casual bites.
Mondrian also brings Asia's first Cleo restaurant to the lobby, delivering the brand's famous blend of Miami vibes and Mediterranean cuisine. Privilege rooftop bar will curate a wide selection of whiskeys and wines, alongside eclectic live performances, while the Rumpus Room and Blind Spot provide more intimate settings for after-work drinks or to relax and chill with the sounds of an in-house DJ. A stylish 867-square-meter ballroom with integrated LED screen and five stylish meeting rooms provide the perfect backdrop for any celebration or event.