With wellness at the forefront of guests' minds, hotels spas are back and better than ever. Here's your roundup of some of Australia's latest and greatest hotel spa openings.
Auriga Spa, Capella Sydney
Capella Sydney has unveiled its sixth-floor spa and wellness offering under house-label Auriga Spa, exclusively for in-house guests.
The wellness retreat includes four spa treatment rooms, a 20-metre heated swimming pool and Technogym-equipped gymnasium, as well as sauna, steam facilities and experiential showers.
Here, guests can avail of a range of luxurious treatments that utilise a custom-made range of skincare products by Byron Bay brand Synthesis Organics; signature massages informed by the new and full moons that aim to increase circulation, relieve physical and emotional tension, and balance chakras; as well as ritual-based massages designed to encourage introspection and reflection.
Dianne April Dayagbil, an experienced beauty and wellness professional who has had long-running residencies at hotels in Bhutan and the Maldives, takes the lead as Auriga Spa director.
"Auriga Spa brings beautiful and sophisticated health and wellness practices to central Sydney," said Dayagbil.
"As with all other aspects of the Capella brand, the beauty and wellness program is unique to the region in which we operate and highly personalised to the needs of our in-house guests. Experiences are, of course, relaxing and indulgent, but they're attuned with nature, too, keeping our clients centred and grounded."
Make Architects and interior designers Bar Studio are responsible for creating a space that is respectful of the century-old building. Restored 'heritage lanterns' sit above three of the treatment rooms, which utilise timbers reclaimed from the site as flooring.
Spa by JW, JW Marriott Gold Coast
Marriott International introduced the first Spa by JW concept in Australia and New Zealand at luxury Surfers Paradise hotel, JW Marriott Gold Coast Resort and Spa in July.
The 2500 sqm spa is reminiscent of a living room, with subtle lighting and relaxing ocean sounds, the spa lounge is made up of connected relaxation zones, including private group seating areas.
Spa by JW features six treatment rooms, including a signature couple's room with a private lounge, ensuite stone bath and twin showers, wellness saunas, steam experience showers, relaxation pods and an outdoor relaxation area.
"Sophisticated yet entirely warm and unpretentious, guests should look forward to unrivalled balance to nourish and nurture the body, through beautifully curated treatments designed specifically for Spa by JW," said Spa Manager, Stacey Leong
DBI, the original architects and interior designers behind the hotel, designed the space with an urban aesthetic taking inspiration from the natural surroundings from the golden beaches to the lush hinterlands.
Curves, lighting and translucent and the use of natural materials, textures and neutral palettes present a relaxing environment for guests.
The food and beverage offering includes a locally inspired tea service, wine service and food menu curated by the hotel's Executive Chef, Paul Smart.
Chuan Spa, The Langham, Gold Coast
The Langham, Gold Coast opened its highly anticipated wellness offering, Chuan Spa, in November 2022, bringing the brand's signature spa concept to the sunshine state for the first time.
Guided by the principles of traditional Chinese medicine, the Gold Coast Chuan Spa offers a range of customised treatments centred around the five elements of wood, fire, earth, metal and water.
"The Langham's ocean and hinterland surroundings provide a natural fit for guests to immerse themselves in Chuan treatments based on the principles of Traditional Chinese Medicine; a spa retreat based on philosophy as old as time itself," said Global Assistant Group Director of Spa and Wellness, Amy Chan.
"Our unique process of customised, five elements-based treatment means our therapists spend time understanding imbalances and specific needs to tailor a treatment for each individual guest, bringing them balance across the five elements of wood, fire, earth, metal and water."
The spa features eight treatment rooms including two couple rooms, all with a bespoke contemporary design incorporating soft, neutral and calming hues with marble accents.
Guests will be welcomed by the scent of Chuan signature elements oils and treatments will feature a range of serums, oils and masks from luxury skincare brand, Amra Skincare – Chuan being the first partner in Australia to feature its ingredients and formulas.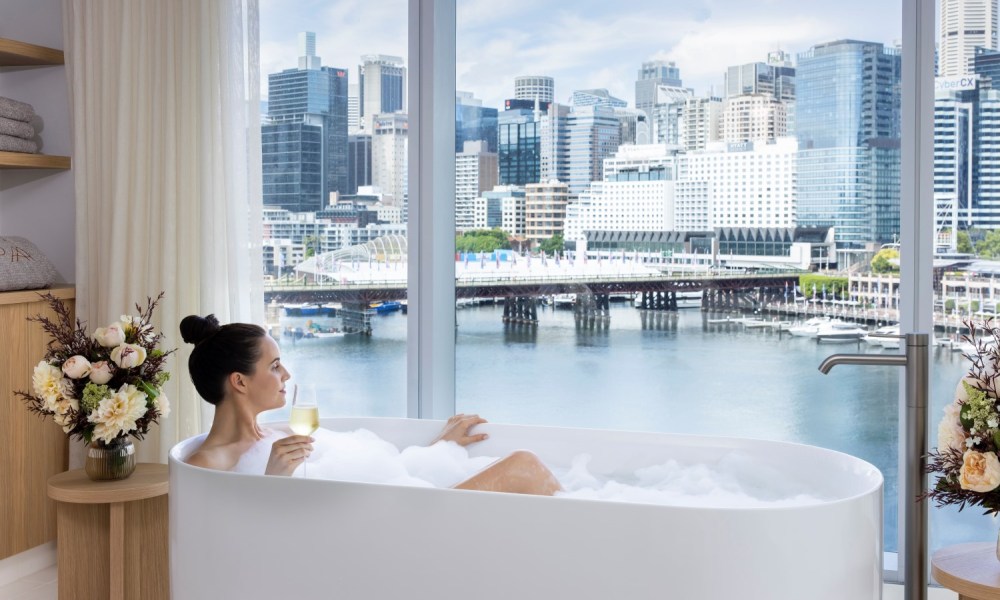 Sofitel Spa Darling Harbour, Sydney
Sofitel Sydney Darling Harbour officially opened its new luxury spa in April, offering a multi-layered holistic wellness experience.
Set across two levels overlooking Darling Harbour, Sofitel Spa Darling Harbour features seven spacious treatment rooms including two suites, designed by PikeWithers, an infrared sauna, contemplation deck and relaxation lounge.
The spa aims to redefine wellbeing within the hotel industry, taking a holistic approach that spans four pillars: Movement, Nourishment, Care and Rest.
Luxury French beauty brand Biologique Recherche, as well as emerging Australian brand, Waterlily, are used for treatments at the spa, and every element of the experience – including the décor and canapes – changes seasonally.
"Everything across the spa follows a theme – from the floral arrangement to the aromatherapy, to the nutrition aspect as well as the treatments themselves – it all represents the season that we are in, so the product remains fresh and the offering remains attractive all year round," said Director of Spa and Wellness, Cecilia Ferreyra.
Designed using soft timbers, sandstone, and marble finishes, and Australian made furnishings, the setting aims to deliver a calming space for relaxation, with a 'quintessentially Sydney' feel.
Sustainability initiatives include the use of digital forms, fully compostable linen slippers, eco amenities, a thorough recycling regime, water flow regulators in showers and movement activated light sensors in changing rooms.