Hotel Eden, Dorchester Collection's luxurious property in Rome, is home to one of the city's finest restaurants, the Michelin-starred La Terrazza, headed up by executive chef Fabio Ciervo.
The restaurant was recently awarded its Michelin Star, which came only seven months after its reopening following the hotel's 18-month restoration.
In an exclusive feature, WAYFARER's Editor-In-Chief James Wilkinson went into the kitchen with Hotel Eden's Executive Chef Fabio Ciervo to talk about Roman dishes and much more. To watch the interview, click on the image above.
A native of Italy, Ciervo was exposed to food at a very young age and started his training to become a chef at the age of 14. In 2003, Ciervo began his career at Hotel Eden as Adriano Cavagnini's executive sous-chef. He then worked abroad alongside chef Heston Blumenthal and Thomas Keller, and acquired further international experience until 2010, when he returned to Hotel Eden as La Terrazza and Il Giardino's executive chef. Whilst the hotel underwent a 17 month restoration, he obtained a Master's degree in nutrition.
During this time, Ciervo worked very closely with the hotel's architects and designers to create the perfect kitchen for La Terrazza, with breathtaking views over the Eternal City.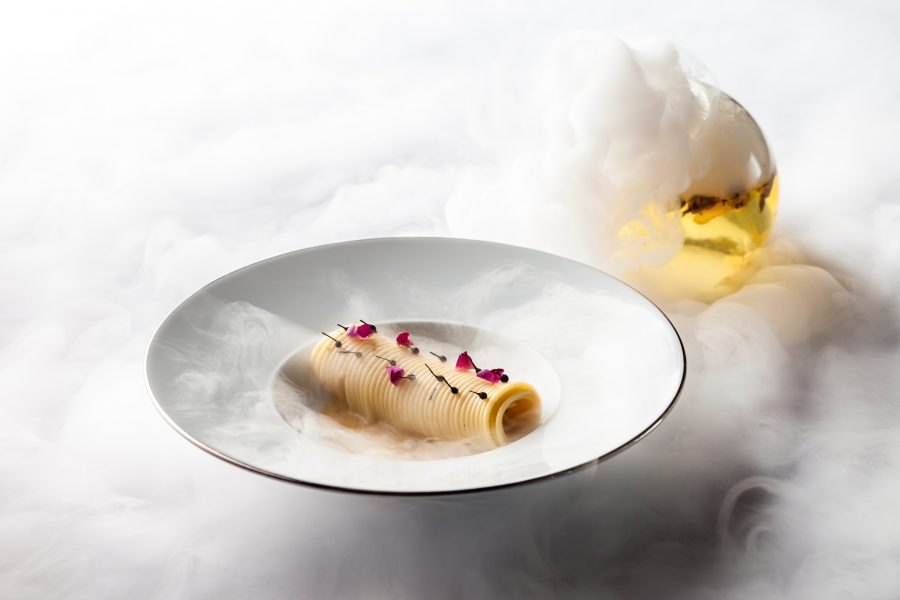 Chef Fabio Ciervo's signature dish: spaghetti with Pecorino and Madagascan wild black pepper
He also developed a new cooking philosophy based on the following five pillars: innovation, wellness, ingredients, taste and art.
As seen in some of Ciervo's most acclaimed dishes, research and creativity are key to his cuisine. Guests dinning at La Terrazza can enjoy his signature spaghetti with Pecorino and Madagascan wild black pepper, flavoured with rose buds; all the whilst admiring the spectacular views across Rome, including St Peter's Dome.
GETTING TO ROME
WAYFARER flew to Rome with British Airways. The great British airline flies to Rome via London and the author recommends flying in Club World (Business Class), which features flat-bed seats, hundreds of hours' entertainment on demand, a great selection of wine and some of the best meals in the sky.