Dorchester Collection's Hotel Eden Rome is celebrating its 130th anniversary since first opening its doors in 1889.
Since Munich-born hotelier Francesco Nistelweck first fell in love with the three-story residence on the corner of Via Porta Pinciana and Via Ludovisi, Hotel Eden Rome has maintained its reputation of excellence in hospitality, and become a coveted meeting place for international film stars and visitors alike.
Famous guests have included actress Ingrid Bergman and her husband, film director Roberto Rossellini, who became regular guests; Maestro Federico Fellini, who chose the unparalleled view from the top floor of the hotel to give his interviews; Sigmund Freud, who stayed at Hotel Eden during his repeated trips to Rome; and Belgian cartoonist Hergé, creator of Tintin, who left a comic book of 'Tintin and Snowy' as a gesture to thank the staff for taking care of him.

.
To find out about the luxury property, WAYFARER Host and Editor-In-Chief James Wilkinson spoke on camera with Hotel Eden General Manager, Luca Virgilio. To watch the interview, click on the image above.
During a visit to the then new and already prestigious Ludovisi district in Rome, Francesco Nistelweck fell in love with a three-storey residence on the corner of Via Porta Pinciana and Via Ludovisi.
In October 1889, he transformed the building into an elegant hotel with sixty-three rooms furnished by his wife, Berta Hassler. The cost of a double room at the time was only 9 Lira, less than 20 cents today.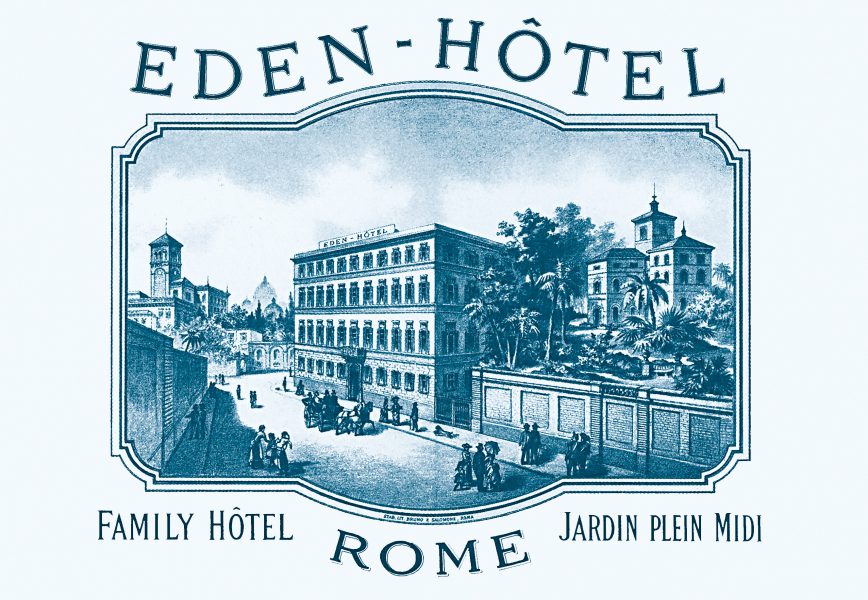 Vintage: a postcard from Hotel Eden in Rome
Hotel Eden was one of the first hotels to be equipped with running water, electricity, heating and even a lift. It quickly became a favourite destination for foreign tourists visiting Rome, thanks to its closeness to the new Termini railway station. Over the years, additional floors were added.
The terrace was originally used to dry the hotel's linen and tablecloths, but in 1960's it was transformed into the famous rooftop with breathtaking views over the Eternal City.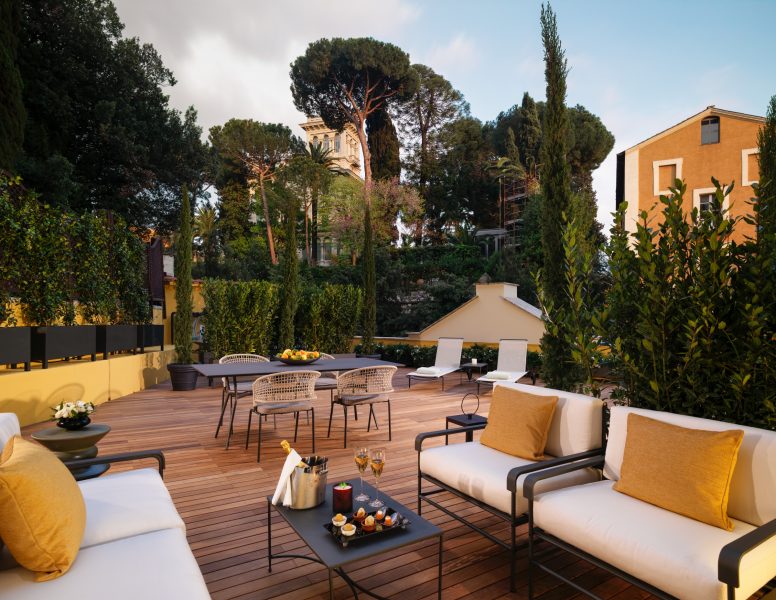 Italian style: Hotel Eden is the most luxurious hotel in Rome
The 'Golden Book' of Hotel Eden bears witness to many moments of great historical importance, with names and images dating back to the 20th century.
This includes a portrait of Princess Mary of Bourbon in a wedding dress as she leaves the hotel on her wedding day, together with Prince John of the Asturias.

.
In an exclusive feature, WAYFARER Host and Editor-In-Chief, James Wilkinson, went into the kitchen with Hotel Eden's Executive Chef Fabio Ciervo to talk about Roman dishes and much more. To watch the interview, click on the image above.
The book features signatures of representatives of important royal families in Europe, including King Alfonso XIII of Spain, Queen Amelia of Portugal and the Grand Duchess Olga of Russia. In addition, the hotel also became the headquarters of the British Army Command after the Liberation: General Bernard Montgomery signed the book in 1955.
Its unique style, elegance and its Italian charm have made Hotel Eden an exclusive and luxurious destination in Rome, where guests can feel at home whilst appreciating impeccable service, state-of-the-art facilities and breathtaking views of the city. It is no wonder that the great maestro of the screen, film director Federico Fellini, always chose La Terrazza for his interviews.
GETTING TO ROME
WAYFARER flew to Rome with British Airways. The great British airline flies to Rome via London and the author recommends flying in Club World (Business Class), which features flat-bed seats, hundreds of hours' entertainment on demand, a great selection of wine and some of the best meals in the sky.