New York's FiDi (Financial District) became all the more hip in 2010 when the Andaz Wall Street opened its doors and in that time, it has continued to be one of the leading hotels in Lower Manhattan.
In August 2019, the hotel completed a rejuvenation of 253 guestrooms and it has given the property that's popular with both business and leisure travellers a wonderful new feel.
Here, expect a modern style in the rooms and suites with veined quartz, end-grain bamboo, and grey wood finishes that now accompany sleek hardwood floors, walk-in rain showers, and 12-foot ceilings with oversized windows to let in ample amounts of light.
You'll also find an elegant bay window seating for reading and relaxation and a new hand-sketched wall that reflects downtown Manhattan's evocative and rich architectural forms.
Andaz Wall Street is also home to one of our favourite eateries Downtown, Andaz Kitchen and Bar, which serves up a local and globally-inspired menu both in a comfortable restaurant setting and in the outdoor beer garden. Before you visit, make sure you swing by the complimentary daily wine hour in the lobby.
To give you an exclusive insight to the stylish property, award-winning host James Gregory Wilkinson is in New York City and catches-up with Andaz Wall Street General Manager, Jorge Tito, in the video below.
ESSENTIALS: GETTING TO NEW YORK CITY
The best way of getting to New York City in comfort and style.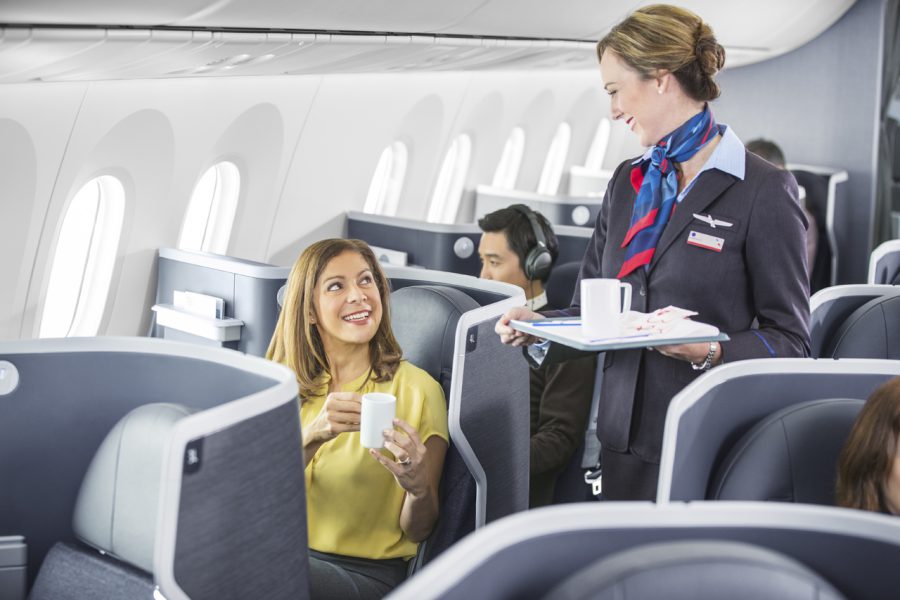 American Airlines' impressive International Flagship Business Class
AMERICAN AIRLINES FLAGSHIP BUSINESS CLASS
American Airlines' International Flagship Business Class is one of our favourite cabins in the sky on flights around the world, thanks to the comfortable seats, meals, drinks, entertainment, amenities and top-quality service on offer.
Available on the Boeing 787-8, 787-9, 777-200 and 777-300ER, American Airlines' International Flagship Business Class is ideal cabin for both business and leisure travellers and is a standout particularly on long-haul routes like Los Angeles-Sydney, New York JFK-São Paulo and Dallas Fort Worth-London Heathrow.
From the seats to the service, Wayfarer Host and Editor-In-Chief James Wilkinson looks at what's on offer in the video below.