The brilliant Crowne Plaza Changi Airport has been named World's Best Airport Hotel for the eight time at the 2023 World Airport Awards this week (Mar 13).
Located at Singapore Changi Airport with direct access to all airport terminals and Jewel, Crowne Plaza Changi Airport caters to travellers who will have more reason for a longer stayover, as well as local visitors seeking meeting venues or a relaxing staycation — thanks to the variety of lifestyle offerings available within and around the hotel.
In addition to deluxe rooms offering unrivalled views of Jewel, guests can enjoy room packages including tickets to Jewel's Canopy Park attractions such as the Discovery Slides, Foggy Bowls, Petal Garden and Topiary Walk.
"We are delighted to be recognised once more as the World's Best Airport Hotel for the eighth time," said Crowne Plaza Changi Airport General Manager, Bruno Cristol.
"I would like to thank our team for this remarkable achievement and their tireless dedication championing a better way of business travel.
"A big thank you to everyone who voted for us and Skytrax. Our deepest appreciation to all our guests for your confidence and continuous support.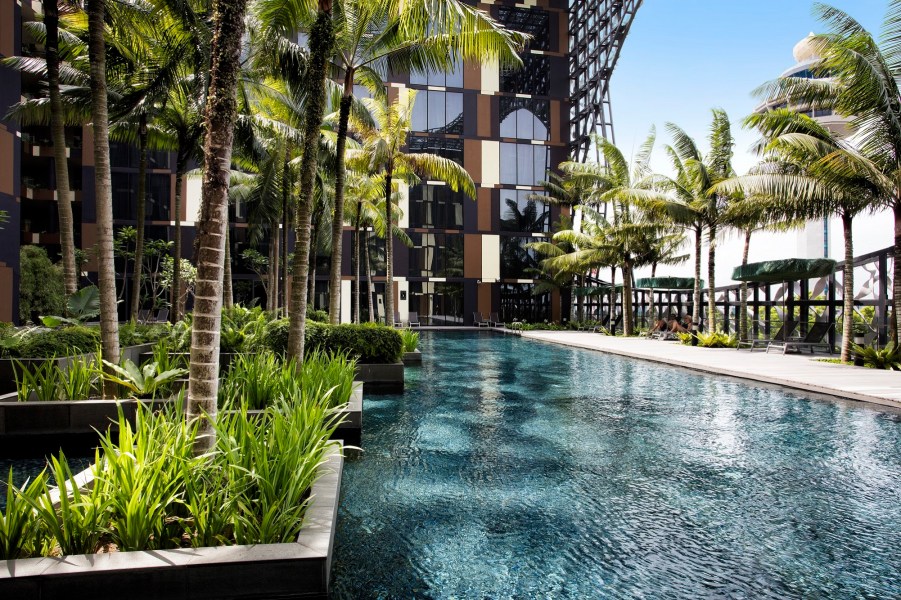 "We look forward to welcoming you again at Crowne Plaza Changi Airport," he said.
On Series 2 of Wayfarer's travel TV show, Crowne Plaza Changi Airport was featured in a key segment where Wayfarer host and Editor-In-Chief, James Wilkinson, takes a tour of the property with Cristol. To view the video, click on the YouTube link above.
The World's Best Airport Hotel Awards are based on Guest surveys which assessed hotel standards to include: Overall experience at the Hotel; Access to/from Airport to Hotel; Friendly and professional Reception Service; Warmth and Friendliness of Hotel Staff; Treated as a valued customer; Cleanliness of Bedroom and Bathroom; Bedroom enabled a good night's sleep; In-room amenities; Leisure, Fitness and Spa facilities; Quality of Food; Quality of Restaurant Staff Service; and Value for Money.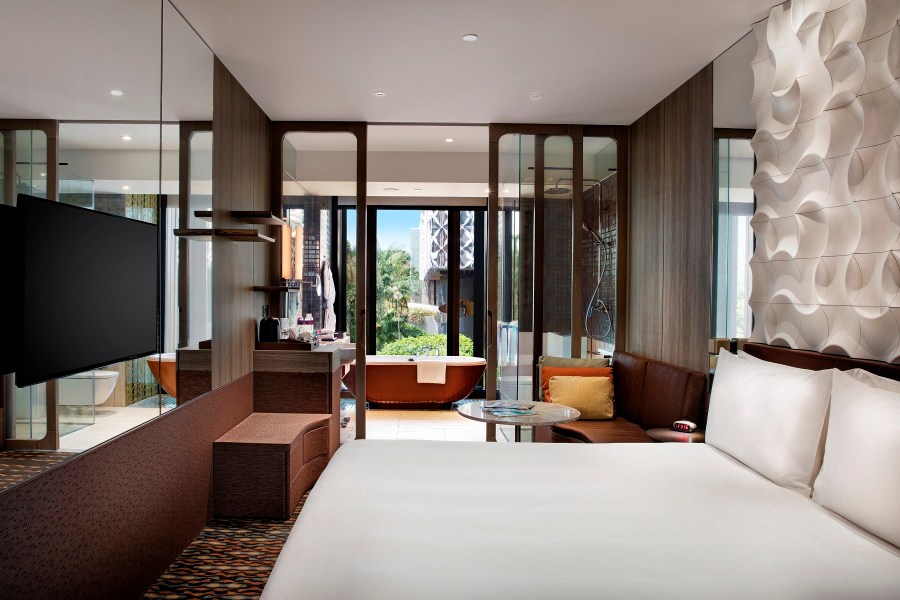 This year's top 10 properties in the World's Best Airport Hotel awards were:
1 Crowne Plaza Changi Airport
2 Hyatt Regency Shenzhen Airport
3 Fairmont Vancouver Airport
4 Mövenpick Hotel Bahrain
5 TWA Hotel New York JFK
6 Hilton Schiphol Airport
7 Pullman Guangzhou Airport
8 Hilton Munich Airport
9 Sofitel London Heathrow
10 Pullman Brisbane Airport
ESSENTIALS: GETTING TO SINGAPORE
The best way of getting to Sinbga in comfort and style.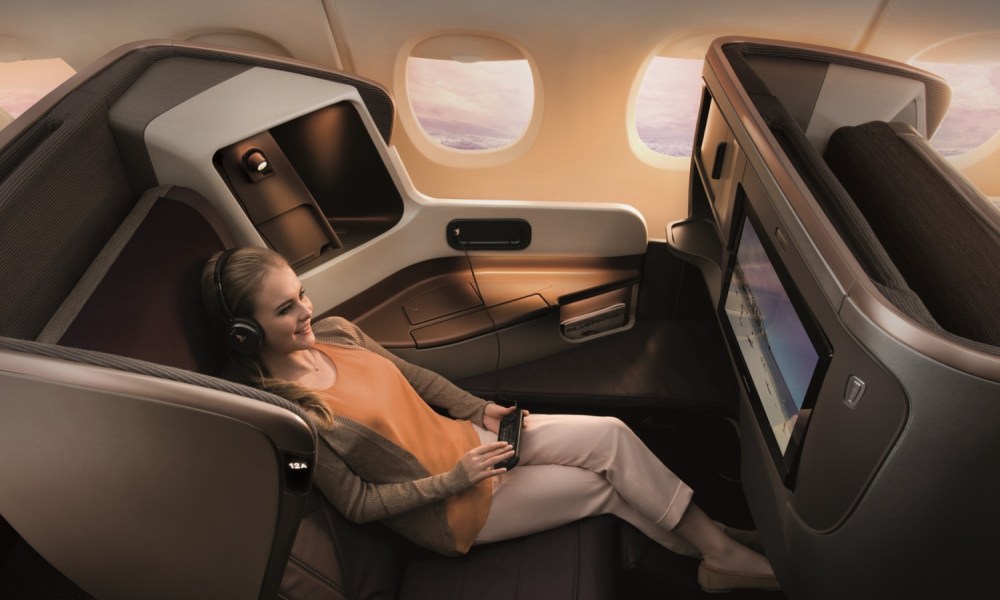 FLY SINGAPORE AIRLINES
Wayfarer recommends flying to Singapore in Business Class on Singapore Airlines, which offers daily flights to city from over 130 destinations around the globe.
Singapore Airlines operates several aircraft types to Singapore, including the Boeing 777-300ER, the Airbus A350-900 and the Airbus A380-800.
On the B777 and A350, the signature Business Class seats offer two new seating positions, the Lazy Z, a cradling position that ensures your weight is centered and balanced when you're sitting down, and the Sundeck, a lounging position that extends the base and foot of your seat so you can stretch and rest your legs on the ottoman.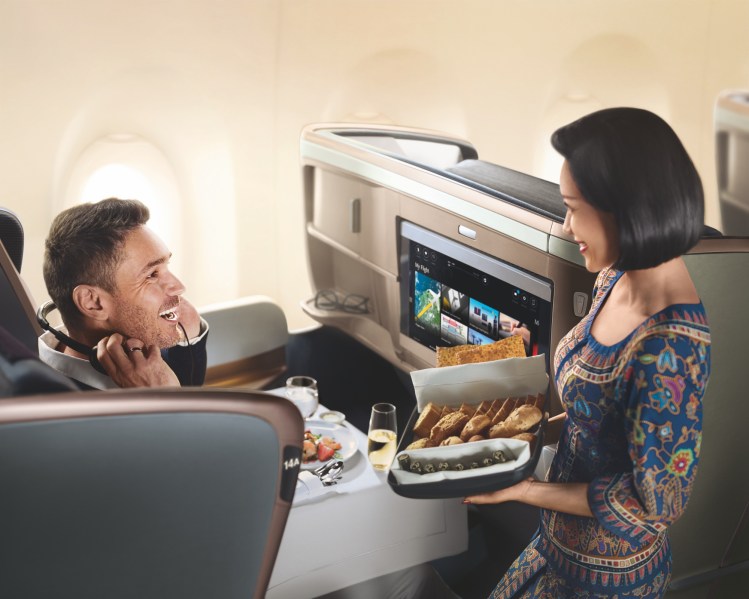 On flights to Singapore, you can 'Book the Cook' and reserve your main course up to 24 hours before you fly, including creations by notable chefs from the carrier's International Culinary Panel. You'll dine in restaurant setting onboard with full table service, and wines to match the food and altitude.
There's free WiFi available for Business, First and Suites customers and alongside fantastic food, hospitality and comfort, find thousands' of hours entertainment on demand including new-release movies, TV shows, music, games and more.
Book your Singapore Airlines flights now at singaporeair.com