When it comes to flying to Honolulu, book a ticket on Hawaiian Airlines where you'll be immersed in the spirit of Aloha from the moment you step onboard as James Wilkinson discovers.
Hawaiian Airlines flies to Honolulu from Sydney, Auckland and across the mainland United States and the carrier's brilliant onboard experience includes a stylish Business Class cabin and more Extra Comfort seats on the widebody Airbus A330 aircraft.
In Business Class, you'll find flatbed seats, in a 2-2-2 configuration, that fold down into 180-degree beds that are 20.5 inches wide by 76 inches long.
Also expect a Mai Tai on arrival (and during the flight), a Hawaiian-styled meal service that showcases the state's top local chefs and after dinner, a sleeper service on the overnight flight to Honolulu that features premium bedding including pink duvets and pillows, alongside amenity kits.
Should you be on a day flight and still want some extra rest, the premium bedding is available on all flights over eight hours in the Business Class cabin.
When it's time to relax, entertainment at the pointy end comes in the form of large-format iPad tablets that sit on a telescoping arm – something also ideal if you want to watch content on your own device.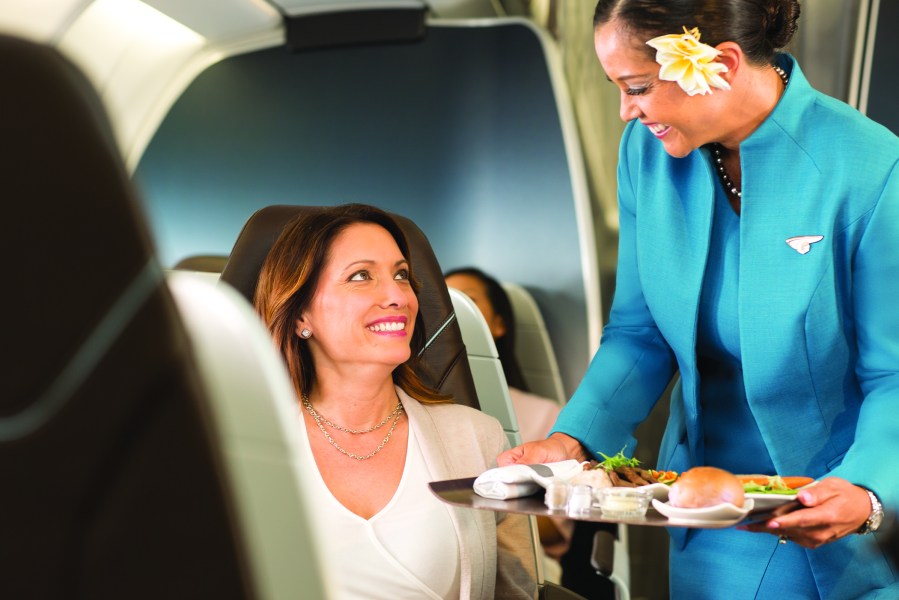 Right behind the Business Class cabin, you'll find the Extra Comfort seats, which offer more legroom, priority services and additional amenities, such as a comfort kit amenity pack and personal electrical power outlets, to make your travel experience on Hawaiian Airlines even better.
It's an exciting time for Hawaiian Airlines as the United States carrier re-boots its global network, prepares for the delivery of Boeing's 787 Dreamliner and focuses its efforts on being more sustainable than ever before.
Hawaiian has also upgraded its Hawaiian Miles program, taken delivery of Airbus A321s, unveiled new services to Rarotonga in the Cook Islands and launched free inflight WiFi on selected flights.
When it comes to booking your night flight to Hawaii, take a journey to Honolulu and beyond that gets you in the holiday spirit from start to finish.