When Apple revealed its all-new iPhone 14 and iPhone 14 Plus smartphones back in September, the focus was once again on how good the upgraded camera would be, but this latest release is a lot more than just brilliant imagery as James Wilkinson discovers.
The new iPhone 14 was always going to be a hot seller from Apple since it was announced on September 8, thanks to its core offerings of everyday practicality, style, amazing battery life, super-fast 5G and fantastic cameras.
What the iPhone 14 – available in 6.1 inches and 6.7 inches – does is give novices and photography pros alike the capability to capture some fantastic imagery and video without needing to pick up a DSLR and snap away like they are a photography champion.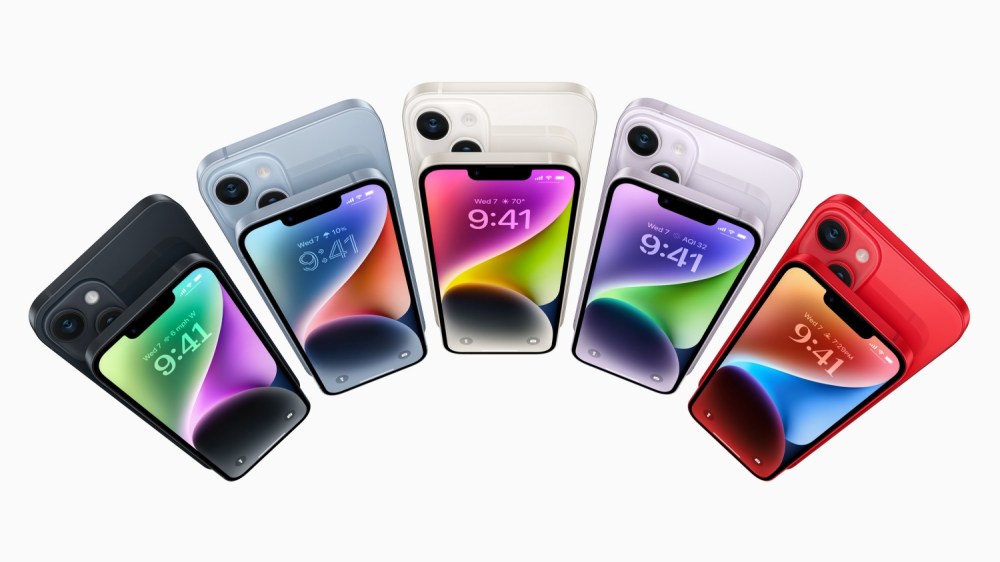 The iPhone 14 and iPhone 14 Plus are available in midnight, blue, starlight, purple and (PRODUCT)RED finishes
Once you do start snapping away, you will quickly be a champion thanks to Apple's 'Photonic Engine', which, thanks to a deep integration of hardware and software, improves mid- to low-light performance for photos across all cameras on the iPhone 14, led by a 12MP Main camera featuring a larger sensor and larger pixels, a new front TrueDepth camera and an Ultra Wide camera to capture more of every scene.
What that means is you're loaded up with cameras that can capture everything from brilliant portraits to wide angle views of sports grounds and in an array of circumstances, particularly when there's low light.
The Photonic Engine improves mid- to low-light performance up to 2 times on the Ultra Wide camera and on the TrueDepth camera and an exciting 2.5 times on the new Main camera.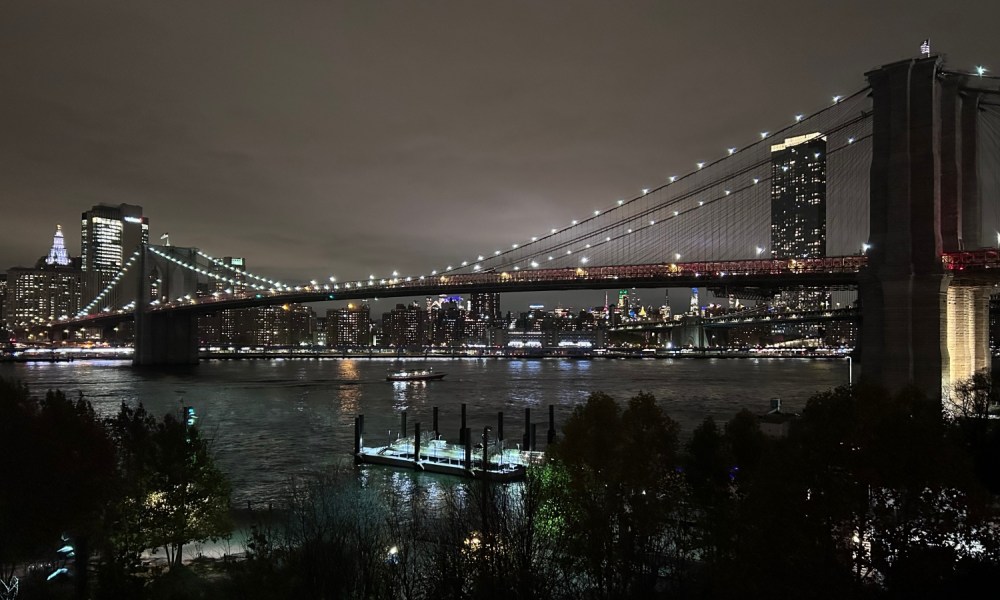 A low-light outside shot of the Brooklyn Bridge captured by Wayfarer's James Wilkinson in New York City
According to Apple, the Photonic Engine enables this dramatic increase in quality "by applying the computational benefits of Deep Fusion earlier in the imaging process to deliver extraordinary detail, and preserve subtle textures, provide better colour and maintain more information in a photo".
The iPhone 14 certainly delivers on that because the camera system produces fantastic images, particularly in low light, that are easy for any user to capture.
Then there's the fantastic video capabilities of the iPhone 14, which is headlined by a new 'Action' mode, that is able to take smooth-looking video – normally only captured when a phone is attached to a gimbal – that adjusts to significant shakes, motion and vibrations even when video is being captured in the middle of the action, for example someone running or skiing.
The new camera system has also seen an impressive upgrade and you can now capture –again, what you'd normally only achieve on a DSLR camera – content in 4K at 30 fps and 4K at 24 fps.
Apple's iPhone 14s feature the A15 Bionic chip with a 5-core GPU, which increases performance and efficiency, most notably through the fast-loading of apps, writing emails, watching movies, playing games and importantly, offering up the best battery life on an iPhone ever.
Users of older iPhones will immediately notice the difference in speed of using apps thanks to this new technology, while the ability of 5G connectivity makes working on the go, streaming and data calls an absolute breeze.
The new phones introduce critical safety capabilities such as Crash Detection, a first in the industry, which detects a severe car crash and automatically dials emergency services when a user is unconscious or unable to reach their iPhone.
Apple says these capabilities build on existing components, like the barometer, which can now detect cabin pressure changes, the GPS for additional input for speed changes and the microphone which can recognise loud noises typified by severe car crashes.
According to the company, advanced Apple-designed motion algorithms trained with over a million hours of real-world driving and crash record data provide even better accuracy.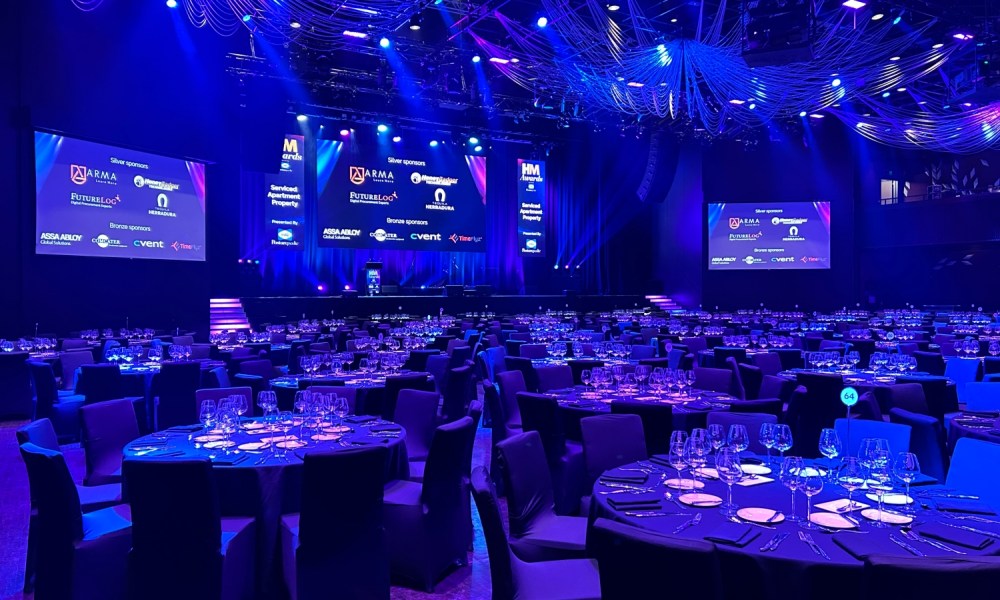 A low-light inside shot captured by Wayfarer's James Wilkinson at the 2022 HM Awards
The iPhone 14s also introduces Emergency SOS via satellite, which combines custom components deeply integrated with software to allow antennas to connect directly to a satellite, enabling messaging with emergency services when outside of cellular or Wi-Fi coverage.
On the interface front, the iPhone 14s feature iOS 16, which is headlined by fantastic ease of use, style and new communication, sharing and intelligence features.
You'll like the new Lock Screen that's more personal and helpful than before – you can create your own 'canvas' through imagery and practicality like times and weather – while with messages, users can now edit or recall recently sent messages and mark conversations as unread to revisit them later.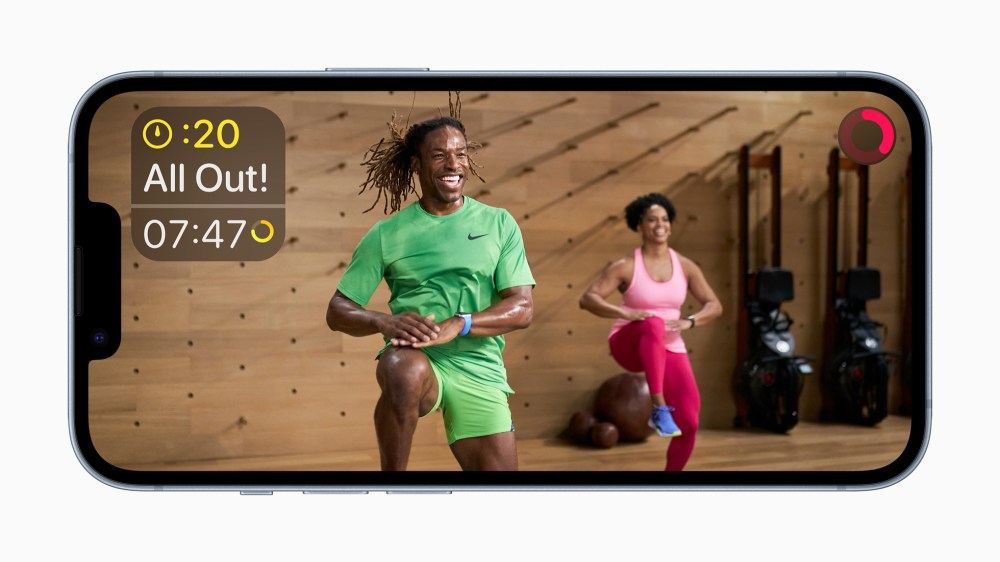 Apple Fitness+ is coming soon for the iPhone 14 and iPhone 14 Plus
Live Text also gets more powerful with the "ability to recognise text in video and quickly convert currency, translate text and more", according to Apple, while Visual Look Up adds a new feature that allows users to tap and hold on the subject of an image to lift it from the background and place it in apps like Messages, something that is fun to use and very practical.
The latest technology is also helping people on the fitness front too. Coming soon and for the first time ever, Apple Fitness+ will be available for all iPhone users to subscribe to and enjoy in the 21 countries it is offered in, even if they don't have an Apple Watch.
Overall, the iPhone 14 is a fantastic upgrade from previous models (from someone who has had iPhones consistently since the inaugural model) and the company continues to make the daily experience more powerfully practical than ever before thanks to its increased performance and ability to capture amazing photos and videos.
The iPhone 14 is now available from the Apple Store.