When Air New Zealand took off for New York's John F Kennedy Airport last September, it marked a new flagship route for the Auckland-based carrier. It was also the start of a new chapter of exceptional onboard dining for the carrier by serving meals that firmly should be in a Michelin-starred restaurant as James Wilkinson finds out.
Air New Zealand has made it easier than ever to get to United States' most vibrant, exciting and happening East Coast city and alongside the hype of launching Auckland to New York flights, the new route has also been the flagship run for a new onboard Business Premier menu for the airline, one that, over the past nine months has quickly become one of the best in the sky.
Given Air New Zealand has always had a high-quality showcase of the best of Aotearoa produce and wine onboard, elevating the offering even further is a huge win for travellers on the carrier's longest of routes, such as New York, Chicago and Houston.
The biggest X-factor of the new menu isn't just the high-quality, tasty dishes, it's the way guests can customise their meals, that are also some of the healthiest ever seen onboard by any carrier.
When you're given the menu, what immediately stands out is how customisable they are, from selecting the protein for a salad or the sizes for a signature dish like slow cooked New Zealand lamb with balsamic and rosemary jus.
With the lamb dish, currently on flights to the United States, you can choose sides of baby cos, heirloom tomato salad and toasted seeds; roasted Yukon gold potatoes; steamed green vegetables; and paleo roasted root vegetables.
If you're wanting the superfood salad this month, it comes with kale, nuts and red rice with quinoa, cranberries and feta with tahini and orange dressing. You can then customise it with seared Alaskan cod or wood roasted free range chicken breast.
The supper service also features an amuse-bouche (currently, it is smoked duck with dried persimmon and horseradish cream), choices of bakery items including the legendary garlic flat bread, alongside an appetiser of a mixed tasting plate (seared tuna with miso aioli, mango salsa; prosciutto, fig and goat cheese whip; and baby mozzarella with tomato and olive) or a spiced pumpkin, tomato and lentil soup.
Those with a sweet tooth will save room for the chocolate brownie ice cream with salted caramel sauce and pretzels, a fantastic way to end the meal.
For Air New Zealand, offering a menu that is healthy over decadent dining comes back to what the customer nowadays wants.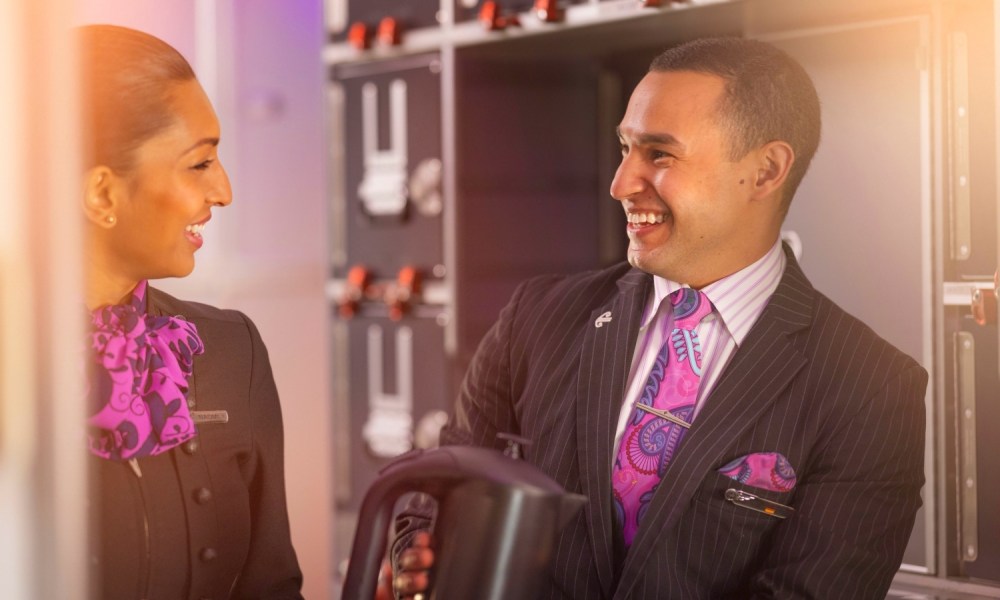 "We all know how important food is when travelling and what a difference it makes to our customers to be served a tasty meal full of fresh, local produce while on their journey," says Air New Zealand Chief Customer and Sales Officer, Leanne Geraghty.
"Our inflight meals showcase the best of New Zealand produce to the world and also gives our Kiwi customers a taste of home from the moment they are welcomed onboard.
"Through customer research we found our Premium customers wanted more choice in the air, so we've added a build your own component to the main meal service.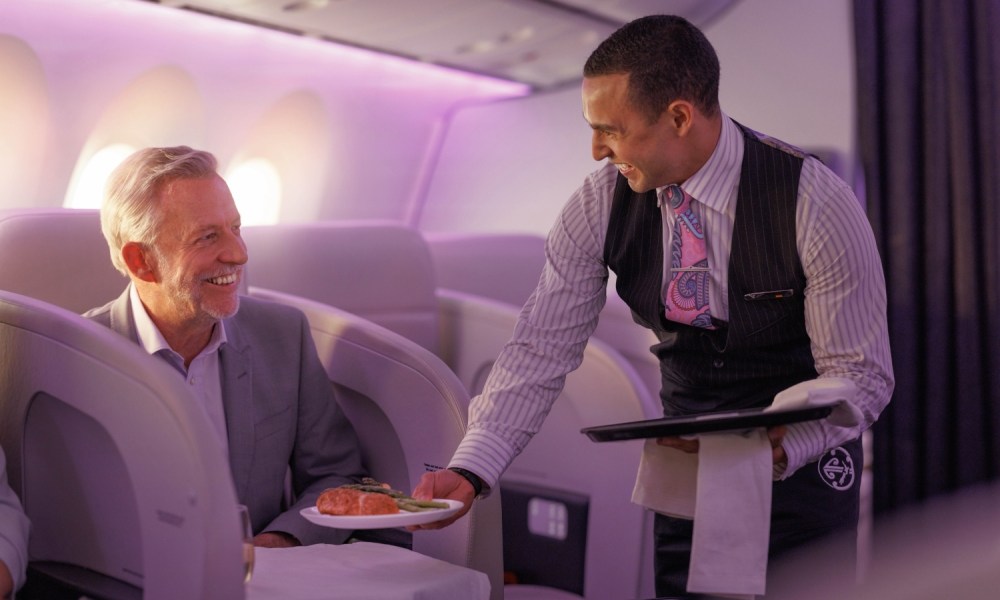 "Customers can add the likes of seared Salmon from Marlborough, free-range chicken from Waikato or bacon for greater protein, or streamed green vegetables or fresh, crisp salads picked straight from orchards and fields in Gisborne, Waikato or the Manawatū," she says.
Importantly, Geraghty says many of the meals like the artisan pasta bowl and superfood salad are also vegetarian, giving our customers plenty of meat-free options.
She says there's a huge amount the airline must consider when it comes to creating a tasty dining experience in the air.
"Meals have to meet certain requirements for heating and assembling onboard, and at altitude in the drier aircraft environment, taste buds are suppressed by around 30% so we need to ensure all our food components are full of flavour," Geraghty says.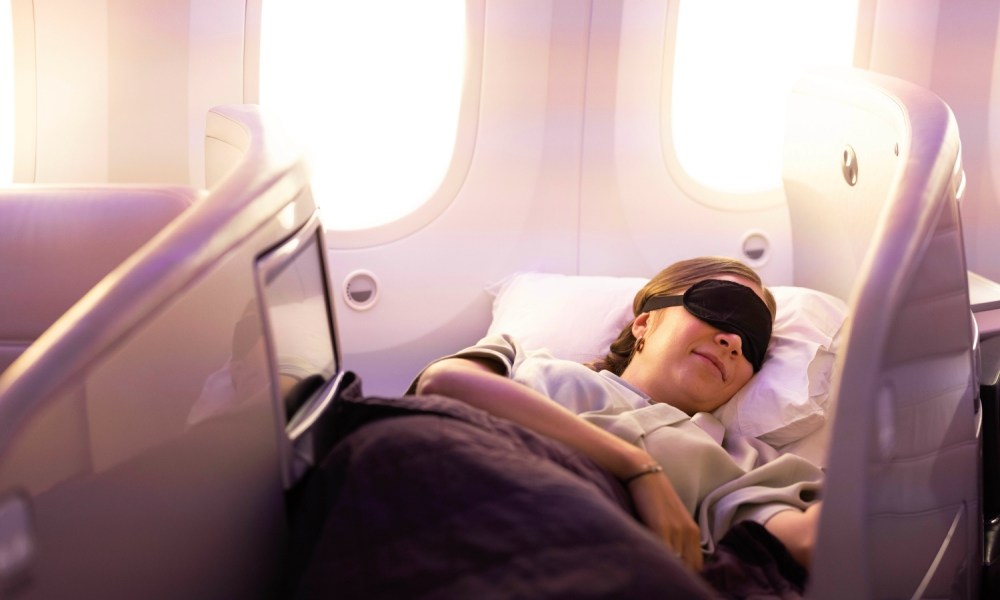 While the new customisable menu excels on the food front, the carrier's passion for serving the best wines from Aotearoa complements the offering exceptionally well.
On flights to the United States, Canada and Asia, expect some of New Zealand's best drops, including Felton Road's 2016 Block 3 Pinot Noir from Central Otago, the Stonecraft 2018 Crofters Syrah from Hawke's Bay and the Kumeu River Mate's Vineyard Chardonnay.
It all adds up to not only an exceptional dining experience onboard, but one that will raise the bar globally for customers' expectations in Business Class. Right now, Air New Zealand is firmly at the top of the list and they are going to continue to excel one new dish at a time.