New Zealand's adventure playground of Queenstown is known for its skiing, wineries, jetboating and hiking, alongside fantastic restaurants, bars, cafes and hotels, including one of Wayfarer's favourites, Hilton Queenstown Resort and Spa.
Nestled on the shores of Lake Wakatipu, Hilton Queenstown Resort and Spa is an ideal spot to explore the region, from the wineries of the Gibbston Valley to the skiing at The Remarkables and much more.
To find out what makes the property one of New Zealand's best, Wayfarer Host and Editor-In-Chief, James Wilkinson, caught up with Hilton Queenstown Resort and Spa General Manager and Hilton's Cluster General Manager – South Island, Chris Ehmann, recently.
Chris, what makes Hilton Queenstown one of the region's top hotels?
Hilton Queenstown Resort and Spa is situated on the shores of Lake Wakatipu, an excellent base from which to explore all the attractions the region is famed for.
Stunning spaces, dedicated service and the exclusive lakefront location makes the resort an ideal relaxation space.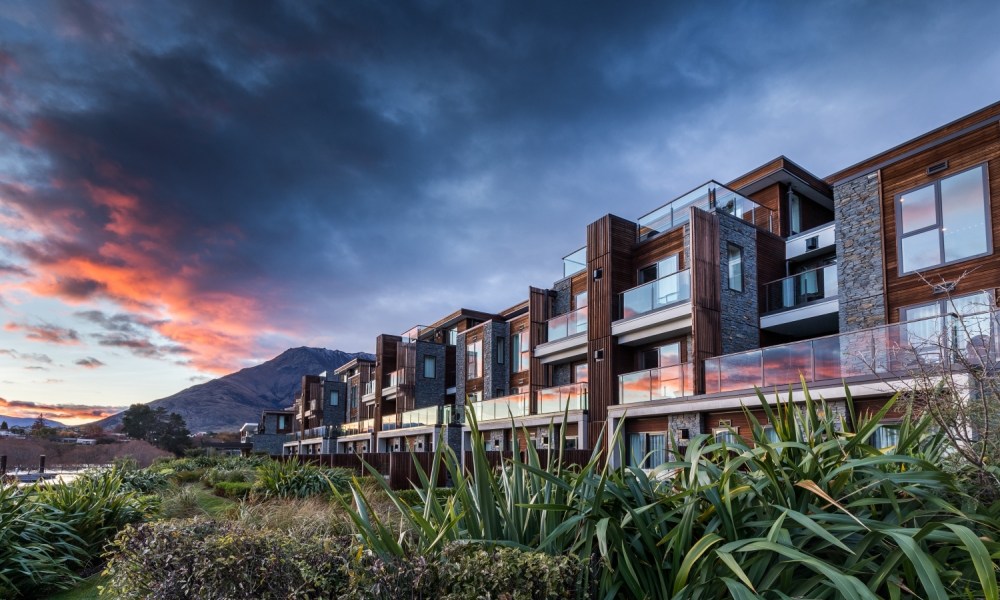 What makes the hotel so unique in your opinion and what's your x-factor at the hotel?
Our vision is to fill the earth with the light and warmth of hospitality, and it is central to everything we do at the hotel. Our passionate staff (who we call team members) make our guest experiences unique.
We have a multi-cultural team consisting of 32 different nationalities. I believe it is the interactions and connections that our team creates with guests that add to a unique and priceless experience at the Hilton Queenstown.
A diverse team also brings with them diverse passions. We empower our team follow their passions, and initiate team member-lead projects at the hotel.
For example, our Executive Sous Chef, Aabhimanyu 'Aabhi' Sekar, is extremely enthusiastic about sustainable waste management. In 2018, Aabhi had met with a number of farmers in the Otago region to seek out organic vegetables.
During a visit to local organic supplier, Aabhi learnt about the benefits of organic compost for crops.
The supplier had recently started a worm farm to produce fertilizer, and this marked Hilton Queenstown's first foray into sustainable waste management.
Within a few months, our signature restaurant Wakatipu Grill sent its first batch of food waste to the organic worm farm. This quickly grew to all four dining outlets plus the Hilton's staff canteen, with over 150kg (94%) of food waste being diverted from the landfill daily.
Shortly after, Hilton Queenstown became the organic worm farm's first large-scale supplier of food waste. This project lasted from December 2018 to December 2020, when the worm farm project ended due to council restrictions.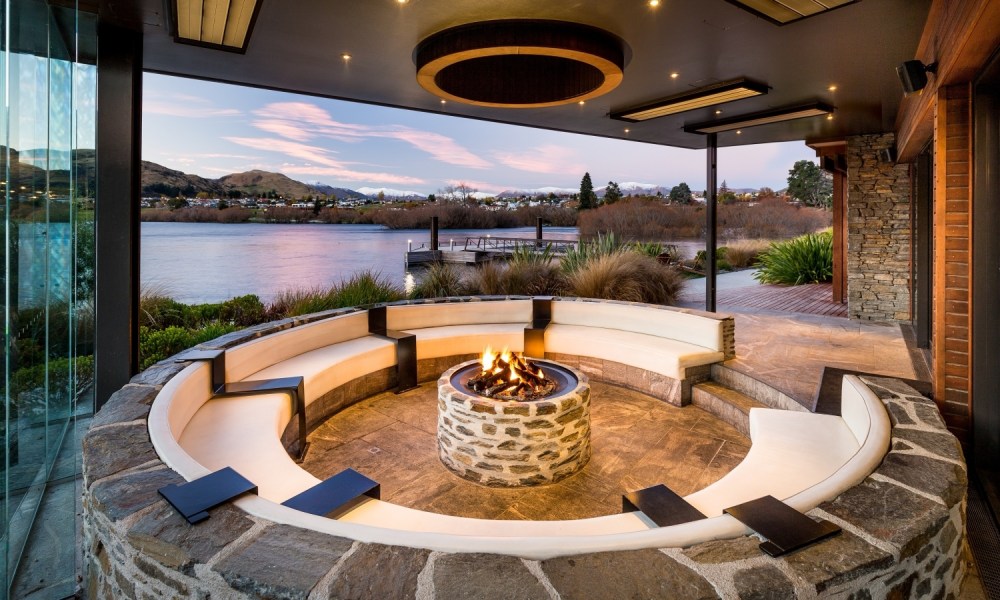 This, however, did not stop Aabhi from looking for an alternate solution. In June 2021, the Hilton Queenstown procured a food waste dehydrator. Scraps from all our outlets and staff canteen are processed through our on-site food waste dehydrator.
The dehydrated food waste is collected by Queenstown local Michael Sly's Wilding and Co, who mixes it with his own hot compost.
The compost is then donated to local projects like the Wakatipu Reforestation Trust, enabling the hotel to contribute to restoring the native biodiversity of our surroundings.
I believe that our unique style of team member-lead initiatives can drive big changes in the hotel.
Aabhi's passion and enthusiasm inspired other team members to look at ways their own departments could divert their waste. And in this case, our team member's initiatives saw big changes in our community and environment, spreading the light and warmth of hospitality.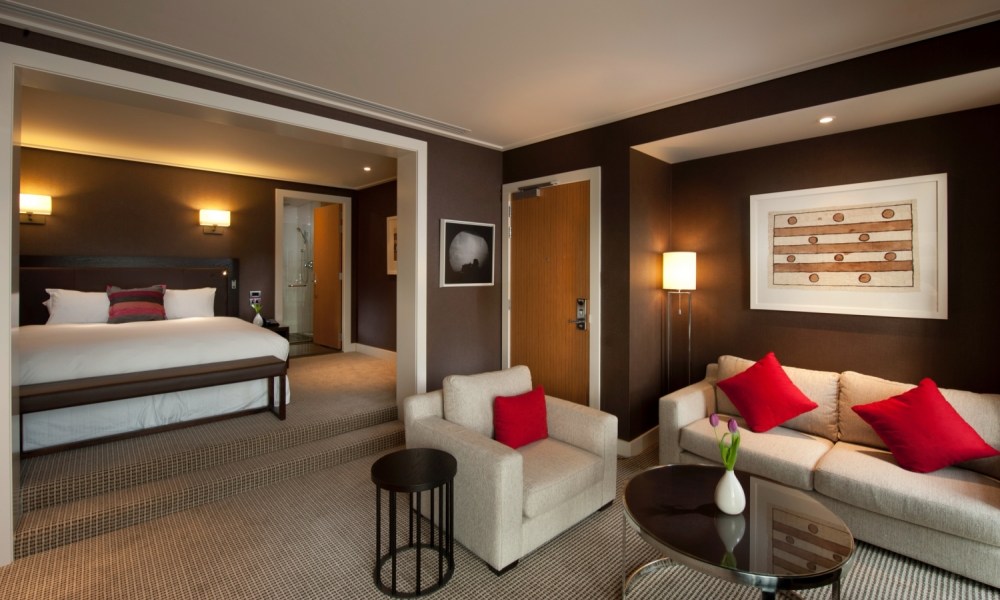 Chris, tell us about the stylish rooms and suites on offer.
Our 220 spacious guest rooms and suites have floor-to-ceiling windows showcasing breath-taking views across the lake and mountains.
With private balconies, Schist fireplaces and serene bathrooms with walk-in showers and relaxing bathtubs, our rooms are the perfect retreat from the day's activities.
Hilton's Lakeside Residences are elegant and spacious open-plan one- and two-bedroom residences with apartment style facilities; perfect for week-long ski trips and families.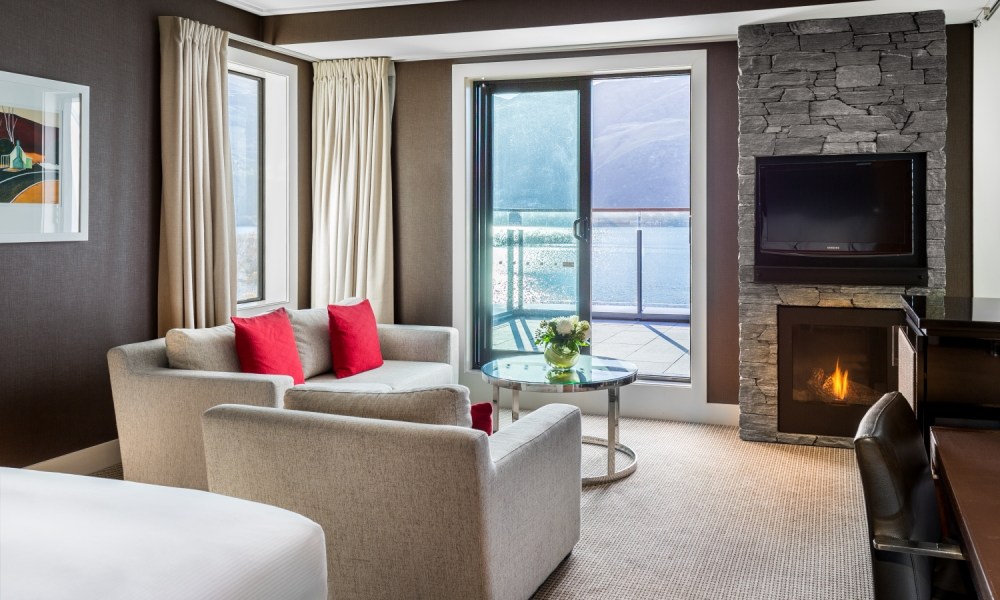 Tell us about the fantastic food and beverage on offer.
Our signature restaurant, Wakatipu Grill, offers arguably the best lakefront dining location in Queenstown.
The restaurant features an outdoor fireplace, the 'Pinot Pit', where guests can take in views of Lake Wakatipu and sip on a glass of Central Otago's famed Pinot Noirs.
The Wakatipu Grill Lawn is the perfect place for a summer cocktail and charcuterie platter featuring Otago's best cheeses and cured meats.
Wakatipu Grill menus have a strong focus on local produce. We think it is important to showcase the wonderful local produce our region has to offer, while supporting local agricultural businesses. There is no better way to experience the local culture than through taste!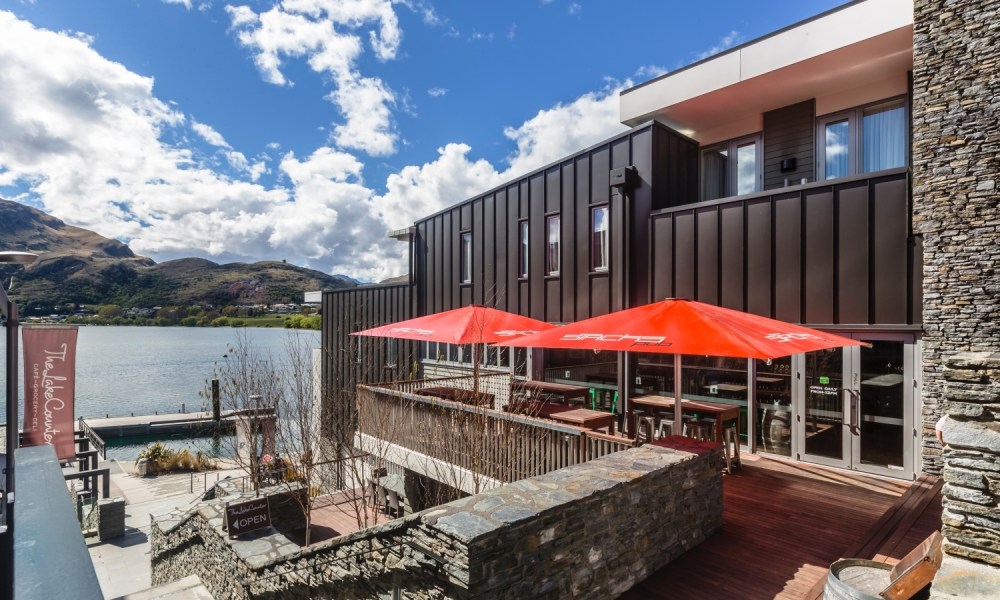 Guests looking for a more relaxed but gourmet Kiwi experience can head to Stacks, our pizza and burger bar.
In the warmer months, guests can lounge on deck facing Lake Wakatipu and sample some of the best local brews Queenstown has to offer. In the colder months, guests can enjoy the roaring outdoor fire, or head inside to take in the lively après ski atmosphere.
With sports games on the screens and delicious gourmet pizzas and burgers, Stacks is the ideal destination for a chilled-out family night or gathering of friends.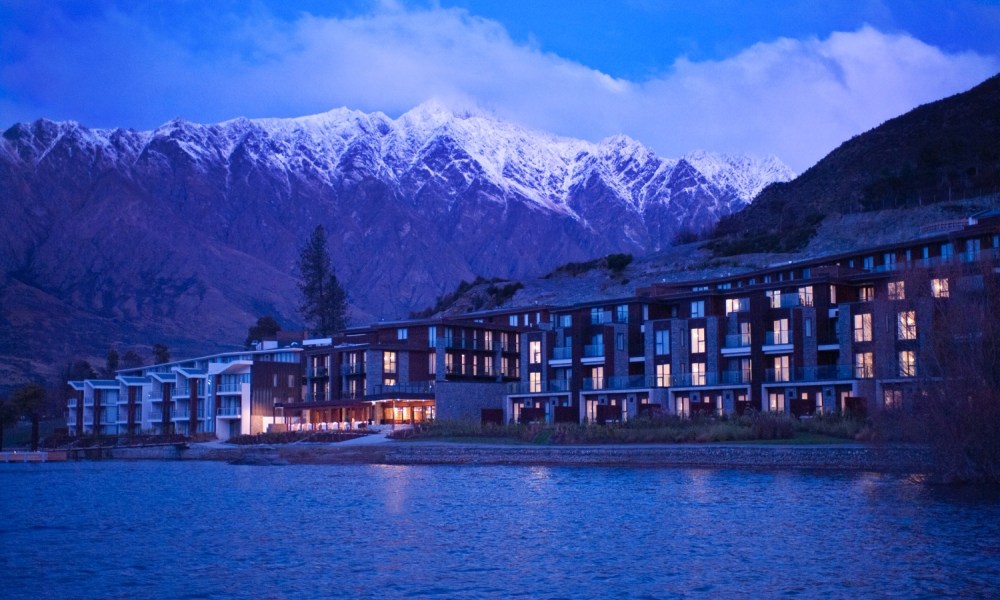 Chris, what are some of your favourite things to do in the area?
Exploring trails in the area. Hilton Queenstown is footsteps away from the Queenstown Trail, the main trail that runs from where we are in Kelvin Heights into Queenstown town centre.
Every corner of the trail offers breathtaking views of the lake and pockets of wildlife corridors, which offers runners or bikers the chance to see native plants endemic to the region. We recommend walking, running or hiring an e-bike from the bike shop conveniently located in the village.
Visiting the local vineyards in Gibbston (a 25 minute drive away) is another must-do activity. It's the heart of the Central Otago wine country, and you can sample some of the regions award-winning Pinot Noirs. Many cellar doors in the area offer al fresco dining and delicious wine pairings.
ESSENTIALS: GETTING TO QUEENSTOWN, NEW ZEALAND
The best way of getting to Queenstown in comfort and style.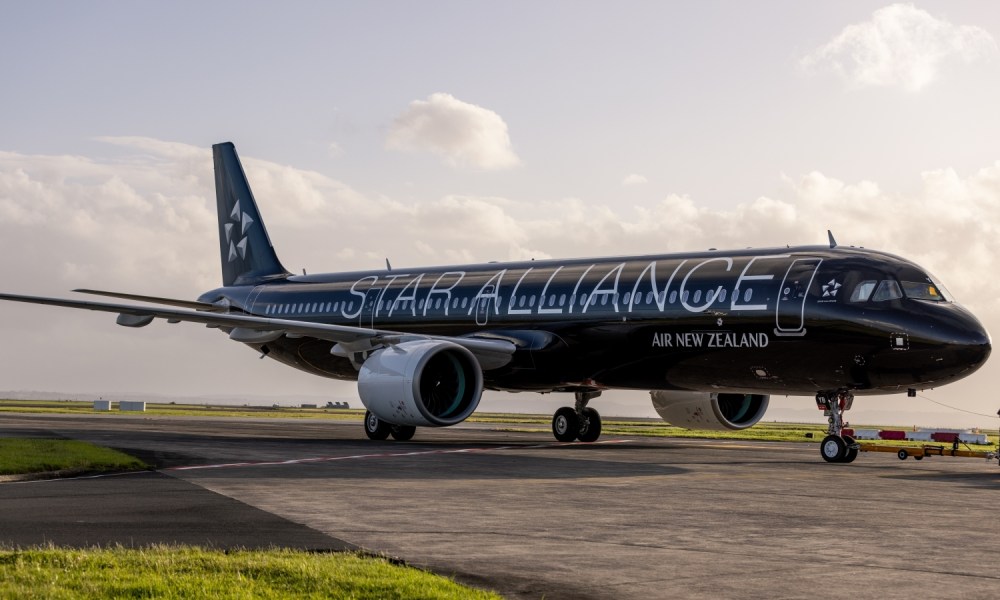 Air New Zealand offers flights to Queenstown from across the globe
FLY AIR NEW ZEALAND
Air New Zealand offers daily flights to Queenstown direct from Australia, alongside connections to the destination via Auckland, with connections available from across South Pacific, Asia and North America.
The long-haul flights to Auckland that connect to Queenstown are operated by Air New Zealand's Boing 777-300ER and the flagship Boeing 787-9 Dreamliner, which feature three cabins, Economy, Premium Economy and up the front, Business Premier, headlined by flatbed seats (featuring mattress toppers and large pillows for overnight flights), fantastic food and wine, thousands of hours' entertainment and brilliant Kiwi hospitality.
The flights to Auckland feature a new international menu showcasing the best New Zealand to world before you arrive in Aotearoa.
Onboard, premium customers can enjoy the likes of seared salmon from Marlborough, free-range chicken from Waikato and crisp salads picked straight from orchards and fields in Gisborne, Waikato and the Manawatū.
On the wine front in Business Premier, expect some of New Zealand's best drops, including Felton Road's 2016 Block 3 Pinot Noir from Central Otago, the Stonecraft 2018 Crofters Syrah from Hawke's Bay and the Kumeu River Mate's Vineyeard Chardonnay.