When it comes to convenience on a short or long layover, the Hilton Los Angeles Airport is an absolute standout thanks to its proximity to LAX, the South Bay beaches, SoFi Stadium and of course, the food, wine and recreational facilities on offer.
To find out why the property excels, Wayfarer host and Editor-In-Chief, James Wilkinson, caught up with Hilton Los Angeles Airport General Manager, Grant Coonley.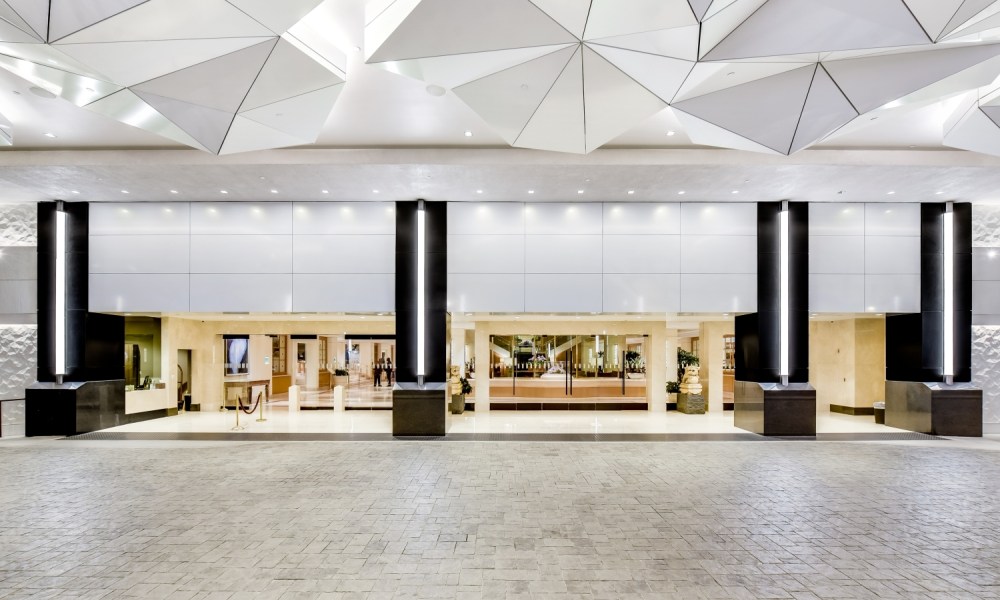 What makes Hilton Los Angeles Airport one of the best hotels at LAX?
Our guests comment that our hotel has a grand sense of arrival with our elegant marble lobby, grand staircase and fresh orchids in the lobby.
We hear from guests and from event planners upon arrival that they are impressed and pleasantly surprised by the hotel's décor and sophisticated ambiance which is something they would expect from a major downtown location and not necessarily an airport location.
We offer 24/7 hot food at Bistro located on the lobby level, 24/7 complimentary airport shuttle, 24/7 In-Room-Dining, 24/7 Fitness Center, outdoor pool and Jacuzzis, 50,000 square feet of event space including three outdoor garden terraces, and five food and beverage outlets.
From take-off to landing, our goal is to create a sense of respite in our customer's journeys, to make their travel or visit to Los Angeles easy and enjoyable.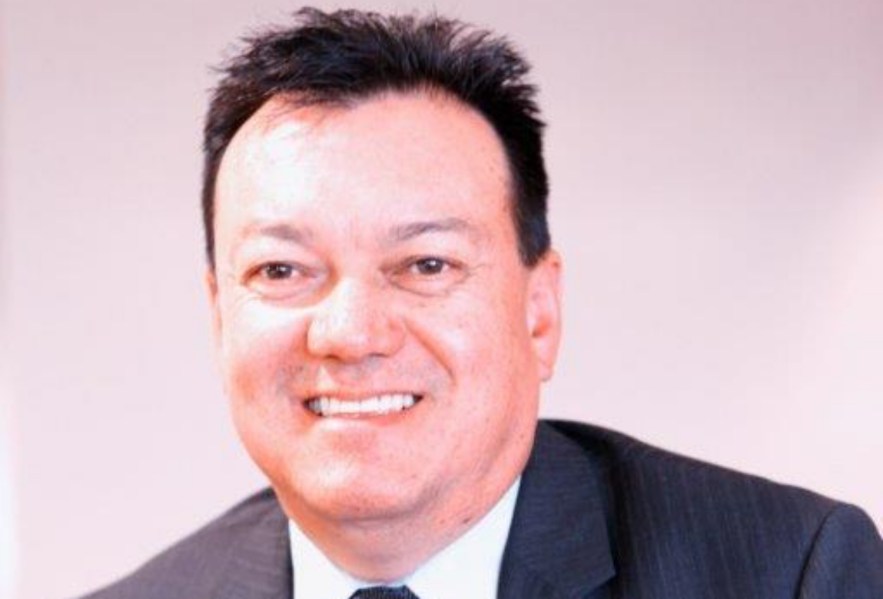 What makes the hotel so unique in your opinion?
Hilton Los Angeles Airport is busy with travelers from all over. We're located in the Gateway to LA, the LAX Airport Business District, at the front door to Los Angeles. In a sense we are also the gateway to all domestic and international destinations as LAX is the 2nd busiest airport in the U.S.A. and 5th busiest in the world.
Along with our sense of arrival, our team members are like family and are committed to delivering genuine warm hospitality to our guests.
We have multi-generational family members who work at the hotel. Hospitality is known for higher turnover, but we have team members who have been here for 10-25 years and more!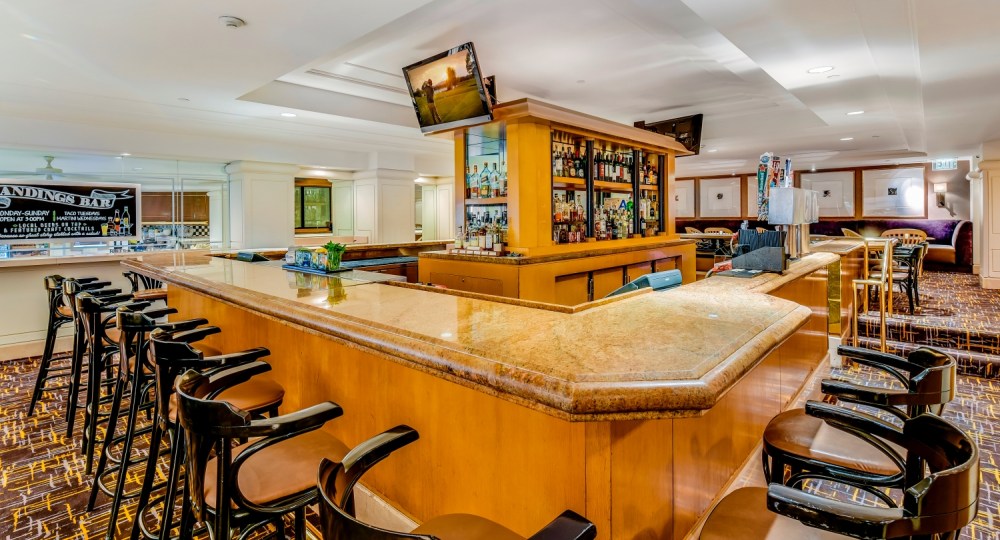 You can travel the world in Los Angeles with the vast array of cuisine and cultures, this is reflected in our décor, food and beverage, and diversity of our team members. There's always a great energy of guests arriving and departing, meeting in the lobby, and it inspires all our team members on a daily basis.
While the hotel is the second largest hotel in Los Angeles with 1,234 rooms and has the largest ballroom and total event space on Century Boulevard, we host many annual events and our repeat clients recognize our team members on a first name basis, it's wonderful! Our size gives us a lot of flexibility to accommodate a wide range of meetings and special events.
Our hotel's Bistro restaurant and market is open 24/7 serving a full hot food menu, this is unique to our hotel and enjoyed by guests who may have arrived from an international time zone!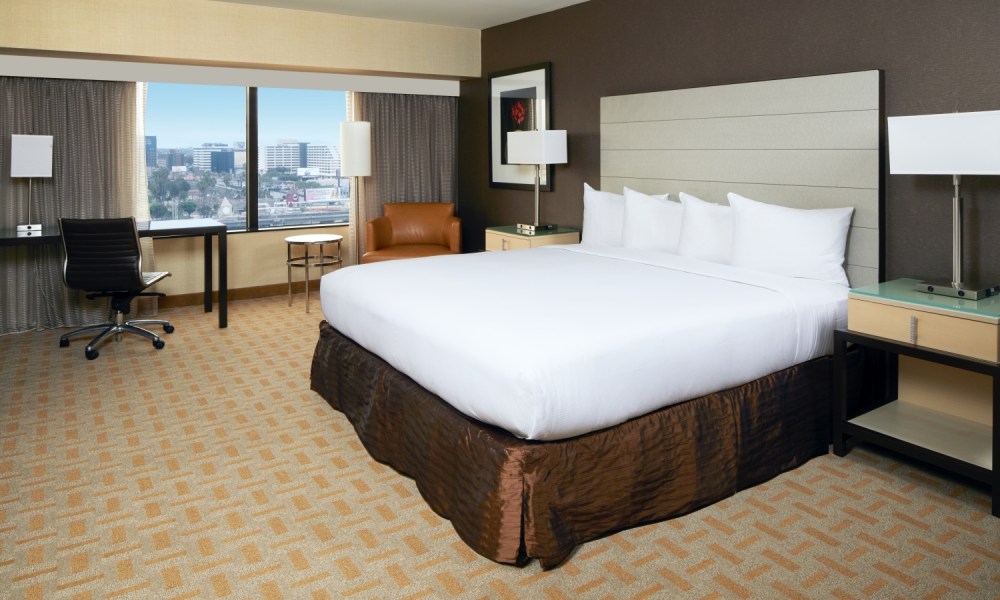 Tell us about the stylish rooms and suites on offer.
Our hotel features 1,234 guestrooms and suites from the third through seventeenth floor. Featuring King or Double/Double bed configurations, guestrooms range from 290-364 sq. ft, featuring Wi-Fi, Hilton Serenity TM bed, in-room safe, coffee/tea makers.
Double-paned windows allow our guests to enjoy a restful night sleep. Superior Rooms are located on the higher floors and other great views of the city or LAX, an expansive desk and premium Wi-Fi.
The hotel also features 34 Executive Suites with a separate living room from the bedroom and are 650 sq. feet.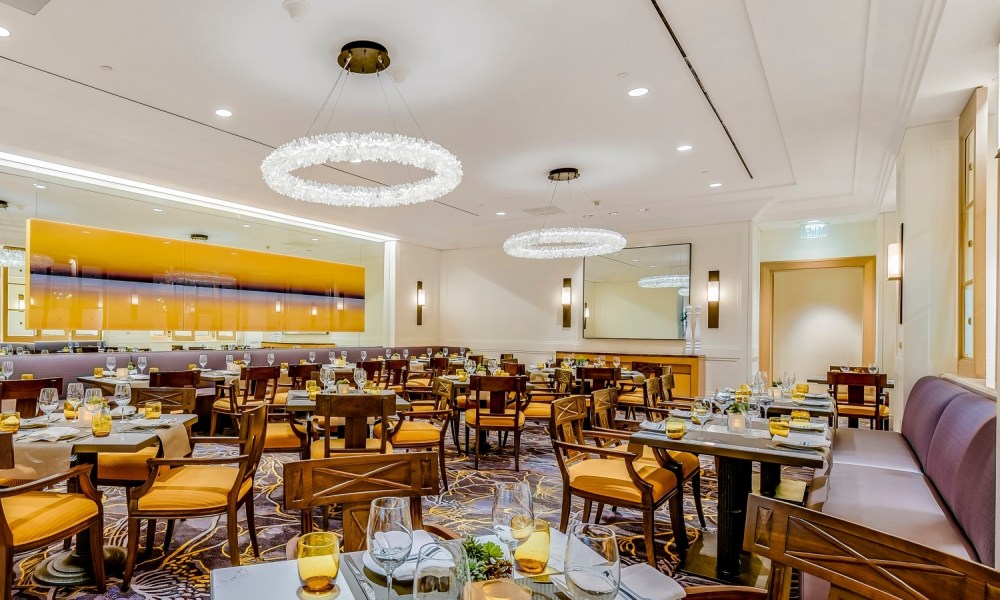 Tell us about the fantastic food and beverage on offer.
Our Executive Chef Serge Devesa is a master chef who recently earned France's Medal Order of Agricultural Merit, the second highest honour bestowed on a French citizen.
Chef Devesa oversees all menu creation at our five food and beverage outlets and 24/7 In-Room-Dining, as well as our catering menus for special events.
The Café features a classic American menu for breakfast, Landings Bar features cocktails and craft beers and a full menu from appetizers to desserts, and Andiamo's dinner menu is inspired by Northern Italy.
Runway on 16th offers hand crafted cocktails and seasonal appetizer plates, and Bistro offers 24/7 hot and cold grab-and-go meals, salads, sandwiches, a wide variety of fresh juices and beverages, and brews Starbucks coffee.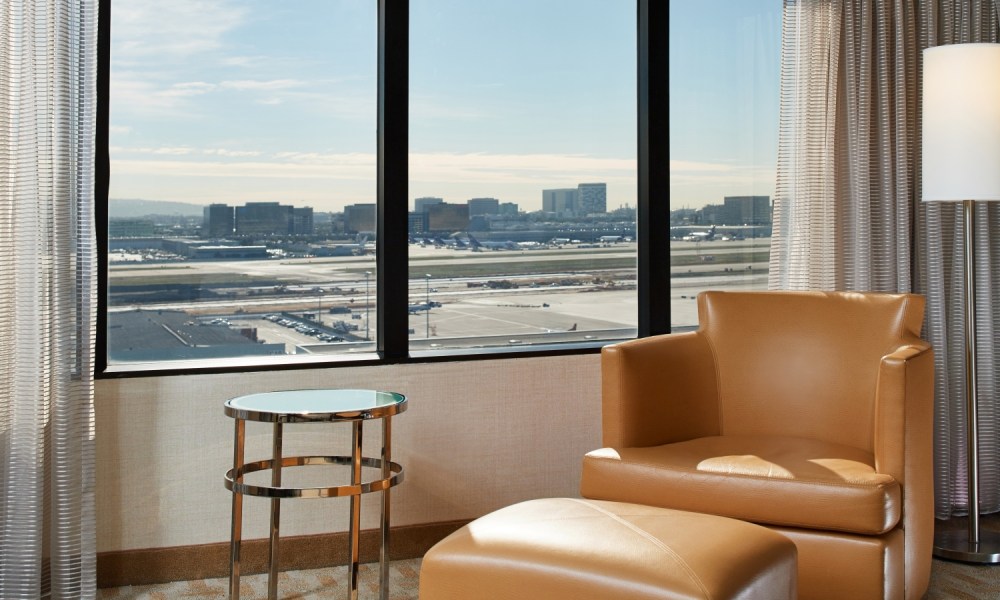 What's your x-factor at the hotel?
Out of all the hotel properties on Century Boulevard, Hilton Los Angeles Airport has the most up-to-date internet technology and a team of on-site IT specialists.
We recently completed a major 15-month project where we installed new fiber cables and upgraded our hotel's infrastructure. With this upgrade, our hotel now offers 10Mbps – 30 Mbps up/down Wi-Fi in guestrooms and throughout the building, plus are able to offer a 1 Gb fiber optic dedicated circuit that's burstable up to 10 Gb in all of our 55,000 sq. ft. worth of meeting spaces.
We also recently improved the DAS (Distributed Antenna System) 4G/5G cellphone service throughout our property.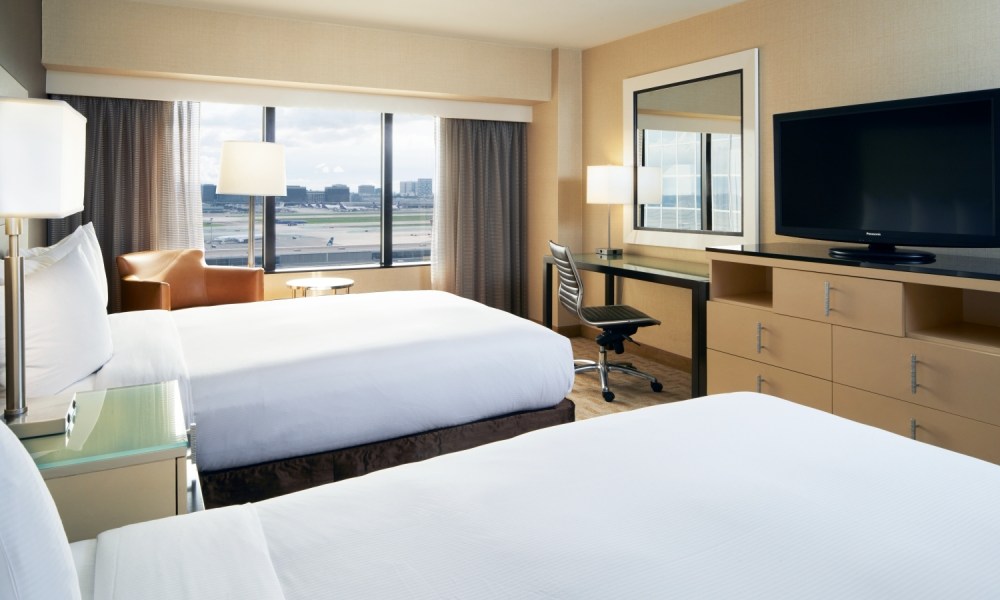 The hotel also features a kosher kitchen which allows us to host the local Jewish community for weddings and other special events.
Hilton is recognised as the most international brand in the world, because of this Hilton Los Angeles Airport has a very diverse group of customers from all points domestic and international.
I love walking through the lobby and talking to our guests to learn where they are from, and where they are going.
I learn something new every day from meeting our guests and have added a couple new destinations to my own travel bucket list!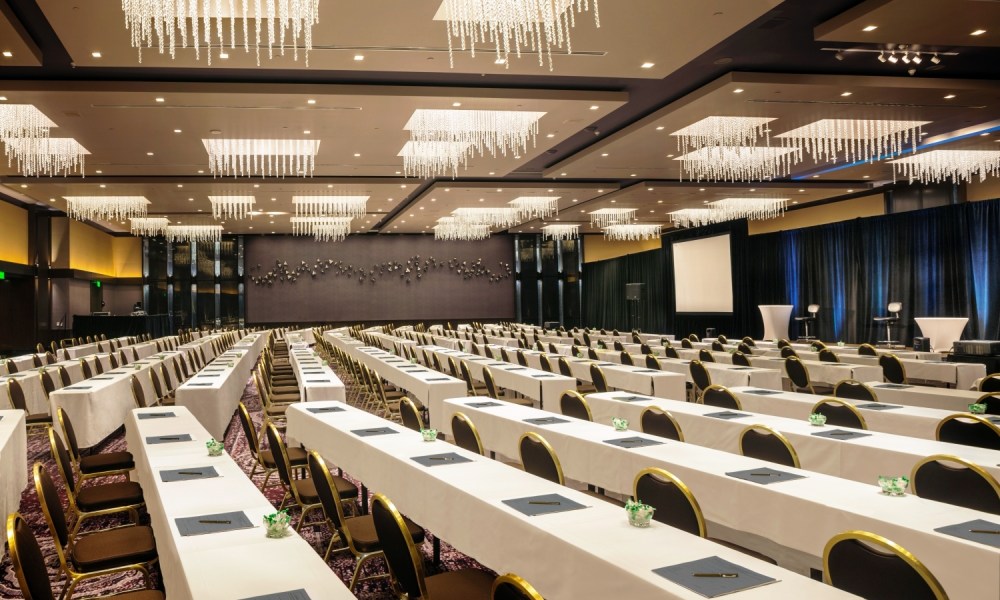 Favourite things to do in the area if you have a longer layover?
Our hotel was originally built for the 1984 Olympics, and Los Angeles will welcome back the Olympics and Paralympic Games again in 2028.
Los Angeles has fast become a major world-class sports destination, most recently in 2022 the Super Bowl was held at SoFi Stadium which is just 3.5 miles from our hotel.
We now host fans from across the country from various NFL teams, and of course local fans from our home teams. SoFi is also home to many other events and concerts. Guests can book a tour of SoFi Stadium, which I highly recommend, it's really incredible!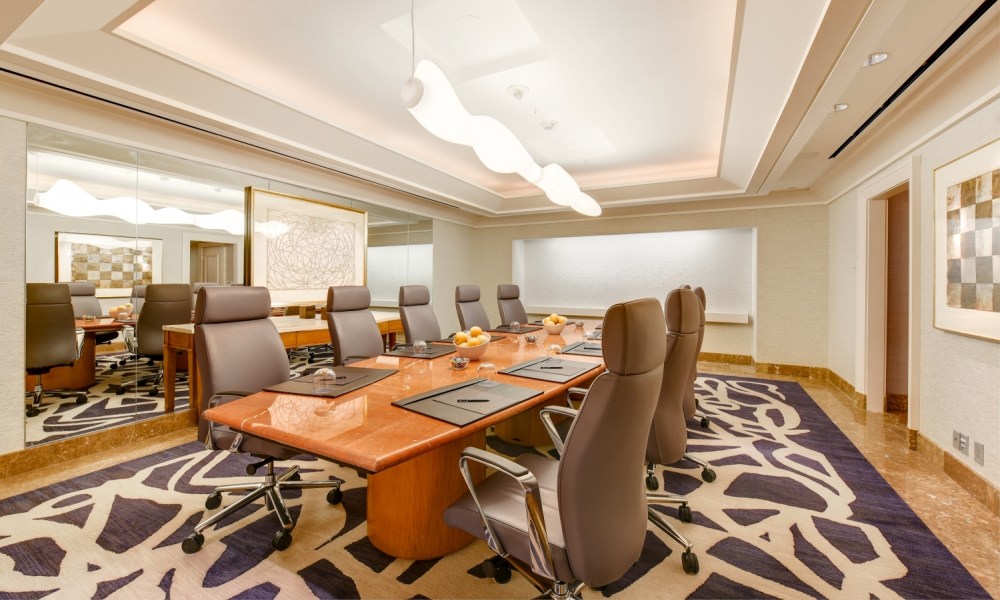 Another favourite thing to do is to go to Manhattan Beach, which is a short 15-minute drive from the hotel. Manhattan Beach is a quintessential Southern California Beach town with an easy-going beach vibe, tons of restaurants, cafes, boutiques.
Guests can enjoy the beach views while strolling along the Strand (a 22-mile bike and walking path that connects many of Los Angeles' beach towns from Santa Monica all the way to Redondo Beach), watch locals play beach volleyball, walk along the Manhattan Beach Pier, and catch one of our famous SoCal sunsets.
And lastly, I'm a golfer, so was excited when TopGolf opened up down the road in El Segundo, 15-minutes south of the hotel.
This is a great sports and entertainment venue and you can rent clubs to practice your golf swing!
ESSENTIALS: GETTING TO LOS ANGELES
The best way of getting to Los Angeles in comfort and style.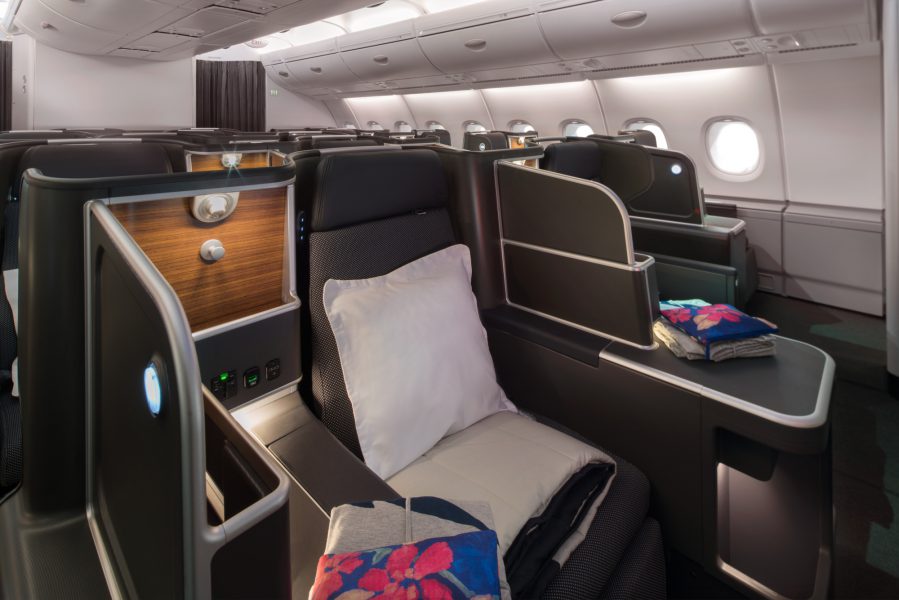 Qantas' brilliant Business Class 'Suite'
QANTAS BUSINESS CLASS
Qantas operates direct flights to Los Angeles from Brisbane, Melbourne and Sydney with Airbus A330s, A380s and B787s that feature the airline's latest Business Class cabin.
Qantas' Business Class cabin is headlined by a 'suite' seat – now available on all the Boeing 787-9, Airbus A330-200 and Airbus A330-300 jets in the fleet and select Airbus A380-800s – that has been popular with executive and leisure travellers since it first arrived on the scene in 2016.
This next-generation Business Class seat from the Flying Kangaroo can be reclined for take-off and landing, and the cabin offering also includes top Australian food and wine and world-class entertainment.
Wayfarer Host and Editor-In-Chief, James Gregory Wilkinson, experienced the new Business Class 'Suite' and click on the YouTube below to find out what you can expect onboard.