Air New Zealand is helping guests have more room in the main cabin on long-haul flights with the launch of a new 'Economy Stretch' product that's set to debut on flights to Los Angeles from February 27, 2023.
As Air New Zealand operates some of the world's longest flights, Chief Customer and Sales Office, Leanne Geraghty, said the product is all about "recognising one size doesn't fit all" and customers flying to Los Angeles now have three ways to fly in the main cabin including Economy, Economy Skycouch and the new Economy Stretch
Priced from an additional NZD$175 one-way, Geraghty said customers can upgrade to a dedicated stretch zone in the first four rows, enhancing the economy travel experience by having up to 39 percent more legroom than the airline's standard Economy seat, a roomy 35-inch (89cm) seat pitch, a comfortable headset and pillow designed for long-haul comfort and free advanced seat selection and early disembarkation.
She said space and comfort is always high on travellers' wish lists and Economy Stretch once more hits the mark.
"Customers have told us they want more room to relax, and at a competitive price," Geraghty said. "Economy Stretch answers this challenge, with some luxury for the legs all while enjoying our renowned in-flight service, Kiwi cuisine and wine, and seat-back entertainment.
"Through innovations such as the Economy Skycouch and with Economy Skynest launching later next year, Air New Zealand continues to push boundaries in Economy travel.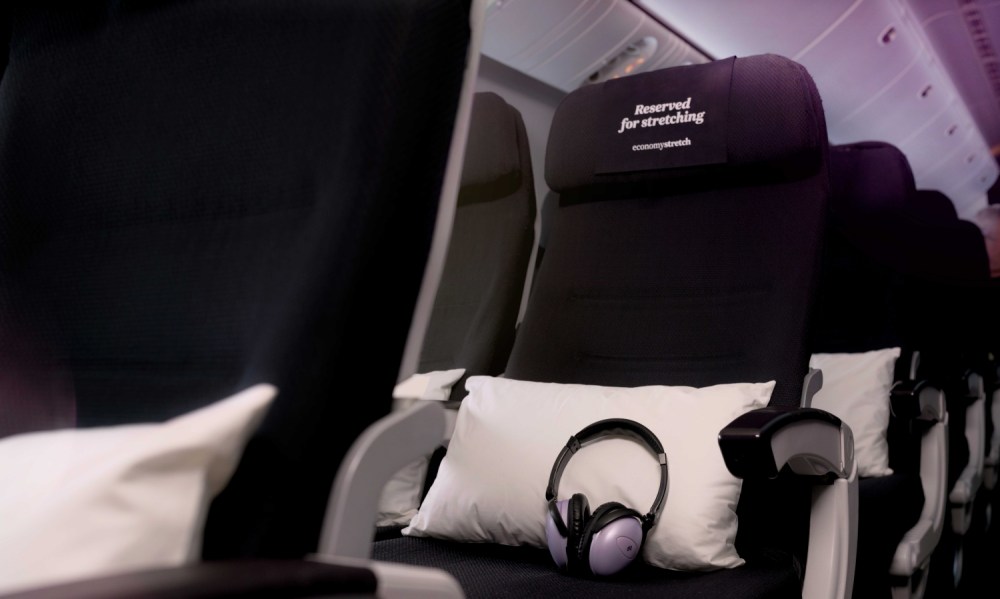 "The Economy cabin welcomes the most diverse group of travellers. The introduction of Economy Stretch means we are providing more choice for customers at an Economy price point that will meet the needs of families, solo travellers, as well as those just looking for that little bit extra of extra comfort," Geraghty said.
Economy Stretch is being introduced as the airline's Boeing 777-300s on the Los Angeles route are reanimated and return to service and will be 42 seats will be available on the flights.
Up next, Geraghty said Air New Zealand is looking to introduce Economy Stretch on its Houston route as part of phase two.