United Airlines has added the Boeing 777-300ER to its 2017 flight schedules, with the airline's newest aircraft type featuring the all-new United Polaris business class seats starting regular scheduled service in February 2017.
The aircraft's entry into service will also mark the debut of United's new wide-body cabin design.
Initially, United will offer one round trip six days each week between Newark Liberty International Airport and San Francisco International Airport between February 16 and May 4.
The airline expects to begin 777-300ER intercontinental service between San Francisco and Hong Kong on March 25, with the aircraft replacing a Boeing 747-400 currently being used on the route. Flight and aircraft schedules are subject to change.
United expects to place into service all 14 aircraft in its 777-300ER order in 2017.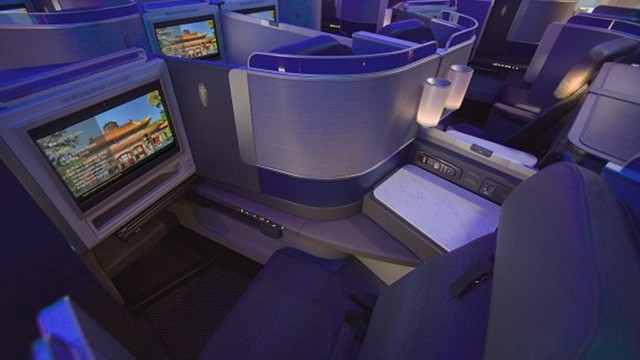 "Our 777-300ER fleet represents a new era in premium air travel," said United's Executive Vice President and Chief Commercial Officer, Julia Haywood.
"With United Polaris business class we are providing reimagined inflight dining, new amenities, the first United Polaris lounge at Chicago O'Hare International Airport and now this custom designed seat, all of which make for a tailored experience that prioritizes comfort and sleep."
United's 777-300ER aircraft will offer a modern, spacious interior envisioned in partnership with design firm PriestmanGoode, including the airline's all-new United Polaris business class seat.
Each United Polaris suite-like pod will feature direct access to the aisle, a 180-degree flat-bed that measures 6'6" and 23 inches wide with infinite seat recline options and one-touch lumbar support, ample storage, multiple surfaces that enable passengers to dine while working, universal A/C power as well as 2-USB ports, a 16-inch high-definition entertainment screen, electronic privacy dividers for seats in the center of the cabin, mood lighting and an illuminated 'Do Not Disturb' sign.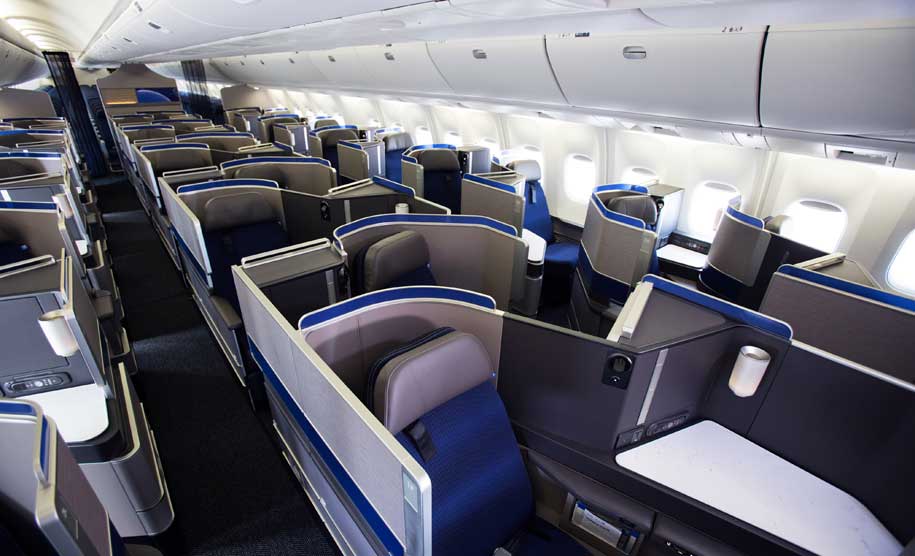 Additionally, a new marble-topped bar unit offers customers in business class a place to grab a mid-flight drink or snack.
The airline says this new seat "represents the latest in the continued roll-out of United Polaris, the airline's most significant product transformation in more than a decade, featuring a reimagined, sleep-enhancing experience for intercontinental travellers".
The Boeing 777-300ER aircraft will feature 60 seats in business class in a 1-2-1 configuration with direct-aisle access from all seats.
Throughout the aircraft, the cabin interior is comprised of bespoke branding elements as well as carpets, fabrics and wall laminates – that, like the United Polaris seat, were specially designed for United, as well as redesigned lavatories which include modern finishings and farmhouse-style sinks.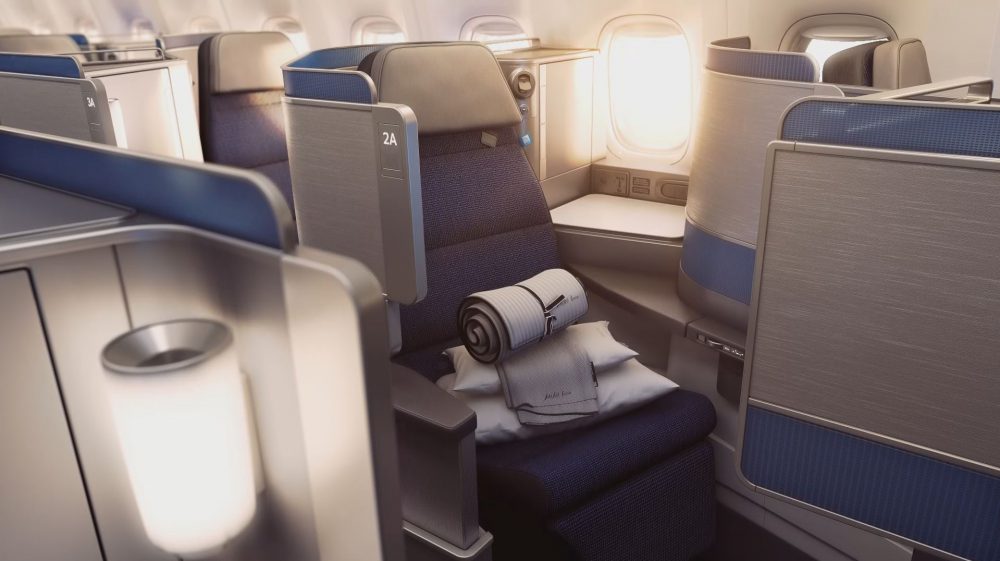 With a focus on providing a more tranquil journey for customers, the new cabin design features LED mood-lighting to complement sleep and assist with time-zone changes as well as textured and softer touch materials which not only provide a more premium feel, but will absorb aircraft noise and other sound within the cabin.
Seats in United Economy will offer two United Private Screening options – personal on-demand entertainment with high-definition seat-back monitors and USB ports along with United's personal device entertainment, enabling customers to play thousands of hours of movies and television programs on their electronic devices. Customers also will have access to in-seat power outlets and the opportunity to purchase satellite Wi-Fi.
The aircraft will feature 102 seats in United Economy Plus in a 3-4-3 configuration with 34 inches of pitch, and 204 United Economy seats in a 3-4-3 configuration with 31 inches of pitch.