Melbourne's own Grainshaker Australian Vodka has hit the market and it's already proving to be an absolute winner.
Grainshaker (AU$64.95 per 750ml bottle) has been launched with three handmade vodka varieties that sing on their own, and mix perfectly with others.
Not all grains are created equal, and Grainshaker has gone to painstaking lengths to source Australia's finest wheat, rye and corn for their three distinctive ranges.
"Vodka, for me, has always been the greatest expression of the art of distillation," said Master Distiller and legendary barkeep, Sebastian Reaburn.
"Our philosophy is to distil every part of the grain character, without the harshness. We have a custom-made twelve plate pot still where we manage every minute of distillation to achieve the sweet spot between flavour and smoothness."
Grainshaker is named for the original grain sorters that cleaned, sorted and graded grains at each harvest. The brand favours the traditional process of manually 'cutting' the head and tails of distillate by taste, keeping only the quality 'heart' of the distillation. From the silo to the serve, this is vodka the Australian way.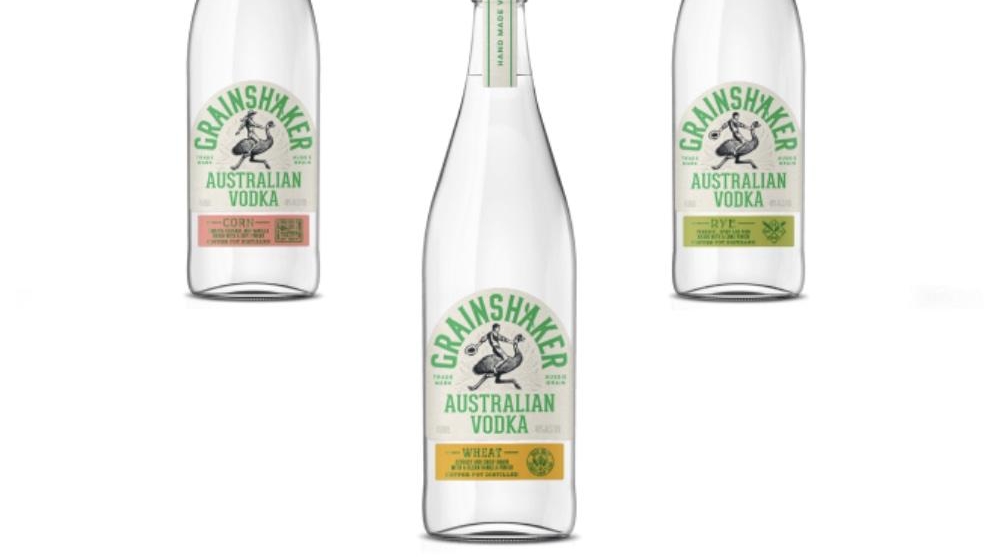 Grainshaker Wheat – A combination of different wheat distillates blended and re-distilled together. Wheat is the cornerstone of Russian vodka; it is synonymous with the spirit. This clean, light grain has notes of vanilla, citrus and a hint of anise. It pairs perfectly with lime, works harmoniously in cocktails and shines in a vodka spritz.
Grainshaker Corn – Distilled with a combination of wheat and corn. Famous for the flavour it gives to American whisky, corn is the grain gaining traction with innovative new spirit brands. Bringing softness and a hint of mellow caramel, corn is the warmest flavour in the Grainshaker line and craves to be coupled with the likes of coffee, ginger beer and grapefruit.
Grainshaker Rye – Created with a combination of wheat and rye distillate. Rye is the traditional spirit grain of Poland, which is famous for bold vodkas and rye loaves. This smooth vodka is characterised by brooding spices, fresh bread, and an almost dark chocolate finish. Add a dash of fresh lime, or use in a vodka martini – for Reaburn, it's made for dirty martinis.
Reaburn himself has an enviable industry reputation, having made cocktails, served spirits and managed brands for over two decades.
He has been recognised for his work at prestigious venues (such as 1806 and Heartbreaker) with a slew of awards, and in 2016—2019 honed his skills as a House Distiller at Craft & Co., before joining Top Self International.
The only way to ensure a flawless, smooth and irresistible product, Reaburn insists, is to personally oversee and sample every step of production. It is this attention to detail, and hands-on approach that sets Grainshaker ahead of its competitors.
Grainshaker is a craft brand with global ambitions. The purpose-built Campbellfield distillery was created with scalability in mind and has the infrastructure to service global demand, without sacrificing Grainshaker's trademark personal touch.