To celebrate all things festive, Bacardi-Martini Australia has released a fantastic range of limited-edition Christmas gift packs.
Whether you're in need of a present for the cocktail connoisseur or feeling like treating yourself this festive season, Bacardi-Martini has something for every adult this Christmas. Here are three of our picks.
BOMBAY SAPPHIRE GIN AND GLASS GOBLET
Aiming to stir cocktail creativity this Christmas? Bombay Sapphire's iconic blue bottle and stunning Gin & Tonic Glass Goblet compliment any holiday drinking occasions. Brilliantly straightforward and extremely satisfying, the floral earthiness, fresh citrus and juniper botanicals of Bombay Sapphire make it the perfect base for any G&T.
Available now at Dan Murphy's, Liquorland and other select independent stores (RRP: $60).
GREY GOOSE VODKA AND SPRITZ CAN
If you're hoping that Santa will restock your home bar this Christmas, Grey Goose has you covered. The world's best tasting vodka is offering a full bottle along with a complimentary cooler can that will keep your vodka cocktails chilled all summer long. This premium vodka is made from the best ingredients from France, soft winter wheat from Picardie, plus pure spring water from Gensac in the Cognac region, nurtured and captured from field to bottle in a seamless process.
Available now at Dan Murphy's and select independent stores (RRP: $70).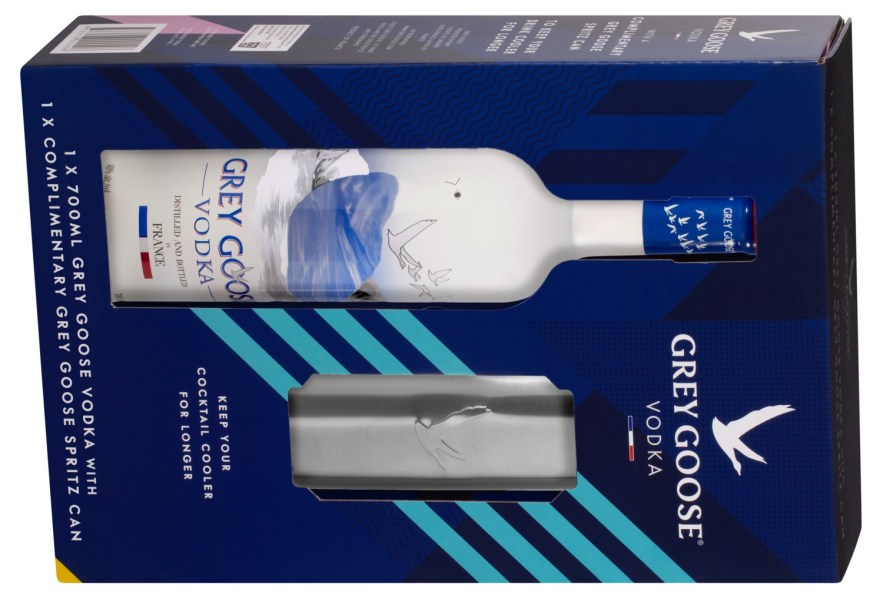 PATRÓN SILVER TEQUILA AND COCKTAIL SHAKER
Shake things up this Christmas with the incredibly versatile Patrón Silver, which can be sipped neat, from the freezer, over ice or mixed into a range of delicious cocktails, like the fan-favourite Margarita. The white spirit is handcrafted from the finest 100% Weber Blue Agave, distilled in small batches at the Hacienda Patrón in Jalisco Mexico. Patrón Silver has a smooth, sweet taste with a fruity, citrus aroma and a light pepper finish.
Available now at Dan Murphy's and select independent stores (RRP: $90).