Le Méridien Hotels and Resorts makes its return to the Australian market with the opening of Le Meridien Melbourne on Thursday March 16.
The European-born brand, part of Marriott Bonvoy, is expected to appeal to creative, culture-focused travellers, particularly given the new hotel's location which has been a cornerstone of Melbourne's arts and culture scene for decades.
"It has had many incarnations; as a theatre – it was the Metro Palace Theatre – a cinema, a nightclub, but it originally started as a hotel. It was the Excelsior Hotel. So, it has come full circle," Marriott International Area Vice President, Australia, NZ and Pacific, Sean Hunt, told Wayfarer.
"We still think there's huge potential in Melbourne. This is our 10 hotel in the city; the Ritz Carlton which opens next week which will be our 11th.
"I think this hotel will have a really wide appeal. It will play a huge part in activating the local community. I think we will see new restaurants, bars, and retail coming in around this five-star hotel."
The 12-story property, which was first built in the 1850s, retains its original Art Deco façade of red brick and stained-glass, and includes a private porte-cochère driveway, mid-century interiors, polished natural stone, and terrazzo.
Designed by Peddle Thorp, it features 235 mid-century inspired guest rooms including 14 suites, a ground floor café and bar, restaurant, and a rooftop pool and terrace complete with open-air bar.
"The food and beverage venues are all based around theatre," Hunt explained.
"The café/bar in the lobby is called Intermission, and the restaurant and bar downstairs is called Dolly, it has this curved balustrade staircase leading to this very moody 1930s backdrop that evokes the mystique of backstage."
Later this year, the terrace will host a seasonal pop-up cinema in collaboration with Melbourne International Film Festival.
On the wellness front, the hotel offers a 24-hour TechnoGym with virtual personal trainers and a sauna.
The hotel's heavy focus on art and culture sees large-scale murals by local artist Stephen Baker, a sculptural installation by Marta Figueiredo and projected video art by Wendy Yu.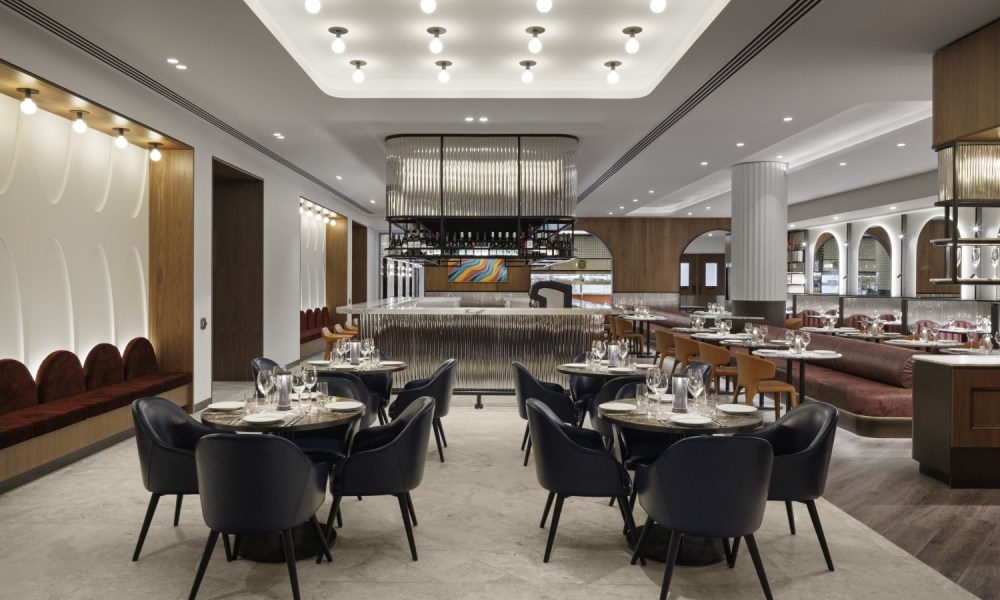 Le Méridien's global Unlock Art programme which includes a self-guided walking tour and complimentary access to local cultural attractions, is also a feature of the Melbourne offering and can be accessed by guests when they present their room key.
"We are excited to draw back the curtain on Melbourne's most glamourous new hotel and invite guests to savour the good life through immersive art, elevated European dining, and our showpiece rooftop pool," said Le Méridien Melbourne General Manager, Peter Minatsis.
The hotel will also appeal to corporate guests with 420 square metres of total conference space, a dedicated meetings floor with four additional rooms and three private working booths.
The Melbourne hotel is the third in ANZP, following hotels in Noumea and the Isle of Pines in New Caledonia, and Marriott has plans to grow the brand's presence in the region.
"We will see more Le Méridien's in this part of the world," Hunt said.
"We have such a big stable of brands in this region – we have 32 now – and we will have 19 [new hotels in the Marriott portfolio] by the end of the year."