Qantas' A380 First Class is the airline's finest cabin and when you're off on QF11 to Los Angeles, you're on one of the two flagship routes. Onboard, few airlines offer what Qantas does, which is an international restaurant degustation experience in the sky before resting your head in a bed that's better than what's found at many of the world's leading hotels. By James Wilkinson.
Route: Sydney to Los Angeles
Aircraft: Airbus A380-800
Class: First
Seat: 2F (aisle)
CHECK IN EXPERIENCE
Qantas has a dedicated First Class check in area at Sydney International Airport and when you're booked in First, this is where the experience truly begins (well after your chauffeured drive from home or a hotel of course). When you arrive you'll be greeted at the car by a First Host and porters to carry your luggage, then it is off to the check-in desk, after which you'll be escorted through immigration and security and into the lounge where your pre-booked spa treatment and reserved dining table await.
When you are booked in First Class, many airlines drop the ball when it comes to check-in, but it's this experience at Sydney Airport that gives Qantas a real edge when flying from Australia. Qantas has notoriously had great very high service levels at the airline's home port, but for First Class passengers they go above and beyond to ensure your journey is akin to a six-star hotel experience from start to finish.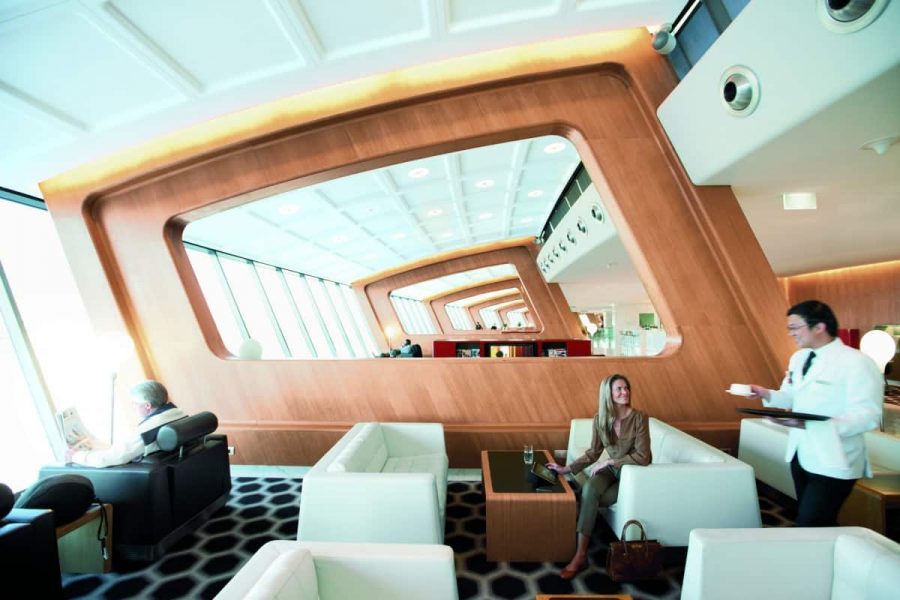 The Qantas International First Class Lounge at Sydney Airport
LOUNGES
The flagship lounge for Qantas, the International First Lounge in Sydney is nothing short of exceptional. There's a restaurant operated by Neil Perry's Rockpool Group – and here expect several signature dishes including favourites steak frites and salt and pepper squid, alongside wines served on-board in First Class such as the Vasse Felix Cabernet Sauvignon, the Coldstream Hills Sauvignon Blanc and several champagnes, including Perrier-Jouet and Taittinger bruts alongside the GH Mumm Rose.
Here, there's also a day spa (several treatments are available, including facials and massages, and it's open from 8am to 6pm daily), private suites, meeting rooms and comfortable furniture created by renowned international designer Marc Newson. There are views of the main runway, Qantas' departure gates (where flagship A380s are awaiting departure) and across to the skyscrapers of the Sydney CBD.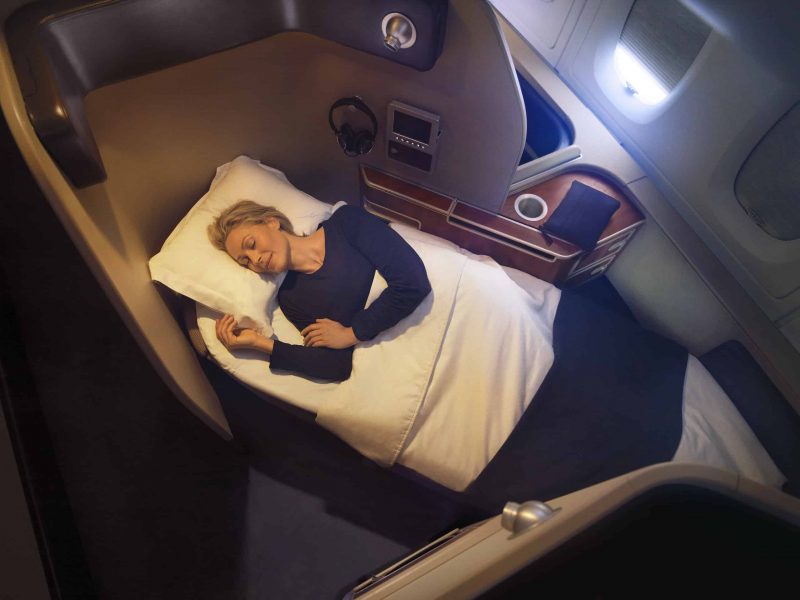 The Qantas First Class Suites converts into a fully flat bed and comes complete with a turn-down service
THE SEAT
Qantas' A380 First Class Suites designed by Marc Newson are spacious, comfortable and a significant step up from the Skybed seats in Business. Each of the private suites have a wide screen LCD video monitor, a unique touch screen control unit and a seat, manufactured by B/E Aerospace's VIP jet group, that swivels and reclines into a comfortable armchair. The suite also comes complete with a leather guest seat and there's also a large dining table designed to accommodate two, which is ideal for one of the on-board degustation dinners matched with wines.
When it's time for sleep, the seat reclines into a fully-flat 212cm long bed that's akin to a luxury hotel experience thanks to the oversized cotton pillows, sheepskin mattress, cotton duvet, wool blanket and fitted cotton sateen sheeting. You'll hop into bed wearing 100% cotton First Class Sleeper Suits courtesy of designer Martin Grant (that come with a pair of slippers and First class socks) and after having put on your SKII facial cleanser (as part of the signature amenity kits that also include a shaving kit for men or a compact mirror for women).
For those in the window seats (score one if you can), you'll also find electronically controlled dual layer window shades.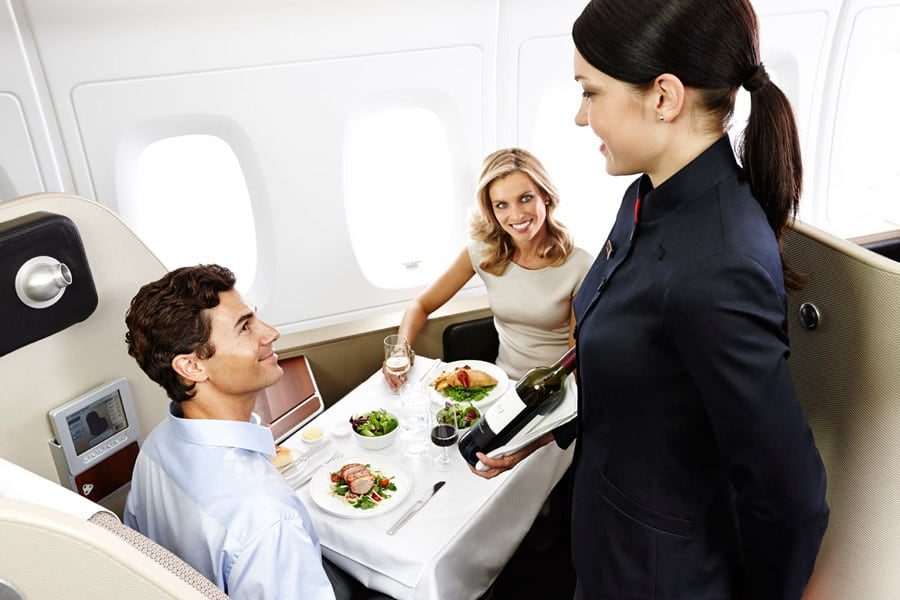 The food and wine in First Class is truly a fine-dining experience
FOOD AND DRINK
This is where Qantas truly excels – there's an on-board menu that features food that's as good, if not better than what you can find at the Rockpool restaurants and the airline embraces Perry's paddock to plate approach.
So, expect some of Australia's top producers on the menu, including Cape Grim Beef, Maggie Beer jams and Pepe Saya butter. You'll find canapés, soups and salads, small plates (including pumpkin empanada, salmon tataki and steak sandwiches) and larger sized meals including duck leg or sea bass or lasagne. Right now, it's hard to go past the veal cutlet with green beans, potato and cabbage gratin, or the Pappardelle with smoky eggplant, capsicum, pumpkin and pecorino. On the flight I was on there was a terrific warm caramel apple tart and vanilla cream.
Now there's something else quite exciting and that is Qantas offers an 8-course Rockpool tasting menu on-board in first, which highlights the best of the menu and which is updated seasonally. This will give you a real restaurant-style degustation experience and it comes with matching wines.
When it comes to breakfast, there is fruit, cereal and selections from the bakery, plus a hot meal choice, which currently includes free range scrambled eggs on toast with smoked ocean trout, a fontina and herb omelette with mushrooms, baby spinach and tomato chutney, or French toast with roast pears, maple and vanilla cream.
On the wine side of things, the flight starts with a glass of champagne and not just any champagne, but one of the three of the finest drops in the world, which have recently included 2000 Taittinger Compt de Champagne blanc de blanc; 2000 Pol Roger Sir Winston Churchill; and2004 Veuve Cliquot La Grand Dame.
That's just to start and when it comes to table wines, expect the likes of a Tyrrells Vat 1 Hunter Semillon, or a Clonakilla Shiraz Voignier. These are two of Australia's best wines and that's a significant investment for Qantas to be serving them when they are selling for well over $100 a bottle retail… if you can find them.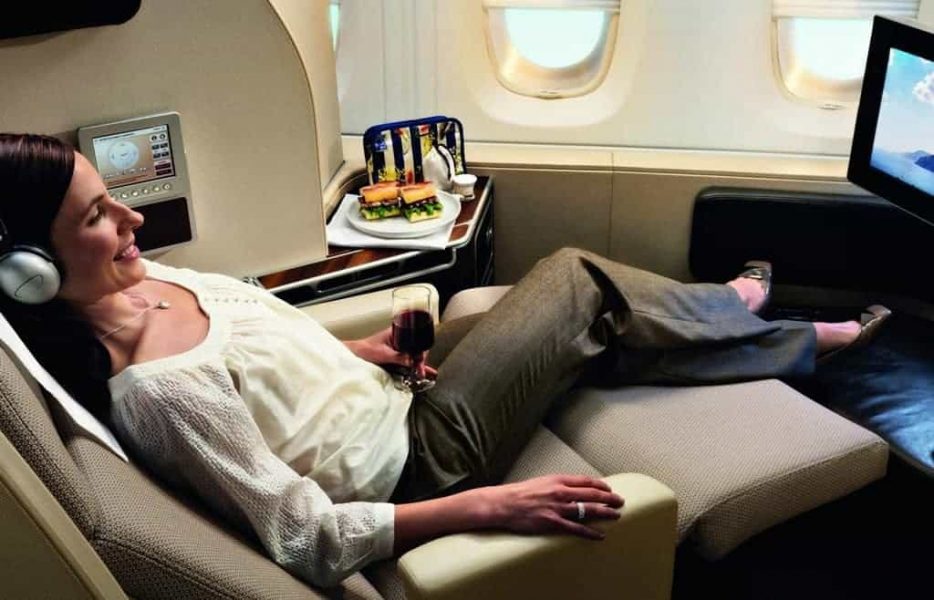 Sit back and relax: Qantas has some top-notch entertainment
ENTERTAINMENT
Since the introduction of Qantas' A380s, the entertainment onboard (across all cabins in fact) has been industry-leading, thanks to offerings such as the Oscar Classics movie section and latest TV shows from HBO. In the First Class Suites, it's ramped up even further thanks to the 17 inch touch screen TVs and noise-cancelling headsets, which are idea for watching films currently being screened inflight such as Star Wars: Episode VII The Force Awakens and the latest 007 action thriller Spectre. There are more than 1000 entertainment options on-board spanning movies, TV programs, CD albums, interactive games and radio channels. Want to watch from your own iPad or laptop? There's a 110v AC power outlet to keep you charged up.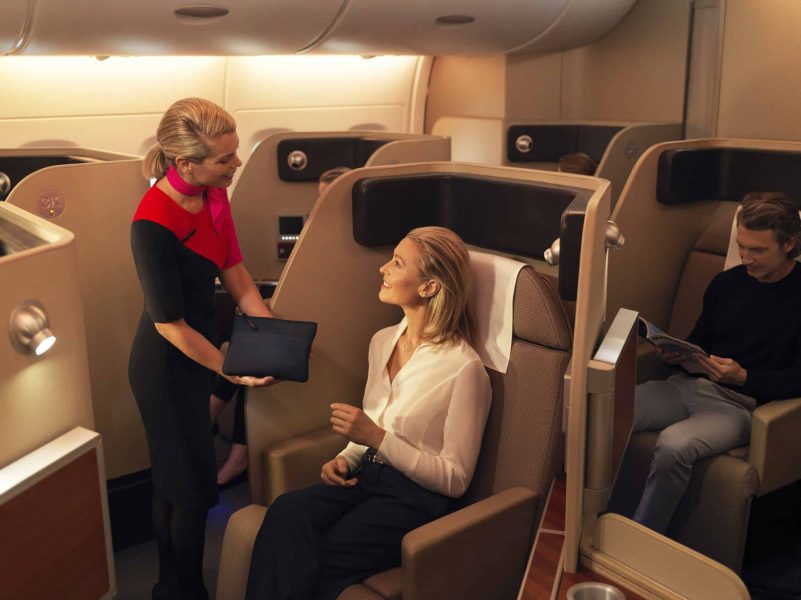 The Qantas in-flight service in First Class is some of the best in the sky
INFLIGHT SERVICE
You can have a spacious, high-tech seat, great wine and top food from noted chefs, but a real flying experience comes down to excellent service and in Qantas First Class, you are getting the best of the airline's highly-trained crew. From being greeted at the door when you board to having a glass of your preferred champagne waiting on a tray for you (expect three choices from the world's top champagne houses) and refresher towel, staff are polite, prompt and efficient.
During the flight, you won't be woken if you're sleeping, nor will they intrude you while you are awake – it's a thin line when it comes to First Class service for too much service and not enough, but on this A380 flight to Los Angeles, it was impeccable.
If you'd like a newspaper, a snack, a Pinot Noir from the Business Class cabin or an extra pillow, then it's simply a question of asking and the staff will happily oblige. Remember, the Qantas A380 First Class cabin is only 14 seats and with several crew on duty, you'll have a response within seconds of pressing the call bell.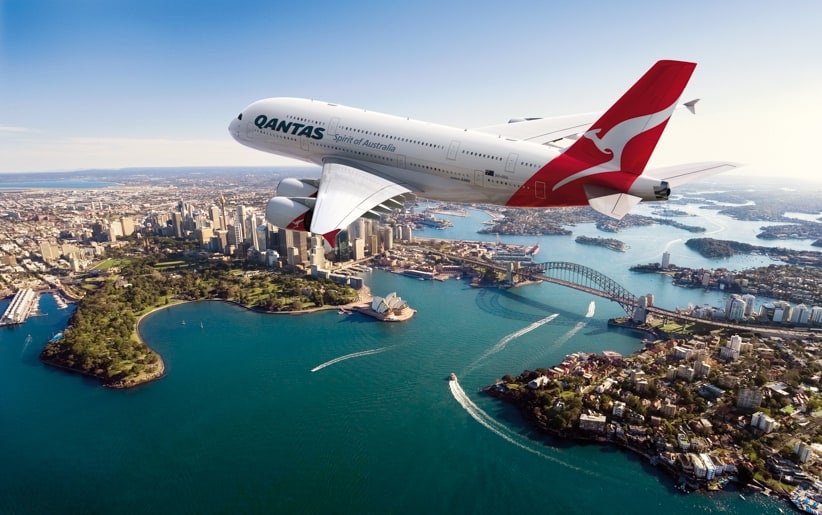 Qantas flies A380s from Sydney to Los Angeles, Singapore, Hong Kong and London
VERDICT
From Qantas' First Hosts to the Rockpool degustation inflight and the chauffer drive to the hotel in Los Angeles at the end of the journey, what the airline offers is a luxurious experience matched with great Australian service, design, produce and wine.
While many airlines have great seats and entertainment, few have been able to emulate what Qantas has achieved with First Class when it comes to food, wine and service, because it is impeccable.
Qantas recently teamed up with Rockpool for the inflight beverage service for lounges and in the air, so expect more top Australian boutique producers onboard and word has it, soon some classic cocktails like Old Fashioneds and Negronis. Watch this space.