Lenovo recently debuted the Duet Chromebook and it's a product that offers fantastic value for money and lightweight portability, elements that make it ideal for the travelling executive, writes James Wilkinson.
In recent years, the tablet market has seen devices get both larger and smaller, and more powerful and HD than ever before.
Amongst what is now a crowded market, a few devices have been clear standouts, like the Lenovo Duet Chromebook (AU$499), which is up there with the best releases of 2020.
Here is a tablet that is practical for business one minute – thanks to the full power of programs like Microsoft Word, Excel and PowerPoint – and entertainment the next, thanks to the best of Disney+, Netflix, YouTube and Amazon Prime Video broadcast on the 10.1-inch FHD IPS touchscreen that offers 1920 x 1200 resolution.
The Lenovo Duet Chromebook has 4GB RAM and 128GB SSD storage, making it both fast and powerful enough to play and store a decent number of apps, movies, games and music. It also has a 10-hour battery life, making it ideal for flights without power ports and for remote business presentations.
Making the business ease-of-use even more impressive is the plug-and-play keyboard with a fully-functional keypad, meaning you could be forgiven for thinking you are using a laptop while preparing a presentation on PowerPoint and not a tablet.
The keyboard is part of a magnetic cover, so it adds a layer of protection for the Lenovo Duet Chromebook as much as it does be a practical addition for typing and working.
Where this product – which is one of the lightest and thinnest Chromebooks in the market – also excels is in the start-up speed. The Duet can boot-up in just eight seconds, faster than many laptops, and it also runs automatic updates in background, meaning you are always running the latest and most secure version.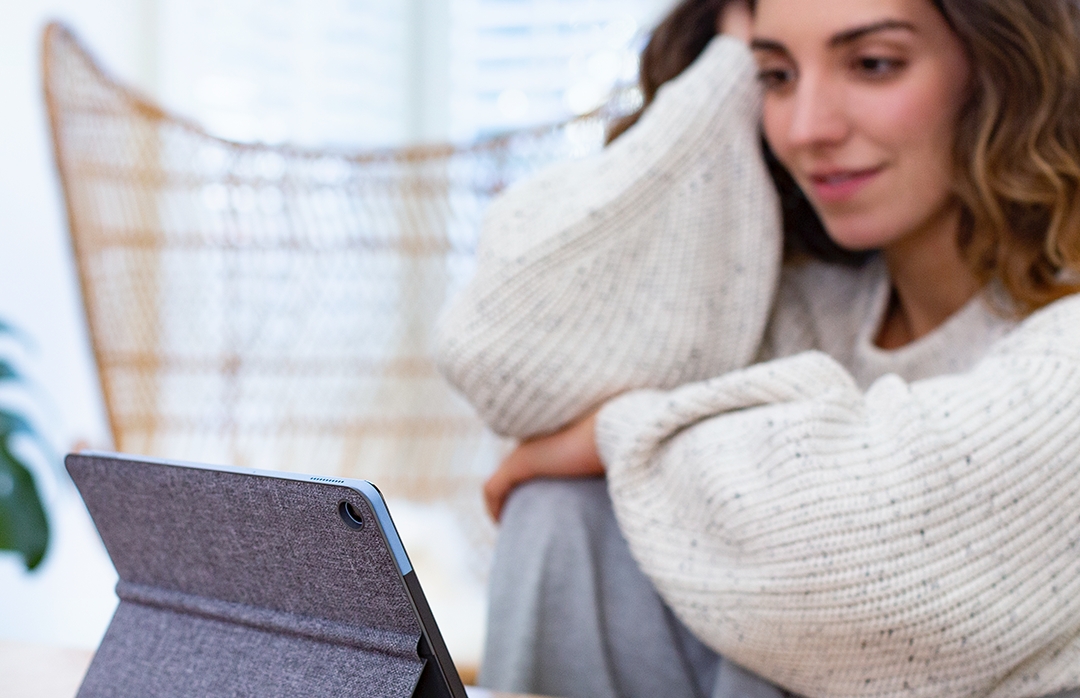 The accessibility with Google also makes the device all the more streamlined with both work and play. Simply log-in with your Google account and mail will automatically set-up and you'll have quick access to the Google Play Store, plus the Chromebook purchase includes a 12 month, 100GB membership of Google One (which can also be family shared).
The Lenovo Duet Chromebook is also a stylish device. It has a distinctive dual-tone design that's comprised of an Ice Blue/Iron Grey colour and aluminium alloy body, along with a premium grey fabric material of the keyboard and stand cover.
Priced at just AU$499, the Lenovo Duet Chromebook is not just fantastic value for money, it impresses with its performance and practicality and is firmly a must-have for both executive travellers and family members alike.