Delta's new business class Delta One Suite is now in the sky and it's a game-changer on trans-Pacific flights, writes WAYFARER Host and Editor-In-Chief, James Wilkinson.
When Delta unveiled its new Delta One Suite in 2017, expectations were high that the product wouldn't just be one of the best business class cabins in the United States, but anywhere in the world.
Few airlines at the time – and since then – have unveiled business class cabins with sliding doors (Delta was first and now also find them on ANA, China Eastern, Qatar and soon semi-closing doors on Delta's partner Virgin Atlantic) as this has been something reserved for first class on many carriers.

.
Delta's Vice President for Los Angeles and Australia, Scott Santoro, talks exclusively to WAYFARER about the new cabins and much more
It was a big move from Delta to go down this path, but having a hybrid first/business class cabin – along with an all-new premium economy cabin called Delta Premium Select – is where the airline sees the future of flying.
The airline has certainly got it right, because the new Delta One Suites – now available on the Boeing 777-200LR and Airbus A350-900 – are more of a global first class offering than a business class product and the offering is nothing short of exceptional.
To find out what you can expect onboard, WAYFARER tested out the Delta One Suite on a Boeing 777-200LR flight from Los Angeles to Sydney recently.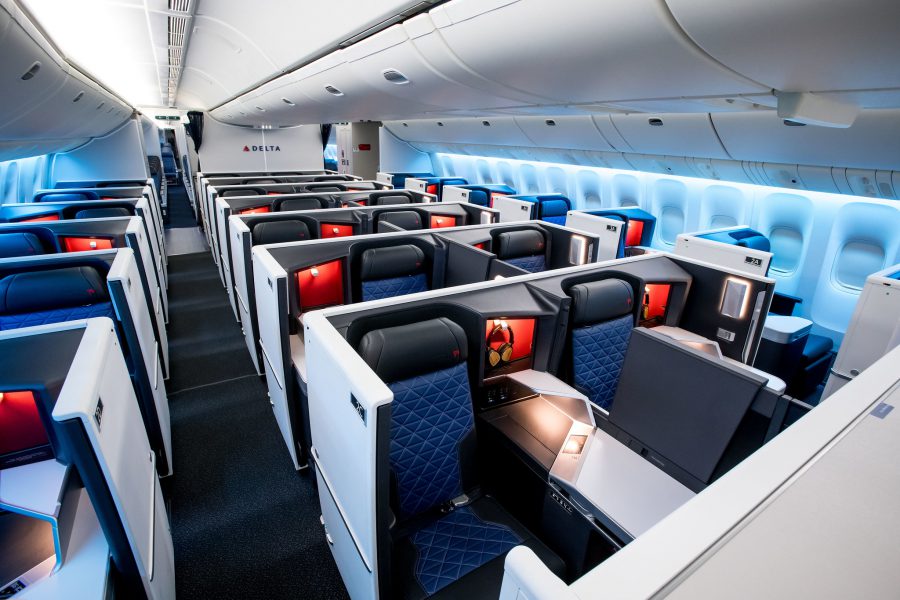 The Delta One Suites are in a 1-2-1 layout
THE DELTA ONE SUITE
The first thing you will notice is a wide, spacious area for the seat and side table. Then you'll find the sliding door, which when closed offers plenty of privacy and you don't remotely feel claustrophobic.
Delta was the first airline to unveil a sliding door in business class and they have created a residential-style area that's more than just a seat with a door hinged onto the sides.
The suite seats are wide at 24-inches and recline to 79-inches on the 777-200LR and 81-inches on the Airbus A350. They recline to fully-flat beds and have memory foam cushions that are also some of the most comfortable in the air.
The suites are in a 1-2-1 layout (all with full aisle access) and the pick of the seats are most definitely the window booths. Should you be travelling with a friend or a loved one, the centre seats are spacious and when the doors are closed, offer a lot of privacy and makes the experience most definitely a fun one. If you end up in one of the centre seats and don't know the person next to you, you'll find a privacy screen.
What I really like about the Delta One Suites is the amount of space the area offers. There's a large area to the seat, which means you can put your laptop, tablet or book next to you while you eat and there's still plenty of room.
The slide-out tables are sturdy and well-sized, meaning your suite can turn into a mini office or a personal flying restaurant.
When it comes to storage, there are dedicated compartments for headphones, laptops and shoes and large overhead bins above each suite.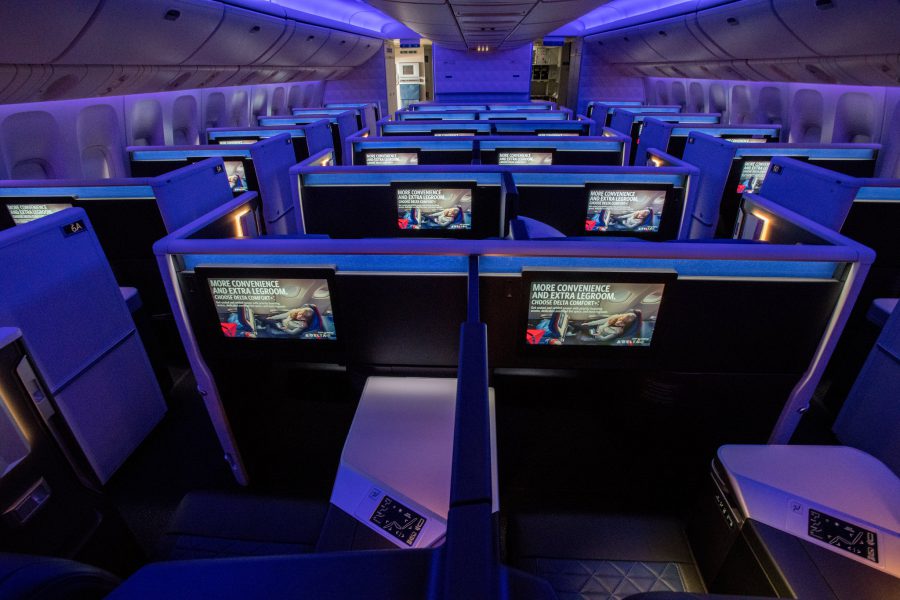 The Delta One Suites have some of the largest TV screens in the sky
IN-SUITE TECHNOLOGY & ENTERTAINMENT
Delta really impresses when it comes to in-Suite technology. You'll find high-powered USB ports and universal power outlets, alongside high-speed inflight WiFi.
Entertainment is available in the form of an 18-inch, high-resolution in-flight entertainment TV screen, which offers brilliant clarity and sound, especially when you bring your own Bose or Sony noise-cancelling headphones – or if you forget them, the LSTN headphones on offer also impress.
Delta's current onboard offering has hundreds of options and includes new-release movies such as A Star is Born, alongside action, comedy, drama and family films and much more. There are also TV programs to watch, games to play and albums to listen to.
The Suites also come with customisable ambient lighting and a Do Not Disturb light on the outside for extra privacy.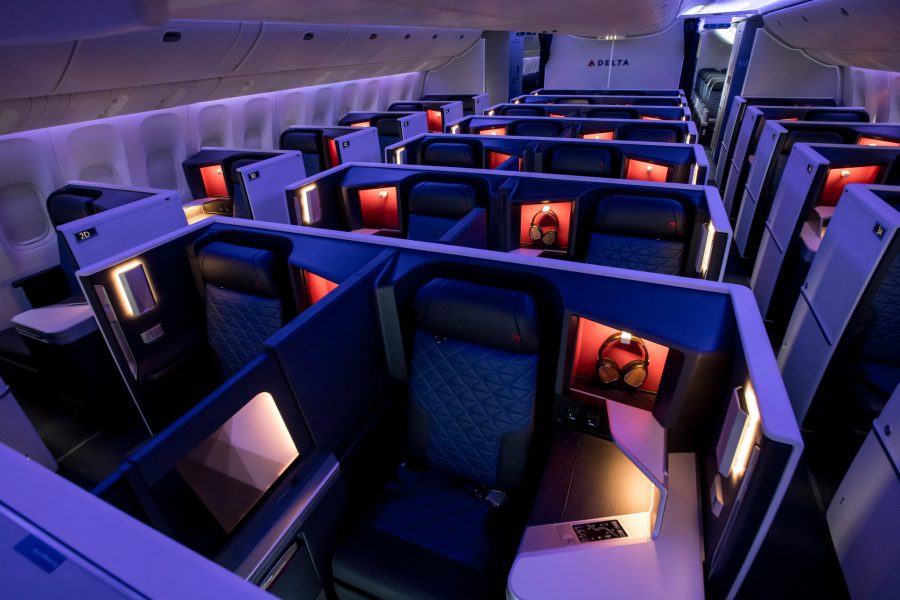 The Delta One Suites offer customisable lighting for all passengers
IN-SUITE DINING
Delta One features menus created by some of America's leading culinary stars including Los Angeles-based chefs Jon Shook and Vinny Dotolo (known for meals such as marinara braised meatballs and BBQ chicken with mac and cheese) and dishes are well-sized and presented on stylish crockery and cutlery from renowned design company Alessi.
The food onboard the flight from Los Angeles was fresh (especially the meat, potatoes and beans) and well presented while the wine list, curated by Delta's Master Sommelier, Andrea Robinson – that included international and American wines such as the Ventenac Les Plos Chardonnay, Ritual Pinot Noir, Robert Hall Cabernet Sauvignon and Centerpiece Chardonnay – had some enjoyable drops.
With the suite offering so much space, the personal dining experience was elevated as a result. Having the room to be able to have your drinks on the side table – or continue working on your laptop – while eating is a significant bonus and step-up from the old Delta Business Class offering.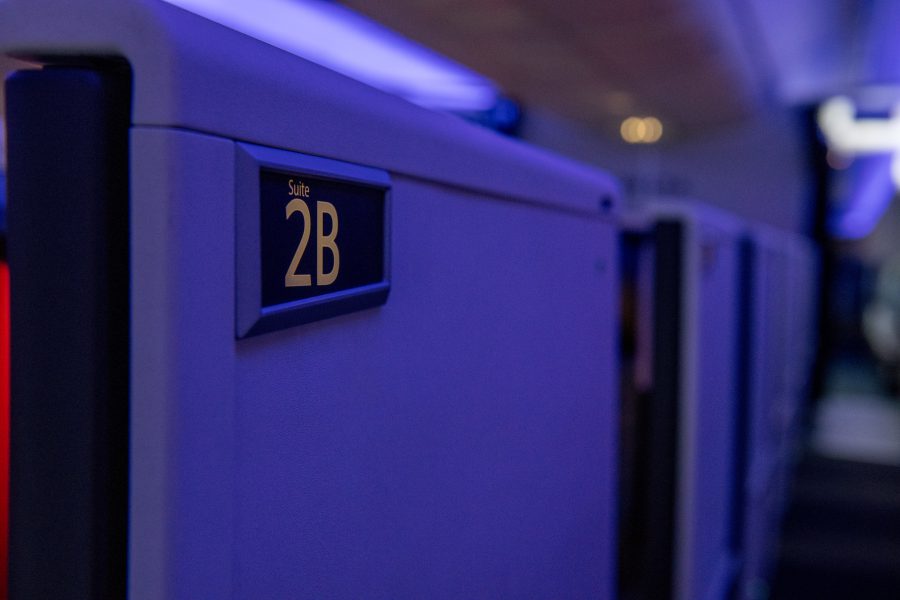 The Delta One Suites feature significant privacy thanks to the sliding doors
SLEEPING, PAMPERING & SERVICE
When you arrive at your Delta One Suite, you'll receive an impressive TUMI hard shell amenity kit that's loaded up with the luxurious Kiehl's skincare products (Kiehl's Lip Balm #1 and grapefruit-scented Deluxe Hand and Body Lotion with aloe vera and oatmeal) alongside socks, an eyeshade, toothbrush and toothpaste, mouth wash and ear plugs.
After freshening up, the cabin crew will get you ready for sleep with the Westin Heavenly in-flight bedding that feels soft on the skin and will ensure you're comfortable for the 14-hour flight to Sydney.
It is a shame that no pyjamas were available on Delta, so bring your own and you'll be comfortable in the Westin Heavenly bedding products.
On the service front, the hospitality from cabin crew on the flight was impeccable and having the Do Not Disturb sign and a closing door meant an opportunity for plenty of rest on the flight.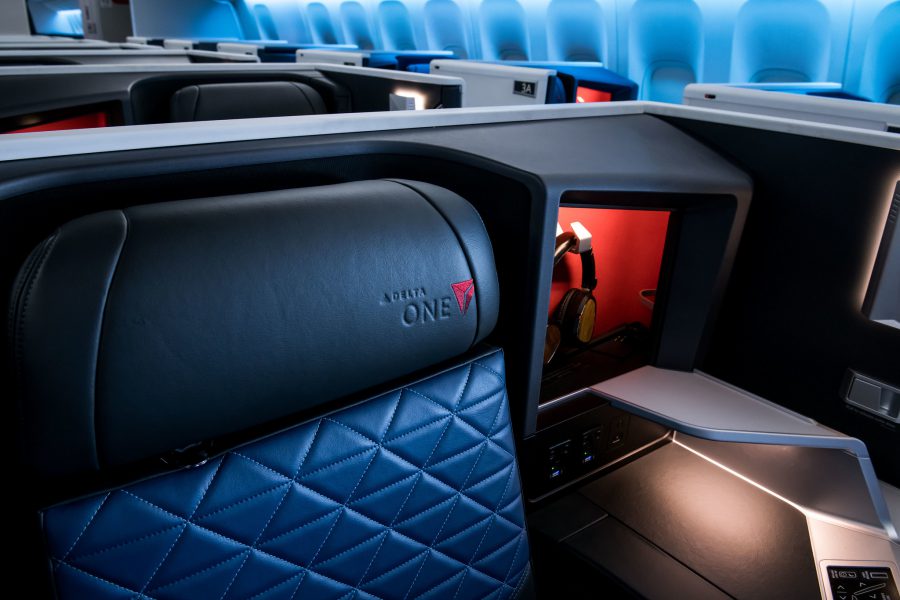 The Delta One Suites have plenty of storage spaces
AIRPORT EXPERIENCE
Delta operates from T2 and T3 at Los Angeles International Airport. At present there are significant upgrades underway (the airline is spending US$1.9 billion on the project) and the Delta Sky Club is available before departure.
Given LAX is in the throws of massive upgrades – including the re-modeling and expansion of terminals and the addition of a new sky train – you should aim to get to the airport around 3 hours before your flight and enjoy the food and drinks in the lounge.
At Sydney Airport (if flying to LAX), you'll have access to the SkyTeam Lounge just past security and duty free.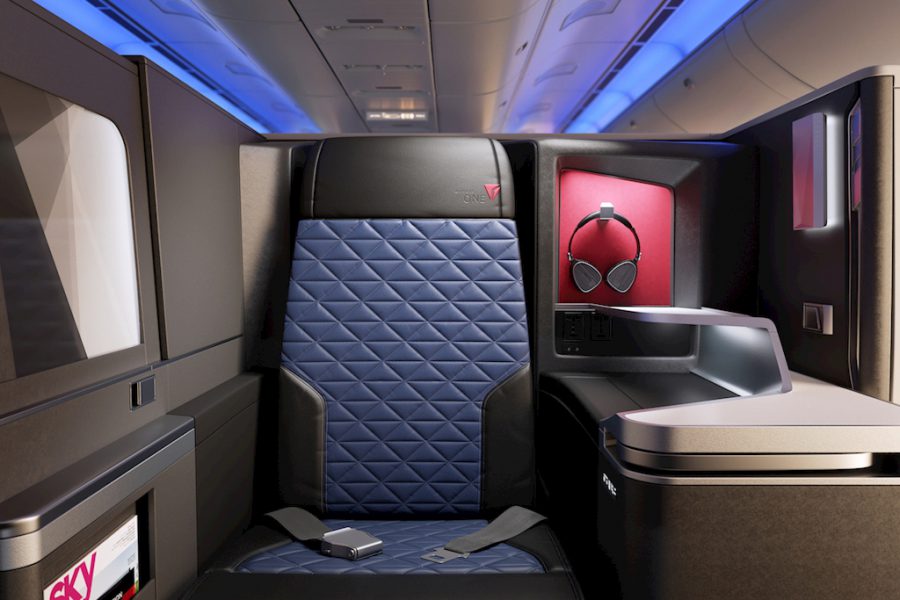 Expect to get a great night's sleep in the Delta One Suite
LAST WORD
Delta has upped the ante in business class with the new Delta One Suite, especially on such a busy route as Los Angeles-Sydney where there is competition from American Airlines, Qantas, United Airlines and Virgin Australia directly and Air New Zealand, Fiji Airways and Hawaiian Airlines with one-stop offerings.
Having complete privacy in a suite that feels like an international first class product is absolutely a game-changer from Delta, especially when you consider the airline didn't just upgrade the hard product, but the soft offering as well.
On the overnight flights, you'll eat and sleep well, while on the day flight back to LA, it's a great opportunity to work or relax in a very comfortable environment.
It's a five-star offering and one that truly is nothing short of exceptional.