Launceston's new Peppers Silo Hotel has opened its doors to the public with an official celebration, of more than 1000 guests and dignitaries gathering to commemorate the landmark hotel opening last Friday, June 1.
Originally erected in 1960, the Kings Wharf grain silos were left unused for decades until two years ago when construction began to breathe new life into the structure, transforming the silo barrels into a state-of-the-art contemporary new hotel.
The redeveloped site is now a ten-level hotel featuring 108 guest rooms, including 52 inside the barrels of the former silos, a restaurant and bar called Grain of the Silos, undercover car parking, conference facilities for up to 500 people, and an integrated lobby and reception space.
Located in a prime position on the edge of the River Tamar and close to the beautiful Cataract Gorge, the once unused silo barrels have transformed into a $25-million luxury-by-design redevelopment which includes one and two bedroom apartments.
Amenities at Peppers Silo includes a fully equipped gym, relaxing day spa, child minding facilities, hairdressing salon, function centre, private dining rooms, restaurant and cocktail bar with views overlooking the water all the way to Cataract Gorge.
For all day in-room dining options, Grain of the Silos, is the property's onsite restaurant and bar, which is open to the public for breakfast, lunch and dinner and features a range of decadent meal options, focused truly on local Tasmanian produce and supporting local farmers and producers.
There are two driving forces heading up the kitchen, with Head Chef Peter Twitchett, and Food Director and TV personality Massimo Mele, who will oversee the menu in an advisory role.
Both Twitchett and Mele recently completed a food tour, meeting all of the local Producers they will be working with to source only the best ingredients for the venue. Tasmanian Wine Educator Curly Haslam-Coates has carefully curated the wine list, which features award-winning wines from regions across Tasmania and afar.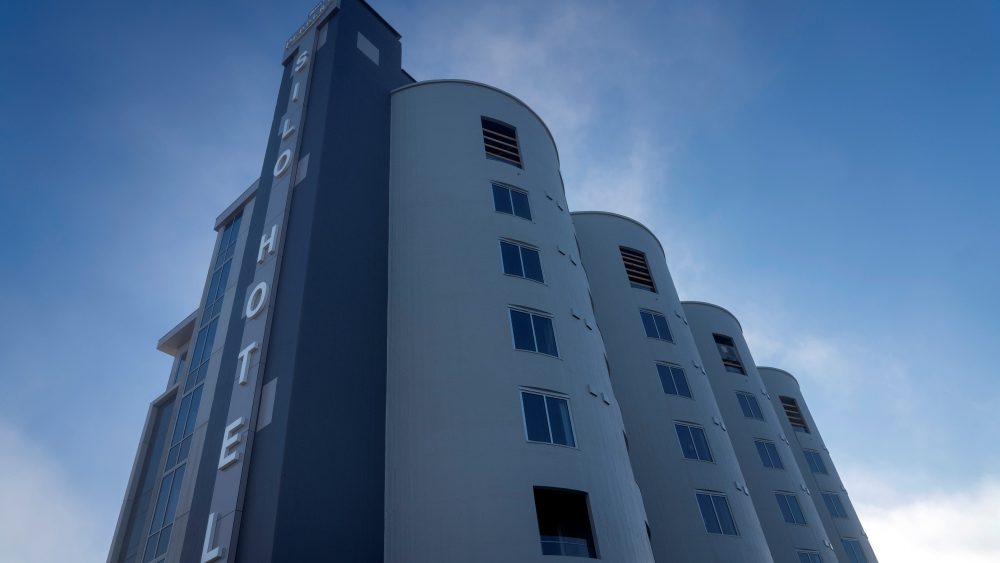 Mantra Group's Executive Director of Operations, Mark Hodge, said the Group was proud to have officially opened Peppers Silo Hotel.
"We are very proud to officially open the doors of the iconic Peppers Silo Hotel," he said.
"Situated on the beautiful Tamar River and in close proximity to Cataract Gorge, Peppers Silo gives hotel guests a new perspective over Launceston, with extensive views facing out to the snow-capped Mount Barrow during winter.
"This landmark hotel and its beautiful amenities have been carefully designed to appeal equally to Tasmania's leisure visitors and the fast-growing business visitor and corporate market.
"Tasmanian tourism is currently experiencing record growth, and with this strong performance set to continue, the opening of Peppers Silo is the perfect addition to our existing portfolio in Launceston."
Peppers Silo Hotel is the first hotel development to open in Launceston since Mantra Charles Hotel was developed in 2010.
Owner and Developer, Errol Stewart, said Launceston was in need of new tourism projects and has a shortage of hotel rooms in summer.
"I am proud of what we have delivered and I believe this building will continue to be iconic for Launceston for years to come," Stewart said.